18 Days in Denali
Sometimes it's what doesn't happen that matters most.
Heading out the door? Read this article on the new Outside+ app available now on iOS devices for members! Download the app.
I wish I could say I skied from the summit of Denali. I wish the weather hadn't thrashed for weeks like Prospero's tempest; I wish the wind hadn't stripped the mountain's beautiful couloirs and ribs down to ancient blue ice; I wish I had been stronger, moved faster, stayed warmer. But mostly, I wish that no one had died.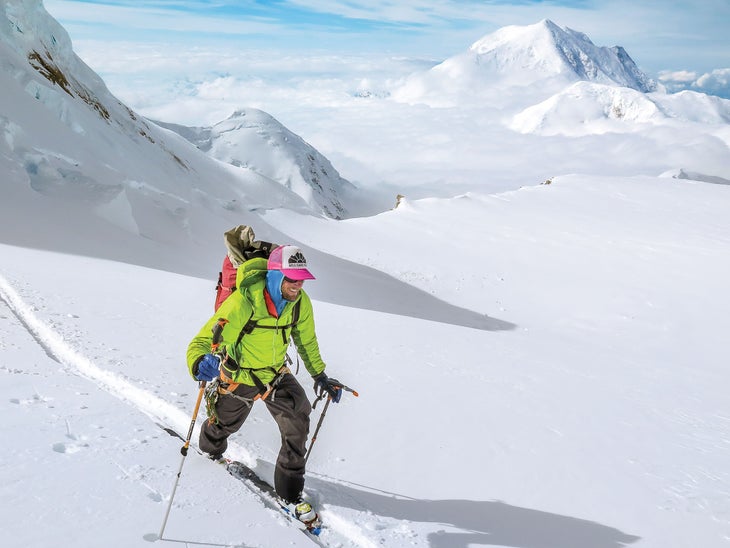 I step gingerly over the thinly bridged crevasse, moving as quickly as my lungs will allow at 16,000 feet. My crampons sing with each step, knifing securely into firm, white ice. The white ice is the good stuff—it'll take a ski edge. It's the marble-hard blue ice that's worrisome. My partner, Tucker Cunningham, moves up steadily, keeping minimal slack in the rope between us. We're nearing a feature called the West Rib Cutoff, which, at 16,300 feet, marks the beginning of the upper 4,000 feet of our intended ski route. Today is an acclimatization day, intended to help our bodies adjust to the altitude, and the Cutoff is as far as we've planned to go—for now. I keep an eye on Tucker as he crosses the crack, and I notice our camp 2,000 feet below. There are dozens of tents speckling the glacier—a town, by our usual Montana backcountry standards—fortified with walls built from blocks of snow that shield our spartan nylon domes from the cold and violent storms for which Denali is famous.
Denali, "The Great One" in native Athabaskan, is the highest point in North America (20,310 feet), the third highest of the Seven Summits, and, most notably for us, a legitimate skier's mountain. Despite its altitude, severe weather, and deadly reputation, it, more than any other continental high point, offers skiers a smorgasbord of stellar descents—if conditions cooperate. The beauty and challenge of Denali have attracted many of the biggest names in ski alpinism, from Sylvain Saudan and Chris Landry to Chris Davenport and Andreas Fransson.
We're here to help our friend, professional adventurer Colin O'Brian, complete his attempt to break the world speed record for the Explorers Grand Slam (climbing the Seven Summits and reaching both Poles). While we're on Denali setting the camps and getting acclimatized, he's summiting Mount Everest. But since Tucker and I are skiers first and foremost, we brought our boards along, hoping to log a powder run from the top of North America before getting down to business.
So far, our goal has been problematic. First, we are here a month early—June is the month to ski. In mid-May, it's still very much winter on Denali, and that means cold: Temperatures dip as low as 40 below zero. The snow that falls tends to be atomized by wind that can blow more than 100 mph, and the upper mountain is often sheathed in blue, unskiable ice. We've seen some unusually mild temperatures and light snowfall over the last week, but the forecast shows an imminent return to average (i.e. crappy). We can see the cold front building to the southeast as we climb, and today may be the best weather we get for weeks.
It's only another couple hundred vertical feet to the Cutoff, and after five days of moving 75-pound loads 7,000 feet up the mountain, and two days stuck in the tent with bad weather, it feels good to be climbing with daypacks and skis. Above my left shoulder, the enormous maw of the Orient Express rises between fractured granite walls. Named for the number of Asian climbing teams who have fallen to their deaths, it's nevertheless an aesthetic line. Just outside camp, we passed below the Messner Couloir, a 50-degree, 5,000-foot behemoth that was first skied by the inimitable Saudan in 1972. It's without a doubt one of the largest, most sustained couloirs in the world. But even from a distance, we could see the blue glow of exposed ice. And even though we can't see it, the wandering, hyper-exposed South Face route, pioneered by Fransson (solo) in 2011, remains in our thoughts—it's simply an insane ski route to comprehend. By comparison, our West Rib goal is downright pedestrian.
At the Rib, we take in a panoramic view encompassing the lower flanks of Denali, neighboring Mount Foraker and Mount Hunter, and an entire world of ice and snow. Between our toes, we can see more than 8,000 feet down, to the tortured, three-mile icefall of the Northeast Fork of the Kahiltna Glacier. This is just a recon day, but our ultimate goal is to ski the complete West Rib from the summit—a 12,000-foot run back to a camp cached at 7,800 feet.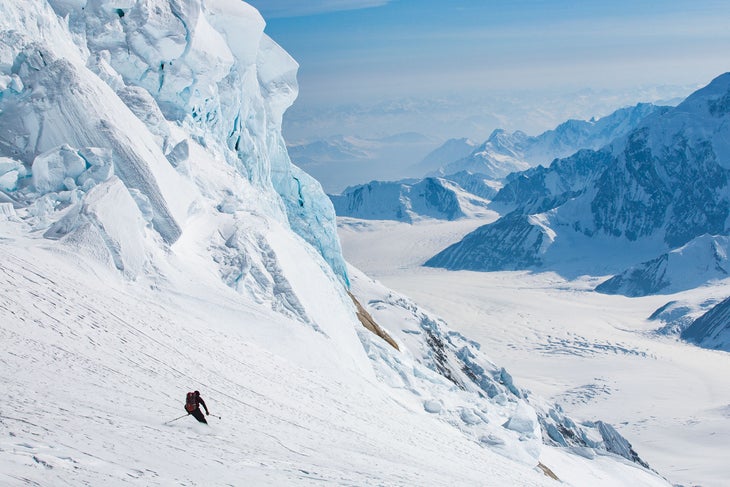 "The views up here really suck." Skier Tyler Reid, during a different expedition with much better weather, skiers above 14,000-foot camp on the lower Orient Express.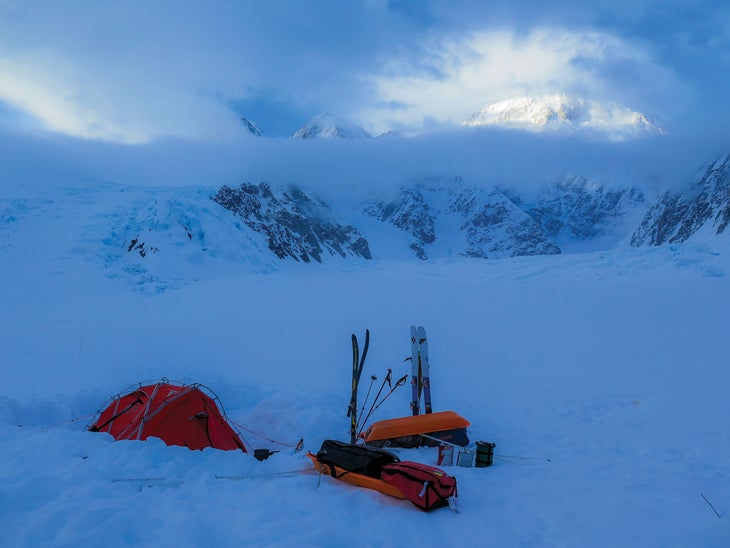 The view to the top from 7,800-foot camp.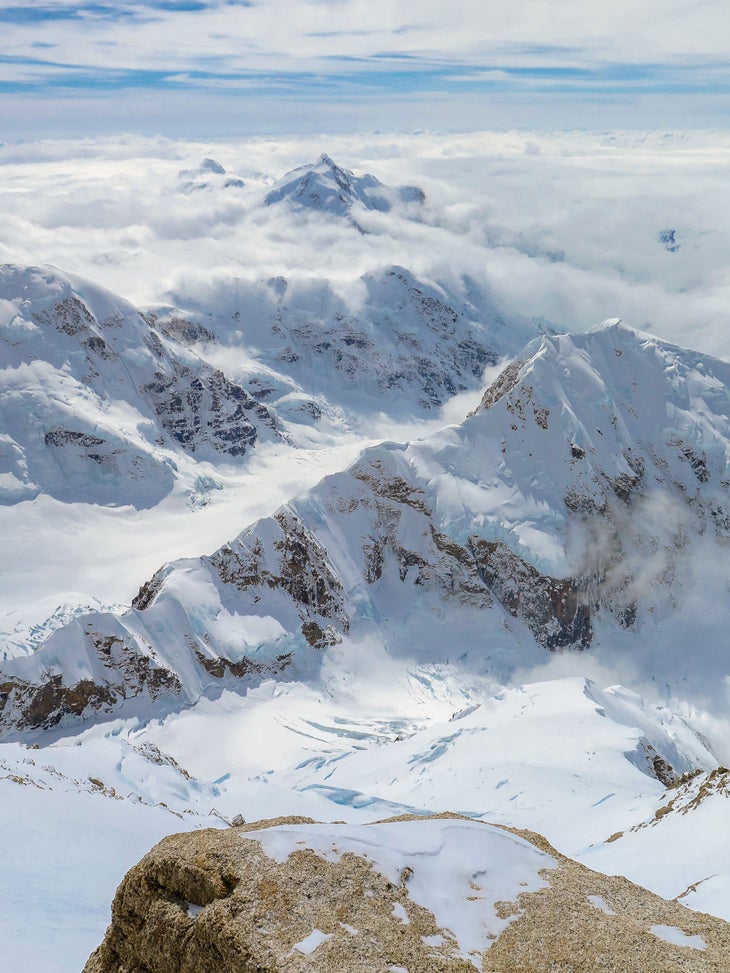 Looking a vertical mile down the West Rib from 16,300 feet. The broken Northeast Fork of the Kahiltna Glacier lies below – an area nicknamed The Valley of Death.
"Looks doable to me," Tucker quips as the wind picks up. I can see patches of blue ice, but overall, I agree. The West Rib is no place to screw around, however: Legendary steep-skiing pioneer turned snow scientist Chris Landry officially retired from extreme skiing after a nearly fatal 1,500-foot fall on the lower Rib in 1981. In fact, the first complete descent of the West Rib was just completed in 2013, by off-duty guides Adam Fabrikant and Aaron Mainer. We've been hoping for a repeat, but our odds aren't looking good. We silently eye the climbing above us, contemplating a reckless dash for the summit, but stick to the plan. Today is strictly for acclimatization. On cue, the wind ratchets up violently as we transition from crampons to skis.
Weather defines the Denali experience. In good weather, this mountain is an insane playground for the fit and motivated. Just ask Davenport, who in 2007 came and skied basically everything on the west side of the mountain: the Orient Express and Messner Couloir, a steep trade route called Rescue Gully, two couloirs (first descents) off a 19,000-foot mini-summit called Black Rock Peak, and more. Prior to Davenport's arrival, conditions were horrid. But in almost suspiciously typical style, the weather gods smiled on Dav. "As we arrived in camp at 14,000," he wrote after the trip, "things changed. From that day on, the wind would not blow and the snow would not fall, and the sun shined upon our lucky souls." So that's Chris Davenport on Denali. Us? Not so much.
Our run down the lower Orient is an education. Breakable crust, pockets of powder, dinnerplates of ice—it's all there. We cross a few crevasses by thinking light and skiing fast, and after 800 feet of survival turns, the snow evens out to ankle-deep windblown powder. With climbing gear clanking, I make controlled turns for 1,200 feet, until my oxygen-starved lungs are searing hot and my head is spinning. I know we may not get another chance at skiing powder on Denali and want to make the most of it. Tucker matches my arcs and pulls up beside me, heaving almost as hard as he's grinning. We ski into camp as the storm rolls over the ridge, blowing snow in front of it like a roaring atmospheric leaf blower. Time to hunker down. Again.
ThwapThwapThwapThwapThwapThwap. The flapping tent is a prison, and the wind our captor. It's been eight days. Eight days of peeing in a bottle and trying to sleep in a place where the sun never sets and the noise never ceases. The snow is gone, blown away by gusts that hit 80 mph in camp. We can't ski. We're going insane. Tucker is looking strangely attractive. Everything is fucked.
We had one window—one morning between storm pulses, when we woke to clear skies and manageable wind. We got up at 4 a.m. to make a summit bid in temperatures hovering between 40 below zero and a witch's teat. So cold the fuel cans outside the tent made sounds like crumpling beer cans as they constricted. So cold water bottles inside the tent crackled like the seracs hanging above camp. So cold I frostbit a fingertip in the five seconds it took to buckle my boots.
We skinned away from camp wearing down pants and neoprene overboots designed for Polar exploration. But we hadn't even climbed 2,000 feet before I pulled the plug: My feet had been numb for a half hour, and nothing was going to warm them up. I felt bad for Tucker, who seemed to be staying warmer, but we both knew the reality. Push it too far, you lose digits. I came close to hurting myself badly once before, skiing in the Yukon, and it's simply not worth the risk. So we retreated—back to camp, back to the tent, the wind, the monotony, and ultimately the feeling of despair that comes as time and opportunity slip away.
When the storm broke, camp was sculpted into sharp angles and reefs. On the upper mountain, blue ice shone everywhere, and it was clear that our ski trip was over. Getting Colin to the summit became our only goal. He arrived in 14,000-foot camp on May 25 and, after summiting in dicey weather, broke the Explorers Grand Slam and standalone Seven Summits speed records on the 27th, sans skis. We ate cheesy mashed potatoes with bacon to celebrate.
The following morning, we were packing camp to descend when we saw a neighboring Czech team skinning toward the Messner. "Surely they can't be planning to ski," we reassured each other. Conditions were bad: blue, scoured, scalloped, and hard as rock. But later in the day, in the middle of our 7,000-vertical-foot ski run down the lower glacier, we heard the news. One of the Czechs, an experienced 45-year-old climber, had fallen down the Messner from 17,000 feet while trying to ski.
He was dead.
It put a pall on the day; on Colin's record; on the decisions that led us all to this mountain. I tried not to think of how my wife and family would feel if I was that skier—what it would do to them, and how easily it could've been one of us rather than him. Our desire to ski Denali was no less than his. After 18 days of wind and weather and crevasses and bad skiing, the Czech's fall called into question the value and wisdom of being on this mountain. His needless death made it all seem shallow and out of focus. And yet what I thought about most as we glided down the Kahiltna Glacier beneath the spectacularly beautiful peaks of the Alaska Range was the same as it ever was.
Next time.