The Annual Boys Trip Is a Ski Movie Cliché, But I Stand Behind It
The snow sucks. The weather is miserable. But our annual guys ski week must go on because it's what brings our crew together.
Heading out the door? Read this article on the new Outside+ app available now on iOS devices for members! Download the app.
It was the first run of the trip. The fog was thick, a damp mist soaked our Gore-Tex. The snow was a patchy, frozen rain crust. With his character-defining exuberance, Ben skied underneath the dangling "Cliff" sign, taking speed with his 190-centimeter Völkl Shiros and 17-year-old Boeri helmet directly down a Bridger Bowl chute that I was pretty sure did not go.
Sure enough, Ben emerged 10 minutes later after bootpacking back up the chute—the true walk of shame. His approach summed up this year's Guy Ski Week and the 10 iterations before it: the best of intentions, the messiest of executions.
The eight of us had come from all over the West. Even if Bridger didn't deliver on the snow, it fit the theme for GSW: relatively affordable, great terrain, solid local culture.
Our ski cohort met at Alta, Utah—class of 2008. We saw 841 inches of snow that winter, enough for a lifetime bond. A year after that, while riding the gondola at Crystal Mountain, Wash., I met a group of octogenarians who did an annual ski trip together. A bunch of codgers that called themselves the Beaver Patrol. I wanted to be a less crass version of them—committed to skiing together with friends for the rest of my life. That's when Guy Ski Week was born.
I understand this is not an original idea. A group of straight, white males getting together to party and ski is basically the plot of nearly every ski narrative ever. But skiing is what brings our crew together, so these trips have become essential.
At first it was easy. We were in our twenties. What else were we going to do with our lives? We went back to Alta for the inaugural GSW. We were so poor we all shared a single dorm room without a bathroom—we couldn't open the door to the hallway with all the bodies on the floor. There were the Baker years, where we mostly skied in the rain, which was actually better than the year we showed up and there was no snow at all. In the lean years, we passed the time like boys do, playing drinking games that included a surprising amount of nudity and generally proving why it's no surprise women live longer than men.
One year, in a test of will (and ego), we ended up sitting in an icy Nooksack River, in March, for 11 minutes. I'd guess that water was 38 degrees. Another year, back at Alta, I threw my body off a loft and landed horizontally on a couch fifteen feet below. That same winter, we were also exposed to an overnight gas leak in our rental condo. Unfortunately, we had a food fight and did enough damage to the home that we still did not qualify for a refund. There has been a lot of vomit (in beds, off balconies). In Nelson, the last trip before the pandemic, we finally scored: thigh-destroying powdery pillows.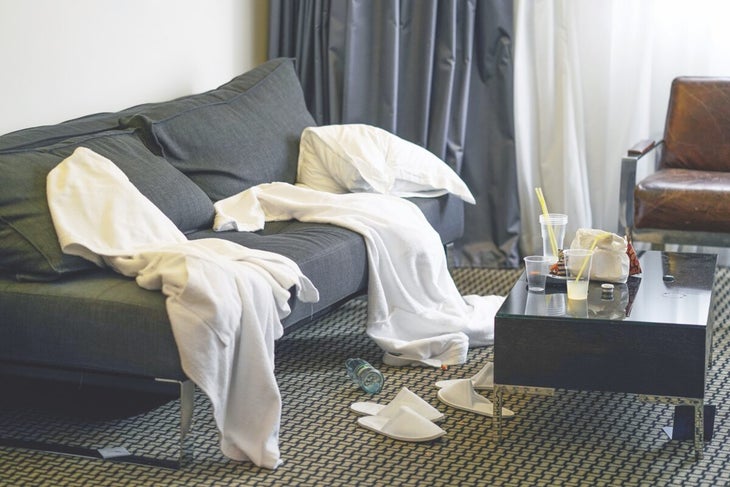 Guy Ski Week went uninterrupted for 10 years until Covid hit. Spring of 2022 was our first year back after a two-winter hiatus. We're all married now, with careers and kids. It's not quite as easy as it used to be, and the times caught up with us on this trip. One member never had a chance—the poor bastard had twins earlier in the season. Another went down with Covid a day before departure. One guy had to leave to address a family emergency just as he was about to shotgun his first beer of the trip. We were dropping like flies. The energy was a little subdued. It didn't help that I took an edible that rendered me supine on the floor in the starfish position, unable to move, for three hours.
And yet, the trip felt restorative.
There's something about cherishing this time, even in the face of climate change, babies, jobs, partners, and the overwhelming burden of packing and schlepping a ski bag. It's a commitment to skiing, to each other, to joy. Who cares if the conditions were possibly the worst of my life (again)? The skiing is not the point. It's a dedication to a group of smart, curious, supportive, genuine, vulnerable, and—even while skiing in the rain—ceaselessly positive men. That's not an easy group to find. The skiing is really just an excuse to be in their company.
After Ben's failed couloir attempt, we managed to find some snow we could actually make turns in. We made tight ones through some patchy spots on the backside of the mountain, then traversed through some fun, sporty trees and decent rain-slush bumps—a GSW specialty.
Having skied for a full hour and a half, we figured we were overdue for après. In the parking lot, we threw down some traditional GSW fare—peanut butter and jelly sandwiches—and then walked into the Griz, a bucket-lister for anyone serious about après skiing. Inside, it was musky and thick with community and extremely well-behaved labradors. We ordered a couple of pitchers and did our best to fit in.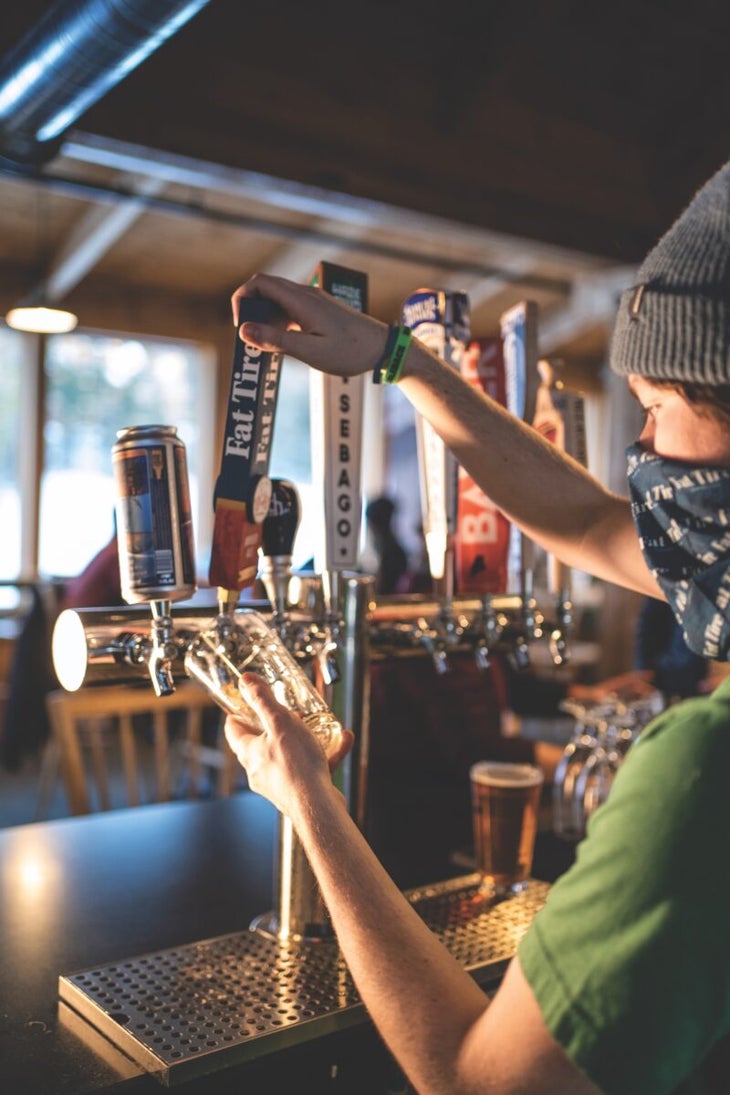 With a little ABV-inspiration, and it being only 1 p.m., we decided we should probably take one more run. On the lift, we discussed our sex lives, contraception choices, and the pure wonder of boobs. Then we took a completely harrowing, sloppy run down refrozen ice-bumps. We decided we should call it before someone snapped a femur.
If the motto of our twenties was "I regret nothing!," the refrain of our thirties is "I've made some terrible choices." The thing about whiskey is that as delightful as it is to drink, it's equally as miserable to process the next day. Those were my thoughts as I woke up on the morning of day two. Remarkably, we made some significant upgrades on this trip. We each had our own bed. We even went out in public to dinner and ordered things to eat. All firsts. I was grateful to be in my own room as I popped a couple of Tylenol, pounded some water, and spent 45 minutes in the bathroom.
We got ourselves to the mountain by 11:30. Miraculously, the snow looked good. A couple inches of fresh! But it was a trick. Lurking below that facade of softness were lingering, knee-ruining ice bumps. Midway down the first run, I nearly gave up. I wasn't the only one in bad shape. One of us managed to tomahawk on the cat track.
We worked our way to the lowest-angle part of the mountain. It was all 20-degree blues, somehow a bit softer. In the trees, we found some snow that actually wasn't horrible, schussing for a few hundred yards before traversing back to the lift line. Knowing not to push our luck, we dipped into a lodge to drink coffee, take pain-relievers, and eat Doritos. It was like skiing as a kid again. Take a couple runs, earn a treat!
After one or two more lazy wigglers, I embraced the inevitable: a pitcher of beer at the Griz. Something about being hungover and drinking again always makes me nostalgic. I thought about my previous trips to Bridger Bowl. My first time, a powder day in the middle of a classic cold-smoke storm, pro skier Elyse Saugstad and I repeated Ridge laps, trusting locals when they told us, It goes, just point them at the choke. Another year, after a work event at Big Sky, some colleagues and I, feeling adventurous, followed more locals into steep, narrow, no-fall-zone chutes off the Schlasman's Chair.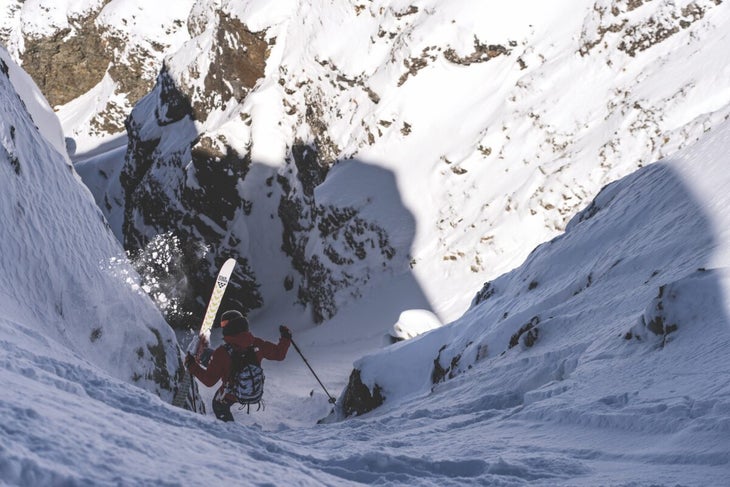 Maybe it was these memories, or the pilsner, that reminded us that we had to at least check out that chairlift. We traversed over to the lift and found nobody in sight. I worried we had made a terrible mistake. There's probably nobody here on a Saturday afternoon for a reason, dude. At the top of the two-seater, we went left. Just on the other side of the chair, a rocky outcropping narrowed. Nobody had skied it yet, and the dust on crust looked pristine. With Ben's first run in the back of my mind, I let everyone else drop in first. I heard whooping. I followed. It went.
We got back to the chair as the liftie was counting down the seconds until he closed it down for the day. It was still just us back there. We headed back to the same zone. Midway down, Ben and I shimmied into a couloir we had noticed from below. It was stunning. Wide enough to not be scary, unskied, with big, snow-laden pines perched on rock outcroppings for 500 vertical feet.
Ben skied it with typical gusto, spraying wet snow in the air as he charged out of the chute with a contrail behind him, speeding into an open field below. When I caught up to him at the bottom, we hugged, yelled, and laughed. It wasn't the best run of our lives—nowhere near it—but the aesthetic chute and decent snow was just so unexpected. Another memory to live on in the deep annals of Guy Ski Week.
As we skied the traverse back to the base, we skied underneath each other's legs and threw spread eagles off baby side hits. I smiled, knowing that wherever GSW would be next year, I'd be there.
More from the 2023 Destination Guide
Think #VanLife is the ultimate way to ski bum? Here's the truth. 
This ski area could be Canada's next big thing—if only it wanted to be
T-Bars aren't a relic of the past, they're the future