The Approach
Sometimes you just have to zip up the tent on mother nature. Close her out. This is one of those times.
Heading out the door? Read this article on the new Outside+ app available now on iOS devices for members! Download the app.
Chad Sayers laughs uncontrollably while tentmates Kari Medig and I, drenched from head to toe from tromping through flooded rainforest, pluck the last of the blood-soaked leeches from our sensitive, prunelike skin. 
Sayers, who wore long underwear all day, was spared the invertebrate onslaught and remains leech-free. Not normally one to cackle at another's expense, he nearly loses his lunch watching me try to burn off a bloodsucker (loaded like a football, I might add) from the most sensitive, prunelike part of my body. "Stop laughing," I plead, "I'm naked and afraid." But my longtime friend and accomplice on other Patagonian bloodlettings can't contain his laughter, not even once he's tucked into his cold, soggy sleeping bag.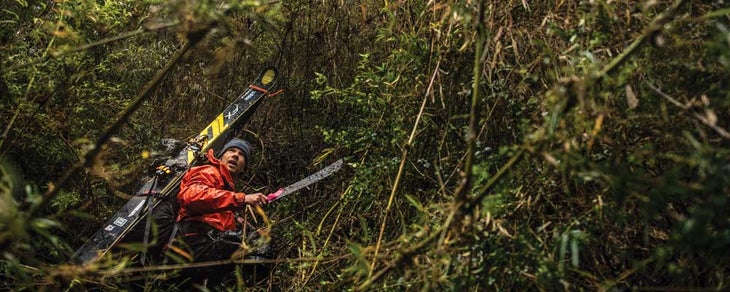 It's only then, once the somber light fades to near-darkness and the rain intensifies once again, that Mother Nature launches her sneak attack. One rogue leech, a lone trooper, has penetrated our otherwise impenetrable fortress. Kari and I are fast asleep by now, zipped up and recovering our hemoglobin count. Chad, on the other hand, is staring at the ceiling and contemplating the unlikeliness of ever finding snow and is unaware of his adversary until it's too late. The wriggling leech, drawn to easy-to-get bodily fluids, has just flung itself from the tent ceiling with pinpoint accuracy to land smack in the crosshairs of Chad's dilated pupil. A banshee scream pierces the night.
The trip is not going as planned. Chile can deliver some dreamy skiing, and all three of us have experienced it before. We've done the resorts and the easily accessed backcountry zones. This time we're looking for something more—specifically, three massive, glacier-clad volcanoes looming above the Aisen region of this topographically endowed country.
Volcanoes Cay, Macá, and Mentolat vary from unskied to unclimbed and we want to do both to all three, but after months of preparation, a week approaching by air, sea, and ground, and only two miles of progress from our base camp, we're feeling a bit deflated. Not only from the leeches. We had to wait three days for the waves to subside before we could even launch our kayaks; then I got too sick to get out of bed. But the weather—constant, just-above-freezing rain—is our current enemy. We knew this would be the case. After all, most unexplored skiing areas of the world are that way because the weather there sucks. So on second thought, maybe the trip is going exactly as planned.
In the morning we continue in heavy rain, changing out of wet into wetter clothes just to keep what's in our packs less damp. The trail we're following gets worse and wetter with every step. The forest floor is like a river at times. At head height or below is an overhang of deadly quila, or bamboo—the preferred haunt of the leech. The matrix of branches and leaves is so dense that the thought of leaving the trail is as laughable as a leech on your friend's balls. So we plod ahead, laden with everything needed for weeks on a sunny glacier: crampons, ropes, skis that snag on every piece of quila. With 20 miles to go before the base of Macá, our rate of travel puts us there in two weeks. Two weeks of misery for one run. Then reset for Volcán Cay. Is it worth it?
We quickly find out it doesn't matter. The "ankle-deep" river on our map is a raging Class III rapid and not crossable.
Despite the flood conditions it flows along crystal clear, typifying the pristine nature of these backwoods. After another day of searching for a way to push inland, we have to give up on the first two cones and focus on our last hope: Volcán Mentolat, sitting on the opposite side of the fjord. It's the highest unclimbed peak by prominence in South America yet is visible from a nearby town. Though the glacier-clad 5,300-foot summit is only 10 miles from the tide line, a trail-less loofahlike forest of quila protects it. It's also on an island.
Life on expedition isn't always wrought with pain and misery, but mostly it is. The unforeseen perk on this trip happens to be a set of hot springs that gets exposed at low tide. While soaking our wounds and watching dolphins swim by, we recover—not from the meager three days of trail time we've endured nor the flu that's going through our ranks, but rather from our own disappointment. We strive to regain the skiing stoke we radiated when scouring this area months ago on Google Earth. No lifts, no coffee shops, plenty of precip. These were some of our ideals. Now, armed with the firsthand knowledge of how much it sucks to carry 120 pounds of mostly useless equipment through a mud bog, I'm beginning to think hanging out at a base lodge sipping Cab Sauv wouldn't be so bad. And, just like the moss-covered rocks that greet us after paddling to the base of Mentolat, comfortable thoughts are a slippery, slippery slope.
We get only 300 feet in a day. "Eye of the Tiger," our team anthem, just doesn't cut it anymore. Soaked and dejected after trying to hack through the network of bamboo that grows a foot a day, we appreciate that months from now we'll be filled with regret for not giving it "one more go" like Rocky did. But at least Chad has his rain-soaked journal to dry out and review, and two of us are photographers, so the heinous circumstances are duly recorded in stills and video. (Incidentally, possibly driven by this very footage, only three months later in the dry season a team of Chilean climbers will come in and bang off the summit. We can only imagine that their success derives from not having skis strapped to their backs, but they may also be tougher than us.)
Not less than a day after getting back to our hospedaje in the nearby town of Coyhaique, we launch a renewed attempt at the perfect ski vacation. Shortly thereafter we were on the skiable (by all definitions, including having actual snow) slopes of Cerro Castillo, with cell coverage for checking hockey scores and a box of Gato Negro wine that Chad strapped to his pack.
At the top of our first run, a powdery apron overlooking the southern Andes, I realize two things: Leech bites itch for weeks on end; and sometimes the journey is entirely overrated, leaving only one thing—the destination. 
Afterword:
While we were unwinding at Cerro Castillo, two of our peers, J.P. Auclair and Andreas Fransson, died skiing San Lorenzo, only 150 miles to the south. The rescue helicopter flew over our camp.