Athlete of the Month: Kye Petersen
Skiing is in Kye Petersen's blood. But it's safe to say he's an athlete of his own making.
Heading out the door? Read this article on the new Outside+ app available now on iOS devices for members! Download the app.
Kye Petersen has been in his fair share of ski films. He's also produced his own movie, he has his own series of 4FRNT skis that he designed himself, and he recently won Red Bull's Cold Rush competition. When I asked him if he would do an interview with me for our Athlete of the Month story, he said he would be out of cell range on a ski trip, but he'd be willing to climb to the top of the ridge for service. I knew instantly we picked the right guy. Read what Kye's all about in my interview with him below.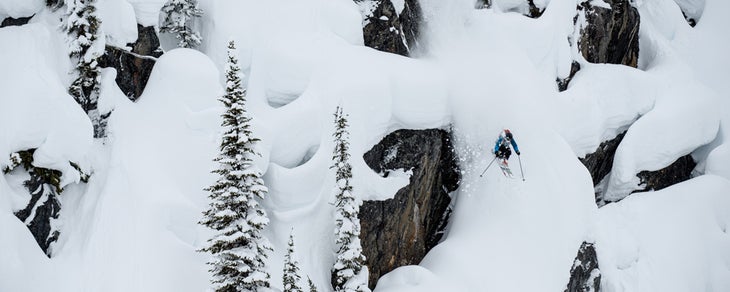 KW: You just won Cold Rush for the second time (the first was in 2009). What is it about this competition that allows you to do so well?
KP: I train for every aspect of skiing and I don't really focus on one thing more than another. I kind of see myself as an all-around skier, and I think that contest is good for that.
KW: Does it mean any more to you that it's a peer judged contest?
KP: It does and it doesn't. It definitely did it 2009 when I won. I was competing with guys that I'd idolized since I was a young kid, so at that time when I won it, it was a really big life-changing experience. This year there were still a lot of really rad shredders and younger guys that kill it. It's just that in 2009 I was skiing with guys like JP Auclair, who were idols to me, so it was a much bigger deal then.
KW: When you're skiing a line like some of the ones in Revelstoke for Cold Rush, what is your thought process? How quickly do you have to make judgment calls?
KP: I have everything pretty planned out while I'm skiing, but I'll usually have a plan A, B, and C. While I'm in my line, if something isn't how I thought it would be, I have a way to back out of it. It's just reckless if you only have one plan. For instance, if I land my first run then I know on the second run I can try something a little more interesting or stylish.
KW: A lot of people say your skiing has a very unique style. Does that come from your skating and surfing background?
KP: I think everyone takes things from outside of skiing and applies it to their skiing whether they try to or not. It's just body language and muscle memory. For me, surfing and skating came before skiing and have always been a huge influence on the way I ski and, now, how I'm shaping my own skis.
KW: How has that been?
KP: Yeah I went through couple years of testing with an engineer and now we have the KYE 120, KYE 110, and the KYE 95 for 4FRNT skis. And I've been shaping them based on what I need for the skiing I'm doing. So far other people are digging them too, so that's cool!
KW: I've heard great things about them. Do you think that learning how every part of a ski functions has helped your own skiing?
KP: For sure. I know how I want to ski, and now I know how I want my skis to feel. I've designed skis that enable me to land the tricks I want, ski the turns I want, and ski in a way that is fun and stylish.
KW: Is there anyone who has influenced your stylish way of skiing?
KP: That's always a hard question to answer. I've taken so much inspiration from so many people. Growing up I always looked to my dad as a mentor and for his style of skiing. A lot of skiers from that generation had really great style when skiing their lines, which I think is coming back around full circle. The difficulty has changed but the way we do it is the same. And of course, I look up to guys like JP Auclair, Shane McConkey, and Seth Morrison. And a bunch of younger guys that are super sick right now like Dane Tudor, Callum and Sean Pettit, and even snowboarders like Craig Kelly.
KW: What are some things that come with being a pro skier that people might not realize?
KP: I think no one realizes how much of the job isn't actually skiing. Like 80 percent of what I'm expected to do these days isn't skiing, which is a shame. A lot of my time is spent traveling for sponsors and posting on social media. It's not like it used to be when I first got into the sport. You used to have to make a name for yourself, film with a ski company, and shoot with photographers. Now, there's so much emphasis on social media that sponsors don't care to put money into those projects that attract the riders because they're getting enough promotion for free. So as an athlete these days you really have to push and promote yourself and try your hardest to make things happen on your own. It's really a grind.
KW: Do you want to see the ski industry move back toward how it was when you first started?
KP: I think there's good and bad to how it is now. Social media can be used in a really positive way. We have no choice but to make our own projects happen, or propose our own trips—this creates a more personal story for the viewer and athletes can be more creative and do exactly what they want.
KW: Is that why you produced your own film, In Search?
KP: Yeah, that's a huge part of it. And I'm making another film right now, for all these reasons I'm talking about.
KW: What's this new film about?
KP: You will find out in a trailer coming soon! It's titled Numinous. We've been filming a lot and working hard all year and we hope to release a teaser in June, so keep an eye out for that.