Backcountry Bliss
The majestic, heli-in Snowfall Lodge matches its pristine setting in the wilds of interior B.C.'s Incomappleaux River Valley.
Heading out the door? Read this article on the new Outside+ app available now on iOS devices for members! Download the app.
"I'm looking forward to summer being over, or at least the end of fire season. There's a fire right now a mile from the lodge. I was up two weeks ago setting up a sprinkler system… Either way, there will be lots of new tree skiing!"
So went the words of Larry Dolecki in September 2017, when I dropped him a line about joining a crew of 16 friends inaugurating the first season of a new three-story ski-touring lodge he was struggling to finish amidst the worst wildfire season in B.C. history. Wedged deep into an Interior B.C. rainforest, Dolecki's snowy hideout, like the rest of the province, was barely weathering the uncharacteristic drought and its marching infernos. But as winter edged forward, the fire line let up, the roof went on, and the sky started delivering mythical amounts of snow—christening the lodge into its namesake.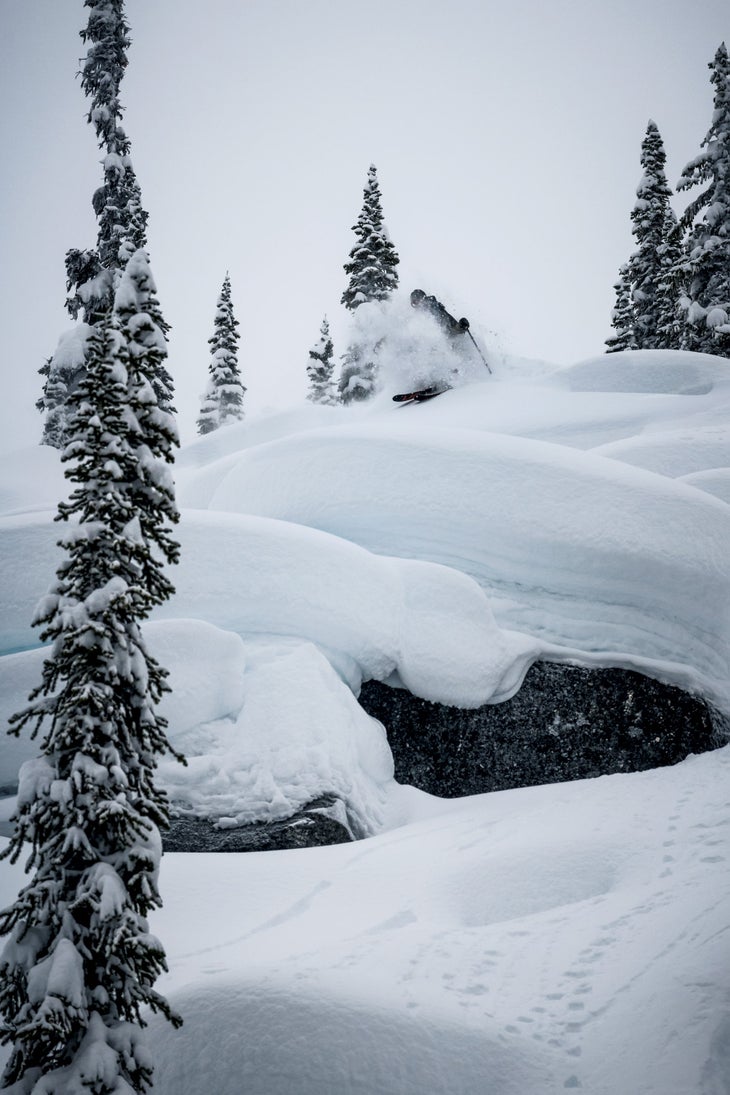 The original Snowfall Lodge, basically a cabin, opened only two seasons earlier in a deserted corner of alpine wilderness above the impenetrable Incomappleux River Valley. Just south of Rogers Pass and guarded by 10,000-plus foot glaciated massifs, the locale is accessed by helicopter. The original cabin could only sleep nine in cramped quarters and with 19th-century amenities, but it was never intended as a finished product, just an interim shelter from which skiing routes could be developed. At least until Dolecki could erect a stoic building to match the quality of his first pride and joy: Icefall Lodge, a couple hundred miles northeast in the Canadian Rockies. Snowfall, in contrast, wouldn't be so much about ski mountaineering—as Icefall is—but about the monster forests and epic deep snows of Interior B.C.
Three months after the fires end, I meet Lane Clark and his ski-touring posse at the end of a logging road in the ghost town of Beaton, B.C. There are 16 of us in total, flown in packs of five by a mighty A-star to spacious digs that feel like they could comfortably fit 30. The original cabin, tucked behind the new lodge, is waiting to be converted to staff quarters. Our group is self-guided and self-catered, so we shared the space only with a single mustachioed mountain-man custodian—who we are responsible for feeding as part of the deal.
There's a robust downstairs drying room, a commercial-scale kitchen, ample electricity, an indoor toilet (for no. 1 only; the serious business still has to be done in the outhouses) and eight spacious upstairs sleeping quarters with two beds each. The mountains around us—Beowulf, Illusion Peak, and the ice-heaved Battle Range—top out at 9,200 feet. For the first two days, we splinter into three subgroups, vying for the highest alpine bounty we can while conditions permit. Battle Peak and a high-col pass off the shoulder of Beowulf are all easily within a day's ski tour—some of us even tackling multiple 800-vertical-foot laps before making the 2,500-foot return descent to the lodge.
Read more: Near and Far
The avalanche conditions would worsen amid the five feet of snow that would fall in the coming days, so we keep close tabs on each other with regular VHF radio check-ins and focus our efforts on pillows and gullies anchored by forest. Dilbert's Dive, a slide path directly behind the lodge, becomes our main point of egress as we come back each day, laying into burnt forests, moraines, and canyons that keep 16 hungry skiers safely hip-deep in powder day after leg-pounding day. It resets each night like magic, and not one of us crossed tracks all week. 
In the evenings, after preparing shared meals and mixed drinks—often in costume—we fi ll the space with hearty, old-fashioned laughter and the satiated smiles from one of the most fulfilling weeks of self-propelled powder skiing any of us had ever experienced. And it is enough.
Snowfall Lodge Trip Planning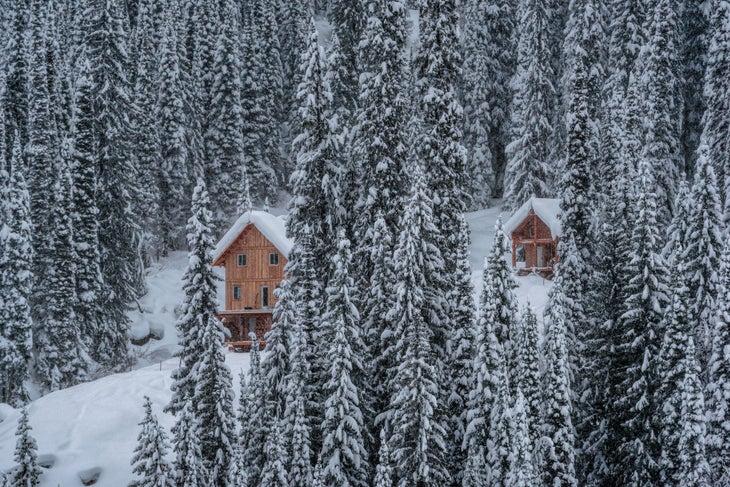 Getting there: The closest airport is Kelowna International—two and a half hours to Revelstoke, four hours (or 170 miles) to Beaton. The first helicopter flight leaves from Revelstoke with all the group's food and one guest. Subsequent flights are staged out of Beaton, B.C., two hours to the south, with an inland ferry passage that runs every hour. 
Stay: Closest accommodation to staging is Halcyon Hot Springs, 40 minutes (25 miles) from Beaton. 
Cost: Self-catered/self-guided hut rental including flight starts at $19,800 USD; catered and guided hut rental, including flight, comes in at $1,800 USD per person.
Info: Make reservations at icefall.ca/snowfall-lodge.
Originally published in the November 2018 Print Edition of SKI Magazine.