Nobody Backcountry Skis in the Uintas. Here's Why You Should.
Forget the Wasatch. There are unlimited refills at Castle Peak Yurt, in the lesser-known Uinta range.
Heading out the door? Read this article on the new Outside+ app available now on iOS devices for members! Download the app.
I'm sitting on the back of a snowmobile holding on for dear life while pro skier Rachael Burks blasts the machine we're riding up a snow-covered road deep in Utah's Uinta Mountains. "This is so fun!" Burks yells over the buzz of the engine. We're towing a sturdy plastic toboggan behind us, loaded with backcountry ski gear and enough food and beer to last us two days in the wilderness.
Our destination? Castle Peak Yurt, a dome-shaped backcountry hut that was originally installed in this area decades ago but was rebuilt brand-new last summer. Situated at 9,800 feet in the western Uintas, it's a six-mile approach up an old logging road to reach the yurt, and while more purist backcountry skiers will do that on foot and carry in their own supplies, we're getting a motorized bump. Lucky us.
Guide Shaun Deutschlander—the newly-minted owner of the yurt—is driving another snowmobile with photographer Re Wikstrom, while Deutschlander's husband and fellow guide, Weston Deutschlander, leads the way. Thirty minutes after leaving the trailhead, we're winding through the trees when I see the yurt's green siding peeking through the snowy forest.
All of this started when Shaun Deutschlander and Wikstrom called me late one evening last fall. The three of us are old friends who are always up for new adventures. They were having dinner when they got to talking about Deutschlander's latest venture and decided to call me to share the news. "I own a yurt now!" she told me excitedly over the phone. "You should come check it out."
Pick the Right Tool for the Job: The Best Backcountry Skis of 2023
You don't have to ask me twice. We booked a two-night trip for early March.  It snowed seven inches at the yurt the night before we arrived, and with nobody around except a few distant snowmobilers, there was plenty of fresh powder to go around.
Our first evening, after unloading copious amounts of food and gear into the yurt, we set out for a late-afternoon ski tour to Castle Peak, a rocky apex about a 40-minute skin from the yurt that rises over a small alpine lake where Weston had recently done a polar-bear plunge. Standing atop Castle, we looked down at the north-facing chutes below us, with Deutschlander pointing out our ski objective.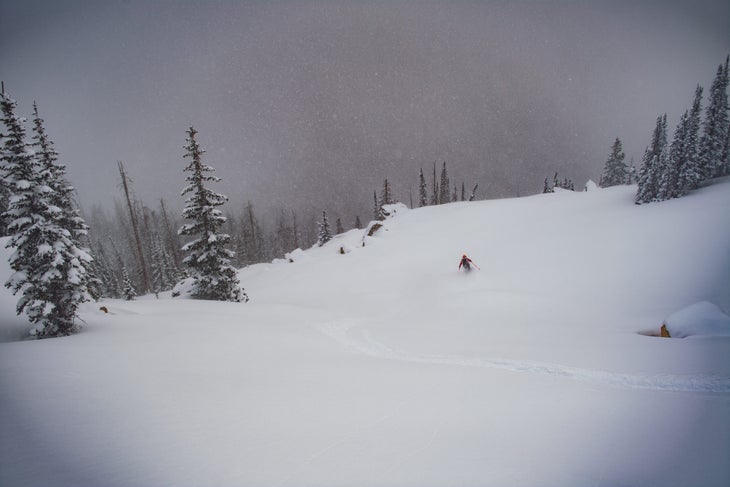 "Where should we stop?" Burks asked.
"It's the Uintas. You can only go so far before it flattens out," Deutschlander half-joked.
Here's the full truth: Nobody really comes to the Uintas for the backcountry skiing. The terrain is short and undulating, with gentle pitches punctuated by flat benches. It's great skiing—for a few perfect turns, anyway. Utah's Wasatch range, on the other hand, is world-famous for its continuous, powder-laden steeps. Which also means that even the backcountry there is crowded. So, the real reason you come to the Uintas: a slice of peace and quiet.
The Uinta Mountains stretch east to west for about 150 miles from the tiny town of Kamas, 20 minutes east of Park City. The ancient range, which was buried in glacial ice during the last Ice Age, is home to Utah's highest point, 13,528-foot Kings Peak.
"It's not the most prominent range, but it's really nuanced," Deutschlander tells me on the skintrack. "There aren't many guidebooks to this area. Nowadays, where discovering something means Google searching, I love that this range still has so many areas left to explore."
We ski two laps off Castle Peak, then, with daylight quickly disappearing, we begin to make our way back to the yurt. I put on my headlamp for the final skin back, the moon now rising in a star-studded night ski. We're spread apart on the skintrack and for a few minutes, it's just me alone in the night, savoring the stillness that people come here for.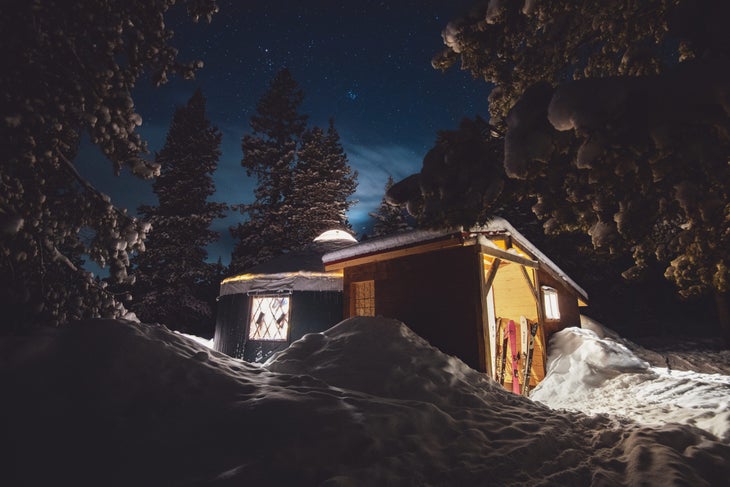 It's exactly that connection with the outdoors that prompted Deutschlander to buy the yurt.  "We can all put on a face for a day," she says. "But when you're immersed in an experience, when you're there overnight, you become so much more open to what nature gives you. I want to share the mountain lifestyle, and it's so much more profound out here. The night sky engulfing people, that's really raw."
Deutschlander first moved to Park City after college in 2005, a ski bum with lofty ambitions. She was competing in big-mountain telemark competitions at the time, traveling around the West and filming with low-budget tele-ski movie companies. To pay the bills, she got a job guiding for an outdoor youth program and worked in the shop at White Pine Touring, an outdoor retailer in Park City that offers guided excursions. She would see avalanche educators coming back from teaching courses and she thought, 'I don't want to be selling gear, I want to be out in the field.'
Be Prepared: This Updated Backcountry Safety Course Is Meant for Skiers as Young as 13
So she began the process of becoming a guide and avalanche instructor. In 2012, she launched her own guiding business, Inspired Summit Adventures, with the goal of helping connect people to nature and the outdoors. The Park City, Utah-based guiding service has been leading climbing and skiing trips around Utah ever since. 
The next morning at the yurt, after a breakfast of coffee and fruit-and-syrup-topped pancakes, we load up our packs and hop on the snowmobiles for a quick ride over to a neighboring valley. Our goal is to ski Shingle Peak and take a look at neighboring Erikson Basin to see what the snow is like. We end up spending all day skiing every aspect off Shingle, finding low-angle, creamy powder through the trees and climbing back up for more.
The terrain is markedly different from the Wasatch, but no less fun. I ask Deutschlander about the history of the Castle Peak Yurt, and how it ended up in the Uinta Range. It's a story that starts with a couple of ski bums, two friends who dreamed of building something that would enable them to spend more time in the backcountry.
Nils Abramson and Ben Dobbin met at an EMT course in Utah in the late 1970s and started skiing together. They talked about wanting to build a yurt in the Wasatch backcountry. "We were just a couple of poor guys who had an idea," says Abramson, a recently retired therapist in his 60s who used to work as a ski patroller at Solitude and Deer Valley.
They had a friend in Idaho who was building yurts, so they learned the skill and hand-built their own yurt, which was 20 feet in diameter with low-slung, five-foot-high walls and a taller dome roof. But the Forest Service didn't want any more development in the already-crowded Wasatch, so the finished yurt sat in Ben's driveway for five years, awaiting its eventual home.
"I got a call from a ranger in the Uinta district who offered us a spot to put the yurt," Abramson says. The Uintas were the Wild West back then: Nobody was there, there was little in the way of development or recreation. So, the two friends drove up an old logging road and found a flat spot to place the yurt.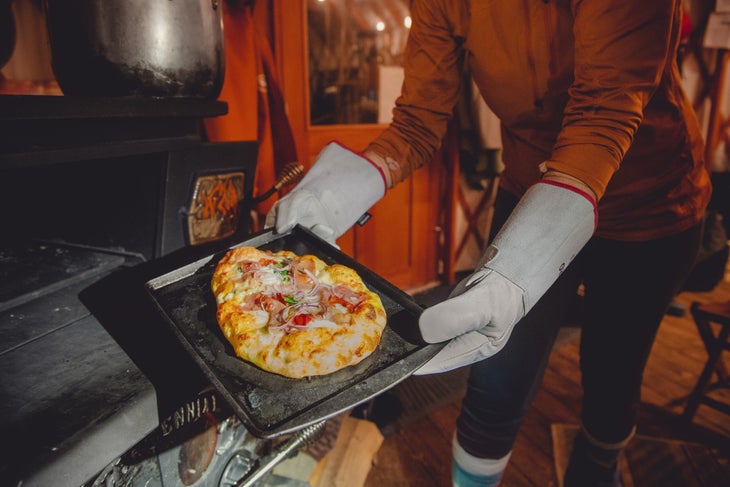 Abramson and Dobbin moved the yurt there in 2002 and spent several days building the foundation, a deck, a pit toilet, and a sauna. They bought an old stove at a yard sale and started spending weekends at the yurt, skiing and exploring the area. "The pitches off Castle Peak were the ones we were most interested in—north facing, half-mile-wide pitches, at about 30 degrees," says Abramson.
They offered the yurt for self-guided trips until around 2017, when the structure needed more TLC than Abramson and Dobbin could manage. That's when White Pine Touring, where Deutschlander used to work, stepped in and offered to buy it.
"It needed a new deck and a new roof," says Scott House, who worked for White Pine Touring at the time and helped oversee the yurt's permitting and operations. "Our plan was to get that done. But we could never get to it. The deferred maintenance just stayed deferred."
Trip Inspo: 8 Classic Backcountry Routes For Beginners to Experts
White Pine also didn't offer guided backcountry skiing and by that point, Deutschlander's company did, so she started renting the yurt from White Pine to lead guided ski touring trips there. At one point, she was guiding a client at the yurt who assumed the place was hers. "Wait," her client said. "You don't own this yurt?" It got her thinking.
In January 2021, she called Jack Walzer, general manager of White Pine Touring, and said, "I would love the opportunity to continue the legacy of this yurt in the right way. Would you guys consider selling it to me?" Walzer responded, "Let me think about it." Two hours later, he called back and said yes.
"I'm a dreamer," Deutschlander says. "My mind is always way in the future. The minute they said they wanted to sell, I had drawings all over my house of the new yurt. I was already obsessed."
Instead of trying to fix the rundown original yurt, Deutschlander ordered a new yurt, 24 feet in diameter, from the Colorado Yurt Company. A team of hard-working guides from Inspired Summit Adventures dismantled the old yurt piece by piece last summer. The new yurt occupies a smaller footprint and has a new deck, wood-framed entrance, and separate sleeping quarters for the guides.
Someday, Deutschlander sees a vision for a hut-to-hut system in the Uintas, linking the Castle Peak Yurt with several others in the range. It's a far-off plan, but like she says, she's a dreamer.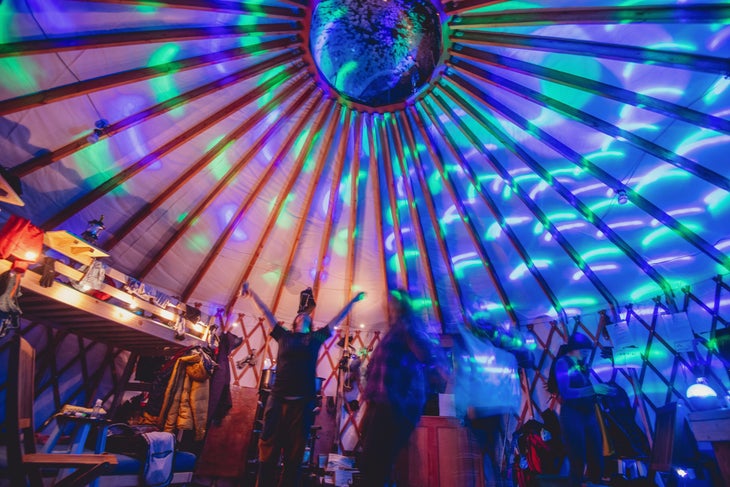 On our last night in the yurt, Burks pulls a battery-operated disco ball out of her bag, and we take turns picking songs to play on the speaker. We're telling stories and making tacos for a special guest who's arriving for dinner: Polly Bergseng, the Forest Service's recreation special-use permit manager for the Uintas district, has become a friend of Deutschlander's through the whole permitting process. She had yet to actually visit the yurt in person, until now.
Bergseng planned on just staying for dinner and going back down the hill after. But, like Deutschlander says, the night sky up here can really engulf people, and after dinner, Bergseng decides to borrow a sleeping bag and stay for the night in one of the spare bunks. We bake vegan cookies in the oven and stay up way too late, laughing and dancing.  
Staying overnight in the wilderness opens you up in more profound ways than just a day trip. Waking up and knowing there's not another person for miles in any direction is a uniquely strange and beautiful feeling. It's just you and the forest out there. Besides, another six inches of snow has fallen overnight and it's all yours to enjoy. 
Trip Planning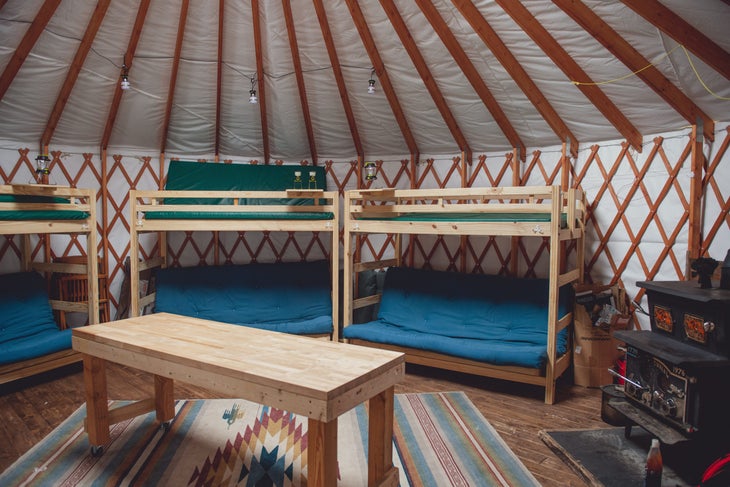 Castle Peak Yurt
Inspired Summit Adventures offers guided and unguided overnight trips out of the Castle Peak Yurt. Self-guided trips start at $400 per night for the full yurt; guided and catered trips start at $575 per person, per day.
Sign up for an avalanche safety course before you go. Avalanche.org has resources for online and in-person courses near you, as well as Know Before You Go guidelines. Park City's White Pine Touring teaches a variety of AIARE-certified avalanche safety courses, ranging from free introductory lectures to three-day courses in the field.
As with any trip into the backcountry, you'll need to bring avalanche safety equipment, including a beacon, shovel, and probe, as well as touring skis, boots, and bindings. White Pine Touring rents backcountry gear, if needed. For the yurt, you'll need a sleeping bag and warm layers of clothing. A pair of hut slippers is always recommended.
Where to Stay
Plan to stay overnight in either Park City or Kamas before or after your trip into the Uintas. Park City will have far more options, but Kamas is closer to the yurt launch point.
Downtown: In the heart of Park City, the 33-room Main + Sky Hotel is steps from downtown and has views of the slopes at Park City Mountain Resort. It's a convenient place to stay if you're also planning to get a couple resort days in during your trip.
Trendy: One of the newest hotels in the town, the hip Yotel Pad offers 144 simple yet efficient studios to three-bedrooms, all with full kitchens. It's located at the Canyons base village.
Romantic: If you want to be closer to the trailhead and away from the bustle of Park City, the Woodland Farmhouse Inn is a cozy bed-and-breakfast set on four bucolic acres in the town of Woodland, not far from the access point to the yurt.
Dining + Après
The town of Kamas is your gateway to the Uintas, the last stop of civilization before you head into the wilderness. We asked the Deutschlanders for some of their favorite places to stop before and after a yurt trip.
"On your way through Kamas, be sure to stop at the Mirror Lake Station, a Chevron gas station famous for its homemade donuts," Shaun says. For last-minute supplies, they recommend the Samak Smokehouse and Country Store for deli sandwiches, snacks, and house-smoked beef, and trout jerky. On their way out of the yurt, they like The Notch Pub, outside of Kamas on the Mirror Lake Scenic Byway, for  local beers, smoked wings, pulled-pork nachos, and fried pickles in a cozy log cabin. It's a great spot to unwind and share tall tales.
Resort Skiing
There's no shortage of surrounding resort skiing if you want to add a couple of days at either end of the trip. The closest skiing is at Park City Resort or Deer Valley. If you don't mind a bit of a longer drive, Snowbasin, new to the Ikon Pass this season, attracts slightly  fewer crowds and has amazing high-alpine bowls, steep chutes, and plenty of perfectly spaced glades to explore.