How the Best Ski Shops Test New Boots Before Selling Them to You
Before making the decision to carry a new backcountry boot, four shop employees take on California's Lassen Peak with Mike Hattrup.
Photo: Ian Reid/Courtesy of Fischer
Heading out the door? Read this article on the new Outside+ app available now on iOS devices for members! Download the app.
This is part two of a series of stories written by legendary skier Mike Hattrup about his current day job of traveling the American West and creating the next generation of ski equipment. Want to read his dispatches from the road? Join Outside+ and keep your eyes on "Out of Office with Mike Hattrup" for a semi-weekly dose of tales from the road throughout the month of June.
It used to be you had to choose what mattered most to you in an alpine touring boot: downhill performance, or uphill performance. But those two types of touring boots are now just the extremes of a wide spectrum of boots that combine the best of both types of performance.
On the downhill performance end of the spectrum, you can now find "heavy metal" touring boots that are moderately light, walk well, and ski strong enough for an expert to rip lines at the resort. At the other end of the spectrum are the boots that walk damn near as well as your sneakers and still out-ski the touring boots of yesteryear.
At 1280 grams—or about 2 lbs. and 12 oz.—the new Fischer Transalp Pro for next season slots in on the lighter side, but it still has the power to drive a bigger ski and handle more challenging conditions with aplomb. Of course, that's my biased opinion because I work for Fischer.
My bias is also why I am standing in the Lassen Peak parking lot getting ready for a day on the skin track with a bunch of ski shop employees. I want to see what these dealers think of the new boot, and there's no better test than to take it for a tour. Also, the global pandemic meant that traditional demo days were out of the question this year. But, by late spring when vaccinations ramped up and the CDC approved congregating outside, Fischer's California sales rep Dany Huberman and I put together a trip to ski Lassen Peak with a couple of California ski shops.
Lassen requires a varied approach and is a great testing ground for ski touring boots. There's a bit of dirt walking, lots of skinning, booting up the steep last pitch, and then some rock scrambling to stand on the summit.
We are hoping for corn for the descent, but Dany, who has beta from a few weeks earlier, mentions that it was bulletproof when he was last here. But a lot happens in two weeks and it's just as likely to be sun cupped or mashed potatoes now. Regardless, difficult conditions will test the boot's ski performance well.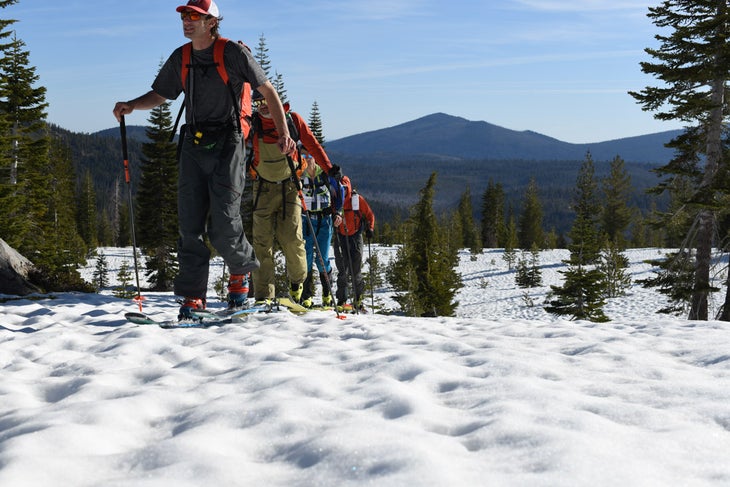 Joining Dany and me for this ascent are representatives from two of the best ski touring shops in the country. Jon Crowley and Sam Orsello made the drive from Mammoth Mountaineering in Mammoth Lakes, Calif. Jeff Dostie and Jason Layh joined for Alpenglow Sports, located near the shores of Lake Tahoe.
Dany has the boots ready, and since we have several different waist widths in touring skis, we email everyone to see which of the following waist widths they'd prefer: 90mm or 96mm.
"Neither Sam or I have skied anything that fat since 2017!" replied Jon before leaving Mammoth Lakes.
Did I read that right? Jon and Sam can't be much more than 30 years old and they tour a lot. It was probably a hurried email and he meant to say, "That skinny."
"Yup, both he and Sam are big believers in narrow skis," responds Dany when I ask him if they made a mistake. I'm a bit incredulous as there aren't many Americans, especially young ones, that tour on anything narrower than 100.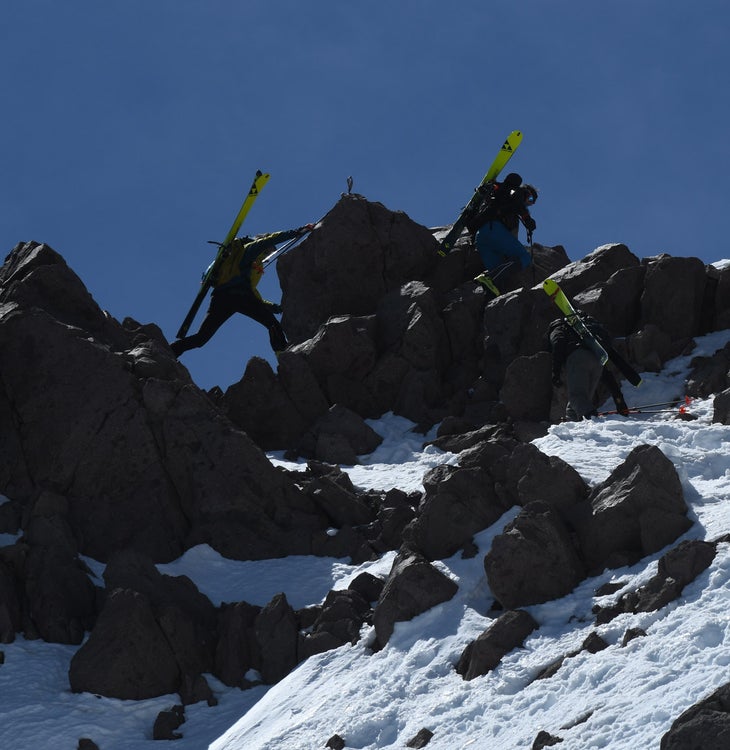 Lassen Peak is the southernmost active volcano in the Cascade Range and, after Mt. St. Helen's, is the second most recent volcano in the United States to blow its top. A series of eruptions commencing in 1914 spewed ashes as far as 280 miles to the east and oozed lava which flowed to the base of the north side of the mountain now known as the Devastated Area.
I arrive at the wooded campsite in the Devastated Area on a beautiful Cinco de Mayo evening to find Dany, Jon, and Sam already there. Neither of the Mammoth guys have skied Lassen, and Jon has never skied a volcano. Since it's a six-hour drive up the east side of the Sierras, they were keen to make the most out of the trip and make a lap on Lassen before any of us have arrived. Twice in two days. Ambitious.
From our friends at Backpacker: Get All the Backcountry Glory With None of the Crowds at Lassen Volcanic National Park
Knowing they both like narrow skis, I'm curious to see what gear they'd skied that day. When they show me a well-used pair of RC4 Transalp 165cm rando race skis and a featherweight carbon rando race boot to match.
I realize that the day's ascent is more of a warm-up than a softening-up for these two. Tomorrow is going to be a hard day.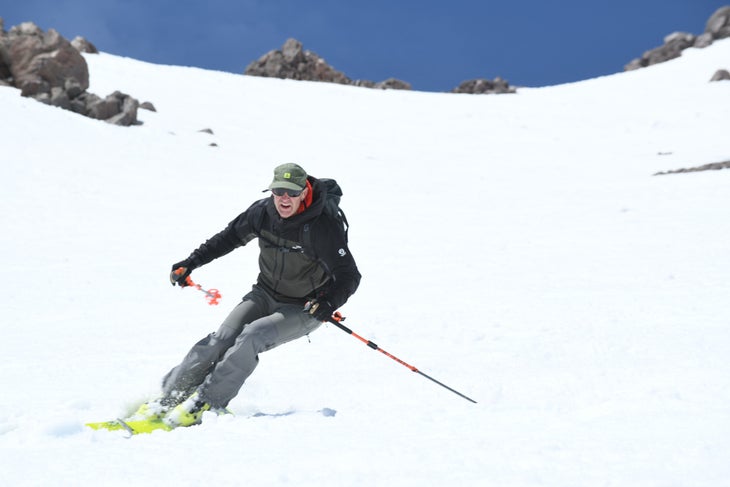 The Alpenglow boys show up as we're getting ready to crash. Dostie and Jason normally tour on a Dynafit Hoji boot, which is on the heavier and more powerful side of AT boots. They choose the Fischer Ranger 102 for the climb and descent, which is an alpine freeride ski. It's a powerful ski, but not lightweight.
We've got two rando race ski tourers and two on the heavy, powerful side. Our new boot seems to be on an island in the middle, so I start the day interested to see what both sides think.
Stars dot the sky between the towering old-growth Ponderosa pines and Douglas firs that loom over our camp as we doze off to sleep. Springtime ski touring nights are short, and sooner than expected, alarms pierce the silence at daybreak. It's not as cold as we'd hoped and we load our packs and sip coffee as the sun and temperature rise.
Once on the skin track, we quickly shed layers as we tour through the low-angle lava flows. As we work our way up the north face towards the 10,456' summit, it becomes steep enough that skins are no longer efficient. Putting skis on our packs, we boot up the last several hundred feet and scramble up the rocky summit. By this point, it's clear that Mother Nature has mashed potatoes on the lunch menu. Not anxious to get to our starch, we lounge on the summit and enjoy the warm temps as we contemplate our descent route.
Lassen's southeast chutes seem to be holding slightly more consolidated snow, and though the snow sucks and tugs at our skis, the 1,500-foot, 40-degree descent is still fun. A long descending traverse brings us back to the Devastated Area parking lot.
In the end, the minimalist Mammoth boys and the heavy metal Tahoe boys both meet in the middle about the new boot. Both groups have either discovered—or have been reminded—of what a different blend of power and ease ski boots can offer.
After all, they wouldn't be the best ski shops in the country if they didn't spend long days skiing in the boots they plan to sell next season.
Check out SKI's preview of the Fischer TransAlp Pro: Unlike Most Ski Boots, Fischer's New Backcountry Boot is Better for the Planet