Why You Should Ski This Haute Route in the Dolomites While You Still Can
Climate change means you may not be able to do hut-to-hut ski tours in the Alps forever.
Heading out the door? Read this article on the new Outside+ app available now on iOS devices for members! Download the app.
Skiing is a sport, perhaps more than any other, that is based on trust. A trust born from thousands of successful past repetitions. Trust in your ski edges, pole plants, muscle memory, leg strength, ski partners, and most importantly, your ability to manage the nagging fear in the back of your brain. As I clicked into my skis on the top of our first exposed, no-fall ridgeline, that nagging fear was as loud as Defcon 4.
The 2021-'22 winter in the Dolomites was downright terrifying. It was mid-March when we arrived in Cortina d'Ampezzo, the crown jewel of the Italian Alps and host of the 1956 Olympics. It hadn't snowed in 72 days. It was the lowest snow year on record, dating back 200 years. Not ideal conditions for a five-day hut-to-hut traverse, and certainly not what we'd hoped for. Low snowpack meant bootpacking up scree fields, fighting to keep an edge on bulletproof faces, and rerouting multiple times to find a trace of actual snow.
Which brings me to the most important—and least controllable—ingredient in the cocktail of trust: snow. Many of us can ski steeper slopes when you're working with stable, boot-high powder. Turns come easy, small lapses in judgment or technical skills are forgiven, and fear fades into sublime joy. But when the surface is a buffet of ice slab, sun cups, and two-inch breakable crust, mistakes are amplified tenfold, and joy fades into fear.
The Proposed Haute Route
Six of us flew across the pond to traverse the Dolomites on what was billed as the "New Haute Route," a hut-to-hut linkup that had all the elements to be truly special: glacial travel, mountain-top refugios, steep couloirs, jagged ridges, and a unique Ladin culture. The problem, as we would learn, was that the route was predicated on good snow.
Our trip was organized by Dolomite Mountains, a boutique logistics company. They managed the shuttles, guides, bookings, route, and offered gear rentals, too. Starting in the small town of Cortina, we would follow a summer Alta Via, or High Route, passing through a series of passes, peaks, and valleys only possible with the right touring gear, technical skills, and nightly stops at secluded backcountry huts.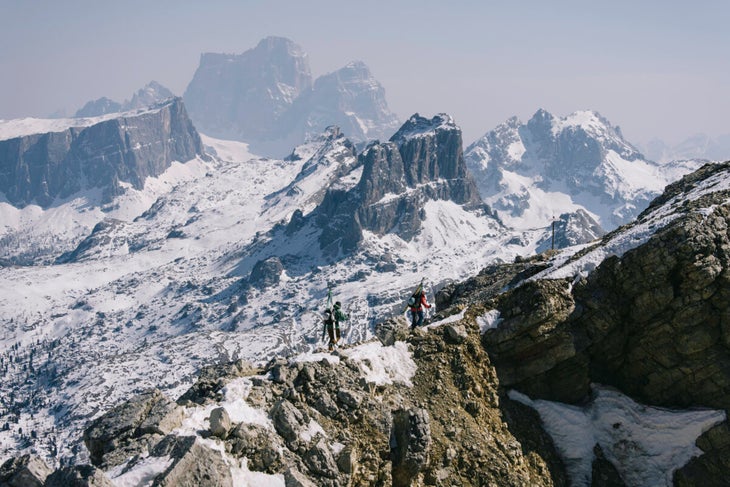 Along the way we would pass through a UNESCO Heritage Site and the Fanes-Sennes-Braies Nature Park, one of the largest protected areas in northern Italy. We would stay in some of the most well-known huts in the area: Rifugio Lagazuoi, Rifugio Fanes, and Rifugio Sennes, feasting on traditional Ladin meals. All told, the trip included six nights and five days exploring the Dolomites on backcountry skis, averaging 12 miles and 4,000 feet of skinning and skiing each day.
The Actual Tour
In the weeks leading up to the trip, we read reports of low tide. By the time we arrived, it felt more like July than March. Even though we started the trip at 6,000 feet and toured much higher, there were large patches of rock and grass everywhere. On a good snow year, the route would be great for intermediate to advanced skiers who would enjoy gradual climbs and smooth powder descents. The conditions we encountered, on the other hand, necessitated proficiency to ski widely variable snow. Think spring survival skiing, but worse.
We slogged through the first two days, wiping out any hope we'd find the elusive Dolomite powder turns the original trip was billed on. Skinning up ice, scrambling over rocks, dropping into lines with sun cups the size of beach balls, and so much mid-season melt that pockets of air under the surface collapsed under the weight of a skier. Dozens of refreezes without fresh snow had transformed entire slopes into freezer burn.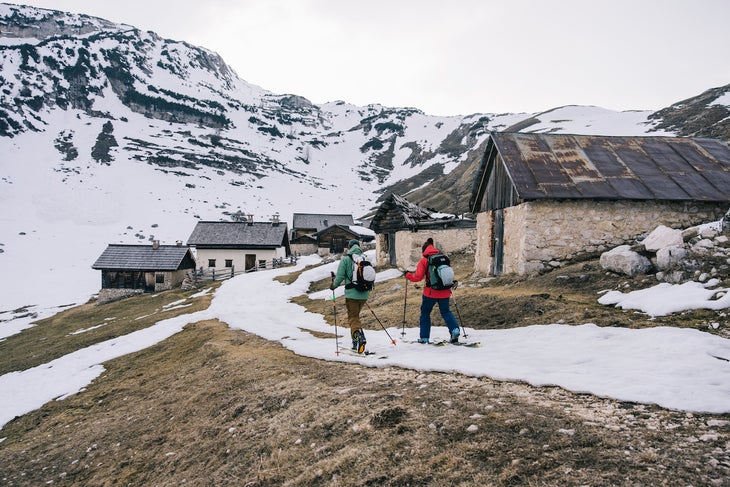 Predawn on our third morning, I snuck downstairs in our refugio early to journal. Sitting by myself at a small breakfast table before anyone but the hut owner stirred, irony sat inches in front of me. Stories of past climbers and skiers are woven into the fabric of the place. Every table and chair in the room was crafted by hand, with meticulous attention to detail. But outside was a much different, more disastrous scene. The looming effects of climate change were impossible to ignore. With a historically low snowpack, our ski tour became an epic, and not in the best ways.
Each day was a battle of attrition, pitting our persistence against better intentions of mother nature. Most of the descents were largely unskiable, forcing us to side-slip, jump turn, and carefully connect a few wiggles near run-outs, moving down as slowly as we had climbed up. Our third day proved the hardest when we had to navigate a no-fall traverse and slush bucket couloir begging to tear knee ligaments.
We ended up completing the full route safely, despite testing our collective wherewithal more than once. Like any adventure with a significant amount of Type-2 fun, these feelings slowly faded and have now been replaced by nostalgia. A year later and we're planning a return trip to the Dolomites, hoping the snow gods will be more merciful this time.
Why You Should Still Go
The ski terrain in South Tyrol is undoubtedly world-class. Aesthetic peaks, faces that run thousands of feet to the valley floor, epic couloirs, and wide-open bowls are perfect for a variety of skill levels. From challenging skimo objectives to safe, low-angle hot laps, the potential for fun is everywhere. Warm huts, kind hosts, delicious food, and local wines complete what could be a trip full of real magic.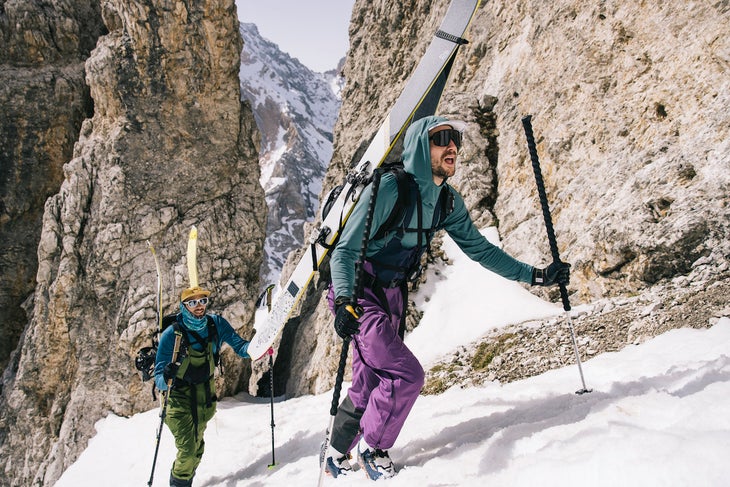 While our experience paints a clear picture of what's to come a decade or two from now, it's not a forecast for next winter, or even the winter after that. I'm hopeful we still have a few good snow years left. For avid backcountry skiers who enjoy full days and all the perks of a hut-to-hut experience, this Dolomite Haute Route should be near the top of your bucket list. The culture, refugios, and mountain views make it worth it by themselves. And, it won't be around forever, so go while you still can.
Dolomite Haute Route Trip Details
Info: dolomitemountains.com
Duration: 6 days/5 nights
Price: Starting at 3,160 Euros per person, includes lodging, breakfast and dinners, shuttle transfers
Start: Val di Fassa/Alta Badia, Italy
Challenge level: Moderate to challenging
Best time to go: January to March
Planning Tips
Fly into Venice, Italy, and take an hour-and-half shuttle to Cortina. You'll start and finish this route there, or you can choose other routes from the Dolomite Mountains. Most trips are five or six days, with additional travel time outside of that. Costs vary by itinerary, but plan for $3,000-plus per person, plus flights.
Gear Advice
For spring trips like ours, I would recommend a ski that's 90-100mm underfoot and stiff enough to hold an edge on variable snow–something akin to the Blizzard Hustle 9. You'll be averaging 4,000 feet of vert and 12 miles of skinning and skiing each day, so when it comes to boots, prioritize lightweight comfort, i.e. alpine touring boots that have plenty of ankle articulation for miles of walking. Dolomite Mountains facilitate a gear shuttle, so during the trip, you'll just need a day pack, large enough for avalanche essentials, spare layers, and food and water for the day. I used the Mountain Hardwear Powabunga 32 and loved it.