When a Popular Backcountry Spot Became Unsafe, Volunteers Stepped in To Manage It
As backcountry trailheads like the one on Wyoming's Teton Pass outside of Jackson Hole get more crowded, responsible recreation practices are more important than ever.
Heading out the door? Read this article on the new Outside+ app available now on iOS devices for members! Download the app.
When Jay Pistono started asking other skiers to pick up after their dogs on Teton Pass in the '80s, it wasn't because it was his job. It was because he thought it was the right thing to do. "It was so disorganized up there, I was worried the access wouldn't last," he remembers. "Really, I started out doing it selfishly because I wanted to be able to keep skiing the Pass."
Forty years later, Pistono is still up there day in and day out, leading the Teton Pass Ambassador Program for the Teton Backcountry Alliance, a grassroots organization dedicated to sustainable backcountry recreation in the Tetons. Dogs aside, one of the biggest pressure points on Teton Pass is the traffic. By 7 a.m. on a powder day, the lot is completely full, with a queue of cars packed with eager skiers fighting for parking spots. On many days throughout the winter, the lot is full from dawn to dusk, and Pistono has spent plenty an afternoon mitigating the powder panic atop the 8,431-foot mountain pass.
Related: The best backcountry glades are accessed from these Eastern ski resorts
The backcountry skiing on Teton Pass is about as good as it gets. Easy access to steep, fall line terrain, a deep snowpack, and proximity to town make the Pass a favorite for dawn patrollers and weekend warriors alike. If you only have an hour, it's easy to bust out a Mount Glory lap via the bootpack on the north side of the road, and the endless bowls and tree skiing on the south side provide deep pockets of powder days after a storm.
By 2004, the traffic had started to draw the attention of the Forest Service. Skier-triggered avalanches were hitting the highway, commuter volume had increased, and the small parking area was starting to fill up earlier and earlier. The Forest Service believed it needed some sort of presence up there to manage the influx of skiers, so they created a paid ambassador position for Pistono to help spread awareness about conditions, help with parking pinch points, and remind skiers to keep their dogs on leash.
"In the '70s we saw 10 to 15 cars, then it became 20, then 30," Pistono recalls. "Now we've got around 150 to 175 cars rotating through the top of the Pass on any given day, with a much bigger variety of skill levels than we've ever seen. When you have 350 to 400 people skiing up there, there's a bigger likelihood of something going wrong."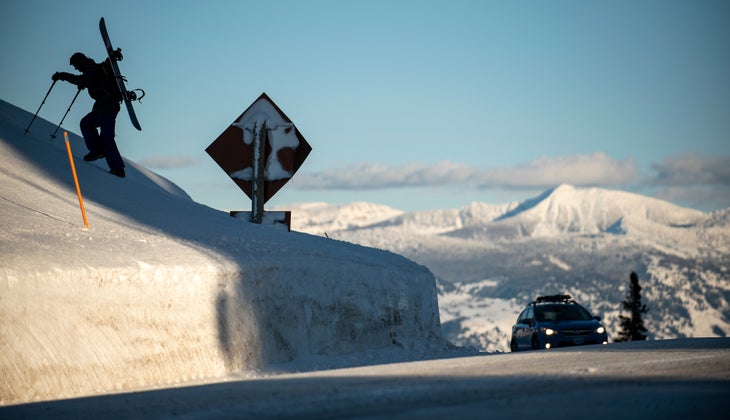 Twin Slide and Glory Bowl are two of the most visible ski lines from the highway, and they're easily accessed from the roadside via bootpack, eliminating the need for skins or touring skis. But the two lines are also major slide paths. Once there are a few tracks in those lines, Pistono says it's tough to convince skiers not to head up there.
"You've got 400 people going up the Glory bootpack, and say 395 skiers all keep it mellow and then five ski Twin Slides all together, that's going to mess it up for everyone. When people come up and see those five tracks, that's more of an indicator for them to go there than what we're telling them in the parking lot."
Until 2020, Pistono was operating mostly as a one-man show on behalf of the Forest Service. "When Covid rolled in and we had so many people up there all the time, we realized we needed to find some more help," says Gary Kofinas, Chairperson of the TCBA Steering Committee. In an effort to promote responsible recreation and maintain skier access on the pass, TCBA has worked closely with the Wyoming Department of Transportation (WYDOT) for the last few years.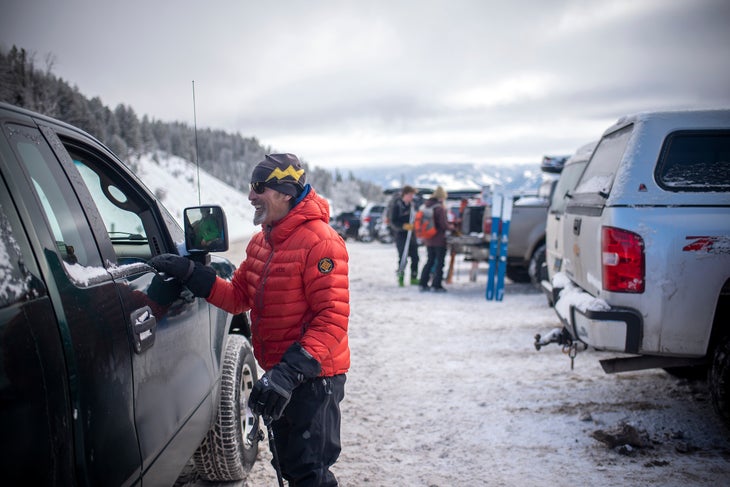 The parking lot on top of Teton Pass, which skiers use to access the Mount Glory bootpack and skiing on the southside, isn't actually a forest service parking lot. WYDOT plows it as a pull-out area for trucks and cars to chain up, and they could stop plowing the lot in a heartbeat if the accidents keep causing road closures.
In an effort to maintain access, TCBA hired seven volunteer backcountry ambassadors last season to help Pistono carry on the work that he's been doing for several decades. "Our volunteers range from recreational skiers to ski patrollers," says Kofinas. "They all love the program and skiing on the Pass and joined because they wanted to find a way to give back."
On the surface, the volunteer program seems fairly casual. The premise is simple: have a presence in the parking lot, start conversations, and go skiing. "It's amazing how quickly tension diffuses when you just start talking to someone," says Ariel Kazunas, one of the seven new volunteer ambassadors.
Ambassadors aim to be at the parking lot early, before the mayhem begins, and dig out the safety equipment stored at the top of the Pass, then help minimize conflict with the parking overflow, and share conditions when they can. They also remind skiers about etiquette, imploring folks who ski from Glory not to walk back up the narrow highway, and instead skin back up next to the road.
Read more: How to safely introduce your teens to the backcountry
While Kofinas is quick to assert that ambassadors are not parking attendants, Kazunas acknowledges that on a crowded day, the parking queue is typically the first point of contact, and talking with people while they're waiting for a spot is a great way to set the tone for the day and help prevent chaos from starting before skiers have even booted up.
Once traffic dies down, ambassadors usually hit the skintrack or boot up Glory, wearing embroidered Teton Backcountry Alliance ski jackets that indicate they're available to answer questions. "We're just talking to people. We're not enforcing anything," clarifies Kazunas. "We can't tell people where or how to ski. But when you see someone starting up the [Mount Glory] bootpack on a high-danger day, we tell them about the slide potential and hazard for the day. Starting those conversations leads people to their own conclusions, and more people than not will make the right choice."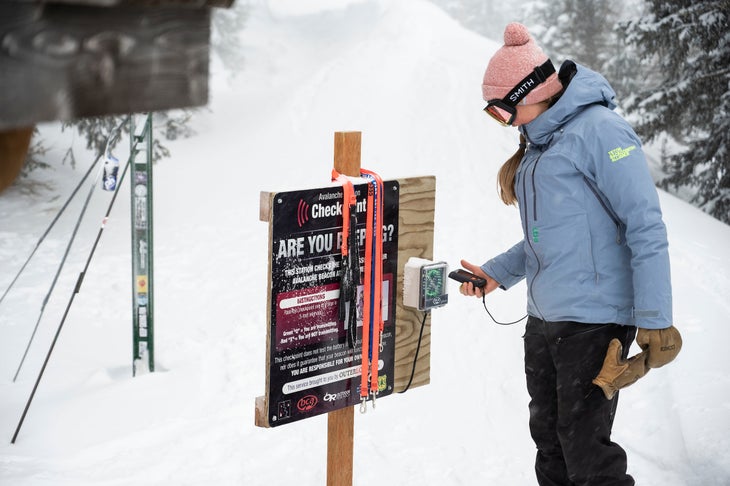 The TBCA is part of a larger trend of snow ranger programs in the country designed to promote responsible recreation in high-traffic areas. Vail Pass Recreation Area has 10 paid staff, funded by user fees, who provide visitor information, search and rescue support, and minimize user conflict between skiers and motorized recreators. The Colorado Mountain Club and Ouray District started a Snow Ranger Program on Red Mountain Pass in the 19/20 winter, to make contact with users and spread awareness about conditions, as well as backcountry etiquette.
These are just a few of a half dozen programs that are up and running in California, Colorado, and Wyoming, and Kofinas adds that plenty of other backcountry trailheads could benefit from it. "Given the growth of backcountry skiing, we have to come up with different systems and know that there will be access issues," says Kofinas.
Kazunas, who learned to ski in her 20s when she moved to Jackson, thinks these programs have the power to provide constructive and supportive feedback and assistance, instead of shaming skiers for making bad decisions. "It frustrates me when I hear snarky comments from someone who's more experienced, writing people off and telling them to go home. Yes, we have a responsibility to educate people, but lots of people don't know what they don't know. Patience is important."
While parking on top of Teton Pass is currently the most significant issue that TCBA hopes to alleviate—there's talk of a shuttle system in the future—a big part of its mission is to change the culture on the pass and encourage skiers to make conservative decisions in these crowded areas, especially when skiing above the road.
"Visiting people tend to listen quite a bit better than those who've been up here many years and are complacent about their habits. They tend to be really stubborn about how they do things," says Pistono. "If you get 10 stubborn locals who are avid skiers, you've got some tough work on your hands. It's up to you if you want to roll the dice, but when your choices start to affect the traveling public, that's not okay."
While the program isn't without its challenges, most skiers appreciate the effort and information the ambassadors have to share. Kazunas says the reaction has been mostly positive and productive. "The access [to backcountry recreation] is precarious. It's important we put in the effort now, while things are feeling rational and addressable," she says. "Having conversations and going on ski tours doesn't require much from us right now and it can have a big impact. At the end of the day it's just fun. It's my happy place and it's wonderful to have an excuse to be up there."
Read More
Why an avalanche that doesn't kill you might land you in jail
This backcountry mentorship program for women cuts out the backcountry bros
Pros reveal the most unexpected items in their backcountry packs