Cabin Fever
In the backcountry, where pain and satisfaction are often bedfellows, good partners—and good drugs—make all the difference.
Heading out the door? Read this article on the new Outside+ app available now on iOS devices for members! Download the app.
You know what sucks in the backcountry? 
There's no place to buy Anbesol: "the fast, on-contact answer for oral pain relief," according to Pfizer.
I bring you this revelation from Castle Creek Valley near Aspen—a gorgeous chunk of Colorado dividing gobsmacking Cathedral (13,943 feet) and Conundrum (14,022) peaks from the (merely) 12,000-foot- plus monsters on its eastern rim.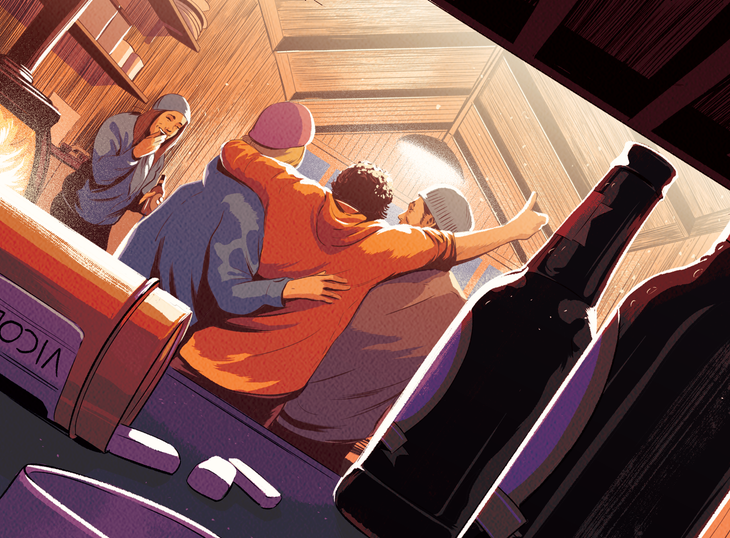 It was a balmy Sunday in March, and 12 of us were at a trailhead there, preparing to ski-tour to the Lindley Hut while evaluating gear from Bergans of Norway. The company came to life when Old Man Bergan invented the external-frame backpack in 1908, and it recently acquired the rights to the famous, timeless painting of the first backcountry skiers, the Birkebeiners, smuggling the illegitimate son of Norway's King Sverresson to safety in 1206. But I digress.
We were 12 souls buzzing about an unfamiliar trailhead, stuffing cherry new backpacks and loading sleds, looking like a bunch of people who'd never ski toured together before—because we were a bunch of people who'd never ski toured together before. Nobody noticed how the load was spread among the sleds.
Without thinking, I chose to pull the sled carrying most of the beer, because I tend to feel most comfortable close to beer. We set off. After a quarter mile, I slid to a halt, alarmed by the barking of countless pain receptors in my nervous system. For one thing, the beer-laden, heavy-ass sled was grinding my feet into the blisteriest depths of my touring boots.
Worse, much worse, was the fiery pain raging from the pithy core of my tooth, a bit of enamel, dentin, and pulp dentists know as Tooth 19. Though it had cracked and given me a few whimpering complaints two months earlier, it seemed fine. But it was apparently just saving its furious tantrums for Castle Creek—far from Anbesol. ("Dentist strong, so the pain is gone!")
Arriving at Lindley Hut was unalloyed joy. Not only is Lindley aesthetically perfect, but a fellow guest, Bob, produced some Vicodin. Bob is a helluva guy.
In no time, my hut mates became my best friends on the planet—and not just because I was high. We did avy-beacon drills. We built a fire in the stove and melted snow. We played cards. We ate like Norwegian kings and drank like Viking sailors.
Then we passed out in comfy bunks in the loft.
At 2 a.m., however, the Vicodin wore off and Tooth 19 decided I was having too much fun. It screamed me awake and refused to let me sleep one minute more.
In the morning, I rose from my bunk a haggard mess. And that's when the instant friendship inspired by a hut trip kicked in again. As I looked despondently for a mirror with which I could insert my contact lenses, Bob, like a pharmaceutical angel, came through again.
Our ensuing tour of Star Mountain was perfect— and not just because I was high. We ascended easy-gliding frozen névé, ate on the sundrenched summit, and then dropped into a line frosted with idyllic corn snow.
You know what sucks about the backcountry? Besides the lack of Anbesol? We don't get there enough.
Rob Story prioritizes skiing above work, material goods, and preventive dental care. He lives in Telluride.