Cat-Skiing in the Andes
It's not the first place a typical businessman would put a cat-skiing operation, but Ski Arpa's founder, Anton Sponar, isn't a typical guy.
Heading out the door? Read this article on the new Outside+ app available now on iOS devices for members! Download the app.
The road, which hairpins up from San Esteban, is cactus-lined and filled with chippy yellow rocks. It starts in a flat, dry vineyard, and until you round the last corner and can make out the red refugio at the base of the snowline, it's hard to trust that you're going skiing.
But we are, in August, in the high desert of Chile about 70 miles from Santiago, at Ski Arpa, the only cat-skiing operation in South America.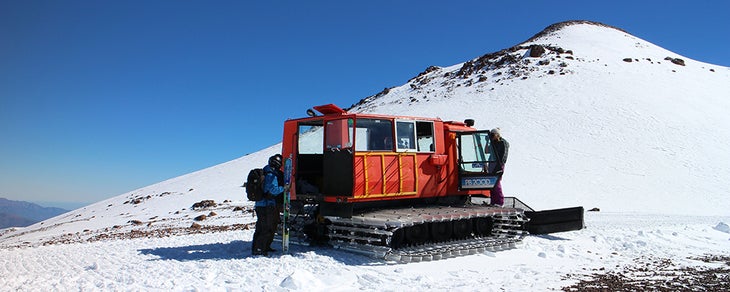 We pull up to the base lodge a little disoriented and dizzy from the road. Daisy, a preggo pup, and Jimdog, who appears to have put Daisy in that situation, circle and sniff boots. We drink Nescafe, check beacons, and then load the cats and start chugging uphill. "This cat is three years older than me," says Zach Collins, who drives the cat. In the Northern winter, he grooms Beaver Creek's terrain park in Colorado, and says he got hired because he can drive the cat and fix it, too; they needed someone mechanical. All eight of the guides are that kind of ambidextrous, because they have to be: they're also the ski area's cooks, maintenance guys, and bathroom cleaners, all down from Big Sky or Jackson for the off-season to chase snow.
That's how Arpa started. Anton "Toni" Sponar, the Austrian owner who lives in Aspen during Northern winters, started coming to Chile before the country really had a ski industry. In 1961, he took a banana boat from Cuba and a train across the Andes to teach skiing at Portillo, just up the road from Arpa. He's ventured to Chile pretty much every year since, to teach skiing at Portillo and then to strike out on his own. In the '70s, he drove down from Michigan three times, each time in a Volkswagen and usually burning out whatever travel companion had signed on to come with him. They'd last until Mexico. "I could not sit still," he says.
He found the Arpa ski area, and the 5,000 acres of the Arpa and La Honda Valleys it encompasses, when he was helping developers scout terrain for future ski areas. He bought the land in 1982, and by 1983 had built an a-frame and a lift. That winter, an avalanche took them both down, burying the towers for months. A decade later, in 2002, backed with an investment from one of his Aspen ski school students, he tried again, but this time with a cat. He's been running PistenBullys up the hill ever since.
Now, Toni is 80. His son Anton has stepped in to help guide and run the business. They're trying to figure out if it's possible to keep growing a cat-skiing operation in an isolated Andean valley with two ageing snowcats and a crew of dudes who don't socialize or shower much. This is Toni's dream, and Arpa holds steep continuous skiing for miles and miles, but it's not an easy place to run a business.
The cat drops us off on a wind-scoured ridge where we can see out in every direction. "We're exactly between the ocean and [Mount] Aconcagua here," says Derek Lennon, our tail guide. The highest mountain in the Americas, Aconcagua is almost 7,000 meters, so that puts us at nearly 23,000 feet. It hovers in the not too distant skyline as we roll over the leeward side of the ridge into our first run. The skiing feels effortless. There are tons of other places in the valley where we could have made turns, but the mountains aren't exactly forgiving. There are shaky loose rocks—an Andes trademark—not too far under the surface, and it's easy to see how a slide once wiped out the buildings: everything is steep and there are obvious avalanche paths. It is awesome in the literal sense; looking back up from the bottom I feel very small.

The other cat passes us on the next ride up, and the guides give each other shit on the drive by. They are good at pissing each other off, probably because they live together up at Arpa, isolated, for four months of the year—one old Austrian guy and a crew of twenty- and thirty-year-old dudes. "I used to call him Papa, but that seemed kind of weird here," Anton says about his father. Anton now calls him Toni, like everyone else, a rag-tag family, bonded by blood or skiing or both. Even the dogs are part of the tribe. The crew tried to get rid of the dogs one day, and drove them down to town and dropped them off, but the next day the dogs were back. They'd run the windy 13 kilometers back up the road home.
The puke-inducing access road isn't the only challenge of running a ski area in Chile. It's a small operation on big terrain. Ops include everything from avy control to cat maintenance, all very much at the mercy of the snowpack and the wind. Plus, they have to entice people to get there. The Arpa crew hopes to scale up, to build lodging, and to branch out from cat skiing, but that's still up in the air. Anton says he's kind of torn about how his father's dream is going to play out. He's seen how hard it can be but he also knows how good he has it. He doesn't want to give up on Arpa.
For our last run we split up. This group, typical of an Arpa crew, includes a few Spanish snowboarders who are working at Portillo for the season, and Americans from Denver and San Francisco, in Chile on vacation, who lag on the hike and hit the top puffing and stripped down to their t-shirts. Some of us hike out the ridge, to drop in to a line called Entrance Exam, which funnels 3,000 feet back to the hut. We follow a guanaco trail up and around the ridge and spot one of the animals in the distance, skittering down the next valley over.
We drop one at a time, making short, careful turns through the chute at the top, then opening up a little in the bowl and digging our edges into the windbuff. By the time we hit the cat road and the edge of the snowline, it's full-on spring, the snow slushy and melting around the rocks. "Puré de papas," one of the Spanish guys says. Mashed potatoes.

Back at the hut we switch into flip-flops and make Toni tell us the story of how he got here. We drink cheap Chilean beers and try to figure out a way to stay forever, or at least for the night. Maybe they need a dog walker. Daisy and Jimdog scam bits of sausages and eventually sneak off as the sun sets over Los Andes.
The guys are trying to find the dogs a home. They can't stay forever. None of them can, really. They're already planning their trips back north for the winter, while Arpa will sit empty for the Southern Hemisphere summer, waiting to see what happens next. 
For more photos from Ski Arpa, click here.