Teenage Dreams Come True on the Heli Trip of a Lifetime
The case for taking that bucket-list trip with your teens while they still want to ski with you (and you can still keep up).
---
Join Ski Mag
Create a personalized feed and bookmark your favorites.
Join Ski Mag
Create a personalized feed and bookmark your favorites.
Join for free
Heading out the door? Read this article on the new Outside+ app available now on iOS devices for members! Download the app.
You hear it before you even see it. That unmistakable sound fills the air and reverberates in your bones. That smooth and powerful rhythm, the whomp whomp whomp of two metal blades bringing 7,000 pounds of metal and 1,200 pounds of fuel to flight, means you are about to have a very good day.
As you hear it approaching, you begin to feel it, too. You might forget to breathe as your eyes stay fixated on the machine hovering overhead, lowering itself slowly and precisely until it sets down within inches of your outstretched hand. 
You feel your body begin to release its pent-up tension. Your breath returns. You move towards the helicopter door, crouching low to avoid the two 25-foot-long blades circling 370 times a minute overhead. Here in the Cariboo Mountains of British Columbia, we are in the heart of 574 square miles of world-class ski terrain operated by CMH Heli Skiing and Summer Adventures. Since Hans Gmoser established the operation 40 years ago, CMH has been flying guests into the northernmost subranges of the Columbia Mountains, including the Selkirks, Monashees, and Purcells.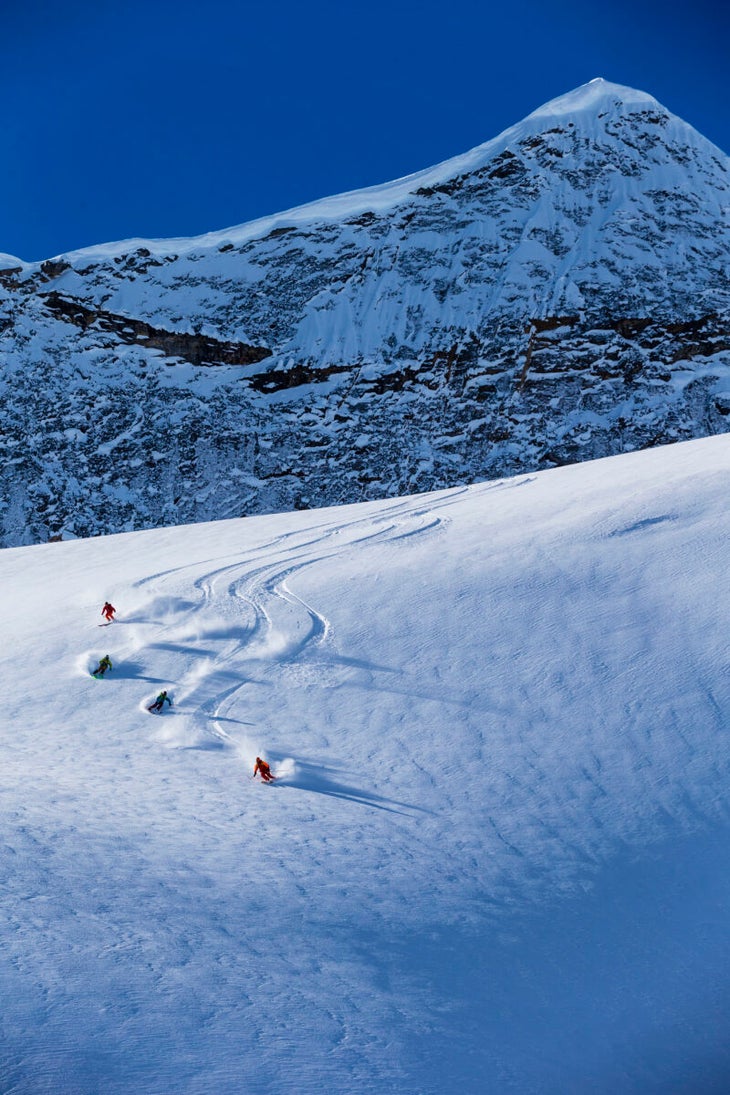 It's mid-April, and I'm following Todd Ablowitz and his daughter Hannah, 14, into the belly of a Bell 212 (or the Thunder Chicken, as she's affectionately called by our pilot, Brad Lillow) at the bottom of a run called Crazy Horse, 760 feet below our drop-off point on the ridgeline. Using the metric system, I calculate that to be about 232 powder turns (but who's counting?).
We're here in the dramatic, glacially carved Cariboos for five days with 28 other guests during the season's penultimate week. And while half the group resembles the stereotypical clientele in a heli lodge—white males over age 50—this week's guests include a noticeable number of younger skiers: like Hannah and her friend Cora, 15. The girls are longtime friends who met on their local Summit County ski team at home in Colorado. Cora's dad, Bill, and Todd became fast friends years ago, ultimately bonded by two of their most defining attributes: their love of skiing powder and their daughters. In their constant search to slow time and enjoy more of both, they brought their girls to the Cariboo Lodge, which is only accessible via helicopter following a bus transfer from Kelowna, roughly 300 miles south.
The lodge has WiFi and a 12-person hot tub but is otherwise mostly free from the outside distractions that Bill and Todd often jockey with back home. 
Back in the high alpine above the treeline, limitless valleys sprawl out below our wide ski tips. There's a timeline to keep when heli skiing to manage the flow of each group of skiers on a tight rotation of ski, fly, ski, fly. That makes it essential to get off the snow-covered landing pad quickly after a drop, but you'd be forgiven for getting distracted by the views.
The surrounding terrain is so dramatic and unlike anything in the Lower 48 that to fully drink it in is a paradigm-shifting experience.  Massive crevasses signal the extreme nature of the landscape and split the mountains open to our left and right. Opaque glacier ice chunks the size of cars and the color of the Caribbean Sea stack up in piles in the snow like gemstones. Our guides, Hammer and Georg, lead us safely around them until we can regroup above a blind roller in the mid-morning sun.
On the other side of the ridge is 200 feet of uninterrupted 40-degree pitch blanketed with two, sometimes three, feet of untouched powder and precious wind buff. With nominal risks on this aspect, our guides send us one by one over the crest with instructions to reconvene at the pickup point below. Cora wastes no time dropping in first (she's a smart girl). After three solid turns that signal her years of training, she disappears from sight and I let out a yelp.
I know without even seeing that she's making some of the most memorable turns of her life. Her dad waits to follow, pure and visceral emotion beaming from his face. Bill drops a knee and makes teleskiing look cool as he chases his daughter out of view.
The others in our group, another Colorado family with two teenage sons, do the same until we're all stacking our skis, poles, and backcountry packs into a tidy pile below the face we just skied. Ten feet away from our gear, we cluster together in a tight group, each taking a knee as we wait to hear the familiar whomp whomp whomp in the distance. We watch as the tiny black speck grows larger and larger against the cerulean sky until it's directly overhead. We protect our faces from blowing snow and ice being thrown from the blades, never breaking eye contact with the helicopter.
When it lands, our guides quickly load our skis into the cargo basket. Hannah steps up first, assuming her role as "on the door." She gingerly pries down the metal handle to open the sliding door of the aircraft. Single file, we load in, alternating seating so our knees can wedge together in the aisle like teeth on a zipper. Including our pilot, Brad, and two guides, the bird can fit 12 of us, plus an offering of electrolyte drinks (heli juice, they call it) and a selection of the best lodge-made pastries for hundreds of miles. Heli skiing is luxurious beyond measure, but skiing is still hard work. There's a requisite amount of Snickerdoodles needed to ski 110,000 vertical feet of sustained fall line powder in a week. It's recommended to keep one, or a brownie, on your person at all times (yes, that's what that one pocket is for).
Back at the lodge, it's straight to leisure attire before reconvening in the dining room for après-ski. Hannah and Cora quickly gravitate to the other teenagers. Watching them ski with such strength and confidence all week, I often couldn't tell they were teens—until the giggling betrayed them. But then again, heli skiing brings laughter to even the most stoic skiers.
As they exchange Snapchat accounts and talk about makeup, a few critique one dad's Instagram story while at the bar; even in Canada, they're only old enough to drink Cokes and Shirley Temples.
Todd cracks a Kokanee while he does some inbox maintenance. There's a big deal on the table at his company right now, and it's a terrible time to be away. That doesn't matter, he tells me. This is more important. The trip, Todd's third with CMH, is his bat mitzvah gift to Hannah. The pandemic (during which the lodge shuttered) and closed borders had delayed the trip by two years. He wasn't interested in waiting any longer to share the experience with his daughter.
"You only get so much time with them before they're gone, out in the world," he tells me as he peruses the wine list for the evening's four-course meal. "I don't want to share her until I have to."
Bill, a Forest Service ranger who works with ski area management, agrees, though he's become more flexible on wanting to keep Cora close to home until college. She's about to spend her sophomore year of high school on exchange in Croatia. With that in mind, their time together on this trip is even more precious. Soon, ski days together will be on pause for a while. Best to make them count.
On the day of our departure, we're up early to pack our bags for transport back to Kelowna. The weather delivered again, as it miraculously had all week, allowing us to eke out a half day of bliss before our return to reality.
We ski Little Matterhorn, a 460-foot pitch below the dramatic relief of a granite spire shaped like its namesake in the Alps. Earlier in the week, we skied this run, but the pitch is so vast we never cross an old track. Instead, we stack precious turns in line with each other, a bit melancholy to know each one brings us closer and closer to the final turns of the trip.
"Is the last day always this sad?" Hannah asks her dad. He put his arm around her. We all know the answer.
Waiting at the pickup for what would be our last drop of the trip, I pull out my phone to snap a picture of the panoramic surroundings. The tiny square on my screen feels unjust for such magnitude. As I hear the whomp whomp whomp of the rotors in the distance, I fire off a text to my dad. What are you doing this time next year? I ask, and attach the photo before slipping my phone back into my pocket. I crouch down between Hannah and Cora, ready for our ride.
Booking is open for any of the 12 CMH lodges for the season, which runs from December through April. Trip costs start at $1,350 (CAD) per day, which includes food, lodging, and heli transfers. Bar tabs and gratuities are extra, so plan accordingly. Shirley temples are included.