Confession: I Wrecked the Skiing Rig
A Ski Magazine editor finally admits to trashing our company car.
Heading out the door? Read this article on the new Outside+ app available now on iOS devices for members! Download the app.
I work at Ski Magazine, just down the hall from Skiing, and I have a confession. I wrecked the Skiing Magazine Ford Expedition—and tried to get away with it. I almost did, too, making clandestine trips to the auto-body shop and fudging the dates on the sign-out sheet.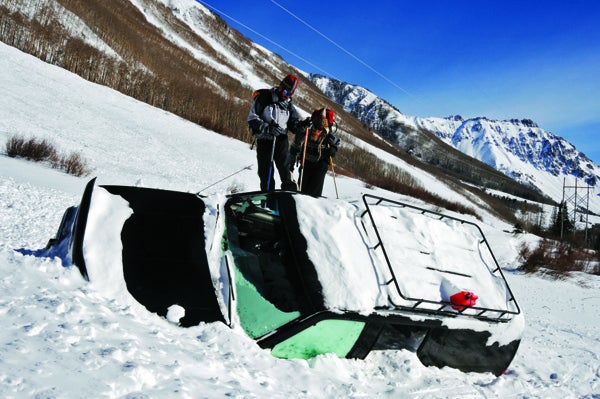 Ski is Skiing's sister magazine—but my mag is more "Top 100 Catwalks" than "How to Throw a Rodeo 540." Our parent company owns two branded vehicles, one for each magazine. I signed out the larger Skiing truck to tote my husband, our year-old daughter, and three baby nieces and nephews up to Breckenridge for Christmas. That's four car seats, a case of baby formula, about 300 diapers, and, unbeknownst to us, one contagious stomach flu that began spurting out of the children, from both directions, about a half hour into our drive.
The miles passed. The pile of soiled baby clothes mounted. But my spirits were good. Then, in my rearview mirror, I saw the lid to the roof box that I forgot to lock cartwheeling into the shoulder of I-70. We pulled over, tied down whatever was left in the box with the rope from our plastic Kmart sled, and left the lid for dead. My husband then turned to me and said, "I don't feel so hot," and puked in the garbage bag we had been using to contain the kids' soaked clothes.
"It's going to be OK," I told everyone as we drove down Breck's Main Street for the third time, looking for our turnoff. As I fumbled for the directions in the center console, I found that our garbage bag had been steadily leaking chunky hazmat.
GO BIGGER/LIVE BETTER, screamed the old Skiing slogan painted on the outside of the car. Inside, there were screams of a different sort. "Turn that off!" I yelled as My Little Ponies sang—again—on the DVD player. My husband moaned weakly. We were lost. It was snowing. The smell was awful.
Then, on the wrong unplowed back road somewhere in Summit County, we crashed into a Jeep. The Skiing truck's exterior had flames and skulls and crossbones painted on it—graphics meant to convey a certain youthful vibe. "This truck is not packed full of infants," it suggests. So imagine the surprise of the other driver when I opened our door. His car was totaled. And the slogan on the smashed tailgate of the Skiing truck now read, GO BI.
So, Skiing editors, I'm sorry. I'm sorry about your roof box and for backing into an intersection without looking. I'm sorry one of you had to storm my office with a telltale squeaky toy and bottle of Febreze before I fessed up. But most of all, I'm sorry—so sorry—about that smell.
P.S. While we're on the topic of confessions, I don't really know what a rodeo 540 is, either.