Deep Secrets at Los Alamos
When they weren't busy splitting atoms, Manhattan Project scientists linked turns on nearby Pajarito.
Heading out the door? Read this article on the new Outside+ app available now on iOS devices for members! Download the app.
I first discovered Pajarito, a tiny nonprofit ski area near Los Alamos, New Mexico, 15 years ago, soon after I moved to Santa Fe. Because the area was open only Thursday through Sunday, my powder-junkie friends explained, fresh snow piled up unplundered on its runs early in the week. Catch it on the right Thursday, one acquaintance enthused, and "it's like cat skiing, but with chairlifts."
It was true, I found. And for a while, chasing pow at Pajarito became a Thursday routine for me. This was the early aughts, before the winters shifted and softened, before the mid- week dumps became less reliable, the seasons shorter, the days milder. In some recent years Pajarito has struggled to open at all. By 2014, rumors circulated that it was in danger of shutting down, which inspired a movement to save it.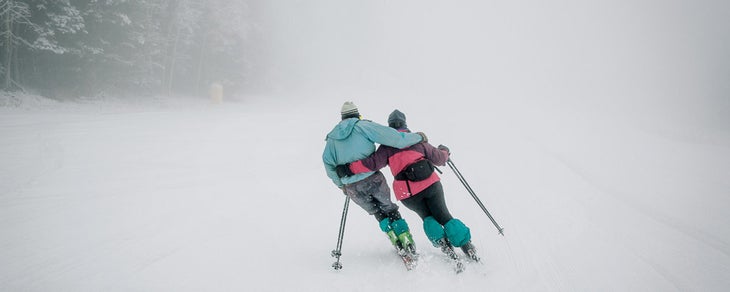 Pajarito mattered, its champions argued, not just because of the skiing, but because of the skiing story it had to tell—the story of how the hill had been developed by and for the people who came to work at the famous Los Alamos National Laboratory. How, in its earliest years, everything existed in secret: the slopes, the town, the identities of the residents, who used made-up names and false addresses. How, in the 1940s, Los Alamos was arguably the most important place on earth, home to the scientists recruited for the Manhattan Project—titans like Niels Bohr, Enrico Fermi, Oppy himself— united in the urgent race against the Germans to split the atom and unleash its terrible power.
Skiing is hardly a central theme of the Manhattan Project's history. But it's not unreasonable to say it's a vital part of it, and part of the lives of those legendary men. The slopes were hand-built to provide an escape from their long, grinding workdays, a winter playground for the big brains of the world to exercise and blow off steam.
One of my favorite skiing photos of all time is a black-and-white of Bohr, winner of the Nobel Prize in Physics, circa 1943. Dressed in a V-neck sweater and wool trousers, strapped to wooden skis, he strides up a low-angle slope. I can't look at that image without imagining the man at his desk a few miles from the mountain or emerging after a grueling day of calculations into a crisp winter night, clouds hanging low, fresh snow sifting down. Did he greet these evenings as I do, with giddy powder-day anticipation? Did skiing refresh and recharge him, the way it does me? What might have happened to the Manhattan Project had it not been set here, at Oppenheimer's insistence, high in New Mexico's Jemez Mountains? That particular assemblage of minds and mountains was as unusual a combination as I've ever heard about. As one Pajarito staffer told me, "There's nowhere in the world where you'll find this level of science so close to this caliber of skiing."
I hadn't been to Pajarito for several years, so last February, after a potent storm, I drove across the Rio Grande Valley, produced my driver's license at the LANL checkpoint, and headed up toward the ski hill. I promptly encountered a cop car blocking the mountain road, lights flashing. The plow was stuck, the officer said. "Could be a while."
An hour later I arrived at the base, a modest lodge with a loose collection of outbuildings. An adopted stray cat named Alpine prowled around the admin office. There didn't seem to be many people around, save for a man with a long scraggly white beard who stood on the deck of the main lodge smoking a cigarette. He was curiously dressed, in navy corduroy knickers, robin's-egg blue windbreaker, striped beanie, and goggles that looked like some kind of lab safety equipment. It was Bernard "Butch" Wood, 65, a physicist, self- described "cutter" (he was referring to trees), and longtime member of the Los Alamos Ski Club, which ran Pajarito until the spring of 2014.
Despite his anachronistic appearance, Butch turned out to be a ripper, as did others from the club who joined us, including Brian Foley, a race coach, board member, and "co-head of the volunteer chainsaw crew"; Tommy Long, son of mountain manager Tom Long; and past LASC presidents Harry Flaugh, George Lawrence, and Paul Allison. Pajarito is small—1,440 vertical, 40 runs, 300 acres—but it's home to a disproportionately high number of expert skiers. Dean Cummings, owner of H20 Guides in Valdez, Alaska, grew up here. So did pro freerider Garrett Altmann. Olympic gold medalist Debbie Armstrong trained here in the 1980s. "We have a history of turning out top-notch talent," Foley told me on the lift. "There's a lot of passion for the sport at this place."
That passion has been evident since the earliest days. Before Pajarito came into existence in the mid-1950s, the skiing around here happened on Sawyer's Hill, a moderate slope closer to town. During World War II, the average age at Los Alamos was 26—a mix of GIs and civilians, including engineers, physicists, and support staff occupying a cluster of rustic dormitories, offices, and workspaces. They were not allowed to mention the name "Los Alamos" or even identify themselves as "scientists." Only a handful knew the full nature of the work they were doing. According to Deanna Morgan Kirby's excellent book, Just Crazy to Ski: A Fifty-Year History of Skiing at Los Alamos, they threw raging parties on Saturday nights. During the winter they made laps at Sawyer's on seven-foot skis or used sealskins to tour into the surrounding wilderness, sometimes for epic days-long outings.
In 1944, a group of lab personnel formed the ski club and launched the first work party, clearing brush and trees, a tradition that still continues. To open up runs, they removed the trees by wrapping explosives around their trunks. The club installed a $400 diesel-powered rope tow. A season pass cost $7.50. The club roster, which ran upward of 140 members, read like a history text: Oppenheimer, Fermi, Victor Weisskopf, Hans Bethe. The club even included Klaus Fuchs, the German- born theoretical physicist later convicted of supplying Manhattan Project secrets to the Soviets.
Skiing was still a curiosity in New Mexico, but for the Los Alamos scientists, many of them Europeans who had been exposed to the sport in the Alps, it was a nostalgic experience they embraced with zeal. George Kistiakowski, a Ukrainian physicist who would later become the science advisor for President Eisenhower, engineered a snowcat by fitting tanklike treads onto a Jeep. Club members dubbed it "the weasel" and used it for tow-ins to the higher peaks. Fermi, the Italian scientist who won the 1938 Nobel Prize for his discovery of nuclear chain reactions, was at 43 a particularly tough mountain charger. Bored with laps at Sawyer's, he recruited colleagues for rigorous tours in the Valles Grande—an extinct caldera in the Jemez Mountains—often outpacing men half his age.
When Bohr, who at age 59 was the oldest scientist at the lab and who went by the alias Nicholas Baker, first visited the hill, it was like a homecoming. "He gave himself over to graceful curves, to expert snowplows, to dead stops at high speeds and to stylish jumps that no one else on the hill could perform," wrote Laura Fermi, Enrico's wife, in her book Atoms in the Family: My Life with Enrico Fermi. "He quit only when the sun went down and a darkness and chill fell upon the snow."
The intensity that drove their work and play peaked in 1945. That July, Oppenheimer and company set off the first atomic bomb at the Trinity Site near Alamogordo, New Mexico. Wives and other lab personnel camped that night on Sawyer's Hill, where they could see the explosion's glow in the southern sky. In August, a version of that bomb, Little Boy, was dropped on Hiroshima. Three days later, a second bomb, Fat Man, fell on Nagasaki. At least 129,000 people were killed. Most lab scientists first heard that grim news over the Los Alamos PA system. Some were mortified by what had been done, quit the lab, and left. Oppenheimer declared it a great victory and a profound act of patriotism.
Despite the controversy surrounding The Bomb in the postwar years, Los Alamos National Laboratory continued to grow and flourish, and so did the skiing. In 1957 LASC, fed up with unreliable snow and marginal conditions, abandoned Sawyer's and relocated to Pajarito Mountain, which topped out at 10,940 feet. They dreamed of deeper snowpack and longer runs. Building the new area was a massive undertaking, shouldered almost entirely by volunteers. "Skiers of the hill, arise!" went a memo to club members that spring to rally volunteers. "You have nothing to lose but the doubtful pleasure of skiing on rocks, stumps, and beer cans."
"Skiers of the hill, arise!" went a memo to club members that spring to rally volunteers. "You have nothing to lose but the doubtful pleasure of skiing on rocks, stumps, and beer cans."
This set the tone for the future of skiing at Pajarito. For the next 50 years the enthusiasm that infected those early skiers only increased. The club peaked in the '80s at nearly 4,000 members, who chopped, cleared, bucked, and bulldozed a legit ski area into the side of Pajarito Mountain. They built the lodge, expanded runs, and thinned glades. They installed rope tows and chairlifts, one of which they painted black and named Black Sabbath.
"It was a really cool place to ski," says Cummings, whose father worked at LANL as a computer technician. "There were huge jumps off the road cuts and 1,600 feet of fall line. We would just make continuous laps. You could get in a ton of vertical in a day. It just felt like there were no boundaries and hardly any rules. As a local, you pretty much owned the place."
During my first visit in February, I chased Wood, Foley, and the others around the slopes, most of which stripe the mountain's north face. The main attraction, a quartet of double-black runs typically studded with large moguls and called the Fab Four, was closed. Or at least the Mother lift, which serves them, was. No one seemed quite sure why. It wasn't a problem, however, since a patroller was happy to tow us to the top behind a snowmobile. We laughed and hooted our way down through knee-deep fluff.
In the afternoon we made our way to the western edge of the ski area, which is bordered by a forest of charred snags. The burned trees are reminders of the 2011 Las Conchas fire, which torched 150,000 acres, including two Pajarito chairlifts, and forced the evacuation of Los Alamos and the lab. The fire was just one in a series of tough blows to the ski hill, which also endured several consecutive low-snow winters. During the 2012–13 season, Pajarito managed to open only a few beginner runs for a total of 14 days. Club membership dwindled to around 2,000. In 2014, the club made a tough decision: to relinquish operation of the hill and find new owners. It was either that or shut everything down.
"It was rough," said Flaugh, the former LASC president. "The drought killed us."
In May 2014, the Sipapu Group, the Durango, Colorado–based company that owns Sipapu Ski Area, near Taos, Purgatory, near Durango, and the Arizona Snowbowl, near Flagstaff, took over operations. The new managers promised to invest in snowmaking and continual trail improvements. There were rumors Pajarito would be open seven days a week instead of four. The county would manage the land. Much of the burden shouldered by the ski club since the mountain's inception would be lifted. Pajarito had been saved.
But when we stopped for lunch in the lodge—a structure many of the ski clubbers had helped build with their own hands—the mood turned deeply nostalgic for a moment. I've been to a lot of mountains over the years—big, small, corporate, mom-and-pop—but I've never encountered such deep pride of ownership. I was struck by how eager everyone seemed to be to share their stories, photos, and opinions. You might have thought the place was Aspen or Alta by how enthusiastically the club members raved about it. But it didn't have to be. The best mountain is the one you call home.
Outside, an afternoon pulse of fresh snowfall was cranking up, to everyone's delight. (Two weeks earlier, grass had been showing.) I followed the Pajarito crew back out to the slopes. We skied until the sun went down and a darkness and chill fell upon the snow. 
By Nick Heil // Photos by Ryan Heffernan
Nick Heil, a frequent contributor to Skiing, is a freelance writer based in Santa Fe, New Mexico, and the author of Dark Summit: The True Story of Everest's Most Controversial Season