How To Go No. 2 While Skiing Alaska's Tallest Peak
As skiing big peaks increases in popularity, so does the amount of poop on the mountains. Here's how one team reduced their impact.
Heading out the door? Read this article on the new Outside+ app available now on iOS devices for members! Download the app.
Words: Sophia Schwartz; Photos: Iain Kuo and Joey Sackett
As a former east-coast mogul skier based out of Waterville, N.H., I thought I had a pretty good understanding of what icy ski slopes are like. But the ice that lurks in the prominent ski lines on Denali, the 20,310-foot peak in Alaska, was on a whole other level.
"Wow, that's blue!" Joey remarked looking up at the massive peak and visible blue ice that towered above us as we arrived at the 14,000-foot camp.
The joy of reaching high camp was now mixed with the feeling of a knot forming in my stomach. The cobalt patches stretched for hundreds of feet through the Messner Couloir.
"That wind storm did a number!" Marika chimed in.
"The fixed lines look even worse, I bet the Rescue Gully is super sketchy too," Iain said, adding that even our backline could also be unskiable.
"Conditions, conditions, conditions" I whispered to myself the little motto I had developed over the past year. "Well, it looks like snow in the forecast," I said half-heartedly, clinging to some hope.
As a mogul skier, I learned to grit my teeth and power through the rough icy conditions. In big mountain skiing and ski mountaineering, however, powering through is often a life-ending trait. As I've transitioned to becoming a professional backcountry skier, I've worked to adapt my mentality that often toughness and mental strength is actually achieved by not skiing something and coming home safe. This is usually much easier said than done.
Looking up at the blue ice, I was reminded of the required pre-climb orientation when the rangers shared information regarding a few tragic accidents that had occurred prior to our arrival this year. They expressed that while most climbers who get in trouble on Denali are inexperienced and unprepared, most skiers who have been injured or killed skiing Denali are very capable and experienced. They simply pushed the conditions and left themselves little room for error.
Practicing turning around at home, where I have ample opportunity to try another day, is much easier than during a massive expedition on Denali that is both time and resource-intensive. To help reduce some of the pressure around weather, our team did give ourselves a 21-day window and booked no return flights. Still, lots of people get unlucky. Denali only has a 60 percent summit rate. And, at 14,000-feet, that blue ice was making me question what was actually possible.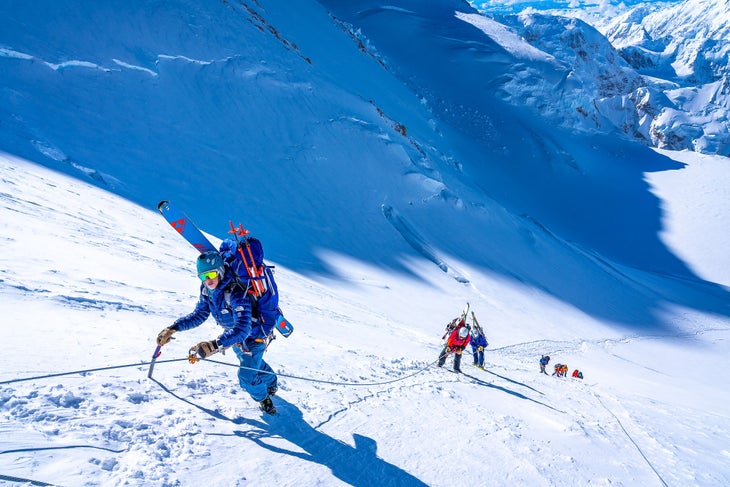 Back in June, I teamed up with friends Iain Kuo, Joey Sackett, and Marika Feduschak to adventure north to attempt to ski Denali. My goal was to try to answer the question "What am I actually capable of?"
The inspirational doubt lingered not only around my physical abilities but also the reported snow conditions on the mountain. The fierce weather on Denali is one of the factors that makes skiing a line such as the famed Messner Couloir beautifully extreme, but the 2021 climbing season had already seen conditions that were far from skier-friendly. Well before we even arrived at the 14,000-foot camp, we knew our chosen dream line descent might not come to fruition.
So our team had another goal that played out in the background of our trip: We set the intention to carry out all of our human waste from our expedition.
Our team's goal of keeping the mountain clean by removing our waste was both to inspire a deeper connection with the mountain and to help relieve some of the summit fever. Human waste is a huge problem on peaks all over the world frequented by climbers, including Denali. In the 1980s, Denali had so much fecal matter in the snow that most climbers were unable to find clean snow for drinking water. A 2002 research study by Joseph McLaughlin surveyed 132 climbers and revealed that 39-percent of them saw fecal matter around camp and 29-percent ended up with a GI-related illness.
Human waste is both a short-term and long-term problem here. Researchers found e-coli and human fecal particles downstream in the rivers flowing from Denali's Kahiltna Glacier. Over the years, the rangers have worked hard to implement programs to reduce the waste on the mountain and conditions are in much better shape, however, Denali National Park does not require climbers to fully carry off their poop.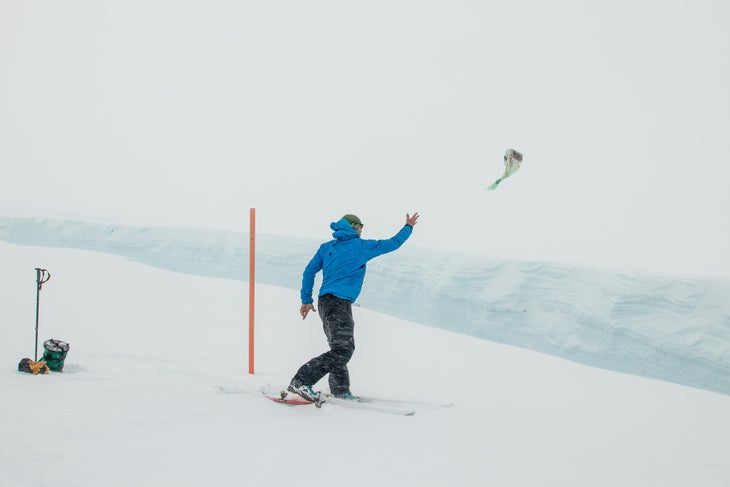 The current system issues each team Clean Mountain Cans (CMCs), which are resealable poop buckets lined with a trash bag. At the 14,000-foot camp, there is a massive crevasse where climbing parties chuck the used trash bags from their CMCs. It is the only place to dispose of the human waste you have transported on the mountain. On the descent, you must carry your cans back through basecamp, fly off with them, and return them to the ranger's station.
Our goal was to skip the crevasse dump and carry all of our waste out. While it sounded easy in theory, the loads you carry on Denali are already unbelievably heavy. Carrying your waste means the weight you get rid of from eating food comes full circle back onto your sled load.
However, watching trash bags full of poop being chucked into the side of the mountain below the blue ice at the 14,000-foot camp reaffirmed our team's desire to carry our waste out.
Read about the Team's Prep for this Trip: How Double Backflips and Human Waste Affect a Ski Expedition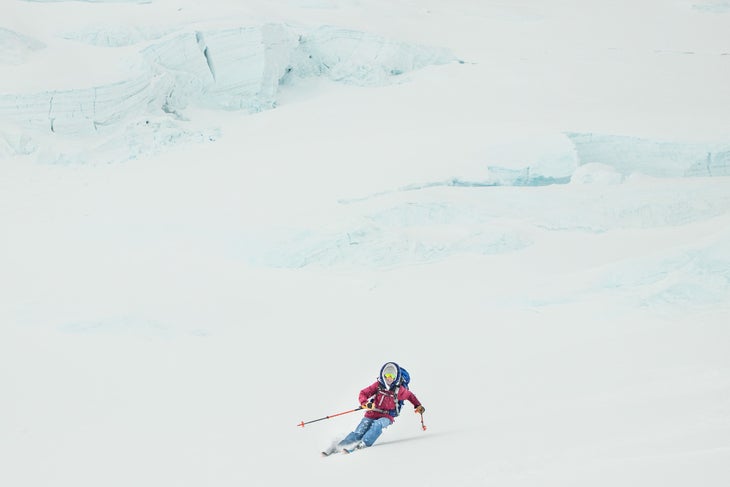 Later on, when our summit window opened up, the bigger ski lines were still too sketchy. After reaching the peak of Denali, the highest point in North America, we decided to ski down the West Buttress, the same way we climbed up. It might not have been beautifully extreme like the Messner Couloir, but to make turns off the summit was incredibly special, as was the following 3,000-feet of skiing.
Thankfully, our team still had other reasons to be excited besides skiing from the top. The white colonialist mindset so embedded in mountaineering makes us feel like we only succeed if we reach the summit or tick off our goal. While having a goal of summiting and skiing a difficult line motivated me to train and prepare, I was there to spend time with the mountain, not try to conquer it. The team was stoked to spend time together as friends and connect with other climbers. We were also enamored with the stunning views and vastness of the mountain. Marika, Iain, Joey, and I were rookies on an expedition where we were fully in charge for the first time and excited to develop skills.
Plus, our other goal of carrying our waste off the mountain made one of the worst and coldest parts of the trip pretty fun. Our team joked about going to the bathroom in our tent vestibules, we quizzed the rangers on their funny poop stories, and we dove into the history of the process of cleaning up Denali. Our inquisitive nature led us to be connected with Roger Robinson, the now-retired park ranger who was the driving force behind Denali's waste management progress.
After we flew off the glacier, we met Robinson in a park in Talkeetna. He first came to Denali in 1975 on a trip to specifically clean up the mountain from the climber's trash, and that trip's intention catalyzed his journey. He experimented with many iterations of managing waste from digging communal pit toilets to using multiple crevasses for dumping at lower elevations. Robinson partnered with scientists to analyze the implications of human waste and engineered the CMC himself to be as comfortable and convenient as possible for climbers going to the bathroom in -20-degree weather.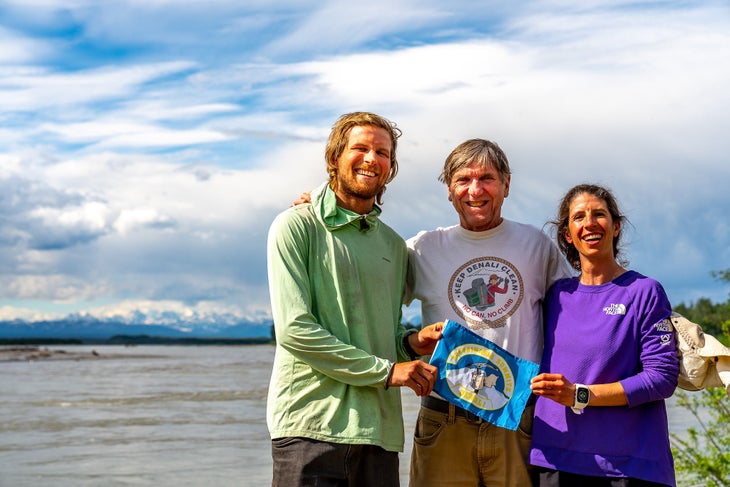 Talking to Robinson was as inspiring as reaching the summit. He was proud to hear we carried out our 4.5 CMCs from our 17 days trip (each can has space for about twelve uses). It reminded me that doing hard things is often worth it, and reframing challenges can add value. Robinson and our team hope more people will voluntarily carry off all their waste. Many of the guiding companies are already onboard doing it.
I also learned CMCs are available for purchase. I plan to get one for other adventures and commit to continue packing out my waste. Robinson challenged us to go even further and think about our whole carbon footprint on all adventures.
Like the weather, so much of climate change feels out of our control. I honestly believe that placing the burden on individual actions has been used as a scapegoat for the biggest carbon offenders. Once again, however, the mountain has shown me it is OK to hold both to be true. Our small individual actions can change conditions on a peak like Denali, while greater systemic change is still needed to stop these glaciers from melting away.
Related: Critical Gear for Your Next Overnight Ski Expedition