Five Question Interview: Mike Clarke
He's the star and producer of his own TV show. The CU student explains how his dedication to school and skiing has allowed him to be just that...
Heading out the door? Read this article on the new Outside+ app available now on iOS devices for members! Download the app.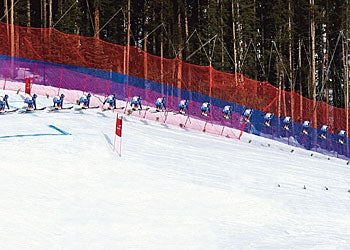 As a double major in film and photography at the University of Colorado in Boulder, Mike Clarke is a busy guy. On top of that, he's a professional skier (he placed third at the US Open Big Air at Copper and second at the Joetsu Kokosei in Japan and has been selected to ski in the Jon Olsson Super Sessions and the Jon Olsson Invitational). All that, and he's now the producer and star of his own show: JustPassingThru.tv. The concept of his project? Compile imagery of skiing and capture the culture of ski travel. The team rider for Salomon, UnderArmour, Spy Optics, Dakine, Jiberish, Scott Poles, and Keystone Resort took a break from his art history homework to chat with Skiing Magazine's Paul Sliker.
Tell us about this show you're working on.
JustPassingThru.tv was an idea brought about by my friend Blake Kimmel and myself. We wanted to find a new way to capture ski culture in addition to what happens on the mountain. I started to develop this concept further through my film and photography classes. I found the financial support from my sponsors (Salomon and Jiberish) to make it happen. Blake helped me produce, and professional skier Kerri Hermann put her trust in me and came along for the ride without even knowing what it was about or whether it was going to be successful. And while Blake, Kerri, and I are the central people on the show, our goal was to meet up with tons of other great skiers and friends along the way. Early June, we embarked on a three and a half week journey in my Subaru Forester. We started in Colorado and made stops at various destinations in Utah, Oregon, Washington, and British Columbia.
 Sounds like a time-consuming project.
This project has been my life ever since the idea really came together in my mind. The trip consisted of over 4,200 miles of driving. We had one 31-hour car stint when we drove from Whistler back to Boulder and only stopped once to get food and take a picture in Park City. By the end of the trip, we had accumulated roughly 35 hours of footage. Since then I've been sitting in front of a computer screen staring at Final Cut Pro. I've already put in well over 24 hours of work and maybe 1/10th of this project is finished.
 Where will the show be distributed?
At this time, we're not exactly sure how we're going to distribute the entire video. But we plan to produce a full length DVD with extra features that will be for sale online. We're also hoping to have a series of three webisodes. We would like to eventually take it to different outlets like television for example.
So it's like a ski movie in sections?
Even though a distant goal of ours is to make ski movies that are separate from the show, it's important to understand that we aren't trying to compete with companies like Warren Miller, Level 1, Poor Boyz, and TGR. This concept is completely different from your typical ski flick because it has an artistic premise. It's more about the travels, the experience, and the people. And that's the philosophy for JustPassingThru.tv: to let people see the other side of skiing that for some reason isn't being shown in ski films today.
Do you have any other hobbies besides skiing and filming?
I must admit: I used to figure skate. I grew up in Lake Placid, a town that claims to be the winter sports capital of the world. I don't know whether that's true or not. But if you're a kid growing up there, you're going to do some winter sport, whether it be skiing, hockey, figure skating, bobsledding, or nordic jumping. My mom signed me up for both freestyle skiing and figure skating lessons. I gradually became more and more interested in skating. I did a few competitions, won a few medals, and was pretty decent. At the tender age of 12 I was really inspired by Kurt Browning's smooth and effortless footwork. But at the age of 13 I started getting pretty good at skiing moguls and doing aerials so the two sports conflicted. I had to pick between the two sports and decided to stick with skiing.