Hunting for Gold in The San Juans
Skiing deep corn in the San Juans with a bunch of stoked college kids
Heading out the door? Read this article on the new Outside+ app available now on iOS devices for members! Download the app.
Situated in a stunningly beautiful high alpine valley at over 9,000 feet, Silverton, Colorado's Victorian row houses seemed out of place. As the crew from CU Boulder's Backcountry Club and I unloaded our bags into one of these beautiful aforementioned Victorian-era homes, I stared up valley at the craggy San Juan mountains and couldn't wait to ski them.
The Grand Turk, the Sultan, Little Giant Peak, and Anvil Mountain tower over the town. While none are close to 14,000 feet, they're the boniest, steepest mountains I've seen in Colorado. Each flank descends nearly a vertical mile from summit to the valley floor, and the area has become known for its gnarly skiing and technical mountaineering.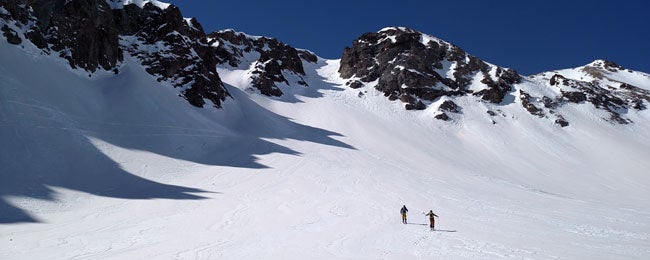 Prospectors first came to the area in the mid 1800s in the search for gold and other shiny metals in the ground. These days, a different kind of prospector seeks white gold up in the San Juan alpine. 
Part 1: The Sultan
After a breakfast of pancakes and one strip of bacon (club president Drew didn't buy enough bacon to feed 20 hungry skiers), my crew of five piled into the car to head about up Highway 550 to the base of the Sultan. Shred Team Alphaconsisted of splitboarders Luke and James, skier chicks extraordinaire Nina and Kayla, and yours truly. 
Our plan was to gain the summit of Sultan and ski the steep Northstar couloir all the way back to town.
Luke and I did basic research on the line and the few guidebooks that existed of the area told us a popular route was to skin up the Grand Turk and connect via a ridge to the Sultan. Eh, we thought that was too much skinning for day one so we did a little google earth-ing and decided to ascend the East Ridge instead.
The skinning became nightmarish right away. El Nino had ignored the San Juans for the last two weeks and the whole range was experiencing some serious melt-freeze cycles as daily temperatures soared over 40 degrees. The snow was slick, giving little purchase to our skins. Nina's forward progress was remarkable considering her skins wouldn't stick to anything, including her own skis. Luke strapped on some pine boughs to the bottom of her skis to aid in traction, and surprisingly, it worked. However, I can't say the same for our chosen ascent route.
The route proved too steep for the whole group so Luke and I decided to charge ahead on our own. We stayed in radio contact with the other three to keep spirits and safety in check—but we mostly just traded inappropriate sex jokes.
We gained the ridge and were treated to a view straight out of a nature documentary. Straight ahead, our line funneled directly off the summit into a narrow chute that would spit us out into the valley far below. Textbook quality bowls and couloirs surrounded us, reaching as far as the eye could see. I visualized ripping GS turns out of our line all the way back to the car.
We took a quick lunch break and radioed the rest of the crew. They were still in the trees and seemed more psyched on skiing something lower down on the mountain, so Luke and I packed up and started moving again.
Luke took the lead for a while, and I fell back to snap some photos. Around 600 feet from the summit, I noticed Luke had stopped. I caught up to see what the deal was. We peered over the edge into a deep notch; rocky couloirs dropped off hundreds of feet on both sides. To traverse it would require a series of interesting bouldering moves on either side, with death fall potential if we screwed up.
The line was just another 20 minutes further on, but it didn't matter. Without a rope, we had cruxed out.
We decided to head down the south face of the ridge and follow the drainage back to the road. We radioed back to James, Kayla and Nina, and told them our change of plans. They laughed and agreed to meet back at the car.
Luke and I dug a quick snowpit to assess stability on the south facing slope. They were covered in orange dirt blown in from Moab the night before. We did our best impressions of martians, "Take me to your leader."
Green light. We clicked in and ripped turns down the 500-foot pitch into the drainage. While the turns were not nearly as epic as plan A, they were good enough. Then again, plan A was really just stay alive and get home safely, so we called it a success.
Part 2: The Ropetow
We met back up with the crew at the car and drove back to the house for some refreshments (a.k.a PBR). The rest of the club was already home and planned on heading over Red Mountain Pass to Ouray to shred the town's ropetow.
Yep, the ropetow. We were in.
Half an hour later we had the cars loaded with a few dozen beers and the most ridiculous outfits we could muster. Ouray's ropetow is a free town hill and boasts nearly 75 feet of vert and a decidedly un-extreme attitude. The arrival of 20 college kids quickly changed that.
The liftie was napping at the top of the hill with his husky who was unimpressed by our arrival. Once awake, he didn't hesitate to join the part as he cracked a beer of his own.
Lap after lap, the crew started to get more creative. Two jumps were built on the hill, which we appropriately named the XL and XXL (full disclosure, with max speed, one can send them about 20 feet…to flat). Luke and Ari hiked up a bit further and started spinning and mini-flipping a rock gap and we managed to get a continuous train going on the jumps. The hill was scheduled to close at 5pm but some locals came out to join the sesh and have a few beers.The lift was still running at 6 p.m.
We skied until it was too dark to see anything and James's GPS watch counted 37 laps total: 2,775 vert on a ropetow in one afternoon. Sick.
Part 3: The Rum Bar
It was Ari's birthday and the only bar open on Saturday night was a swanky place called the Rum Bar—the official tasting room of Crested Butte's Montanya Distillery.
We crowded into the back corner around a wood-fired stove and enjoyed some local beers from Avalanche Brewing. We also passed around one spicy rum cocktail, courtesy of our bartender.
After heading upstairs for a quick bathroom break, James came back with a grin on his face, like he'd had an epiphany.
"Hey Kayla, I think you're the only girl in the whole bar," he said.
Everyone's heads turned to survey the situation. He was right, the ratio was about 50:1, Kayla's advantage. Silverton is a testosterone-fueled place and whether that's a good thing or not, I'll leave open to discussion, but one thing is clear: this was an absolute sausage fest.
As I closed out my tab, I fell into discussion with a dude wearing a unicorn onesie. After going heli-skiing that day for his bachelor party, he had to uphold his end of a bet to wear the costume the rest of the weekend. Sucks for him.
Ari, who's from the nearby town of Montrose and grew up skiing Silverton, explained how the town really has two seasons: local and tourist. We were there right on the cusp of the two, as the tourists slowly started to be replaced by the locals. Volvos and BMWs started to once again turn into Tacomas and Subarus, and polo shirts and credit cards gave way to beards and crumpled up dollar bills. 
Part 4: Red Mountain Pass
I awoke Sunday morning to the smell of bacon and Led Zeppelin's guitar riffs blasting through the house. Everyone seemed in good shape considering the previous night of partying, and breakfast consisted of more than one slice of bacon per person. Spirits were at an unprecedented high.
The rest of Shred Crew Alpha wanted to check out a possible line on the Ouray side of Red Mountain Pass. The line was a narrow, walled-in couloir that stretched from the road as high as the eye could see.
As we crossed the pass, the line came into view and to our dismay turned out to be nothing more than a drainage gully with a wind-loaded bowl feeding directly into it. We nixed our plan without a second thought. There were plenty of safer lines back up the pass.
The great thing about a clear day in the San Juans is that most lines are visible directly from the road so we quickly picked out another couloir up high, planned out a safe ascent route, and set off.
We stopped to check the snow near the bottom of our line. The snow looked perfect but we noticed signs of wind loading as we got higher. Kayla pointed out the fact that the area had experienced hurricane force winds only a few nights before. With that in mind, we started digging again.
This one was eye-opening, and a sobering reminder to make sure to check the snow every single time you go out. While cutting out a column to perform a compression test, the top 40 cm broke on a clean shear line and left Luke standing there holding a 20 pound block of wind slab. The slab broke just by cutting it, without any compression loading. This indicated an extremely weak layer directly beneath it, which we quickly confirmed just looking at the roller bearing like crystals on the new surface. Sketchy.
A little spooked, everyone looked at one another and nodded in agreement; we were going home now.
Sometimes I feel like that's all I write about; near successes in the mountains, but that's how it goes. Plan A is to get home safe no matter what. Plan B is that dope line you have been scoping for days.
Luckily, we found a very fun line linking some chutes into perfectly spaced trees back to the road. Milking powder turn after powder turn put huge smiles back on everyone's faces and turned the stoke meter back up to 11.