The Man Behind the Line
A while ago, we posted a video of this guy skiing a jaw-dropping line in Glacier National Park and it blew peoples minds. So we decided to find out a little more about him. By Leslie Hittmeier
Heading out the door? Read this article on the new Outside+ app available now on iOS devices for members! Download the app.
David Steele is 26-years-old and has been obsessed with skiing since he was three. He's known around Montana for being a well-rounded skier who can crush in the park (he's the coach of the Big Mountain freestyle team) and in the backcountry, which is a rare thing these days. The man is a skier through and through, and Glacier National Park is his church.
Read our Q and A with him to discover what it takes to ski backcountry in a National Park in the winter, when all the roads close, and in the summer, when the snowline is a couple thousand feet above the trailhead.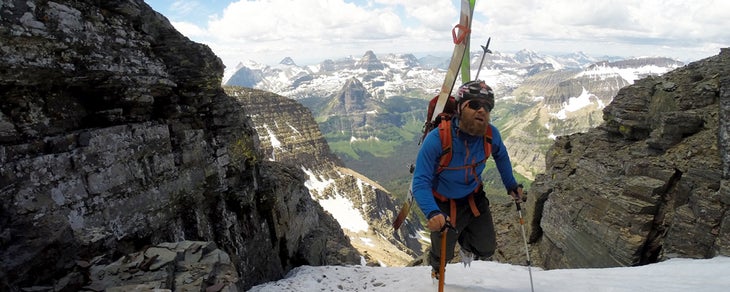 Summer Solstice 2015: Logan Pass from David Powder Steele on Vimeo.
LH: When did your interest of skiing big lines in Glacier start developing?
DS: Ski mountaineering is a combination. You take all the rigor and knowledge of mountaineering, and fuse that with the specialized skills of skiing in every kind of conditions. So skiing big lines in Glacier is the by-product of growing up in the area, climbing mountains in the summer, becoming a better skier and winter mountaineer, and then taking that knowledge and drive into the same peaks in the winter and spring. I've been getting after it most seriously over the last three years, which fits the natural development of my own skills in the alpine.
LH: Do you ski there in the winter much? What are the logistics of getting into the park in the winter?
DS: Glacier receives 99 percent of its visitation during the summer, but as they'll tell you, the park never closes. It just becomes a question of how badly do you want to get where you want to go, as winter sees most of the roads into the interior (and there are only a few) closed with a notable exception at Lake McDonald. Huge approaches are fairly standard for deep winter objectives, and there are large swaths of the park that don't see a sole between November and May.
Personally, I've done most of my mountaineering in the spring when the snowpack is a little less wild. Most of the worthy options are fully complex avalanche terrain—spring consolidation and elusive corn cycles help to cut the risk down. Access is relatively easier too.
Logistically to ski in the park in the winter, you need a willingness to skin forever, a free permit if you're planning to camp overnight, and knowledge of how to get where you're going. It's deep, it's cold, the wind can be massive, the intermountain snowpack has some benefits, but also the weaknesses of both continental and coastal climates.
LH: How often do you ski in Glacier in the summer? Do tourists think you are weird ambling around with skis on your back In July?
DS: For me, summer skiing is objective-based, not calendar-based. So many people are on the every month program, but if you're making flat, boring turns in August, that's hardly enjoyable. I keep skiing as long as I've got snow to do things I think are worthy, and after that, I hang them up. 
This year, we had very little snow below 5,000 feet, which made the approaches much more "bush-whacky" than in the past. I last skied on June 25, where I maybe made 1,500 feet of turns after hauling skis up 3,500 feet of beargrass and talus. Years past it's been mid-July. Getting geared up to go do some skiing next week in an area nearby.

The opening of the Going to the Sun road gives access to about 6500 feet, and usually gives about two to three weeks of type-one-fun, day-touring after that. But the comments and stares you get for skiing in June and July are just hilarious. "What are the skis for?" "Are you going skiing?" "This is a dumb question, but…" My response varies, but the best option is to deadpan, "No, we just carry this stuff around so that girls will talk to us."
LH: How do you pick your lines? What excites you most about a potential line?
DS: It has to feel infectious, to get under my skin, to bother me, keep me wondering about possibilities. Great aesthetics are nice too, like connected snow, safe stopping spots, and few rappels. I hate casting around for random ideas online, or looking at maps—far better to arrive somewhere, look around with dinner-plate-eyes for a while, and go: how can we ski that? . 
LH: What excited you about that crazy skinny line ?
DS: That was one of the contrived ones. It was maybe only 900 feet long, pretty badly melted out, and I hauled skis, boots, crampons, the whole pile of stuff up 2700 feet—much of it with no trail—before I even hit snow. I've stared at that line it for half a decade, wondering. Now I know.
LH: How do you find you partners?
DS: Instagram. I hunt down the people with the most likes, and…
More seriously, there's a small crew of perhaps 20 local folks who are pushing the ski mountaineering game in Glacier. New descents happen every winter, and we're all skiing together, talking ideas, pushing ourselves, and seeing amazing terrain. It's really cool.
Even on a broader scope, the ski-mountaineering community is so small, and that's wonderful. It brings people together and there seems to be an unwritten agreement that collaboration equals success. 
Many thanks to all my partners for their time, patience, and phenomenal company.
LH: What's the line you are most proud of doing this summer? What one that you got shut down on…will you be back for it? What kind of stuff shuts you down in Glacier National Park, snow? Weather? Time? Approaches? All of the above?
DS: Most proud of? Northeast Ridge of Bearhat. It was steep, convoluted, melted out with weird fall lines, and it had a no-fall zone in that magical 45- to 50-degree range. I also got to watch my buddy and partner fo the day, Cy ski the line so well. He'd never skied anything like it before and I love to see someone push so hard and succeed. It was a huge reward for me. I'm proud that I made some lasting friends that day, that we skied something so cool together.
This spring was a huge pile of shut downs locally, just because of low snow. There's a huge first descent that I've been looking at for years, but ski mountaineering is a long term game and patience is a huge asset in the waiting game. As the margin for safety decreases, I'm less interested and when that margin gets too narrow, that's where I back off completely.
Didn't get enough of David Steele? Check out his blog, Skinning With Bear Spray, which he regularly updates with all sorts of cool ski trip reports and photos
.