Naked and Afraid
They say if you seek happiness, you will never find it. But I'll tell you exactly where it is: in the fjords of northern Norway, just on the other side of your own discomfort.
Heading out the door? Read this article on the new Outside+ app available now on iOS devices for members! Download the app.
All 15 of the cedar ceiling planks have perfectly beveled edges, off of which water threatens to drip. And my beer, cold and sweating in my hand, contains at least seven more minutes' worth of pilsner. But as to how many naked dudes there are, legs open, sitting on the benches around me, I cannot say with certainty.
Human beings experience many varieties of fear, nearly all of which I've been going through during my ski-touring trip to Lofoten, Norway, where I joined 26 strangers who'd won a Gore-Tex contest promoted by Skiing. There's social fear, like the fear of saying something stupid, which always makes me say something stupid. (See paragraph 25.) Then there's fear of failure, without which I'd certainly be a failure. (Oh, God, maybe I am a failure?) There's physical fear, the kind you find in no-fall zones, which, in small doses, is one of the few times I feel that "living in the moment" thing everyone's always blabbing on about. There's also the fear—arguably the most rational among them—of centipedes. Because those things are terrifying. And now, of course, there's the paralyzing, acute, and currently inescapable fear of both looking at and not looking at the shaved bits of naked dudes in a Norwegian sauna.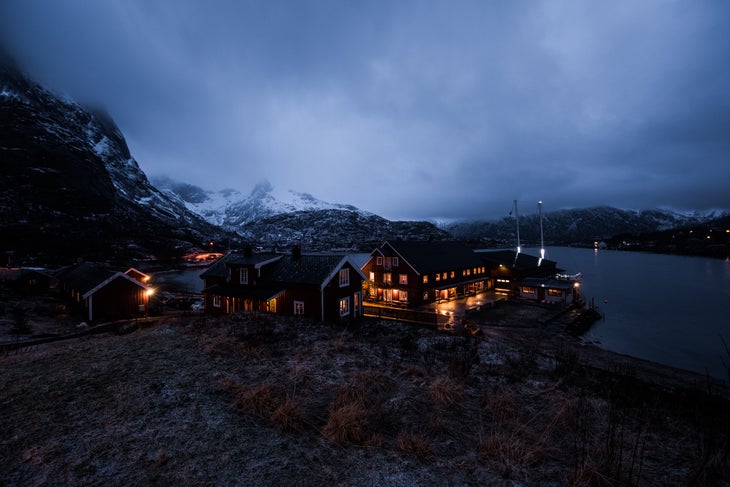 After two full days of planes, trains, and automobiles, I woke up in the van with my head back and mouth wide open, unsure of whether I'd been snoring or how long we'd been driving, because it was still light outside. The one-lane road skirted dark, still inlets of water, with perfect reflections of the snowy peaks on every side. Ice-encased willows that tinkled like wind chimes in the breeze gave way to gullies furred with pines, which then gave way to steep, untouched fluted couloirs. My stomach felt like it did on the day my childhood swim team took a field trip to Water World. I checked my phone. It was 10 p.m. The sun moves in circles here this time of year, so it never truly gets dark. There's something ghostly about it—blue dusk light ordinarily so fleeting that when it stays still, it feels like time does too.
"Was I snoring?" I worriedly asked the van full of foreigners.
"No," they said. I did not believe them.
I also did not believe there were enough roads all the way up here, north of the Arctic Circle, to make a wrong turn possible. Twice. But by the time we arrived at the Lofoten Ski Lodge—a giant barn perched right on an inlet of the Norwegian Sea, all wood and warmth with big sliding doors and glass buoys hanging in the latticed windows—we had time only for a quick beer by the fire before Jessica the Swede, Sarah the American, and I divided to our tiny wooden bunks, and I snapped shut like a cosmetic case.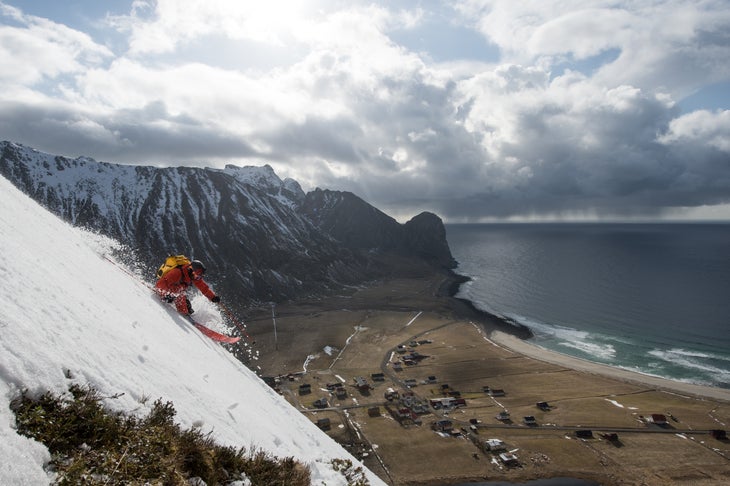 Over breakfast—cheeses, muesli, eggs, and some sliced orange stuff that even after tasting it I couldn't decide was cheese or meat—we danced around the topic of skiing. We had arrived a day before the rest of the crew, so there was no plan or guide for the day. Curtis, another American, was amped and twitchy. The Davides, best friends from Italy who unbelievably—suspiciously, Curtis joked—both won the trip, were in, but they communicated cautiously, first with each other in Italian and then to us, via the more fluent Davide, in halting English. Jessica was psyched on anything, but mostly about skiing. Sarah, who'd never ski-toured before, was content to stay behind and sea-kayak. 
When Seth, the manager and lead guide, walked by, Curtis stopped him to ask if there was skiing we could walk to. "Well, there's some stuff right up the creek drainage, but it's pretty technical. And I think it's going to continue to rain. You might just want to chill in the lodge." In other words: You guys are probably a bunch of joeys. There was a pause. I sipped my coffee. Another pause as we waited for Seth to get out of earshot. "Let's get our gear and meet in front in 10 minutes," Curtis said.
We walked out into the rain and up the dirt road to the creek. There was no path, so we bushwhacked through the willows, through squishy moss bogs, over rocks, and finally got to the snow line. The rain had turned to pellets of graupel, which ticked off my shell. I crossed the stream on a snow bridge, not knowing whether to go quickly or slowly. I chose the latter, and the Davides said, "Fretta!" So I hustled and it held. Once we could see a bit through the fog, we stopped to pick our line and route. The Davides were nervous; Jessica was not; and Curtis, endearingly high on psych, couldn't stop talking. We decided to go up to a bowl ringed by cliffs, which looked like an upside-down bald spot. The route we settled on for our skin track was not the one I voted for—it was up a steep, treed slope with a kick turn in wet slop every 15 feet. I had to stomp on each downhill step before standing on it so I wouldn't slide down in the mank. A bird—white with a brown head—shrieked in the quiet. I jumped, and Jessica laughed. 
We stopped before it got too steep and eyed a corniced couloir to our right and the cliffed bowl to our left. After some additional translating and sizing up, we all agreed to play it safe and ski the mellower bowl. 
Curtis packed down a platform for us to rip skins, and I heard a clatter that sounded like marbles thrown on the sidewalk and a whoosh behind me. I whipped around and watched a thin tailing of snow fall over the black rock walls. Fear of being pelted with hard things falling from cliffs? Check.
The tracks of little wet rollerballs looked like some kind of snail trails, and they were everywhere. But the snow turned out to be creamy and consistent—hot pow. We all made it to the safe zone and Curtis set a bootpack to make laps faster. We chewed it all up after a couple laps, then skied out, hopping from snow patch to snow patch in our skis until we were almost at the road. "We're like Candide!" a Davide said, referencing Candide Thovex's insane videos of shredding on grass. I got caught in a bush and almost fell over. "Exactly," I said, and we all laughed.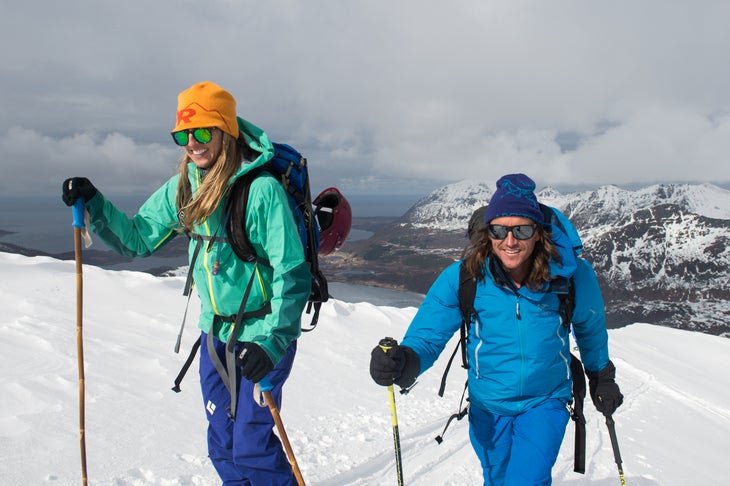 "The ladies' shower is broken," announced pro freeskier Nico Zacek the next night at dinner. "I have a shower," bantered Seb Michaud, photos of whom you've seen in this magazine probably a thousand times. Earlier in the day, he had pulled a back flip off a wind lip I wouldn't have even done a spread eagle off of. Not that anyone does those anymore.
We had spent the day skinning in our respective groups. Everyone in ours was strong, and we made fairly quick work of the summit. The mountains here are dramatic but so low in elevation that you can point at a line you want to ski and be there in under two hours. Nearing the top, we threw our skis on our packs and bootpacked up the steep crust. The wind was whipping.
"It's getting a little real up here, eh?" said Greg Hill, a.k.a. Skisus, who skied two million vertical feet uphill in 2010. Between gusts of sugary snow, I could see only the next step up. I put on my pole straps so I wouldn't drop one. It would have gone all the way down.
We crested the ridge and saw an uninhabited archipelago of mountains on both sides, the sea glinting where the sunlight bled through the clouds. Careful not to lose a glove or my jacket in the gale, I added layers and ripped skins. Cyril from Switzerland jumped up on a cairn and teetered above the knife-ridge. "Be careful!" I yelled into the wind. I clicked in and instantly felt more comfortable. This kind of fear, I thought as I stood waiting for my turn to ski, is the best kind. What my eyes saw and what my brain focused on were, for a moment, the same.
We skied from the peak, perfect chalk, into the apron, which was pillowed with boot-top wind-buff. Ana, the only other woman in the group, came last. She fell a couple of times, but when she made it down our whole group cheered, and her face broke out into a huge smile. "In Russia we don't have women who do the ski touring," she told me later, back at the lodge. "I knew I didn't have much experience, and I was so afraid, but I wanted to be in that group so much." Her eyes had tears in them, and I felt goosebumps rise on my arms.
"OK, now we are going to do some group swapping," Nico announced next.
"Is that some kinky German thing or what?" someone quipped.
We table hopped, and I noticed that after only one day, all the fringe picking and phone checking had dissipated, in part because we'd already been on skis, and in part because of the amazing social lubricant that is beer. We were 27 people from 15 countries, but now we were united by skiing.
I sat down with Curtis and Sarah. He was talking about what it's like to live in Logan, Utah, where his Mormon neighbors won't make eye contact with his wife. I ordered another round of beer, and cool, adventurous, math-major Sarah said, "No, thank you."
"You're not Mormon, are you?" I pressed, trying to be funny. Silence.
"Yes, I am, actually." I felt like I was back in high school, and this time, I was the asshole.
Then, inevitably, the conversation veered back to our ongoing discussion about Greg's potential for a man bun. "I have a hair tie," I said. "We could do this right now."
"No way," he replied, shaking his long locks and grinning. "I'm old-school."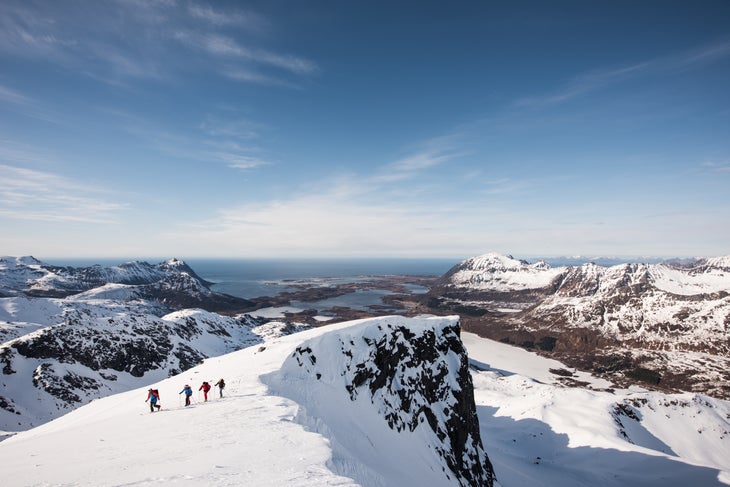 On day three, we pulled our van over at what felt like a random turnout on an inlet. "We're going where?" was the collective question.
We scanned the mountainside, snowless at the bottom, for a trail. Nothing. We crossed the road, nine of us in Skittles-colored parkas, and booted up on soft moss through willows—branches snagging on our skis-onpacks—until we reached snow line.
Fear of not keeping up. I should add that to the list, though maybe it's wrapped up in fear of failure. Every transition and pole plant felt taxing; I could feel calories steaming out of me. It was hot, and I kept looking down at my skis thinking they must be coated in snow. My legs were heavy from the day before, because when the sun doesn't set, there's no reason to stop skiing. Or kayaking. Or surfing, which we did the previous night wearing wetsuits so thick they required the assistance of three people to peel off.
But the summit, as summits do here, came faster than I thought, and soon we were picking our way down a series of steep slots. Most followed Greg straight down, and I went right, hoping for a trackless line. My shot was more open, and consequently sunbaked. Survival skiing really, but still pretty damn fun.
We billygoated through some rocks and more moss and then walked back down the road and reloaded our gear into the van. My socks were soaked with sweat and stuck to the blister on my heel; my feet had never been happier to see a flip-flop. Buzzed with that tired happiness that only comes from being all wrung out, we passed around salami and gorp, and Cyril turned up Radio Norge, which played, inexplicably, Lionel Richie's "All Night Long" (fiesta, forever…), followed by Johnny Cash and Hozier. We sang and laughed and talked about nothing in particular, and yet, somehow, it felt like everything.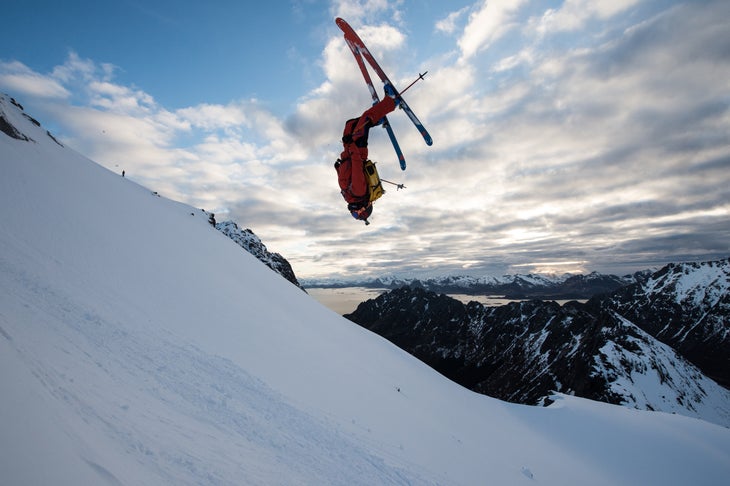 "We're both very shy," said Ursalina, the Swiss mountaineer who reminded me of that bad '80s movie Love Potion No. 9—beautiful under those glasses and despite those pleated pants. Cyril was trying to set her up with the "Norwegian prince," a chiseled dude in a flannel shirt who was clearly standing on the brink of his own social fear.
His face twitched. The drinks were flowing, and everyone (save the Norwegian prince) was getting loose. In Norway, they have mostly quiet nights and one banger. Tonight, apparently, was that night. 
"Take off your sweater," Cyril told Ursalina.
"What?" I almost screamed.
"No, no, it's what Ana told me to tell her!" He pointed to the gorgeous Russian woman who was in our group the first day. She caught our drift and shrugged, like, "What, it's a good idea, no?"
I told Ursalina to drink more, which of course was equally dubious advice. She agreed. The lodge's owner, a kind, older guy now swaying noticeably, tapped his homebrew and passed it around in snifters. Simon, the pro surfer, borrowed my lip gloss.
"She might be keen? Too keen?" Chris said about the girl he had just started dating, his English accent charming. If I'm ever on NPR, I decided, I'm going to speak in one. Everything he said just sounded smarter.
The conversation switched to the topic of girl code. "They say, 'I don't know, what do you want to do?'" Cyril complained. "Which really means, 'I don't want to do that.' And they're angry if you don't figure it out."
We all migrated to the back room and started picking away at the instruments strewn around. A guide got on the piano. Seb got on, well, a chair with a drumstick. Some other dude took the microphone. It was awesome. We gathered around—even the Ping-Pong stopped. And then Curtis decided he wanted to go skiing. It was 1 a.m., and his wine-stained lips made him look a little like a vampire.
"There is a zero percent chance I am going skiing right now," I said, sipping my beer.
"C'mon," he said with characteristically unquenchable enthusiasm. "It's light outside! Let's get Greg! He'll do it!"
"No. No. No," said Greg, overhearing the conversation. "I've made my goal. Two million feet, and now I'm going to drink beer."
The sauna's hot now, and Simon stands up and whips his towel over his head to circulate the air. And maybe some other things. Meanwhile, I think of yet another form of fear. The kind that comes from having accidentally packed the wrong red bikini bottoms in my rush to get to the airport. The ones with the butt all saggy and see-through. It's so hot in here, the air burns the inside of my nostrils. I do not have a towel to either whip around my head or cover my cracks with. Granted, the men are all naked. But being one of just two girls—brave Jessica is with me—significantly adds to my anxiety. Jessica stands up.
"Want to swim?" she asks, nodding to the dock outside that leads straight into the sea. I do, of course, but I quickly surmise that I will not be able to walk out of here without anyone seeing my ass. I glance around, again trying not to look at anyone, while trying simultaneously to tell if anyone's looking at me.
"OK. Let's go," I say, and she opens the door.
Because sometimes, you just can't let fear lead the way.