Oh, Canada
How to ski America's hat.
Heading out the door? Read this article on the new Outside+ app available now on iOS devices for members! Download the app.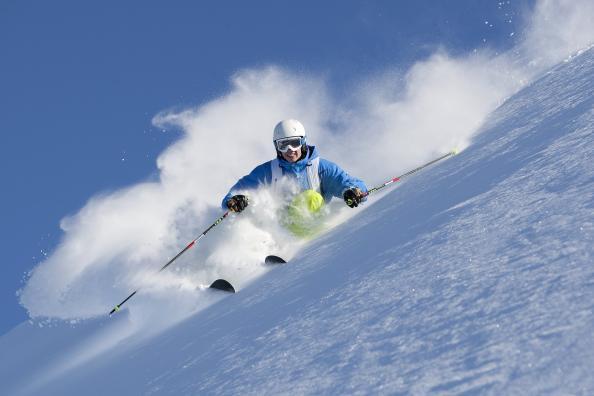 From the high and iconic Rocky Mountains along the British Columbia–Alberta border to the impenetrable wilderness fortifying the Coast range's Pacific edge, western Canada is, in a word, massive: 400,000-square-miles massive. With over 50 ski resorts, countless backcountry-touring, cat-skiing, and heli-ski operations (it's rumored that 95 percent of the world's heli ops are in BC), and mountains that often see over 500 inches of snowfall in a year, the Canadian West has endless schuss potential. Which, if you have a conquer-all personality, might make a visit here somewhat daunting. Let go and submit to the laid-back vibe, to the enormity of a place with mountain ranges bigger than entire countries and storm cycles that can last for months, and you'll see the true face of paradise. And paradise here comes in many forms—from the cosmopolitan nightlife of Whistler, where you can step off the back patio for a multi-day traverse, to the elemental extremes of Castle Mountain, where wind fills in tracks almost as quickly as you can lay them. In Canada, pro skiers and heli-guides mingle with international tourists and gritty ski bums while gangs of dreadlocked septuagenarians sit back, smile, and breathe it all in. Sure, there's plenty of skiing to go around, but if you play your cards right, the wisest of the wise might just show you the goods. Because Canadians are nice like that, eh? 
Writer—Mitchell Scott: Snow-crystal researcher, Kootenay Mountain Culture magazine editor, Nelson local
Consultants
Leslie Anthony:Herpetologist, Whistler local, former editor of SBC Skier magazine
Ross Janzen: Fernie local, snowy-mustache grower, Faction Skis employee
Kevin Brooker: Radio host, ski bum, William Faulkner of Canada
We were skinning up to ski Blackcomb Peak's DOA—a 1,000-vertical-foot chute that maxes out at 50 degrees—digging the spring corn far too much to make our business meeting on time. My partner plucked a phone from his pocket. "Bad news, Amber," he fibbed. "We ran into this Brit up on Spanky's Ladder who was in way over his head. Looks like we're going to be a bit late." Amber, who works for WB, understood. She hears stories like this all the time. Who wants to talk shop when there's 8,000 acres of world-class terrain, from high-alpine glaciers to giant hemlock forests, spread across two mountains plastered by a stable maritime snowpack? After plundering DOA, we finally made it to the GLC, Whistler's best après patio, where Amber and beers were waiting for us.
Whistler
Total vertical 5,020 feet  ||  Summit elevation 7,160 feet  ||  Skiable acres 4,757  ||  Annual snowfall 410 inches  ||  Lifts 20
Blackcomb
Total vertical 5,280 feet  ||  Summit elevation 7,494 feet  ||  Skiable acres 3,414  ||  Annual snowfall 410 inches  ||  Lifts 17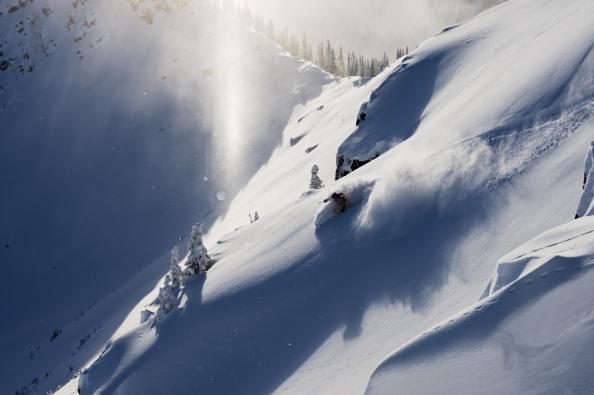 Sleepy towns like Golden, British Columbia, give birth to killer ski resorts, possibly because there aren't enough women to distract you from the mountain. Even if there were, you'd probably ski Kicking Horse anyway because of the frequent storms and better-than-sex chutes off Terminator Peak, CPR Ridge, and Redemption Ridge. And last year, Kicking Horse unveiled Super Bowl, a formerly off-piste zone featuring 15 powder-choked chutes. On the slim chance you do find a lady, you'll be in sheet shape after days of crushing 4,000-vertical-foot laps off the Golden Eagle gondola. And if you don't find company, there's plenty of whiskey.
Total vertical 4,133 feet  ||  Summit elevation 8,033 feet  ||  Skiable acres 2,750  ||  Annual snowfall 275 inches  ||  Lifts 5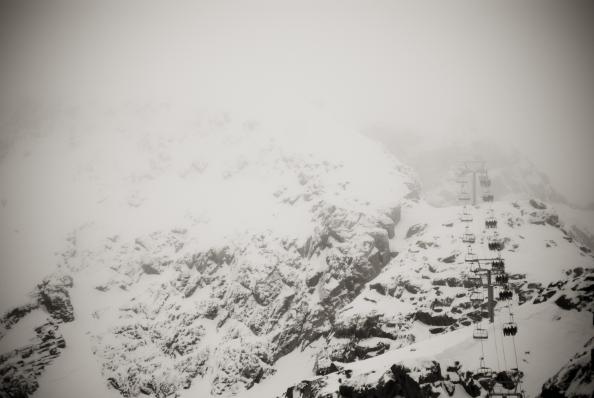 They make great beer up there, and not just Kokanee and Molson. Find craft brewers like Whistler Brewing Company and Alberta's Big Rock Brewery in pretty much every municipality.
For backcountry tourers, most resorts offer (but rarely advertise) one-way touring tickets for cheap access to limitless untracked. Check out Whistler's $35 backcountry pass, which is less than half the price of a resort ticket.
A six-and-a-half-mile skin from Lake Louise, Skoki Lodge is rustic—no running water or electricity—but offers a full staff, three tasty meals per day, a wood stove, comfy backcountry digs for up to 22 people, and easy access to Banff National Park's rowdy big-mountain terrain. [skokilodge.com]
The Powder Highway loops through eight ski resorts in the Kootenays—including Whitewater, Kicking Horse, Revelstoke, and Red Mountain—and serves up deep, dry snows and no crowds. [powderhighway.com]
Most resorts border crown land, public wilderness with no restrictions on backcountry access. So pack your avy gear, touring setup, and snow-camping kit and "get amongst it," as locals say.
The Spearhead Traverse is a horseshoe-shaped, one-to-three-day European-style tour from the summit of Blackcomb to Whistler (or vice versa) entirely in alpine terrain.
Never, ever rent a car without snow tires. All-season wheels simply do not cut it in Canada, even with four-wheel drive. You'd be getting face shots all right—in the ditch.
Whenever possible, buy beer in Alberta, where there's only a five percent tax, compared to BC's 12 percent.
Ski Alberta. Lake Louise, Sunshine, Mt. Norquay, and Marmot Basin boast some of the longest ski seasons in Canada and arguably the best early- and late-season snow.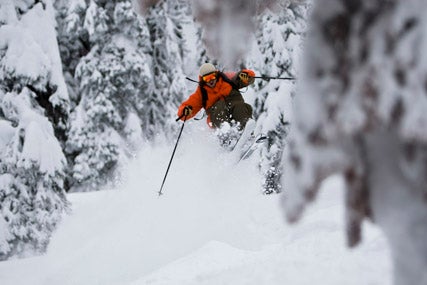 The Summit chair at Whitewater Ski Resort, in Nelson, British Columbia, is one of North America's longest continuously running lifts. Installed in 1975, the weathered double chugs up 1,300 vertical feet over The Blast, a steep, classic under-the-lift ripper. You'll ride next to rat-race dropouts with pack-worn jackets and duct-taped pants, and tweens with goggle tans stained into their faces. At Whitewater, skiing is the way it was intended to be: by the community, for the community. There are no frills, and powder is shared among friends and strangers. There's no rush on the Summit chair because there's so much good to go around.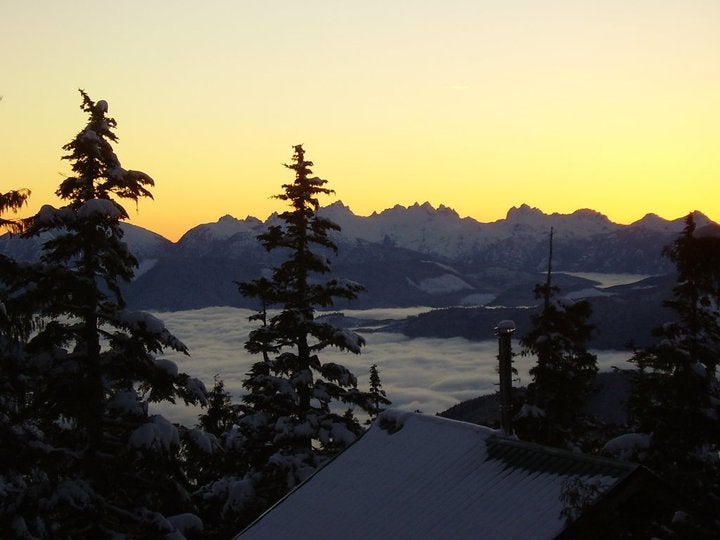 Sitting on the northern tip of Vancouver Island, Mount Cain fired up its first diesel T-bar in 1981. In 1988, the upper T-bar opened, reaching an elevation of 5,800 feet and offering up a whopping 21 runs—and access to a massive backcountry playground. Several easy ski tours get you to the Island range's fabled terrain, including the expansive West Bowl off the back side, all centered around a decidedly backwoods resort with a core, rootsy feel.
» Total vertical 1,499 feet  ||  Summit elevation 5,800 feet  ||  Skiable acres 250  ||  Annual snowfall 456 inches  ||  Lifts 3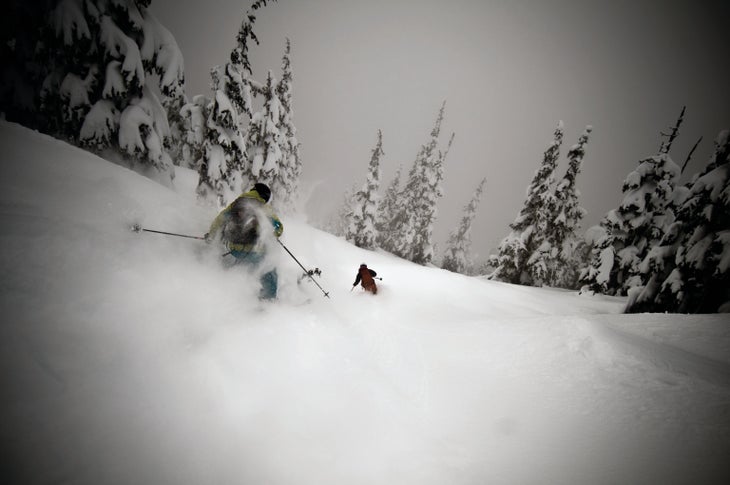 In 1990, 150 investors, mainly local northwest BC skiers, decided it was time to tap into the region's goods. After researching several locales in the province, they settled on Shames. They chose wisely. Thanks to the Coast range and the Pacific Ocean, the resort receives 475 inches of annual snowfall. And while the mountain's T-bar and double chair serve a small area, the access to incredibly big and varied backcountry terrain is unreal. Shames is closed Mondays and Tuesdays, so come Wednesday, it's on.
» Total vertical 1,600 feet  ||  Summit elevation 3,900 feet  ||  Skiable acres 130  ||  Annual snowfall 475 inches  ||  Lifts 3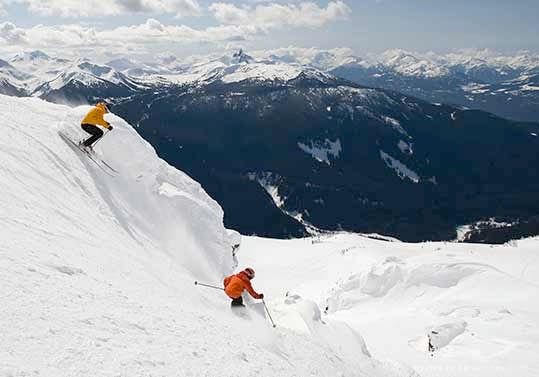 10,000 years ago: As the last Ice Age ends, the glaciers retreat, revealing BC and Alberta's wild and vertically spectacular mountains.
1811: First Bigfoot sighting is made, near Jasper, Alberta.
1916: Nels Nelsen breaks the world ski-jumping record by jumping 183 feet at Revelstoke, BC.
1968: Legendary Austrian guide and CMH founder Hans Gmoser introduces heli-skiing to the world with the opening of CMH's Bugaboo Lodge.
1971–72: Revelstoke sets the Canadian record for single snowiest winter since data collecting began—over 80 feet.
1973: Alan Drury starts the world's first cat-ski operation, Selkirk Wilderness Skiing.
1980: Blackcomb opens, igniting an intermountain rivalry with Whistler. Seventeen years later they will join forces.
1989: Rob Boyd becomes the first Canadian male to win a World Cup downhill on Canadian soil, at Whistler, his home hill.
Late 1990s: New Canadian Air Force members Mike Douglas, JP Auclair, and JF Cusson start the freeskiing revolution. No biggie.
2010: Vancouver and Whistler host the Olympic Winter Games, which see more American medals than ever before.