Part Four: There are still those who believe that Black people don't ski…
Features
Heading out the door? Read this article on the new Outside+ app available now on iOS devices for members! Download the app.
There are still those who believe that Black people don't ski. Resort executives are not among them. Hanging around the NBS you start to believe attitudes are starting to change. The money the NBS leaves at resorts and neighboring towns make the National Brotherhood of Skiers a vital force.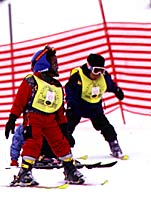 Last year a mini version of the Summit was held in Sun Valley, Idaho. I met Bill Clifford, the Director of Sales, on Thursday. He traveled to Salt Lake to try and talk the group into returning to Sun Valley. "Look at the statistics. Most ski organizations are declining, but when you look at the National Brotherhood of Skiers, their popularity is on the rise. They've set goals and are attaining them. Now similar types organizations realize they have to work to keep up."
World-class sponsors have made it their business to keep up with the NBS. Pontiac GMC has been on board for five years. The money they donate pays for equipment, training camps and races. During Summit week they feed us under a warm tent at Park City and give away hats, gloves and thousands of disposable cameras. NBS President, Bessie Gay believes they have made more of a difference to the success of the youth program than any other company. "Year after year, GMC's sponsorship increases. They're what we call our 'Title Sponsor.' They make a donation to our Olympic Scholarship fund. One exciting thing they are doing for us this year is giving us two cars to raffle off so that we can raise additional money for our scholarship fund. As we get closer to reaching our goal of placing an African American on the Olympic Ski Team, it's costing us more and more money. With the help of our sponsors, our kids have had the chance to ski in Chile and Switzerland, and ski on the same runs with Olympic skiers, in addition to interacting with them."
Ben Finley, one of the NBS founders, says the 1999 class of NBS racers represents the group's highest achievement to date. "Back in 1973, twelve very naïve club presidents decided that the objective of the NBS would be to put an African American youth in the starting gates at the Olympics."
The NBS now has 1000 kids in training programs. Some have their sites set on 2002. There has never been an African American in any sport on the U.S. Ski Team.
Okolo Schwinn-Clanton grew up in the NBS. Though just 27 years old, he has skied for 24 years, and is the Director of Eastern Region Youth Development. He's also a U.S. Ski and Snowboard Association (USSA) certified coach and has figured out what the NBS needs to do to get the group's attention.
On Friday as we ride up to Park City with a bus full of kids, I see why Schwinn-Clanton is so excited to be a part of the NBS's first USSA sanctioned race. "Because the US ski team is so important to us reaching our Olympic goals, it's also important that we're part of the system at all levels. Having certified coaches, having officials at races. If our kids are going to be racing at USSA races and we need somebody there standing up for them in the jury meetings, for example. We just want to be present so that we have a voice, to let everybody know we're building world class athletes."
Schwinn-Clanton says 16-year-old Suki Horton is "one to watch." She's an Alaska State Champion and trains on U.S. Ski Team development squads, including the Western Elite team. She's placed in the top ten at in all of her recent races. She'll miss today's race because she's at a training camp in Europe. Her brother 19-year-old Andrè is there to (as they say) represent. He hardly ever speaks without including Suki in the conversation. Andrè is also on Western Elite Team and the 1998 Alaska State downhill champion. He was recently invited to join a handful of athletes in the National Development Pool.
Andrè is somewhat modest, but not shy. Standing over 6′ tall and weighing 224 pounds, he towers over most of the competitors he's met. He says he's not sure what drives him to do the things most other kids don't do; he's always been that way. "I just like shocking people. I don't want anyone to try and stereotype me."
Bigger, faster and stronger than most of those around him, Andrè undoubtedly has natural ability, but he thinks his attitude has something to do with where he grew up. Although he is biracial, he says there were no other kids of African American descent in his Anchorage neighborhood. He didn't identify with any one group, and wasn't sure where he fit in, so he went off to do his own thing. He started with Nordic Jumping and Cross Country Skiing, then moved on to Alpine racing.
During Friday's GS race at Park City, Andrè demonstrates what makes him a champion. Just by participating, he heightens the field of 47. His first place time Friday is 1.17.81.
He says the race is a turning point for him. "I've never seen a crowd like this at any race I've ever competed in." He gets a bit anxious when he thinks about the 14,000 people responsible for making things happen for him and his sister. He's never been around so many Blacks and wasn't sure if he could meet their expectations. "I don't want to let anyone down."
When reporters start asking questions after the race, Andrè is quick to take the mic over the throng of cheers and explain why he feels so indebted to the NBS. "Before the NBS, we determined which races we would compete in based on which ones we could afford."
The NBS has allowed him to take charge of his career. He says been able to learn all he needs to know about the mechanics of racing; now he only has to focus on improving his times.
This year at the North American Junior Championships in Quebec City, Andrè was 400ths of a second from third place. That doesn't make him the least bit discouraged. He's used to coming that close; it's happened many times before. He says almost being there is what forces him to push that much harder. If a win came easy, there would be reason to work harder. The National Brotherhood of Skiers has been around for 26 years. If the Olympics came easy, there would be no need for the organization. This is not a new lesson for African American people. Maybe it takes 26 years to realise, pushing harder is the way to make good change happen.
On Vacation with the National Brotherhood of Skiers