Shiny, Tasty Things
Pow chasing requires Fuel—and fine fluorescent-lit gastronomy.
Heading out the door? Read this article on the new Outside+ app available now on iOS devices for members! Download the app.
Like a moth to the glow of a bug zapper, I am drawn to convenience-store lights. Ever since Johnny Law deemed me capable of taking the wheel, the radiant delicacies of our nation's fuel depots have powered me along interstates and two-lanes throughout the American West—the glisten of greasy hot dogs tumbling on their silver heating elements; the crystalline shimmer of condensation inside a freshly nuked burrito package; and, if I'm extra lucky, the reflective sweat of beige bologna placed delicately on my cold-cut combo by a classically trained sandwich artisan in an adjacent Subway. It isn't a winter road trip without a few key ingredients: marginal weather, shit roads, and a Deli Express Chuckwagon sandwich. Mmmm.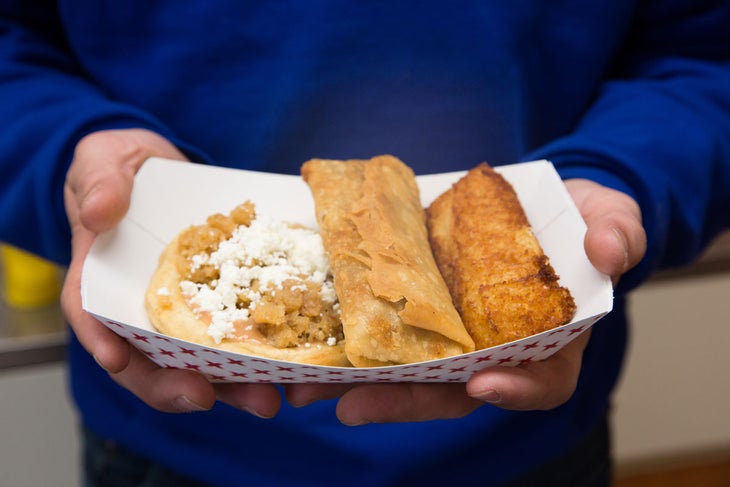 Admittedly, I'd like to eat better on the road. But I'm no road-trip romantic enamored with the kitsch and Americana of the journey, nor am I willing to explore new places. Storm chasing requires singular focus: typically on white-knuckle driving and worry of looming road closures. There's no more terrifying purgatory than a southern Wyoming oil town cut off from the rest of functioning society by a blizzard-induced I-80 closure—particularly when the resorts of the Wasatch are reaping the prodigious bounty of lake-effect flow.
Think about that the next time you want to sample the fine flavors of a casual roadside diner when a bag of beef jerky, day-old doughnuts, and Red Bull will do. Your digestive system may thank you for the former, but any bowel trouble resulting from the latter will fade like asphalt in the rearview when you're getting chesties off the High T at Alta. A slight case of IBS while lapping sweet runs after a good battle with the road is a small price to pay. You are a warrior.
A couple gas-station grubbin' tips for you first-timers, foodies, and vegans: Start simple. Nuts, beef sticks, and some bubbly water to wash it all down and ease the tummy will keep you powered for miles. If you need to step it up, stick to pork: burritos, hot dogs, and the like. Most stewed or slow-cooked pork, like that unreal slider you paid $12 for at your favorite hipster food truck, is made from low-grade rough cuts; the processed stuff in primary-colored packaging at your local Kum and Go isn't much worse. It just feels that way because it lacks accoutrements like kale slaw and an Instagram account.
Advanced students of gas-station cuisine should be able to select from the four major road food groups—fats, stimulants, munchables, spitters—in less time than it takes to fill the tank. Listen to your body, trust your gut, always get a bag of seeds, and you'll grow to love road-trip comestibles and the thrill of the chase. If this all makes you want to throw up, well then, pal, don't look into the light.
Kevin Luby, Skiing's former senior editor, is also a connoisseur of late-night gyros, and the only person we know who can land a back flip on Scorpions