Size Matters
Big Sky, Montana, is out to prove that, like girlfriends, other resorts are lying if they tell you otherwise.
Heading out the door? Read this article on the new Outside+ app available now on iOS devices for members! Download the app.
By Drew Pogge
If I had a penny for every time I found myself craving a slightly smaller and rounder-than-average peak, I'd still be a penniless ski bum. Size matters, especially when it comes to mountains. We like 'em big, jagged, and caked with snow, and as of 2013, there's officially none bigger, jaggedier, or cakedier in the United States than Montana's Big Sky Resort.
After years of legal squabbling, a crippling recession, a couple of touch-and-go snow years, and plenty of uncertainty, Big Sky acquired neigh- boring Moonlight Basin and Spanish Peaks resorts last fall and thrust the three together like an icon- oclastic Frank Zappa mashup. The result? A pretty damn big ski area. In fact, they call Big Sky's 5,800 acres "The Biggest Skiing in America."
Sure, the slogan is a little overstated, but more than anything it sounds like a setup to a punch line—The Biggest Skiing in America? OK, I feel compelled to ask, in my best Vaudeville voice: How big is it?
Carl, our bartender at rustic-chec Whiskey Jack's in Big Sky's base area, pours bourbon over ice as he gnaws on my question. Photographer Ryan Krueger and I are in Big Sky trying to find out exactly what "The Biggest Skiing in America" means, and all week, people have been filling in the blank: "Big Sky's so big, _______." Play- ing the dozens has never been more fun.

I've gotten the expected sniggering booty references from park rats on the lift, the company line from management ("There's something for everyone!"), bubbling proclamations of love from a family of vacationing Minnesotans, and plenty of withering silence from the local hardcores. But we haven't found the singular answer, the one inarguable truth, and Carl's taking his time, muddling his words like mint in a mojito. He tosses a rag over his shoulder and wrings his hands. "Gimme a minute."
Outside, it's still snowing, dumping flakes the size of dandelion heads, and people entering the saloon grin while shaking the accumulation from their hoods. It was a fantastic day of skiing by any standard—over a foot of new falling on a re- cord-breaking base. It's the end of March, and for the last two days the skiing was springlike: chalky, firm, and fast. But overnight, the boreal blast returned, and today was a classic Big Sky powder day by all accounts.
Our guide was Dave Stergar, a 40-something schoolteacher and ski-obsessed fitness freak
who has had a season pass here for 25 years. He beelined it to Big Sky right out of college and made ends meet guiding river trips in the summer. Now he drives 130 miles each weekend from his home in Helena to ski more than 60 days a season—a dirtbag turned white-collar ski bum.
Dave skis fast and smooth, and he knows how to read the mountain—which is impressive given the thickness of the playbook. The new, bigger Big Sky is undeniably enormous. As the crow flies, it's over five miles from one side of the resort to the other. Combine the total skiable acreage of Jackson, Wyoming, Snowbird, Utah, and Stowe, Vermont, and you still couldn't fill Big Sky's footprint; over nine square miles reside inbounds. There is more advanced and expert terrain at Big Sky (3,500 acres) than total terrain at Breckenridge, Colorado. Then there's the vertical: 4,350 feet. Stack one Alta on top of another (or stack up eight Washing- ton Monuments), and you're still shy of the Lone Peak summit.

Riding the Lone Peak triple in near-zero visibility, with nothing but empty chairs ghosting into the weather ahead and behind, Dave couldn't contain his excitement. "These are the days we live for," he said. "When it's dumping, it scares the tourists off the upper mountain. There are walk-on trams all day, and the pow piles up fast."
The Lone Peak tram is reason enough to ski Big Sky (never mind the other 32 lifts). Rising 1,450 feet without any support towers between its bottom and top stations, the tiny, 15-passenger car is more gateway than lift. Stepping inside is entering the wardrobe to Gnarnia. During our ride, Lone Peak's famous Big Couloir swirled in and out of the storm as we passed over, revealing a shapeshifting alpine plumb line dropping between reefs of dark rock like a skiers' Rorschach test; see the line you want to see.

This year, there has been so much snow (over 400 inches) that even the Little Couloir—a steeper, more exposed, rock-peppered sister to the Big—is officially open. It's a line that would be permanently closed at almost any other ski area, but with an elite patrol and Montana's libertarian leanings, the Little is fair game. And it fairly screams, "Try and ski me, but if you eat shit and puncture a lung, it's on you, cowboy." After spilling out of the tram car, the other skiers dispersed into the storm, while Ryan, Dave, and I signed out with patrol to ski one of Big Sky's signature treats: the North Summit Snowfield, a leg-crushing, 4,100-foot, top- to-bottom chase down Lone Peak's north face.
The Snowfield is a line made possible by the resort's fresh union. It requires a tram ride to the top, but it drops all the way to lifts in The Resort Formerly Known as Moonlight. For the last few seasons, a joint lift ticket was available, but Big Sky and Moonlight felt more like cross-town rivals than partners—and they were. Many Moonlight skiers loved to criticize Big Sky's touristy vibe, while Big Sky devotees like Dave simply pointed to the tram and the terrain it accesses. The rivalry was real enough that when the merger was announced, nearby Bridger Bowl (a rowdy, local, nonprofit ski area just north of Bozeman) experienced a surge in season-pass sales—Moonlight skiers abandoning ship.
After a season of unified operations, however, most skiers I spoke with agreed that the merger
has produced nothing but positive results on the mountain and in the community. Boyne, the resort company that owns Big Sky, has long been invested in the mountain and the town. And while the Moon- light old guard may mourn its locals-only feel, in the end the question came down to sustainability.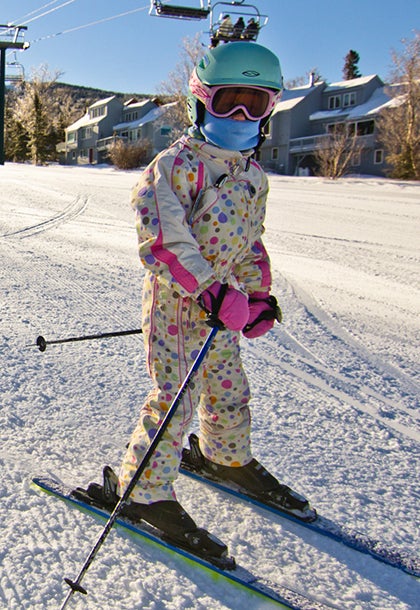 Ross Smethurst is lift operations manager for Big Sky—the same position he held at Moonlight until the merger, when his duties and team grew from seven to 29 chairlifts and 36 to 135 employees. His perspective is simple: The Moonlight that people want to remember still exists on the north side of Lone Peak, but "Now we're working for a
ski company that's been in business for 60 years and managed this mountain for 40 years—not a New York City bank." He's referring to Moonlight's widely publicized money woes and prior management by Lehman Brothers Holdings. "When we call with an idea, [Boyne] understands what we're trying to do. The bank had no idea what we were about." In short, the merger has produced renewed opportunity for Big Sky—and amazing runs like the steep, exposed North Summit.
After sideslipping a rock-strewn, wind-hammered piece of real estate near the ridge, we dropped one by one down the snowfield—a 600-vertical-foot drift so huge it persists year- round. In Big Sky's alpine terrain, Dave explains, "It's all about following the wind, using it as a tool." Bob Dixon, who directs the ski patrol and has worked the mountain for 32 years, agrees. "We have close to 300 degrees of skiing off the summit of Lone Peak," he says. "When winds are out of the north, we ski one thing. If the winds are out of the south, we ski another." Like almost nowhere else, at Big Sky, the wind is your friend.
That day, gusting wind loaded the top pitch perfectly. After two scratchy turns, I settled into the gut of the drift and face shots erupted from my tips. We skied it like a backcountry line, one at a time, and with due caution. It may be inbounds, but it's serious terrain with serious consequences.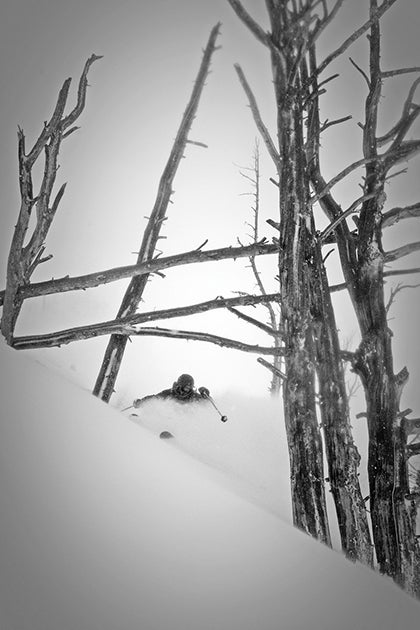 Earlier this year, a portion of the snowfield avalanched during control work, leaving an eight-foot crown visible from every- where on the north side of the mountain. The terrain below the snowfield is steep, rocky, and complex, and given the low visibility, we opted for Great Falls, the standard lane through ubiquitous, angular outcrops of andesite and shale.
After a thousand feet of chasing Dave's powder silhouette down the peak's sustained alpine steeps and creamy snow, I could've used a breather. After 2,000 feet, as we leapfrogged through subalpine fir, my quads were on fire. After 3,000 feet, I was downright tired, even as we swooped playfully between gully walls rimmed with rocky outcrops and kickers. And by the end of our first run—over 4,000 feet below where we started—I slid onto the Six Shooter high-speed six-pack lift relieved to unbuckle my boots and take a seat after one hell of a warmup run.
Skiers get strong quickly riding terrain like this, and it shows. Big boards and nasty core shots are the tram-line hallmarks of local shredders, and the prevailing style is to go big, go fast, and don't stop. The terrain is wide-open, steep, and exposed—more Europe than Montana. It's part of what makes Big Sky an ideal host to competitions like this year's Subaru Freeride Series. Head judge Eric Schmitz called Big Sky's Headwaters terrain "A true big-mountain venue."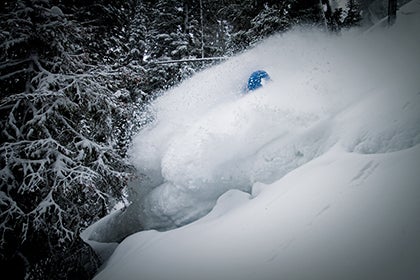 Dropping north from the knife-edge ridge that once separated Big Sky from Moonlight, the Headwaters are a series of steep, 1,200-foot chutes and couloirs. Many of the lines are convex or end in cliffs—not a place for the uninitiated. But just below these test pieces, novices plow down long, winding cruisers and through shady powder glades. This juxtaposition defines the entirety of the terrain at Big Sky: steeps aplenty up high but literally thousands of acres of mellower terrain below.
Adding to Big Sky's singular position in the American resort community is its location in the middle of nowhere, bordered to the north and south by designated Wilderness. It's a destination resort—there's no Colorado Front Range, Salt Lake City, or Seattle supplying hundreds of thousands of day skiers; Big Sky has 2,400 residents. Bozeman, an hour north, is a town of just 40,000. A big day here puts 7,000 skiers on the mountain, compared with nearly four times that number at Breck or Vail. And while on bluebird weekend powder days the tram line can become obnoxiously long, on our foot-deep powder day during prime spring-break vacation season, we waited no more than one car. Elsewhere on the mountain, we were alone.
From Six Shooter, we explored the petering tree lines off of the Lone Tree quad and the steep, thinly gladed chutes and faces off Challenger chair—a classic in the tradition of old, slow doubles. The snow was blowing in deeply along the ridge, and everywhere we went—lacing turns between twisted whitebark pine snags, sailing off small cliffs and rollers, throwing slashes into gully walls—cold smoke settled softly in our wake.
We skied hard all week and saw perhaps 25 percent of Big Sky's terrain—and if rumor holds true, that's just the beginning. There's talk of a new lift on the north side of the mountain, joining the summit with Moonlight's Jack Nicklaus-designed golf course for a full-line plunge of 4,000 vertical feet. Same goes for Lone Moose, on the opposite side of the resort, where a new lift and runs could conceivably connect with Big Sky's town center and increase the resort's total drop to approximately 4,800 vertical feet. Big Sky is all on privately owned land, so expansion is as easy as writing a check. If skier visits reflect a need, Big Sky can answer quickly. And with record-breaking visitation in 2013-14, the future may come sooner rather than later.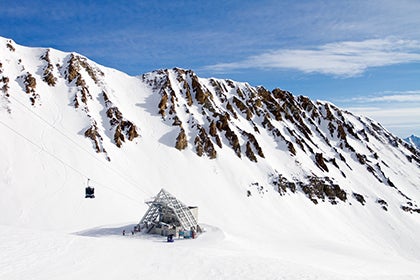 Carl returns to the bar just in time to pour another glass, and I think maybe he's forgotten my question about the biggest skiing in America. But as he places a fresh drink on a coaster in front of me, he grins. "Big Sky's so big," Carl says, "you wouldn't tell your friends if you took her home tonight."
After a beat, the bar erupts in laughter from locals and tourists alike. It may be a family destination, but this is still Montana. Some might call it rough around the edges. Some might call it isolated. Some might call it schizophrenic. But the people who ski here know—people like Carl, and Dave Stergar, and Bob Dixon, and all the other tram rats champing at the bit—it doesn't matter what you call it. Just don't dare call it small.
(Photos by Ryan Krueger)