The Other Idaho
North Idaho is better known for survivalist nutjobs, hardcore mining, and Sasquatch enthusiasts than for skiing. But our editor at large discovers something rare and magical in the backwoods of the panhandle - and no, its not covered in hair.
Heading out the door? Read this article on the new Outside+ app available now on iOS devices for members! Download the app.
It's snowing at last—thick, moist flakes that thud onto goggle lenses and stick to lift towers like decoupage. Moss drapes from hunched Engelmann spruce and Doug fir as we jostle over the squeaky sheave wheels of a pleasingly slow back- side double chair—the kind of lift that spreads people out, preserves secret stashes, and swaddles skiers in anticipation. Each run is deeper than the last, but we still see just a handful of other skiers, shadows ghosting between fog-shrouded trees followed by dim hoots and catcalls so faint they might be imagined. In this muffled and monochrome dreamscape of clouds and snow and forest, each turn is revealed one after another, and time is measured in lift rides. This is north Idaho; the other Idaho.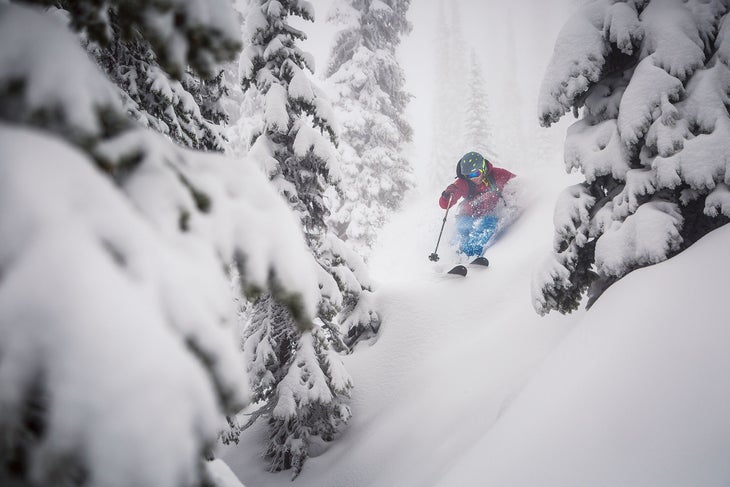 Think Idaho pandhandle, and you might recall images of logging trucks, Superfund sites, Aryan militia compounds, and Bigfoot enthusiasts. And you'd be right—to a degree. Mining and logging built and have long sustained the panhandle. A number of extremist groups are indeed based here, and the area is a bona fide hotbed for Bigfoot and UFO sightings. But there are also skiers—lots of 'em.
In fact, while central Idaho's celebrity-studded slopes, rich ski history, and slick marketing receive the lion's share of media attention, the panhandle actually offers more skiing. Within an hour and a half of Spokane International Airport are three ski areas—Lookout Pass, Silver Mountain, and Schweitzer Mountain—that cumulatively encompass over 5,000 acres of inbounds terrain, 20 lifts, 200 runs, and up to 400 inches of annual snowfall.
Photographer Ryan Krueger and I are five days into exploring this resort trifecta, and what we've found is an overlooked playground filled with quality skiing and a refreshing dearth of attitude and ego. Best of all, these ski areas are supported by real towns, filled with real people. There's no facade or manufactured image—what you see is what you get—and that realism makes north Idaho unique in an industry that trades on fantasy. One thing is certain: Sun Valley this is not.
Our first stop was Lookout Pass, literally spitting distance from I-90 on the Idaho-Montana border. In fact, from Lookout's domed summit, skiers can make tracks in Idaho and Montana on the same run. Situated at 5,650 feet, Lookout Pass gets walloped with snow and offers $39 lift tickets and free ski lessons for kids six to 17 years old. It's a throwback, a locals' area dripping with soul and blue-collar pragmatism. In the liftline at the base, we saw plenty of skis from the Clinton era—Bill Clinton, that is—along with Carhartt bibs and a busload of kids.
But on the dark, north side of the mountain, steep, fall-line runs slither through dense forest for over 1,100 feet. And just to the south, backcountry skiers can duck out-of-bounds to chase lines in craggy St. Regis Basin. They can even buy single-ride lift tickets for $8. Which explains the diehard locals we saw in the base-lodge bar, celebrating another day of almost private turns. Despite sporting Unabomber beards, their colorful shells, airbag packs, and powder skis mounted with Dynafit bindings betrayed big-mountain ambitions, which shone in stark contrast to Lookout's more cotton- inclined clientele. If Lookout's bold expansion plans for two new lifts and 700 acres of advanced terrain in St. Regis come to fruition, however, these locals may soon face competition for fresh tracks.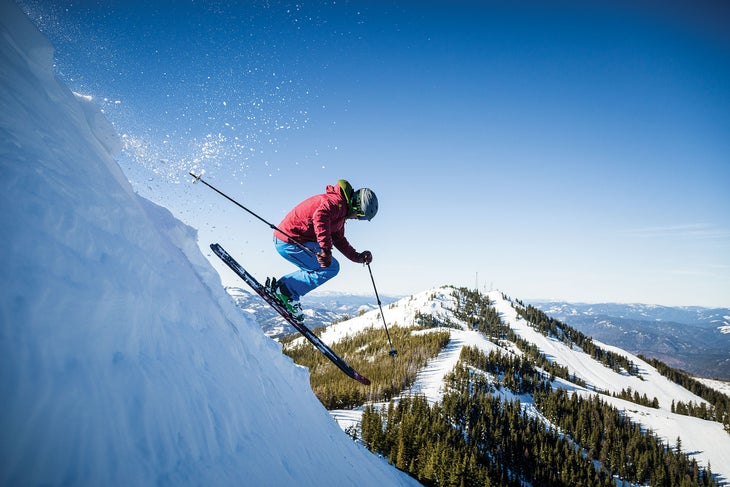 Pogge hits some north-facing chalk at Silver Mountain, formerly known as Jackass Ski Bowl.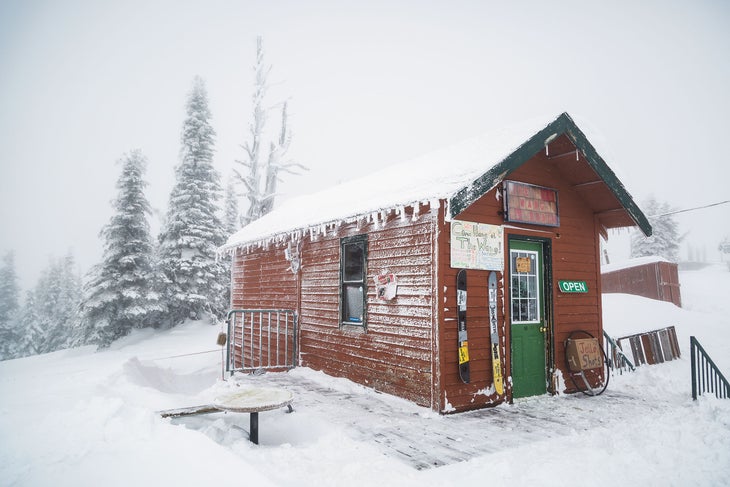 The famous Wang Shack at the summit of Schweitzer. It's a shed. And a bar. Because, well, this is Idaho.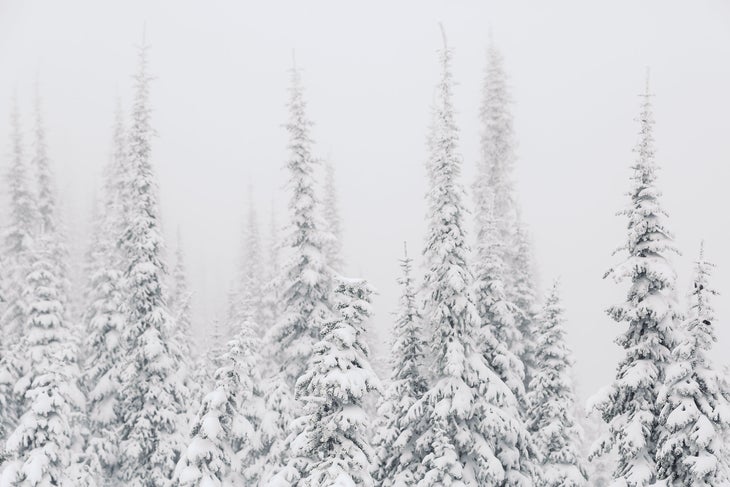 Low vis among Schweitzer's fog-shrouded trees.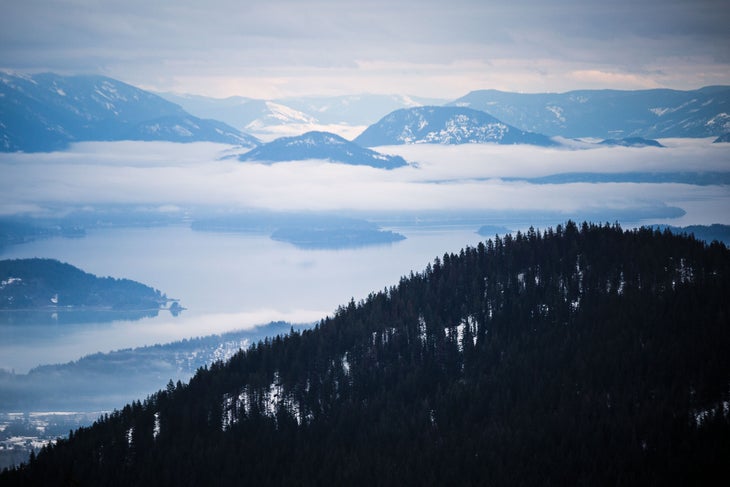 Lake Pend Oreille, seen from the slopes of Schweitzer, is so deep, the U.S. Navy uses it to test submarines.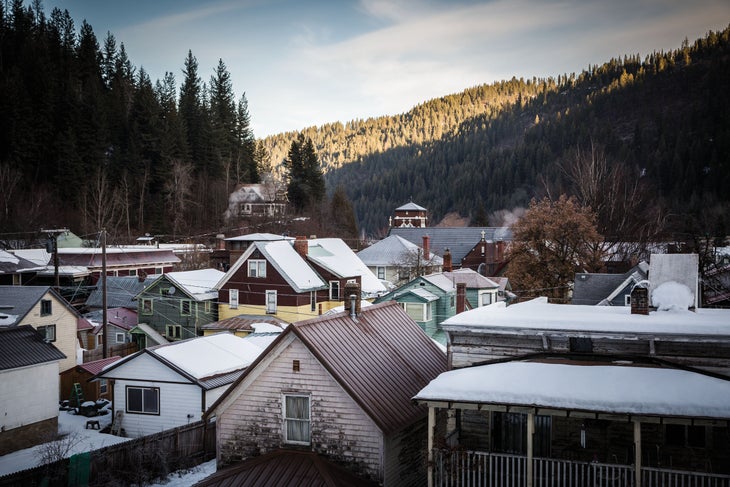 Wallace, near Lookout Pass, suffers environmental woes from its long mining history. On the plus side, it's still an affordable ski town and recreation hub.
Twelve miles downvalley from Lookout is Wallace, a charming mining town in the midst of redefining itself as a recreation hub. This area, the Silver Valley, has yielded billions of dollars in silver, gold, lead, and other raw materials since 1884. But fortune has come at a heavy environmental and health price. Today, even after 30 years of EPA cleanup, there are still lead-poisoning PSAs in the local paper warning recreationists to "Reduce the amount of dust breathed in and swallowed." The Silver Valley has sown seeds for a recreation economy in a tainted field—but the seeds are taking, and outdoor culture is giving towns like Wallace and Kellogg (our next stop) a much needed second life.
At the base of Silver Mountain—which began operations in 1968 as (I shit you not) Jackass Ski Bowl—we walked to the gondola station behind three 20-somethings wearing vintage one-piece ski suits, coonskin caps, and Mardi Gras beads. It was 10 a.m. on a Tuesday, two weeks before Mardi Gras. In Kellogg, the time to party was now.
The gondola climbs 3.1 miles and 3,400 vertical feet from town to the "upside down" ski area, with a summit lodge perched at 5,700 feet and ski runs spilling more than 2,000 feet below. In the gondola, we passed right over town, which highlighted the difference between Silver and most developed ski resorts. Rather than multimillion-dollar vacation homes and blocks of homogenized luxury condos, there were kids' toys strewn around humble cottages, rusty trucks stashed behind sheds, and plenty of skis leaning against garage doors. Kellogg isn't a ski-resort town—it's a town with a ski resort.
About halfway up, we broke out of the thick, gloomy clouds swirling throughout Silver Valley into radiant sun. It was a total inversion—and even without coonskin caps or strings of beads, we found great skiing off of Kellogg and Haystack peaks, where Seussian snowghosts provided plenty of opportunity for pillow drops, and shady tree lines preserved soft snow despite spring- like temperatures. Long, rolling groomers invited high-speed GS turns, and even the bumps were carveable. Silver, while larger and more developed than Lookout, retains a throwback vibe, with lots of skinny skis and zero attitude.
A friendly ski patroller named Mike pointed us in the direction of soft snow and offered some advice regarding Silver's regional competitor (and our next stop), Schweitzer: "If you want to be coddled, go to Schweitzer," he said. "If you want to ski, ski Silver."
It was a sentiment we heard numerous times, despite the fact that Silver boasts a 300-unit condominium lodge, mini pedestrian village, and indoor water park at its base. At Silver, it's entirely possible to be coddled, to remain at the resort and enjoy the convenience and predictability of decent coffee, food, and drink within walking distance of the gondola—but why would anyone want that? Kellogg has a sort of gritty, come-as-you-are ambiance that should be the envy of other ski towns.
One night, we visited a tavern called Eddie Joe's (it was that or Dirty Ernie's—take your pick), where there was no sign of re- sort-town gentrification or hipster pretense. Smoking was allowed (if not mandatory) and only cougar hunting came up in conversation more than Seattle Seahawks football—and these camo-clad folks weren't talking about stalking moneyed divorcées. It may not have been the typical après experience—but that's the point.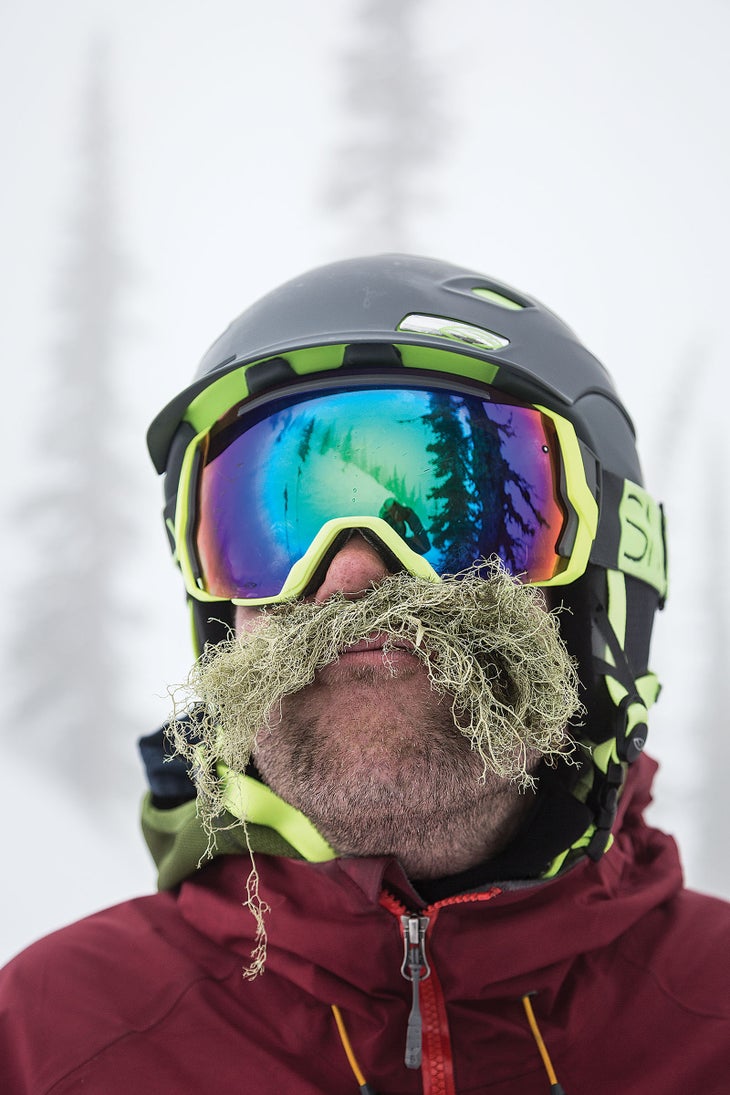 The next day, we packed up and headed to Schweitzer, wondering if the resort—north Idaho's flagship destination—would be just another McSki Hill, or if it would have the same independent spirit and boomtown character we'd seen at Lookout and Silver.
Schweitzer sits above Lake Pend Oreille (pronounced: pond-uh-RAY), which is the largest body of water in Idaho and more than 1,100 feet deep. On a clear day, the wandering shoreline, framed by the sawtooth ridgelines of the Cabinet and Selkirk ranges, provides a dramatic backdrop for Schweitzer skiers. But today we can see only as far as the next turn—which is far enough.
The snow intensifies until the lift stops for the day, and we ski by braille back to the front side of the 2,900-acre mountain, still buzzing from our afternoon of lonely powder laps. As we descend, the clouds part and Schweitzer's base village emerges—a familiar resort assembly of hotels, lodges, and condos. High-speed lifts sweep 2,400 vertical feet up bookended bowls, serving a variety of terrain, from cliffy steeps to two-mile-long cruisers. Several backcountry gates access thousands of acres of adjacent skiing, and cat skiing is available off the top of the mountain. Schweitzer is nothing if not rich in options.
Schweitzer opened in 1963, but it wasn't until 1998, when the ski area was sold to the development company Harbor Resorts, that it contrived to become a destination. New lifts, hotels, restaurants, and high-end real estate followed, and now a pitcher of beer costs a very Sun Valley–esque $26 at Taps, the base-area bar. There are hundreds of houses and condos scattered around the base of the mountain, many of them second homes for skiers hailing from Spokane, Coeur d' Alene, and even Canada, and the busy base area fairly hums with weekend energy.
Without question, Schweitzer is a modern ski resort: refined, lightly homogenized, and predictable. And yet this afternoon, on the slow, creaking Snow Ghost double chair, Ryan and I discover a secret side to Schweitzer—a time warp to another era. And the handful of locals I ask insist that the magic of Schweitzer is in this balance of new and old, fast and slow, progress and tradition. I'd be skeptical had I not spent the day beguiled by untracked powder hallways and empty chairlifts.
The lakeside logging and mill town of Sandpoint, 11 miles down the twisting, narrow mountain road, is changing along with Schweitzer. Art galleries, custom-furniture stores, and cozy bistros line the quaint down- town streets and serve a clientele that increasingly includes celebrities and well-heeled vacationers seeking to escape the spotlight. Schweitzer and Sandpoint's stars are rising, to be sure. The trick may be to keep them from rising too fast, or too far from where the fun began.
When it comes to skiing in Idaho, the panhandle shares little with the state's better-known southern resorts. It snows deeper and more frequently here, with more fog and less sun. It's rougher around the edges, with less polish but more character. Its ski areas feel small but ski big, and its skiers tend to talk less than they turn. North Idaho is a hard place to define, with a history and culture deeper than the ore shafts perforating its mountains. Its communities haven't yet matriculated into "resort" towns—and that's a good thing. Because if skiers want pomp and flash rather than deep snow and uncrowded slopes, there's always the other Idaho. 
Editors Note: Drew Pogge's original pitch included illegal firearms. We know what Chekhov said, so we're just psyched he didn't have to expense bail. Pogge, Skiing's editor at large, also runs the Bell Lake Yurt in Montana.