The Sport of SkiMo: An Introduction
Why do people enjoy skiing uphill?
Heading out the door? Read this article on the new Outside+ app available now on iOS devices for members! Download the app.
A tall, bearded man wearing a skin-tight, SCARPA-branded onesie held on to skis that looked like toothpicks with tech bindings. He was surrounded by local guys and gals, all wearing baggy freeride outerwear, waiting in line. The non-spandex clad skiers and boarders knowingly looked at each other, smirking about the dude who looked like he missed a turn in a road bike race and needed directions on how to get back.
Later that day, when he beat the bootpack course record by three laps at a low-key, community fun race, there were semi-serious whispers among the organizers and other competitors that wearing spandex should be a penalty in next year's event.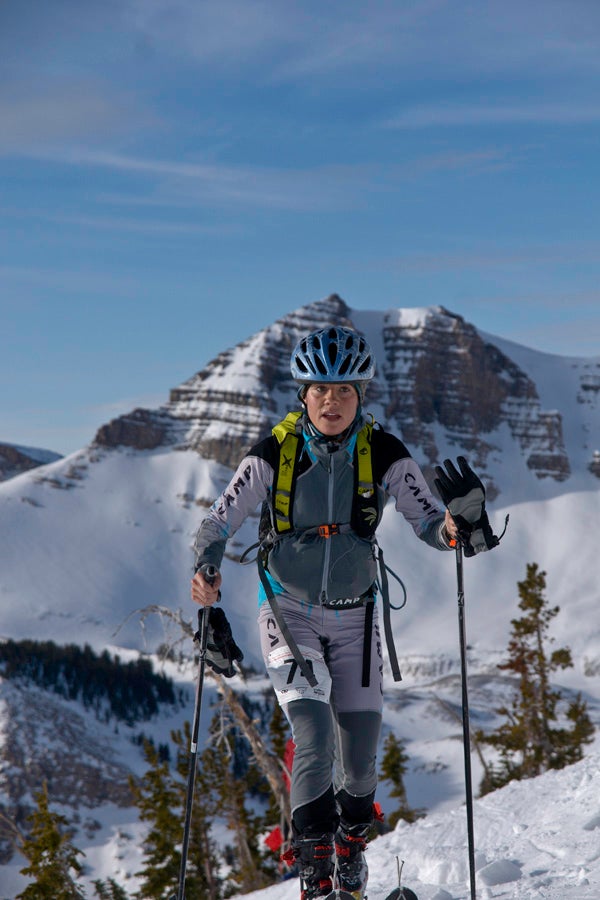 Three years after my first encounter with that racer, the fringe sport of ski mountaineering racing, or SkiMo, has grown significantly in America. A number of regional race leagues are organizing uphill/downhill competitions across the USA. The largest organization, the Colorado Ski Mountaineering Cup (COSMIC), organized 15 different races and several skills camps from Montana to New Mexico during the 2017/2018 season. With upwards of 200 competitors likely to be at the starting line in the US Nationals Competition in February, it's hard to say there is any type of recreational competition in skiing growing as fast as the sport of SkiMo.
A natural line of questioning has come up when I discuss the sport with people outside of the SkiMo community:
Spandex onesies: Don't they know that wind resistance isn't really a factor going uphill?
Tiny skis: Don't they know there skis on the market that are fat, lightweight, and actually fun to ski on?
The proverbial "why? Just, why?" Don't they know there are multiple chairlifts that make going uphill less stressful?

Alas, questioning SkiMo racers these seemingly logical questions is like asking why anyone would suffer through four hours of traffic on Colorado's I-70 to brave the crowded, wind-scoured slopes of Summit County, with the knowledge that it'll take just as long to get home.
American skiers, no matter what direction they prefer to go on the mountain, are simply illogical people.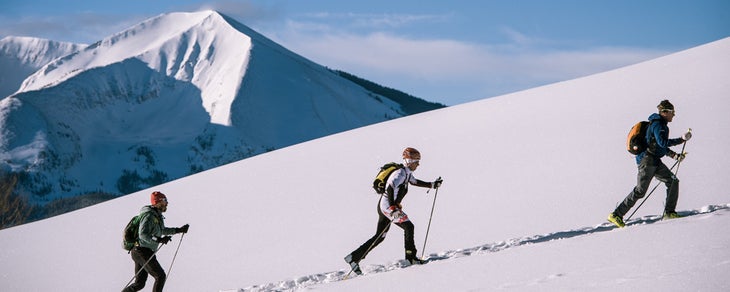 Like so many versions of skiing that require skin-tight suits, SkiMo originated in the Old World. In places like Austria, the sufferfest of a sport is as normal as fully grown adults annually dressing up in costumes made of goat hide and parading around town during the Krampus Festival (yes, this actually happens in Austria. Google it.)
Europe is also where the fastest men and women SkiMo racers reside. It has been rare for anyone born outside of Europe to break into the top 10 of any World Cup Race since the International SkiMo Federation was started in 1999. But, thanks to the sport's growing popularity stateside, the depth and speed of American SkiMo racers is getting better every season.
As I am a completely illogical American skier, I will be jumping into the sport as an Undercover SkiMo Racer. I'll be doing smaller races, training as much as possible, and completing in the Power of Four Race at Aspen/Snowmass. Along the way, I'll be interviewing some of the best racers in the USA, testing training and race equipment, and trying to find out why this torturous sport is drawing in more participants than ever before.
Will I actually get into spandex and be the source of giggles to those skiers I used to wait in line with? I sure hope not.