French Connection
Ski racers Mattias Hargin and Erin Mielzynski swap skinny skis for powder boards and head to Chamonix in search of backcountry adventure—no gates required.
Heading out the door? Read this article on the new Outside+ app available now on iOS devices for members! Download the app.
For Canadian ski racer Erin Mielzynski, Chamonix garners images of the famed Kandahar race course and bashing gates in the mountains where ski racing was born. So when she was asked to film with Swedish ski racer Mattias Hargin and pro freeskier Marcus Caston on a big-mountain freeride shoot, she was more than a little surprised. Especially considering she'd never skied in the backcountry, didn't know how to use the equipment—and didn't even own any. "They just kept reassuring me that they wanted me to come," says Mielzynski.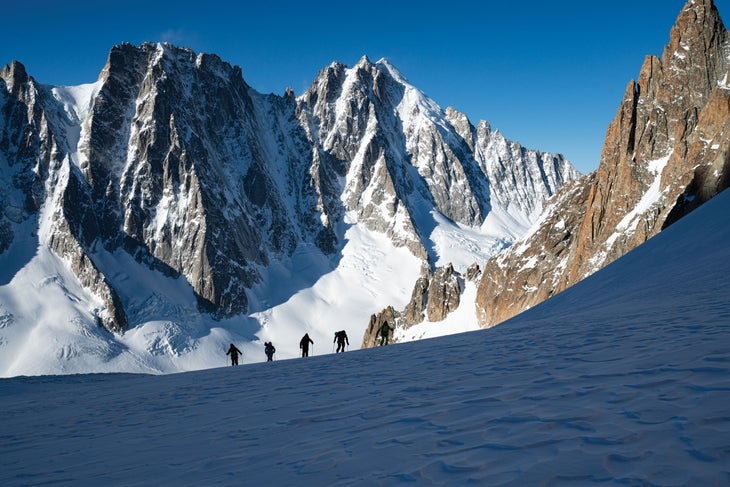 Luckily, the trio would be in good company, heading into the backcountry accompanied by experienced Chamonix guide and 2009 Freeride World Tour champion Aurélian Ducroz. From heli-skiing to hut-to-hut skinning, the athletes got the adventure they came for—and a little extra, to boot. For Mielzynski and Hargin, the experience ignited a new passion for freeskiing that both plan to nourish for seasons to come.
On ski racing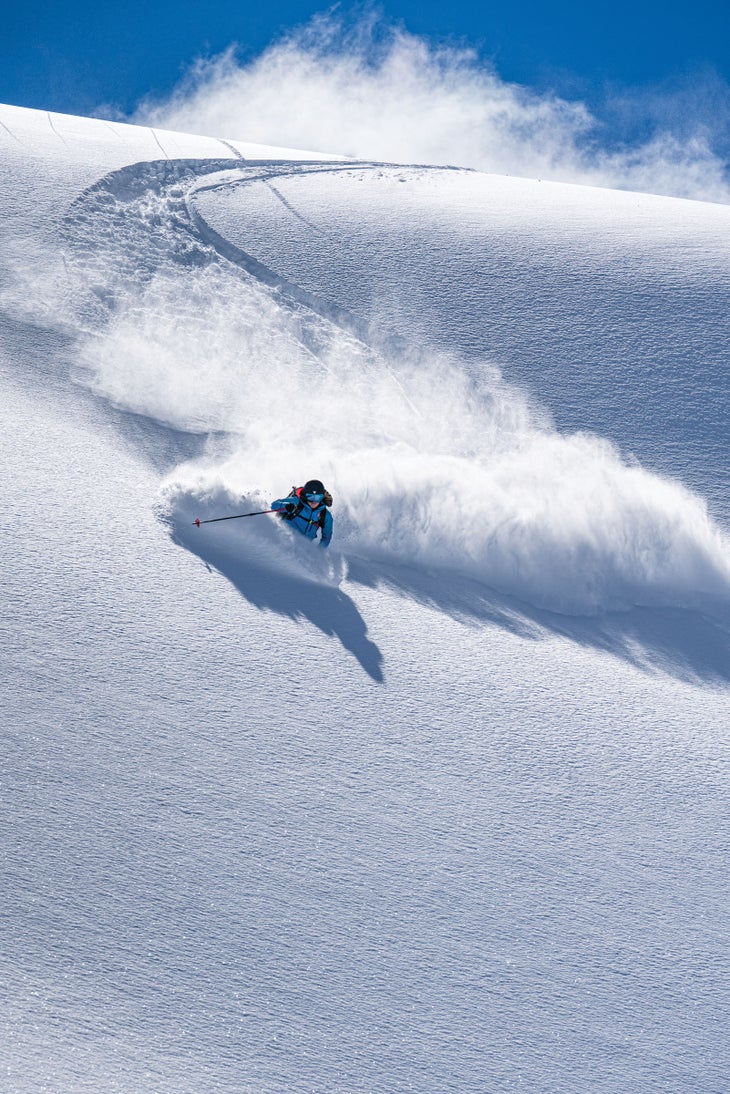 Erin Mielzynski: My parents were skiers, so it was in my blood right away. I started skiing on snow and water before I was two years old, following my older sister around. I actually got very heavily into water skiing, and I got better at water skiing faster. In 2006 I went to the Junior Worlds in Moissac, France and placed 2nd in the jump event, then placed 1st in the same event at the Junior Masters in Georgia. Then, when I was 17 I made the Canadian National Alpine Team, so that's when my entire focus turned to ski racing.
Mattias Hargin: I come from a big family with four older siblings. When I was born, the whole family was into skiing, and my older siblings were already into ski racing, so it was an easy choice for me. I grew up in Stockholm, and there are a lot of smaller slopes in town. At my home hill, Flottsbro, it takes 20 seconds to ski the slalom course—it's only about 20 meters (65 feet). But that's where I started racing.
On filming with Warren Miller Entertainment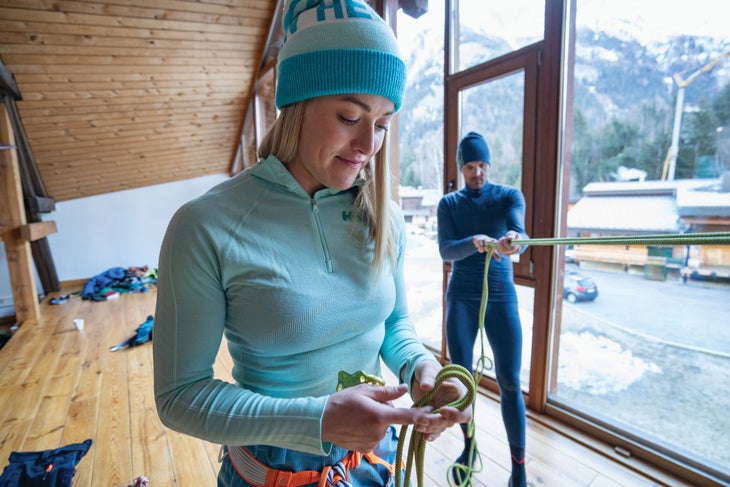 Mielzynski: I got an email back in January asking if I was interested in doing some filming with WME and Helly Hansen in Chamonix. I originally pictured myself flying down a race course, I totally thought I'd be ski racing in the heart of ski racing's culture. As our communications progressed, I realized it was big mountain backcountry skiing that they wanted to film. I had never ski toured, and only been on fat skis a handful of times. I told them 'I don't think I'm your girl, I have absolutely no experience in the backcountry, I don't know what to expect, I don't even have the right equipment.'
Hargin: This was my first time filming with WME, so I wasn't really sure what to expect. I had met the other athletes before, but I had never skied with them. I was surprised to find out that Erin had never been in the backcountry before! But filming is a little like ski racing in the sense that when you're filming, you have to perform, and you might have only one shot at getting it right so you have to be really focused.
On backcountry skiing vs. ski racing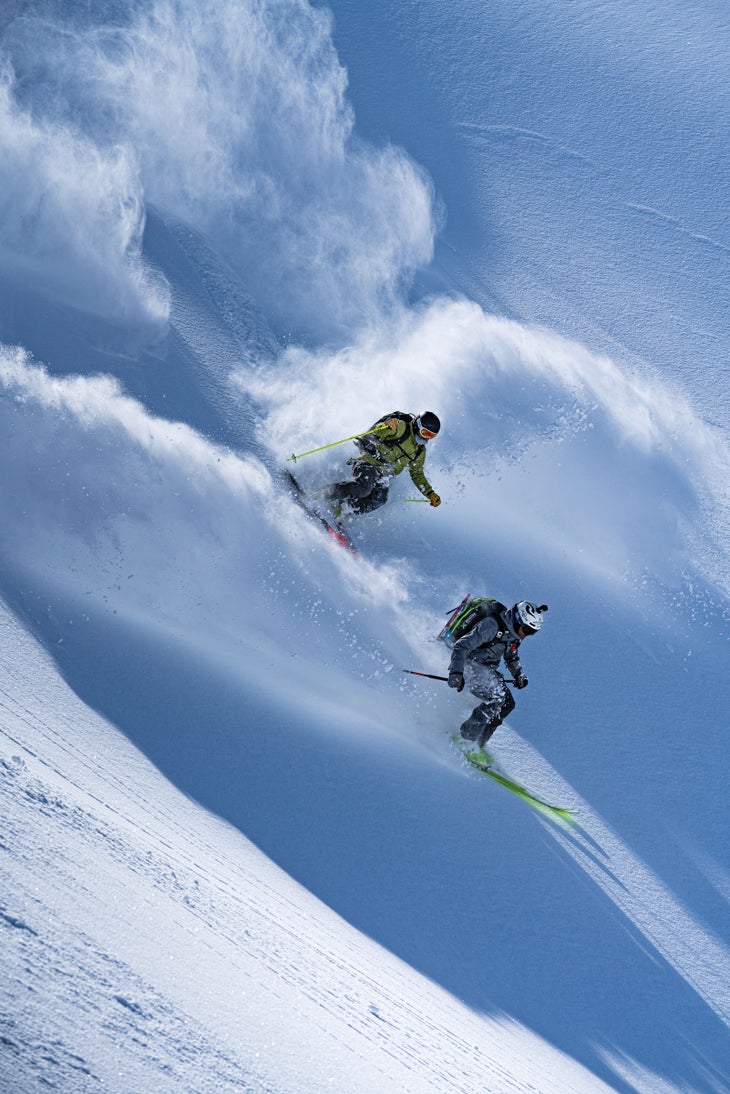 Mielzynski: I think racing helped me adapt to the backcountry more easily. Racing built the backbone of my skiing and made me a technically sound skier. It also helped with safety—not so much avalanche safety, but I know how to assess risk. That came up time and time again. I'd be nervous to go down something, and I had to trust that I knew how to ski. I raced on ice, on skinny, sharp skis, and I had to have faith that was enough knowledge.
Hargin: Racers are used to speed, and really good technique from a racing background definitely makes it easier to adjust to conditions in the backcountry. Yes, you have to learn new techniques, but having a high comfort level on the snow helps with confidence, form, and picking up new skills. 
On Chamonix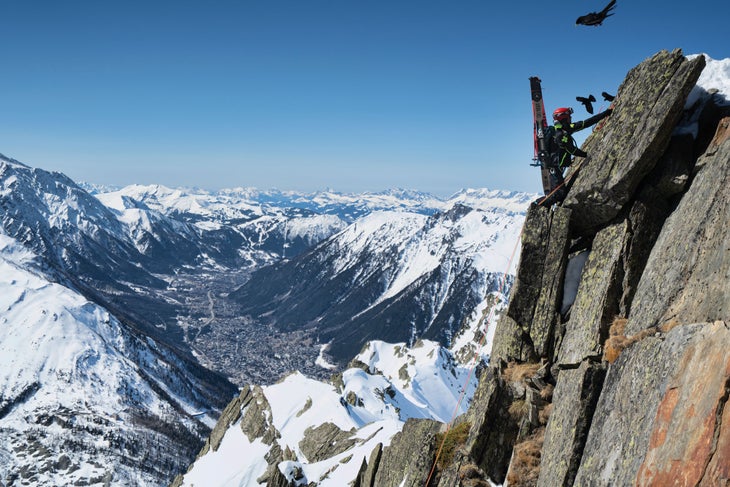 Hargin: My favorite part of the trip was when we skinned out to a couple of small huts, so remote and amazing. I'm planning a trip to go back and ski more of the huts between Chamonix and Zermatt. The nights in the huts were pretty special, to be deep in the Alps like that.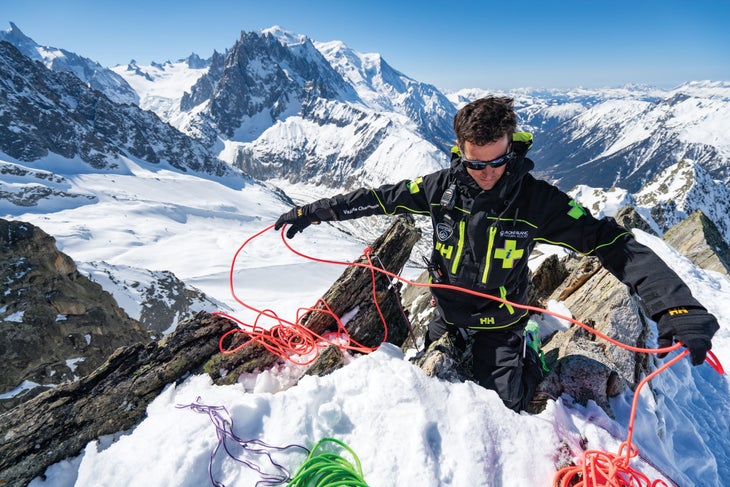 Mielzynski: We went heli-skiing one day, and it was the best powder I've ever experienced. This was on the second or third day of filming, Also, touring to the refuge and leaving the next morning before the sun rose. That was pretty amazing.
On iconic Chamonix guide Aurélian Ducroz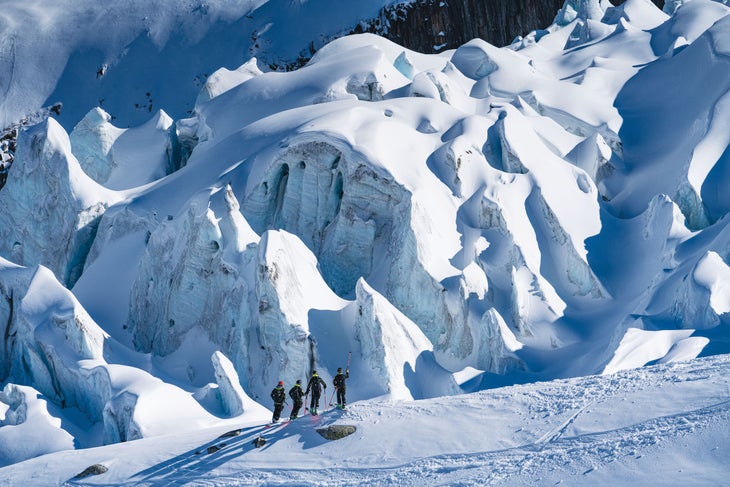 Mielzynski: He's super interesting because everything he does is very precise, from the way he skis to the way he dances to the decisions he makes. He's never still. At the top of a peak he's off in search of crystals, checking the snow, using the ice axe, always up for anything, he likes to be on the move. To learn from him was really a privilege.
Hargin: I really trusted him when we were out there, he's a very calm person, you can tell he spends a lot of time in the mountains. I felt that from the first moment I could trust him, and follow him. He does a lot of extreme stuff. You'd think his personality would be more intense, but he's a really nice, down-to-earth guy.
On what's next this winter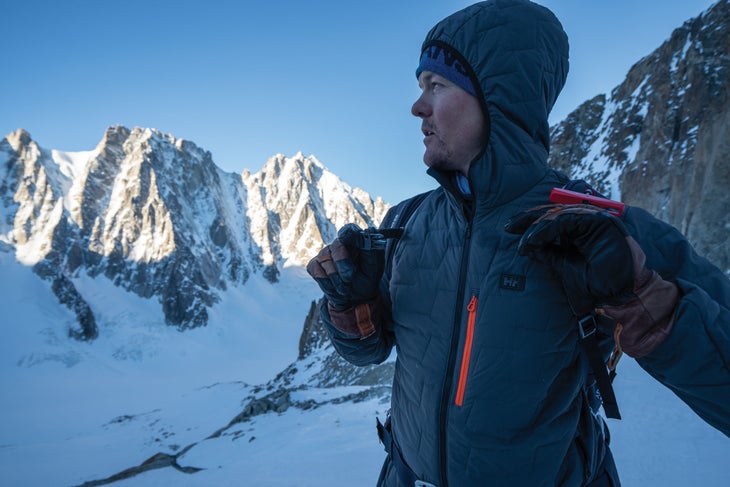 Hargin: I just retired from ski racing at the end of last season (2019), so I'm transitioning to freeride and I'm excited to see what my winter will look like. I will finally have time to do what I've been missing out on! I'm eager to do more backcountry and powder skiing and explore skiing even more. It's still my passion.
Mielzynski: I'm bringing my touring gear to training camp and plan to get out as much as I can. I think it'll be great recovery from training. I'd also like to go to Norway, to be able to ski right down to the water. This trip really opened my eyes, and now I just have so many places I'd like to go.
Read More: 9 Reasons to Ski Chamonix
Where to go: Chamonix
Getting to Chamonix
The closest airport to Chamonix is Switzerland's Geneva International Airport, 55 miles away. Either a private or a shared transfer is the fastest and most convenient way to get from the airport to Chamonix. Be sure to book a transfer in advance through companies such as ChamExpress or AlpyBus. A shared ride runs about $30 per person. It's possible to take the train, but there's no direct route and travel time can be over four hours.
Chamonix Lodging Options
The Gare des Glaciers was built for the Chamonix Winter Olympics in 1924, and was the original tram terminal for the Aiguille du Midi. The five-room lodge with views of Mont Blanc sleeps 22 and is located 10 minutes from Chamonix. For more traditional accommodations, the 23-room Hotel des Lacs inhabits a charming 1930s building set on a lake with mountain views and easy access to the slopes.
This article originally appeared in SKI Magazine's Special Edition for Warren Miller Entertainment's "Timeless," presented by Volkswagen. Find out more about the movie on WME's website.