Critical Gear for Your Next Overnight Ski Expedition
A three-week expedition to North America's highest peak isn't exactly an easy thing to pack for. Pro skier Sophia Schwartz breaks it down.
Photo: Courtesy of Sophia Schwartz
Heading out the door? Read this article on the new Outside+ app available now on iOS devices for members! Download the app.
In September of 2019, my friend Iain Kuo asked if I wanted to climb and ski Denali, the tallest peak in North America. "Oh, yeah, that sounds awesome," slipped out of my mouth instead of my intended "The gear is going to be way too heavy, so most certainly not, but thank you for asking."
I've always been enamored of big peaks, but the lengthy packing list is also why I had previously sworn off attempting Denali. After I retired as a mogul skier from the US Ski Team in 2016 and transitioned to big mountain skiing, I looked for mountains with an appropriate level of challenge to help me grow my mountaineering skills.
While most big expeditions allow porters to help with gear, all skiers and climbers in Denali National Park need to haul their own gear, food, and supplies. I am a 5-foot, 2-inch 106 pound womxn. And even though I'm generally a fan of type 2 fun, the thought of hauling my own body weight sounded less than ideal.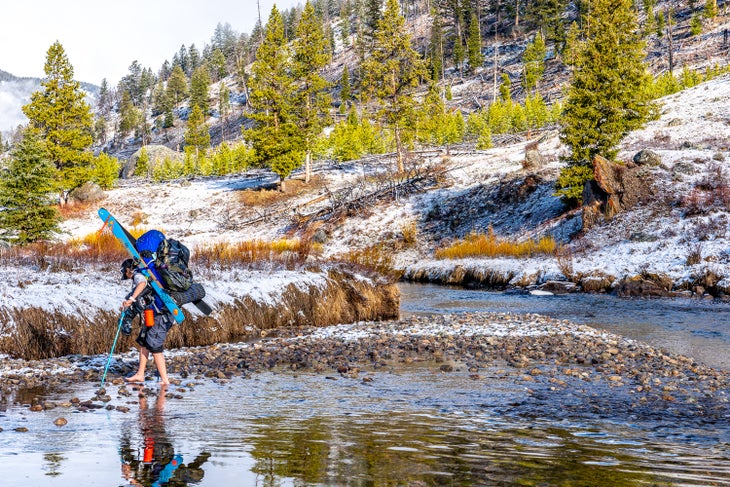 After committing to the climb, the fear of carrying such a heavy load morphed into inspiration to train. Slowly but surely, the amount of weight I could haul increased over the last year and a half. While the weight is still daunting, I'm ready to move on to what's in the pack, not just how much it weighs.
So what am I bringing for my first trip to climb and ski the 20,310-foot tall Denali? The short answer: a lot. So much stuff. In fact, I need a pack and a sled with a duffle to haul up my supplies for a 21-day adventure.
You may be wondering, "Hold on, you mean to tell me I'm reading an article about packing for Denali by someone who has yet to actually climb Denali?" Yes, at least I'm now hopefully somewhat relatable and you can dissolve whatever imaginary athletic pedestal you may have placed me on. We are in this together, in the thick of it. Right now, I'm alternating between literally packing my bags and sharing these words for you.
So, what's in my pack for a ski expedition to Denali?
Food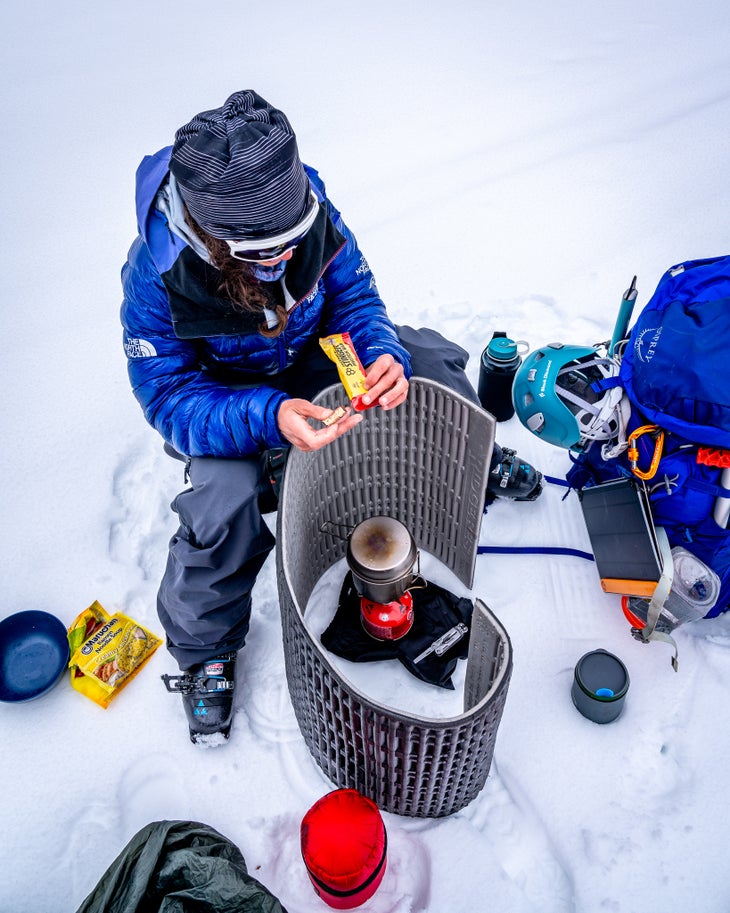 Roughly 2 pounds of food per person per day
We are mostly doing Trailtopia dehydrated meals for breakfast and dinner, but packing real food for lunch and snacks.
Top Snacks:
Spicy dried mango: I was introduced to this delicious Mexican treat from my friend Sahir while ice climbing. The extra chili kick keeps me warm!
Miso soup or chicken broth: Salt, warmth, and happiness
Hard Candy: Reduces coughing in thin high-altitude air plus a bit of sugar for fuel
Honey Stinger Cracker Bar: Best calorie per weight ratio I can find on the market (yes I have an Excel spreadsheet) The crumbly factor is 3 out of 10, but worth it for the "won't freeze solid and break your teeth off" factor.
Related: A Pro Skier's Go-To Foods for Big Mountain Missions
Sleeping bag:
-20º F vs -40º F

I happened to be an unbearably cold sleeper, so I am going with a -40º F bag, however, most people bring -20º F bags. You can always sleep in your big puffy and down pants to add warmth.
Also, puffy pants are life-changing. Denali or not, I highly recommend (please note my privilege and that in fact there are many things that would be significantly more life-changing like universal health care and/or basic human rights).

Someone once told me that the weight of a warmer sleeping bag ends up being less than the food weight you would need in order to replace the calories you burn from shivering at night. Just to be clear, I have no idea if this is true and I never did the slightest fact check. But as I am seeking reasons to justify my big bag, I spew it often.
Headlamp: No. Eye Mask: Yes
Life at the 63rd North Parallel during June means it doesn't get past dusk darkness
Medical Kit
Tourniquet

As my sister Kroger, who is an experienced ski patroller and EMT instructor says, "Yes, and honestly it should be in your everyday kit too. It is a lifesaving tool and hard to replicate in the field."

Burn kit (petroleum dressing like xeroform, non-adhesive gauze, pain cream)

Last summer, my pour-over coffee fell. I'm an athlete, so without thinking, I caught it. The hot water scorched my hand and as I soaked my blistered skin all I could think was, "I'm so lucky I'm not on Denali right now."
Also, using a solid stove platform to prevent spills is critical.
Bathroom
This is my system as a cis-woman, but finding a good wide-mouth bottle works for most folks:

For a pee bottle, I'm bringing a 1.5 L container with a nice wide screw top that previously held rice.
As for using it, I tend to kneel but sometimes I'll get down on my hands and knees and use one hand to hold the bottle.

I'm leaving the pee funnel at home because I would have to adapt all my clothing and layering systems to use it. I'm more practiced at unzipping my bib's side zipper and unbuckling the harness leg strap (they also stretch) to relieve myself.
As for No. 2…

Typically, climbers carry their poop with them until they reach a specific crevasse at the 14,000ft camp and then toss it in the crevasse. We plan to carry out all of our waste, so we'll see how that goes! Fingers crossed one poop bucket is enough. Don't worry, I'll be sure to keep you updated.
Our team of Iain Kuo, Marika Feduschak, Joey Sackett, and I fly to the glacier on May 26, 2021. Hopefully, we won't leave anything behind, but we'll be sure to share if we did and other stories from our adventure.
More Big Adventure: Former Paralympian Makes History with the First Disabled Descent of the Grand Teton