Athlete of the Month: Hadley Hammer
Sure, luck plays a role in life. But 29-year-old pro skier Hadley Hammer has proven that if you want something, you better go effing get it.
Heading out the door? Read this article on the new Outside+ app available now on iOS devices for members! Download the app.
Last year, Hadley Hammer kicked off her newly signed contract with The North Face by pitching the idea that she and Angel Collinson go to Mount Hood to give rail-sliding freestyle riding a go. TNF ran with Hammer's idea and, a few months later, the video from the trip went viral. This year, she pitched an idea to go skiing in Conservación Patagónica, the national park that the late North Face founder, Doug Tompkins, established in Patagonia. We hope they send her. She just started a podcast called Nausicaa-cast where she has been interviewing talented female athletes like Michelle Parker and Emily Harrington (give it a listen here). And in between all that, she's been skiing most days this winter—regularly hucking 60-footers—and working four jobs in the summer to make it all happen.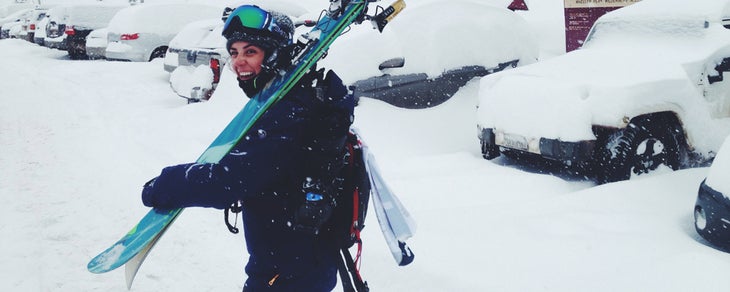 LH: I checked out your Instagram and you recently posted a video of you going HUGE off Corbett's in Jackson Hole. In the caption you wrote: "This was first time all winter I've felt like myself on skis." What did you mean?
HH: So my dad ended up having emergency heart surgery this December and I spent 10 days in the hospital with him. It reminded me of the fragility of life and it really shook me. This year is also the first year I've been trying to focus on filming and photos, and not so much on competing. This whole self-marketing thing is so hard and sometimes I'm like, "Why am I doing this? Am I doing this for personal fame or because I'm a skier and that's what I do?" I'm constantly judgmental of my own skiing, and lately I've been getting on top of airs that I normally cruise over and I freeze up. And for some reason that morning we were filming with TGR and they opened Corbetts for the first time and I was feeling really good. I was like, "I really want to air into this." And it was this really nice moment flying off this thing. I ended up going way too big and the second I left the ground I was like, oh this really going to hurt.
LH: But you landed it. 
HH: Kinda…
Pictures never tell the whole story…. Part of this story is that @forrestjillson sent it first with way more style and landing gear. This was also the first time since the start of the winter that I felt like myself on skis, not worried about a ten foot air or overanalyzing every turn, not worried about sponsors, filming, competitions …rather skiing with a huge smile and feeling confident. The result was similar to a cat being thrown out a window, but it still feels great to get the old mojo back. PC: @jacksonhole // @ericseymour with @dubjh rope holding #neverstopjumping #neverstopexploring #advil #adventuresofjillandhadley

A video posted by Hadley Hammer (@hadhammer) on Jan 22, 2016 at 6:32am PST
LH: What's going on in your head before your biggest lines? Are you super nervous?
HH: I'm a pretty mentally aware person. I meditate every day, and the mental aspects of skiing have been huge for me. With Corbets and Fat Bastard I was stoked, but if I'm over-thinking the line or really nervous about an air I usually take that as I sign to not do it.
LH: So when do you feel nervous?
HH: I feel more nervous turning in front of photographers than if someone is filming me skiing a bigger line. You can make little mistakes while skiing a line and they don't affect you or the footage. But having to make that one perfect turn for a photographer to get a great shot—that's what always makes me the most nervous. 
LH: Do you ski full time?
HH: Yes but in the summers I work quite a bit. I wash windows all over Jackson. I also work catering, and at a coffee shop, and at the gym I train at. It's a lot of jobs but it pays for my winter.
LH: Are you competing this year?
HH: I'm going to sign up for a few competitions this year. I want to do them because after not focusing on them as much last year I realized that I do still love competing a lot.
LH: Why?
HH: Nobody who competes has a budget; it's all coming out of everyone pockets. It's so simple. You just go out and try your best that one day. It's also a really cool atmosphere that's not very competitive, like you think it might be. Everyone is just happy for each other. There is so much heart and soul in it, there has to be because why else would someone spend their life savings doing it? The people I tour with love skiing more than anyone in the world.
LH: What would you change about the Freeride World Tour?
HH: If they would allow more girls in the world tour then the competition would be much better. The way it is now, if you ski a little safer and don't push it you can usually make it to the next round because there aren't that many girls competing. If there were more numbers you'd have to try harder to win.
LH: Do you think the competition world has changed?
HH: Historically athletes would do comps to get contracts and sponsors, but it seems like nowadays you just need to have strong social media game and be a content creator to go pro. You can do comps regularly and be doing well in them and it can still take a long time for someone to recognize your talent. And it's so weird because the skiing in these competitions is mind blowing.
LH: How's your podcast going?
HH: It's going well and I'm getting a lot of listens but it is so hard to interview people. I'm naturally quiet and not much of a talker unless I'm hyper so having to talk has been a struggle. 
LH: What inspired it?
I felt like I kept reading these interviews that were so surface level and people weren't asking the questions I wanted to hear answers to. I like how podcasting gives you time to really dive in and get to know someone. It's also really nice to be able to dork out and talk to all the people I look up to.
LH What questions do you think people aren't asking? 
HH: I think personal questions. People are always asking general questions but I do a ton of research and basically Internet-stalk the people I interview so I go into it knowing the surface stuff. That way I can get right into the core of who that person is. 
LH: What inspired the all-female thing?
HH: I usually stay as far away from all-female things as possible. I grew up with brothers and I tend to approach things like everyone is just a human, and gender doesn't matter. But I thought making it about women was an easy way to bring focus into the podcast.
LH: What are your favorite skiing conditions?
HH: I love hard-pack. I don't know if it's the competition skier in me but there is something about hard-pack or choppy snow. I love how you can just edge in and you know what's coming. I geek out so hard about turning because I was never a racer— I watch videos of ski racing all the time. I just love that what's there is what you get. 
LH: What do you love about being a pro skier? 
HH: My favorite thing is the people I've met, hands-down. I just feel so at home in this world. You can meet skiers and two days later feel like you're best friends with them. The mountains accelerate friendships and I have made so many great friends because of skiing.
LH: What do you hate about it?
HH: Sometimes it feels like if you aren't out there nailing the shot every day you aren't being productive. I've been working hard at trying to keep it separate. Angel and every other great female mentor I've had have always been good at reminding me that skiing doesn't make me a great person or a bad person, it's just what I do. I want to make sure I'm always nice to people, because being a friendly caring person is the most important thing.