This Pro Skier Is Another Example of How Skiing Meets Arts
There's Eric Pollard, and then there's Andrew Pollard—no relation, but lots in common, including an eye for the artistic.
Heading out the door? Read this article on the new Outside+ app available now on iOS devices for members! Download the app.
Watching Utah native and Freeride World Tour (FWT) competitor Andrew Pollard ski is like an optical illusion. If you zoom in close, he has the casual air of someone cruising a groomer at ten or maybe 15 miles per hour. His form doesn't break, and his skis leave perfect racing arcs behind them. Then, the camera pulls back, and the trick unfolds as imposing peaks come into view. Pollard isn't just taking a warm-up lap; he's blasting down a jagged face in high consequence terrain at Mach speeds, occasionally taking flight, spinning effortless 360s in a blur of bright yellow top sheets. Keeping it casual yet gnarly is a part of his brand, deliberately forged over years of competitive freeriding.
Watch: Andrew Pollard's fluid riding style
Pollard's been around the block and then some. He grew up skiing at Alta, joining the local freeride team at age 13 and making the rounds as a grom on the junior circuit. In college, he participated in the often-demanding Freeride World Qualifiers (FWQ) before racking up enough points to qualify for the FWT during the 2018 season. Since 2019, the 28-year-old skier has been a mainstay on the Tour, laying down effortless-seeming lines and clinching a coveted spot on the stacked Faction team.
When Pollard's off the slopes, he paints distinctive natural landscapes—they're pleasing to look at, colorful, and as intricate as they are simple, not unlike his distinct skiing style. This season, Pollard teamed up with the FWT to channel his artistic talents by producing a poster series that depicts each competition venue. I caught up with him to discuss his time on the Tour and the parallels between his painting and skiing.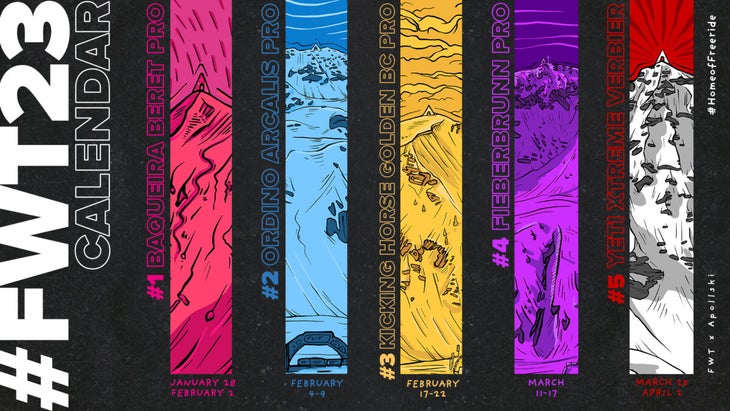 This interview has been edited for length and clarity.
SKI: How did you get into art in the first place?
Andrew Pollard: It mostly resonates back to Eric Pollard, which is funny because it's my same last name, and we're not related at all. Seeing his art on skis was pretty influential. I always liked to draw ever since I was a kid in school. The idea of combining skiing and art was definitely due to Eric Pollard and Chris Benchetler. 
Do you see any parallels between your art and your approach to skiing?
I think one of the biggest things in art is trying to make it look really smooth and effortless when the final product is all done… And I think that with my art, I like it to feel as good making it as it looks at the end. And I'd say that when I comp ski, that's a very similar attitude that I have; I try to make it feel as good as it looks. 
This is kind of tagging on to that question, but what is your approach to competing and skiing in general?
Try and have a good time and just not like, over-force anything. I grew up watching Sage [Cattabriga-Alosa] and that whole style of skiing and that whole Wasatch style of pow skiing. It was all about being super effortless and smooth with it while still being very aggressive and dynamic on your skis. So I think that would be my biggest takeaway, just trying to do the most with the least amount of effort, which is definitely my thing with art, too. I think, 'how can you make the most art while being as lazy as possible?'
What are you most excited about for this season on the Tour?
Lot of the rookies. There are some good ones coming through… I think the more people that come through keeps it more fresh and more exciting for people to watch. Some kids like Xander Guldman, Dillion Flinders [Flinders has stepped away from the Tour this year due to an injury since this interview]. Yeah, they're gonna be really good. I'm excited. Ross [Tester] is concerned they're gonna go huge. And if Ross is scared, everyone should be scared.  
Do you have any specific goals for the Tour going forward? 
I try not to get too mega-invested in it… I just want to put down runs that are fun and people are psyched on watching.
What venue are you most excited to ski?
I'm gonna say Spain [Baqueira-Beret]. Again, maybe not necessarily for the venue, but just the overall vibe there… that was the biggest crowd I've ever seen for a Freeride World Tour stop. They were lining the side of the groomers, and they were so excited to have us there. 
How does it feel to stand at the top of the Bec de Rosses, the imposing 10,000-foot finals venue of the Freeride World Tour?
There's a tram there called the Jumbo that you ride to go up to look at the Bec, where all the spectators go sit. And the tram swings super bad, and it feels like the bottom's gonna fall out, and your stomach drops every time. And I always tell people that that's what it feels like to just start the Bec or at least thinking about starting on that mountain. 
Do you have any notable skiing inspirations?
Let's say early on it was Kent Kreitler, Seth Morrison, Shane [McConkey]. That whole era was everything. Nowadays I'm just stoked on all of it. I like watching all the swerve kids like Magnus [Graner]. I think that's sick. I like watching people who can bend a ski, the carvers, you know. I like watching all the park kids like Colby [Stevenson] too because it's all skiing. I used to be so restricted and kinda wanna ski a certain way. I think that that's pretty lame. I think it's cooler to try and be better at everything, you know. I slid a tube yesterday. That was big. I don't do that shit. But it was good for me.