How Losing My Partner Made Me Rethink My Relationship With the Mountains
No one would have faulted Hadley Hammer if she left a career as a big mountain pro behind. But that's not what happened.
Heading out the door? Read this article on the new Outside+ app available now on iOS devices for members! Download the app.
Editor's Note: May is Mental Health Awareness Month. Throughout the month, SKI is featuring personal stories from skiers like us experiencing mental health conditions. By reading about lived experiences, our hope is to help skiers feel less alone in their mental health journeys as well as increase awareness about mental health issues in mountain communities. Read those stories here. 
At 34 years old, professional skier Hadley Hammer has experienced more joy and amazing moments than most people will in their lifetime. She's also experienced more loss and grief than many will have to endure throughout their lives. Hammer has the mountains to thank—and to blame—in both cases.
Over the past decade the Jackson Hole, Wyo. native has spun her success on the Freeride World Tour into a career in big mountain skiing that, thanks to sponsors like The North Face, Smith, and Line Skis, has taken her around the world. As a result, she's found herself on peaks in Bolivia and couloirs in Chamonix, living the kind of life that many skiers can only dream of.
But as much as the mountains have given her, they've also taken from her in equal or greater measure. They've beaten her up and buried friends and peers in avalanches. Then, in April of 2019, the mountains claimed the most precious thing in Hammer's life: David Lama, renowned climber and fellow TNF athlete, but above all, the love of her life.
Go deeper: The Tragedy on Howse Peak
It would have been understandable—perhaps even expected—if Hammer had decided to turn her back on the mountains and her career as a big mountain skier following Lama's death. After all, she had been shown, time and time again, how inherently dangerous her job and pursuits are.
But Hammer didn't turn her back on the mountains. Instead, she relocated to Lama's home of Innsbruck, Austria. There, she's progressed beyond just skiing for the camera and has thrown herself into ski mountaineering.
SKI caught up with Hammer via phone to talk about chasing big objectives in the Alps, why she continues to find joy and fulfillment in the mountains after so much trauma, and how she copes with her grief when people tell her to "keep her chin up." Here, in her own words, is how she feels about life and death in the mountains.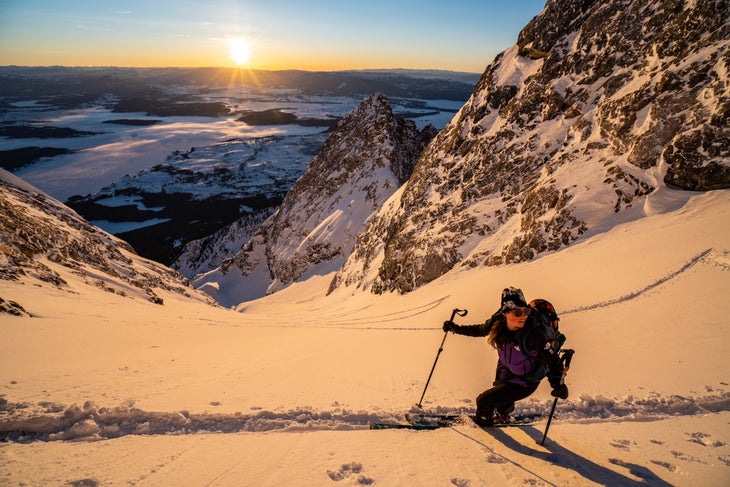 Being in the mountains gives me a way to express myself in a way that makes sense.
As a person, it's hard to figure out how you fit in the world, based on your personality traits, your interests, etc. With skiing, I've always just felt like I fit. Even if I don't necessarily fit into the ski industry. I wouldn't say I'm your typical skier. I'm kind of nerdy. I have more subscriptions to fashion magazines than ski magazines. And I hate mountain biking, which should disqualify me immediately. But when I'm actually skiing, I just feel like the expression makes a lot of sense. I feel like I can express my insides. And that's a really freeing feeling for me.
Related: I Owe My Life of Skiing to Glen Plake's Mohawk
I wasn't this diehard skier my whole life.
I grew up in Jackson, which is a mountain town. Ski racing never really clicked with me. But I've been a diehard adventurer all my life. I was always out in the woods or building snow caves with my brothers. In high school I spent time with girlfriends running around the Tetons. It was never with the idea of becoming a professional athlete. I didn't grow up loving skiing, but I did grow up loving adventure and getting better at adventuring.
And now that's come full circle, especially since I've figured out what I want to do in the ski world: more single-line objectives or projects. Because that's about the adventure and the whole process. I love dreaming of things that are three sizes too big for me and figuring out how to make that happen. That's my jam.
I sucked at skiing and it felt so hard, but that's why I liked it.
When I started skiing and competing, I was so bad. You can find some of that footage on the internet. I didn't know what the front of my boot felt like. Like 'oh, you have to pressure the front of your tongue? That's a new concept.' The thing that I loved, and what got me hooked on it, was the progression. I really like learning. It was so cool to go out every day and get better. Especially in the beginning, those years were some of the most fun I've had in my life. Skiing alone at the Village or creepily chasing the Jackson Hole Air Force guys. I would literally creep behind them in the tram and follow them in the Hobacks at a distance and just try to keep up. I guess I am going back to that learner's mindset with what I'm doing now. It's really such a fun place to be.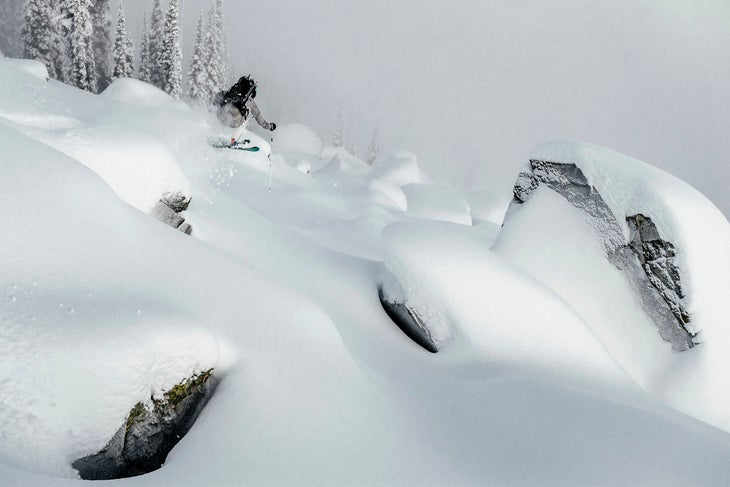 I ended up tearing every muscle and ligament in my shoulder.
I got a last-minute invite to film with Sherpas Cinema at Mica Heli Lodge in British Columbia. I think it was the second day that I crashed. I tore every ligament, crushed the ball of the humerus, and my shoulder socket was dented in. So my shoulder was just hanging out, which is excruciating. My knee also really hurt.
I was thinking I was just banged up, and once my shoulder was put back in its socket, I'd be back out filming. But when I woke up the next morning, I couldn't move anything and realized I needed to go home. So I drove myself to Calgary and flew home, where I had an MRI. The doctors told me I needed surgery on my shoulder and my knee.
I started seeing a therapist when I got shingles.
My doctor and I were confused about why a healthy and happy young girl was suffering from a virus common in 60-year-olds. She taught me about the sympathetic and parasympathetic part of our nervous systems. And we worked with my body to recognize when I was "stuck" in one or the other. Even if I feel happy and comfortable in the mountains, it doesn't mean my body isn't in fight or flight mode. With my travel, training, playing, and computer schedule I wasn't letting my body—specifically my nervous system—rest.
After the crash at Mica Heli, I knew I needed to go back to the therapist.
I knew that most injury recovery is so mental. I would send every skier in the world to the therapist I worked with, but she unfortunately doesn't practice anymore. But her practice was based on this idea that your body holds trauma, so it's a really physical practice, not just talk therapy. She would pressure certain parts of my body to release tension. Since then I've done a lot of research on this type of therapy and it makes a lot of sense. It was one of the most impactful mental health practices I've encountered for sure.
I said, 'I don't have any trauma from the Mica accident.'
What was crazy is that as I was working with this therapist, I told her I didn't have concerns about coming back from the injury. I've always known that if you put in the work, you can come back stronger. But I did have this trauma from an accident I had in Chamonix three days before I left for Mica.
I was hiking a line with three other people during a photo shoot in Cham, and a little, tiny runnel of sluff came down as I was setting the boot pack. It took me out. Which is crazy, because it was only boot-top. But it was so steep, and I just tumbled down the side of the mountain with my ice axe, crampons, and skis banging around my body. It was super intense.
But the line I took down somehow weaved me away from the rocks, and I was actually fine. But that event was way more traumatic than the crash in Canada where I obliterated my body. I had the full out-of-body experience just watching myself tumble and being nervous that I wasn't going to survive knowing how many rocks were below me.
That was the beginning of working with a therapist on facing the realities of my job.
She asked me how that felt for me. It was proof of my fear—that I could die because of my job—coming true. That was a bit of a changing point for sure. I noticed that trauma came back every once in a while. Like when I was on a photoshoot in South America, or filming in Bolivia with TGR. I worked a lot with the therapist on relaxing my body and working through the trauma and creating a way for my brain to signal that I was safe.
Obviously, what I do is quite dangerous, and it's never perfectly safe. But in general, professional skiers are actually really concerned with their safety and not that reckless. I don't think the things I do are reckless, there's just an inherent danger. So I worked on creating a sense of calm or safety in my brain and my body, both on and off the mountain.
I don't think David's loss is that impactful on my skiing.
When [Swedish big mountain skier] Matilda Rapaport died, that was more impactful because she was the person I felt was most similar to me in the community. She was quiet, fashionable, smart—she was just a sweet girl. When she died, I realized, oh my god, if she can die, I can die.  She wasn't this reckless, balls out, hard-charging skier. Her death feels more prominent when I think about my skiing than thinking about David. I noticed that trauma came back every once in a while, like when I was on a photoshoot in Argentina and while filming in Bolivia with TGR.
David was the love of my life.
Our relationship was spent partially in the mountains, but it was more than that. He was who I was going to have a more traditional life with. We had already talked about kids and marriage and where we were going to live and how we were going to make it happen. It was settled. So David's death doesn't necessarily affect my ski career, which sounds crazy, it affects my personal life—big time.
Because now I can't answer questions like, Will I have a family? Where will I live forever? Those are really hard questions for me to look at. But I can picture skiing. Because that doesn't have to do with David. David and I were really conscious about separating our jobs from what we were doing together.
This isn't my first rodeo with grief and loss.
Right before David died, Hayden [Kennedy] and Inge [Perkins] died. Then my aunt passed away that year. Landon Bassett, who worked for The North Face, had just passed away from cancer. Then Sam Coffey, whom I had dated before David, passed a month after David's death. So it certainly wasn't my first or last rodeo. But none of these experiences prepared me for how much my life would completely change after David's death.
I'm just so thankful some mornings that my lungs pump on their own.
It sounds overly dramatic, but some days, my bladder is the only thing that actually does get me out of bed in the morning. Those dark times, even this past weekend, exist to the extreme. Part of getting through it is just doing it. Part of it is having an incredible support system. I've been blessed with people who check in on me, who invite me outside or on film shoots. I believe resiliency comes not from within but actually from your community caring for you while also reminding you of your own dignity.
Life is still really beautiful to me.
It was explained really well to me by a friend who had a very similar experience. She said before loss, your emotional bandwidth is like a foot apart; you're bouncing between these highs and lows that are close together for most of your life. What grief does is blow out those walls two feet to the left and two feet to the right, so your lows are really low, but you also have these moments where a beautiful sunset will overwhelm you with how beautiful it is. So my strategy has been to be with either of those sides. I guess that's what I would wish the community and society in general would allow for, is letting me experience both.
The hardest thing I get are those well-meaning platitudes.
Like 'Keep your head up.' 'You'll find someone else.' That is just so painful. And you know it's coming from a good place, but the problem is it doesn't recognize the experience that I'm having. And that makes me feel crazy. It's like, can't you see the pain in my eyes? Why can't this just be painful? It is.
Yes, my life is great, and I've gotten to do some incredible things since David died. So my life has, in some ways, not gotten worse. There are a lot of gifts that have come from it. But none of them are better than David being here.
The kindest thing people can say is 'It makes sense to me why you're sad.'
And that's hard for our culture, because we want to fix things. But the only way it's going to be fixed is if someone can reincarnate David in the flesh. So until someone can do that, the most beautiful moments with people have been with those who can dive into those deepest pits of darkness with me and just hold my hand, or rub my back, and recognize the pain.
There are no words for grief.
I read about researchers who did this study where they put people with extreme trauma into MRIs when that technology was first developed. These people were asked to recount their trauma when they were in the machine. What's interesting is when those people recounted their trauma, the part of the brain responsible for language just turned off almost completely. And I think that's a really accurate depiction of grief—there are no words. I love words and writing, and I still don't have the words for the depth of pain that David's loss is for me. So I don't expect anyone else to have those words either.
A lot of it is just recognizing someone's pain, being sorry for it, and really trying hard not to try to fix it. It's not fixable, but the side effects are—like the loneliness, the exhaustion. Those are tangible places for care to be directed.
I need to go skiing, because when I'm skiing, I don't think about David so much.
A regular therapist might think it's unhealthy that I want to go into the mountains after the trauma they caused for me. But there are mental health professionals trained in the outdoor space that understand this and can help. The Climbing Grief Fund through the American Alpine Club is amazing. The website has so many resources, and they also have scholarships for mental health therapy, as well as a list of mental health experts who are in the outdoor world. And it's not just for climbers. I've had friends who are skiers use the Climbing Grief Fund to recover from avalanche trauma. It's a really incredible resource.
This is a really sensitive topic.
But I feel like it would be less sensitive if we could talk about it more. That would certainly help me. The most helpful thing I've found is talking to other people who have experienced something similar to what I'm going through. When people ask me about David and I—not the accident, but about our love—there is nothing that brings a bigger smile to my face or better feeling in my heart.
More Good Reads About Skiing and Mental Health
How to Recover When Skiing Causes Emotional Trauma
5 Wellness Treatments That Go Beyond the Traditional Mountain-Spa Offerings
Mobbing 10 Skiers Deep is Exactly What I Needed to End the Ski Season