Comeback Kid?
What's going on with Bode Miller? It's a question that's reverberated around the ski-racing world throughout his long and colorful career. But in his retirement, things are really getting curious.
Heading out the door? Read this article on the new Outside+ app available now on iOS devices for members! Download the app.
This past fall—that's spring in Chile—America's most decorated male ski racer was running gates in Portillo, high in the Andes. It would have been just another training session in the lead-up to the World Cup season, except Miller, who turned 39 in October, announced a year ago that he'd be retiring. The 2018 Olympics seemed unlikely too, he said. Yet his future looked bright. Miller had already hitched his post-career hopes to a Fifth Avenue–based luxury ski brand called Bomber, where he'd be in charge of designing skis using everything he'd learned in 20 years of racing.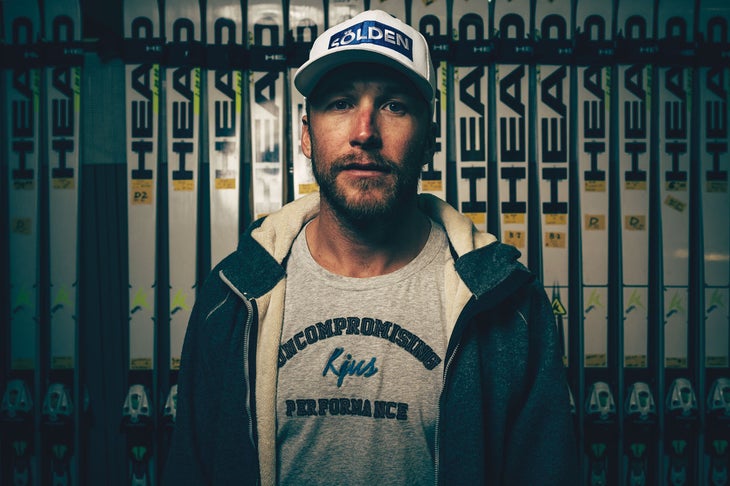 This shift in career paths created some awkward moments for Miller, particularly with Head, the Austrian company that had sponsored him for the better part of a decade. It was a lucrative relationship. In exchange for racing exclusively on Head gear, Miller earned at least $1.15 million a year (presumably for years), not including healthy six-figure bonuses for podium finishes. As Miller aged, Head offered rewards based on his season-end rank in the World Cup overall standings, from $300,000 for a top-20 slot to $1 million and up for a top-10. Should he retire, Head would kick in $100,000.
Then, about a year before his contract was set to expire, Miller approached his handlers at Head and asked to be let go. "I said, 'Look, guys, are you really going to hold me to this?'" Miller told me at the time. Apparently not. In May 2015, almost nine years to the day since Miller first signed with Head, the two parted ways with a termination agreement. Among the conditions: The compensation would end, and Miller would not race in any World Cup or World Championship events before May 2017.
Yet down in Chile this past fall, something seemed afoot. The U.S. Ski Team had already named Miller to the 2016–2017 men's A team, which would allow him to compete in World Cups. Instead of merely testing out Bomber's line in his baggy jacket and white snow pants as he'd done the previous season, Miller slipped into his baby-blue race suit and clicked into a pair of white Bomber skis. (Even more curiously, he was wearing a pair of Full Tilt boots.) Bomber also hired Miller's former ski tech, Chris Krause, who had been working for Head and Swiss star Lara Gut.
Miller has not, as of press time, publicly stated he intends to race again. Yet his behavior has raised Head's hackles. "The terms of the relationship were simple: Miller won races using Head skis and was the face of Head, and in return he was paid handsomely," lawyers hired by Head wrote in court documents. "The only limitation placed on Miller was that he not promote competitors' products or ski on a competitor's equipment, a common restriction in sponsorship deals." Another Head lawyer wrote to Robert Siegel, co-CEO of Bomber, directly. "We are placing Bomber on notice that Head will not tolerate any breach of its termination agreement," the letter said.
In September, Miller and Bomber sued Head in federal court in California, where Miller lives. "Bode realized that his viability and marketability as a professional ski racer were rapidly dwindling, and that he needed to explore the possibility of coming out of retirement," the complaint reads. "[This] is likely Bode's last real opportunity to com- petitively compete on the World Cup racing circuit and attract the lucrative endorsements needed to provide for his family."
I sent Miller an e-mail and a text message requesting an interview, but he made no reply. Johan Eliasch, chairman and CEO of Head, said in a statement he was "very disappointed." Siegel said Head had left them no alternative but to sue.
So how will this all play out? First, federal courts often move slower than skis on slush, so it's possible nothing will be settled before Head's two-year ban from racing expires, which means we may have to wait till Sölden 2017 to see him mount a comeback. (Siegel believes Miller could legally compete before then.) Things might, um, bode better for Miller if the matter does go to trial in California, where, according to legal experts, noncompete clauses are notoriously hard to enforce, regardless of whether they're reasonable. The chances of that happening could be a goose egg too, though: In October Head filed a motion to dismiss, saying Austrian law—not California law—governs the contract and the court has no jurisdiction over the case. What's more, Head has hired Skadden, Arps, Slate, Meagher, and Flom, one of the most prestigious high-powered firms around. Going up against them won't be easy.
"When I saw that, I went, gulp!" said an independent lawyer I asked to review the case. "If [Bode and Bomber] had come to us [under these circumstances], we would have said to just wait it out and race next year."
Either way, it's an intriguing idea. Miller believes he'll live to be 100 anyway, so what's an extra year? In the meantime, he'll always have Chile.