Did the First Event of Its Kind, Sister Summit, Actually Work?
Heading out the door? Read this article on the new Outside+ app available now on iOS devices for members! Download the app.
Molly Armanino hit the cliff first.
The athletes had been looking at it all week: a broad band visible from the lodge, flanked by trees on either side. We were at Mustang Powder Lodge, a cat-skiing operation in British Columbia's Monashee Mountains, in late November and the terrain was just starting to fill in. When the guides gave the steep terrain above the lodge the green light, the women at Sister Summit, a first-of-its-kind event that brought together a group of professional skiers and snowboarders, began planning their lines.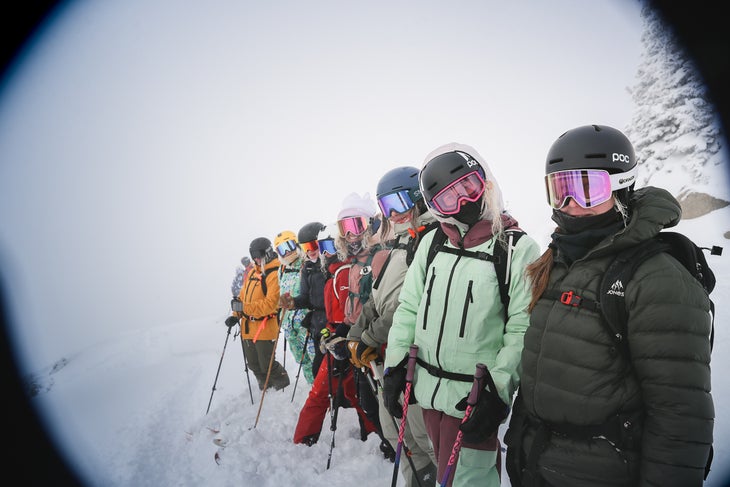 Armanino, a 29-year-old skier from the Tahoe area who will make her debut on the Freeride World tour this year, was standing at the top of the line with Piper Kunst, a 22-year-old rising star in the freeride scene from Salt Lake City and the winner of the 2022 Kings and Queens of Corbet's competition. Then, Armanino side-stepped her way up and sent it, taking the cliff band an easy sixty feet. She didn't quite stick the landing, and Kunst followed after, with a little less speed, and landed a clean double. She wouldn't have dropped in the first place if Armanino hadn't had the courage to guinea pig it, she said.
That type of encouragement and progression is exactly what the women behind Sister Summit—skiers Lexi Dupont and Hedvig Wessel, snowboarder Leanne Pelosi, and former Freeride World Tour communications director Fanny Avril—were banking on when they dreamt up the event.
The trip brought together 22 athletes, a near-even mix of snowboarders and skiers from around the world, to spend a week skiing and riding together.
Unlike other film trips, competitions, and industry events, the summit included athletes from a wide variety of disciplines: competitive big mountain snowboarders, an Olympic slopestyle skier, an alpine guide from Verbier, an urban snowboarder from Iceland, and more. Riders weren't segregated by sponsors or skillsets, which created an environment in which a skier could take inspiration on a pillow line from a snowboarder or a Paralympic gold medal-winning ski racer could be coached off a drop by a Freeride World Tour athlete.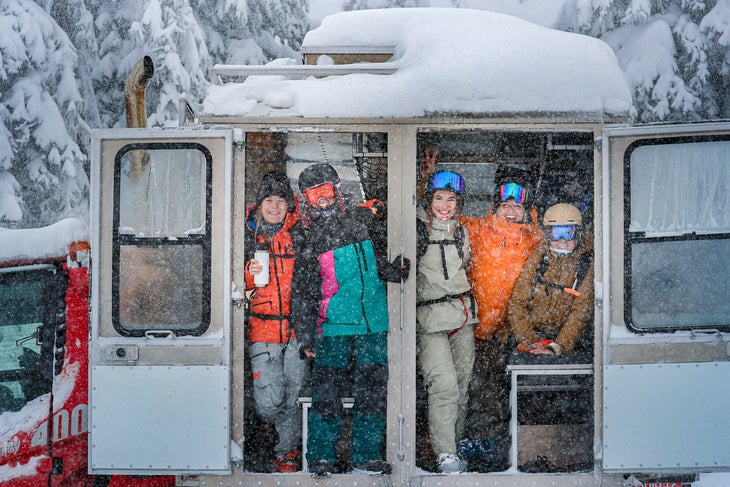 "My dream is to create a space for women to come and reach out for support and know where they can get that," says Wessel. "When I started in this industry, I had no idea where to find filmers, good skiing, or [other] athletes. It was crucial to have someone in my life who could help guide me in that way."
Dupont and Wessel's friendship formed the foundation of the event. Dupont, 33, spent five years competing on the freeride circuit from 2009 to 2014 before transitioning to filming. For the 2022 season, she decided to give the Freeride World Tour one more go. Wessel, a former Olympic mogul skier who had been competing on the tour for four years and took the overall title three times, reached out before the competitions began to ask if Dupont wanted to room with her. To get to know Wessel, Dupont listened to a few podcasts where Wessel explained her disciplined, regimented approach to her sport (and life), which sits somewhat at odds with Dupont's free-spirited ways.
"I am envisioning this machine—I'm terrified of her. My mom was like 'This woman is going to eat you alive.' As soon as we landed she asked if I wanted to have breakfast, and I was like 'Oh my god, this is my sister,'" says Dupont. "She fully took me under her wing and made me feel so welcomed."
Dupont and Wessel quickly became friends. Wessel proved to be an invaluable resource for Dupont, advising her on visual inspection and line choice, helping her schedule out her competition days, and generally being encouraging, supportive, and kind.
Where Wessel is disciplined, Dupont is intuitive, and where Dupont is freewheeling, Wessel is organized and diligent.
They complement each other, and that showed in the planning of this event. When I asked them what their goals were on an emotional, interpersonal level and on a business level for Sister Summit, Wessel laughed and told Dupont, "You can do the dreaming. I'll do the business."
While skiing and riding were, naturally, the core of the week, the schedule included much more than that. "Body, mind, and soul is everything at Sister Summit. To be a pro athlete isn't just physical," says Dupont.
Several mornings began with a yoga class led by Swedish skier Evelina Nilsson, and on the last morning, Chelsea Kauai led meditation before the women headed out for an eight-hour day on the slopes. In the evenings, the athletes would gather in the dining area to hear from a variety of speakers—all women—who gave talks about nutrition, entrepreneurship, branding, sports psychology, avalanche safety, motherhood, and more. There was a breathwork class and even a Kinergy workshop—a dance-influenced workout routine that had many of the athletes dissolving in laughter.
One notable evening included a 2.5-hour diversity panel, which featured snowboarders Emilé Zynobia and Khai Bhagwandin, mountain biker Anita Naidu, and actress Renee Wilson, along with Dupont. Both Bhagwandin and Zynobia shared their experiences as athletes who started to get more attention in the wake of the Black Lives Matter movement, and talked about the ways they have been supported and tokenized throughout their careers. The conversation felt fruitful and educational, but there's a lot of room for growth here.
The snowsports industry notably lacks diversity. It has long been dominated by men, which is where much of the motivation for Sister Summit came from. Brands are run by men, male athletes get more money, more air time, and better contracts. Plenty of the athletes at Sister Summit have spent large portions of their careers as the minority: as the token woman on a film shoot, or one of the only female guides at a heli-op. But questions of diversity and equality in snowsports run much deeper than the question of gender.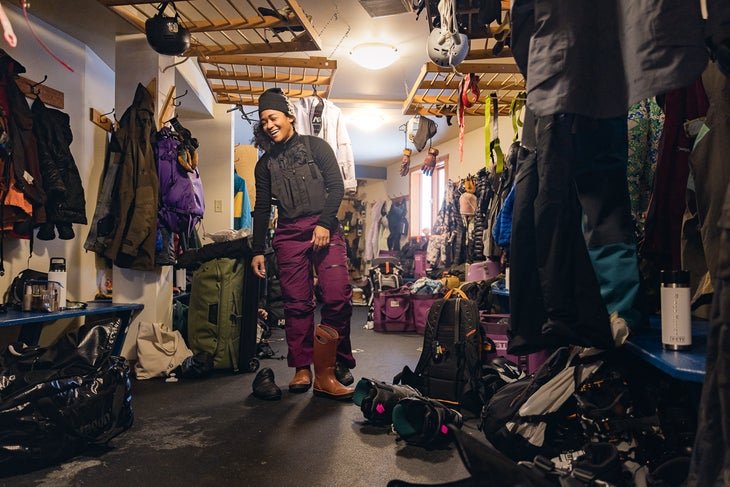 Emile Zenobia Newman at Mustang Powder, BC, for the first Sister Summit event. (Photo: Robin O'Neill)
That's where the diversity summit came in, but the remainder of the learning sessions were led by white, able-bodied women, and the event didn't include conversations around the limitations of women-only spaces—which can exclude trans, non-binary, and queer individuals. Still, it was movement in the right direction.
"I personally feel like as someone who has had a lot of barriers to entry into this world, this was a step," says Bhagwandin. "I met and connected with a lot of amazing people, and it became really clear what I need to do in the sport to achieve my goals."
Before the event, the nature of Sister Summit was a little unclear.
Was it a competition? A retreat? An extended film and photo shoot? In the end, it had elements of each, but was also none of those things—it was a big experiment, with a lot of energy and some important positive outcomes. It provided an opportunity for athletes to generate photos and film clips early in the season, and to ease back into the winter before their schedules become truly packed. They had a chance to learn about important and overlooked parts of mental and physical health, and were able to build relationships with women in the industry they may otherwise not have crossed paths with. As Dupont and Wessel said repeatedly during the week, they're excited to see what the ripple effects of this event will be. Surprising collaborations, new relationships, and mentorship will inevitably be a part of those ripples.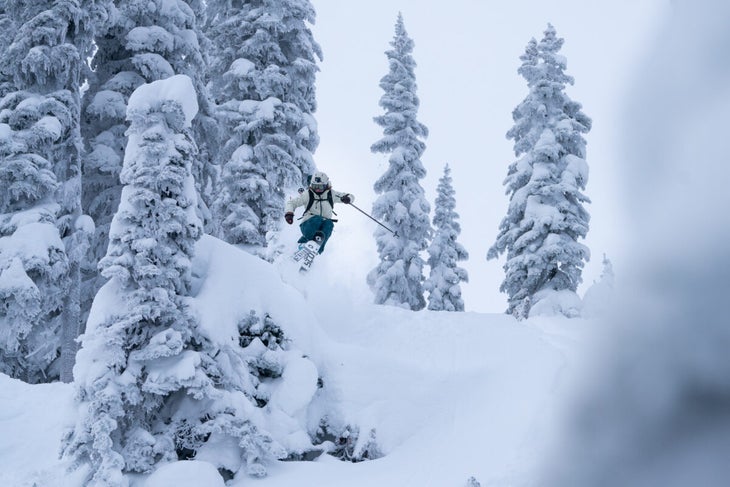 As for next year, and even further into the future? Avril, Dupont, and Wessel have a lot of ideas. "I see Sister Summit growing in so many ways," says Wessel, who harbors dreams of growing Sister Summit into a brand beyond the event itself, perhaps doing athlete management. "We've had people reach out to us from surfing, skating, fly fishing, climbing," says Dupont, who is eager to bring the format into other sports. Avril is curious to bring the format into bigger terrain and new places. But for now, they're basking in a job well-done.
"I've been watching these women since day one," Dupont said on the final day of the summit. "Some of them were so closed off, but by the last day they were so open." Wessel chimed in. "My whole career I felt so lonely in this experience. Now I have women I can lean on. That's what it's all about—it's not about the individual, it's about the collective."