Eric Pollard Q&A: The Quick and Dirty
Jack of all trades, engineer, talented artist, and notably ahead of the times, Pollard shows me the light in 30 minutes.
Heading out the door? Read this article on the new Outside+ app available now on iOS devices for members! Download the app.
If you don't know who Eric Pollard is by now, either you don't follow skiing and you're randomly reading this article, or you hate cool and interesting people. Pollard is a freeskier and film creator from Welches, Oregon, and currently lives in Hood River. He has been a professional skier for Line Skis for over 15 years and also designs skis for them. Whether you know him from his amazing artwork on topsheets or his artful turns on-screen, here are some things you don't know.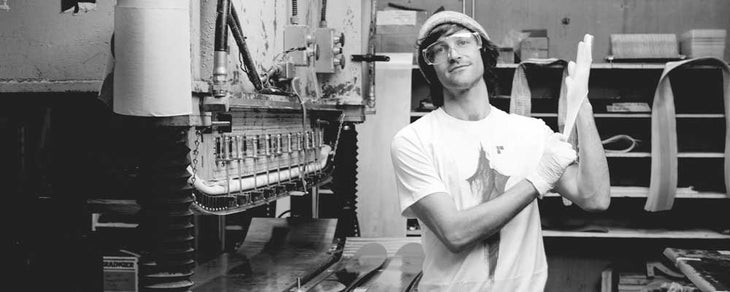 LH: When did you start designing graphics for Line skis?
EP: I started designing graphics for them in high school. When I was growing up, ski graphics were always the exact same on both skis and it bothered me—I didn't like the symmetry. I was always drawing and painting so I just tried airbrushing a graphic on top of my skis and I thought, "Oh man, these look great." When the Line team travelled through one spring and saw what I'd done, they loved it and asked me to do more.
LH: Describe your artistic style.
EP: Some things I do are abstract and some are surreal. I'm not very good at realism, so I play to my strengths. I love surreal approaches to things, like warping colors or taking a landscape and reducing it down to basic shapes. I like looking at beautiful scenes as I'm traveling and putting it on paper my own way.
LH: Do you have a favorite graphic you've designed?
EP: There was this one particular graphic that's a pencil illustration of Mount Hood. One of my favorite things is to take something from nature and isolate it. Once I landed on this technique I poured myself into the graphic and the Mr. Pollard's Opus was born.
LH: Let's talk about Nimbus Independent. How'd it start and why?
EP: Basically I and a few others wanted to break away from filming with larger companies and put forth something we were proud of. I don't think there was one ski movie I was featured in that I was excited about and proud of. I'd worked so hard on skiing in these movies, but the movie as a whole would be this production of terrible music and B.S. Now let me just say, now that I've been doing my own thing I have a lot more appreciation for those production crews. But we were just blazing this little path and started releasing our stuff online free of charge. We change up what we do and what format we do it in every year, and it's been really fun.
LH: How do you feel about social media and how it's changed the way skiers can go pro?
EP: I think however someone wants to make skiing their life is rad. It's cool how kids can shape their own career in the ski world on social media now. We all used to rely on film companies picking us up but now it's not in their hands anymore. Now there are kids with these fresh ideas making really cool media and making me look ancient.
LH: What's your favorite type of skiing?
EP: It could be anything because variety is part of what makes skiing so fun. I love those bluebird days where there's no wind but it's really cold and the snow is light. I also love storm days where you can't see 10 feet in front of you. At the same time, I also need days just skiing at home. Skiing means so many different things to people, but for me, the option of piling a car and racing up the gravel road just to wait in line and ski with friends that don't get to do it for a living is always the best.
LH: Would you say you're an artist, filmmaker, or skier first?
EP: This is a tough question because, for me, the beauty is in switching gears. I get stir-crazy even thinking about doing just one of those things. Skiing is tough because I get injured and I am constantly putting myself in danger and being away from family. I don't love the art world or the culture and don't want to cater my life toward that and have to find an agent to market me. And being a filmmaker is similar to being a pro athlete, however you aren't breaking your back all the time, so I suppose I'd have to say filmmaker.