Explore the Deep Connection Between Jackson Hole and Kicking Horse in New Film 'Home Away from Home'
Skier Max Martin's film, out this fall, explores the relationship between the two ski Meccas he calls home.
Heading out the door? Read this article on the new Outside+ app available now on iOS devices for members! Download the app.
As a starstruck intern at Teton Gravity Research, I first met Max Martin on a cool October day in Jackson Hole. In a town chock full of pro skiers, Martin stands out by treating every person he meets like an old friend he's delighted to see again. His new film, Home Away From Home, set to release this fall, shows Martin's genuine personality and high-energy skiing while highlighting his relationship to the dreamland he's found in Kicking Horse, British Columbia. 
From the opening shots, the film places us in a winter wonderland full of the magic of powder skiing. Initially, the film started as a way for Martin to return to Kicking Horse, a place he'd been obsessed with since childhood. He had always joked about it being his second home, but once he and the two filmmakers, Morgan Shields and Matt Fournaris, started talking about the concept, they realized how deep that idea ran.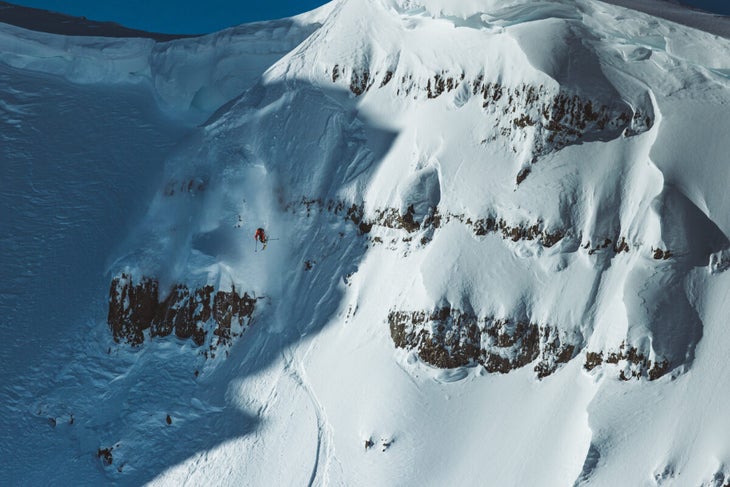 "It came down to being a whole lot more than just skiing. It was like this idea of almost fulfilling childhood dreams, you know? Or whatever you said you wanted to be as a kid and then living a version of it," said Martin. The pieces began to fall into place in a way that naturally told the story of Martin's relationship with the two mountains. 
Once snippets of waist-deep pow skiing hook us, we meet Martin the Person, not just Martin the Skier. Martin has been skiing his entire life—with his parents working for Jackson Hole Mountain Resort. Martin's childhood was spent on the ski mountain. Some of his earliest memories include bumping down an unpaved Teton Village road and exploring the kid's ski runs alongside his older brother Tyler, known to many as "Weez." At just six years old, he began ski racing in the Jackson Hole Ski Club. Growing up racing and freeskiing with teammates like Corey Jackson, Blaine Gallivan, Martin Hammer, and now snowboarders Cam FitzPatrick and Blake Paul meant that skiing was everything for Martin and everyone around him. 
Like any kid who grows up obsessed with skiing, becoming a professional skier was always in Martin's mind. It wasn't until he moved back to Jackson Hole after attending college in the Northeast and participating in the Powder 8's photo contest in Cody Bowl that Martin understood what going pro could mean for him. That shoot was the first time Martin felt a connection between skiing and creativity. It wasn't about winning or losing but being in an entirely new mindset to enjoy the mountains. "I discovered a passion within skiing that I didn't think I would, and then it just turned into something that I'm still doing today and really love doing it," he said. 
Like his dreams of being a pro skier, Martin's fascination with Kicking Horse started at a young age. He recalls reading an article at age twelve in SKI Magazine about the mountain and becoming fixated on one day skiing there. Sixteen years later, Martin finally made it to Kicking Horse in the winter of 2021. Years of buildup meant that when Martin actually got on the gondola for the first time, he was over the moon –he was finally living out one of his greatest childhood dreams.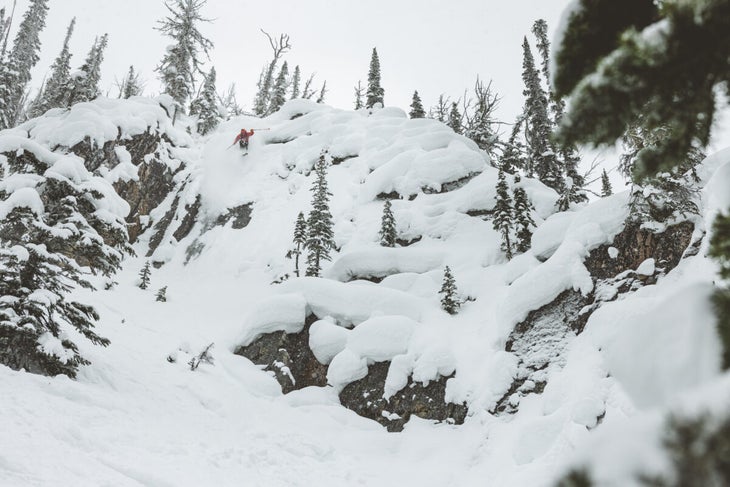 Martin's first impression of Kicking Horse was that it was the most classic, perfect Canadian ski resort. "There's like five chairs, and every single one is like a gondola," Martin said, laughing. He'd heard of the similarities between Jackson Hole and Kicking Horse from many people and began to make mental notes of these things on his first trip there. He could see these similarities in the terrain, but it wasn't until he skied out the gates that he understood why everyone compared it. The easy access to miles of explorable backcountry terrain without getting too far from the resort made Martin feel at home. As he spent more time in Kicking Horse, other similarities between the two mountains began to stand out. The folks inhabiting the tiny (pop. 3,701) town of Golden, British Columbia, were largely die-hard recreationists, like many who moved to Jackson Hole. The inbounds terrain at Kicking Horse also caught his eye. While the mountain boasted a wide variety of terrain, allowing for a bit more of a 'choose your own adventure' vibe than Jackson Hole, the steep, technical terrain made him feel right at home. 
The town itself gave off an energy that captivated Martin. He sensed that Kicking Horse indeed attracted people who were there to ski. As he's watched Jackson change so much over the years, he's worked to continue cultivating and preserving its tight-knit ski community. Kicking Horse reminded Martin of the Jackson he'd grown up in. Not only was he living out his childhood dreams of skiing at Kicking Horse, but he was also reminded of how growing up in Jackson helped give him those dreams. 
When Martin returned to Kicking Horse this past winter to film, they were met with below-average precipitation and poor ski conditions. 
"Kicking Horse was always kind of this place that historically had pretty good early season snowfall and a great place to get early repetition for pushing your limits, skiing powder, and having kind of this green light to go big," said Martin. The team considered postponing the project, but Martin thought he probably shouldn't be a professional skier if he couldn't make the best of lackluster conditions. They moved ahead with filming. The poor conditions in Kicking Horse set the stage for a narrative about making the most of your circumstances and having fun doing it. Martin found himself grateful just to be out doing what he loved every day of filming. He could think outside the box and look for those things, good conditions or bad, that made each moment unique.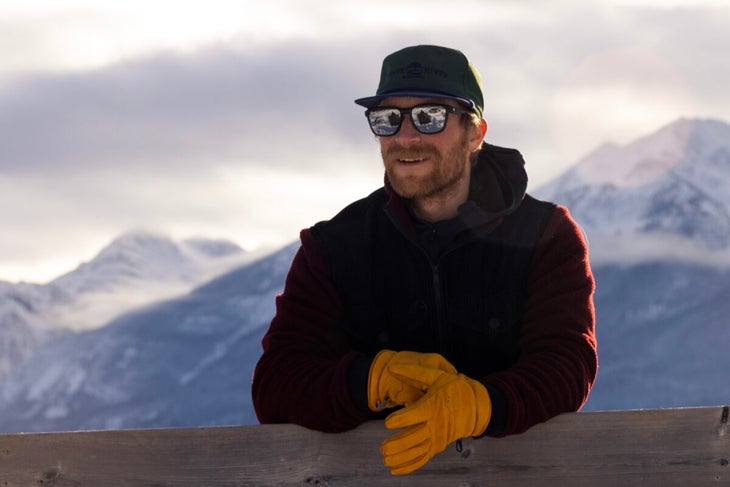 Some of Martin's favorite memories from filming in Kicking Horse are around the nuances of the place itself and its community. The friendly nature of everyone they encountered, the possibility and drive for exploration inspired by the area, and the rich history of industrialization and skiing rooted in the locals were a few things that stood out to Martin.  Leading up to the trip, he reached out to everyone he knew in Golden to meet up and ski. Kicking Horse ski patroller and Martin's childhood friend Martin Letnz was one of those people. Lentz brought Martin and the film crew for a bomb run before the mountain opened one day. Martin had never done one and recounted seeing the patrollers in their element as one of his more intense and captivating experiences. 
He also met up with Marie-France Lessor, whom he'd been introduced to by the athletic director at his college. Skiing and spending time with her, Martin saw how she'd made a life for herself and her family in Kicking Horse. "I could feel a lot of similarities to what my parents wanted to do, how I grew up, and how she's raising her kid to grow up. It was something that I could really resonate with and felt at home with," Martin said. 
Martin hopes the film shows viewers that you don't have to be the best skier in the world to love skiing. For him, it's not the raddest lines or the deepest snow, but the days he's shared in the mountains with people he loves that stand out the most. "Any day that I really got to just go out with someone that I know on a very personal level and love to ski with as well. It just makes that day so much more than just skiing. You come out of that day being a better person. It's hard to say what my favorite days are or what my singular favorite day is because I've created skiing to be more about being with people than just like skiing for skiing," said Martin. Above all else, Martin hopes people walk away loving skiing a little more than they did before watching it. 
The film premieres in Jackson Hole at Snake River Brew Pub on September 23, 2023, and will be available online later this fall.