For This Pro Skier, Racing 100 Miles Is Just What the Therapist Ordered
Most people think ultra-running the Leadville 100 is impossible, but for big mountain skier Drew Petersen, it's a lifeline.
Photo: Caroline Lindquist
Heading out the door? Read this article on the new Outside+ app available now on iOS devices for members! Download the app.
For some skiers, summer is a time to relax, catch up on rest, enjoy carefree days in the sun, and (maybe) crawl back to the gym to build strength for next winter. For professional big mountain skier Drew Petersen, "off-season" means training to run 100 miles through the heart of the Rocky Mountains.
Growing up in Summit County, Colo., Petersen remembers "Leadville weekend" as if it were a holiday. The iconic 100-mile race, a challenging out-and-back course along the Colorado Trail above 9,000 feet, has been at the heart of ultra running since its inception in 1983. "It was the first time I'd ever heard of someone running 100 miles," Petersen recalls. "Even when I was a kid, I knew I wanted to do that someday; I just didn't think it would be until I was like 35 or 40."
In the winter, Petersen explores high places on skis, and he's no stranger to big cliffs and tall peaks. In the summer, he focuses on getting deep into the mountains in a more minimalist style, exploring ranges without much more than a pair of running shoes and a hydration vest. For Petersen, traveling through big terrain throughout the seasons embodies a deeper connection with the mountains and an opportunity to challenge himself in the summer and head into the winter with a solid aerobic base.
But it's also provided an outlet for him to work through challenges related to his mental health. Petersen has been open about his struggles with suicidal thoughts and bipolar disorder throughout the past few years, encouraging the ski industry to embrace dialogue about mental health through his 2021 film, "Ups and Downs." He refers to running as a compass, something tangible that he held onto during the most challenging times.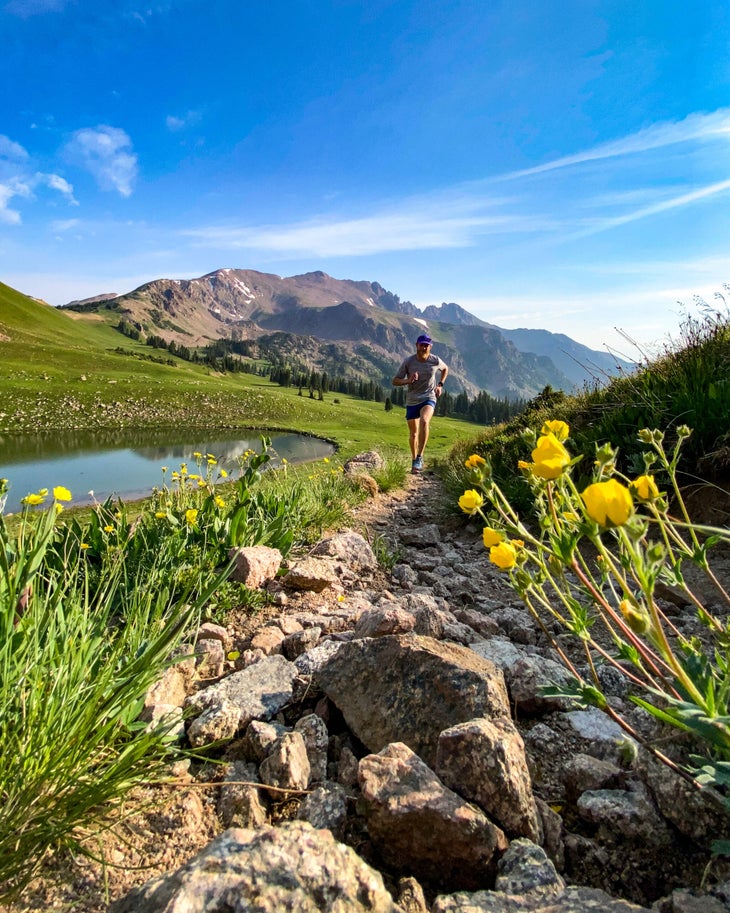 In the summers, Drew Petersen gets out on foot to explore the mountains in his backyard in Summit County, Colo. (Photo: Drew Petersen)
So at 4 a.m. on August 20th, Petersen will toe the start line with over 800 other racers to begin the 100-mile "Race Across the Sky," his second 100-miler after completing his first, the Idaho Mountain Ultra Trail Festival (IMTUF) last summer. We met Drew pre-race to chat about how running compliments skiing, what it's like to train for an ultra, and how running has supported his mental health journey.
SKI: How does training for running compare to ski training? Do you find it transfers over well?
Petersen: Fitness from ski touring transfers over well to running by building up a large aerobic base, but big mountain freeride skiing requires more power and muscle mass, so it doesn't match up perfectly. My coach, Anna Mae Flynn, has helped me focus on building a larger aerobic engine, spending long days in the mountains, and focusing on running long, not necessarily fast.
I think many people are surprised that [ultra running] is not about running fast at all; I'm usually moving pretty slowly. My mindset is to keep moving no matter what. It's something I've been dedicated to throughout the winter too, and that sometimes meant going for a run on snow or pavement after a long day of skiing, skipping out on après to get more miles in. It's not a goal you can train for in a few months.
It sounds like you've spent a ton of time on the course this year, both on skis and foot. How does it compare in winter versus summer?
The last three weeks have been about spending as much time on the course as possible, but this spring, I also got to spend a lot of time in the range on skis. This spring was pretty funky with regard to conditions and the persistent weakness that stuck around, but I got to ski a bunch of the peaks around the course with some close friends, and that was cool. We had a lot of epics—approaches in running shoes and not putting skis on until the top—but that's the kind of skiing I love. I wanted to do that, then go run the Leadville 100 and be mid-race right in the middle of 100 miles and be able to look up at the peaks and see lines that I had skied.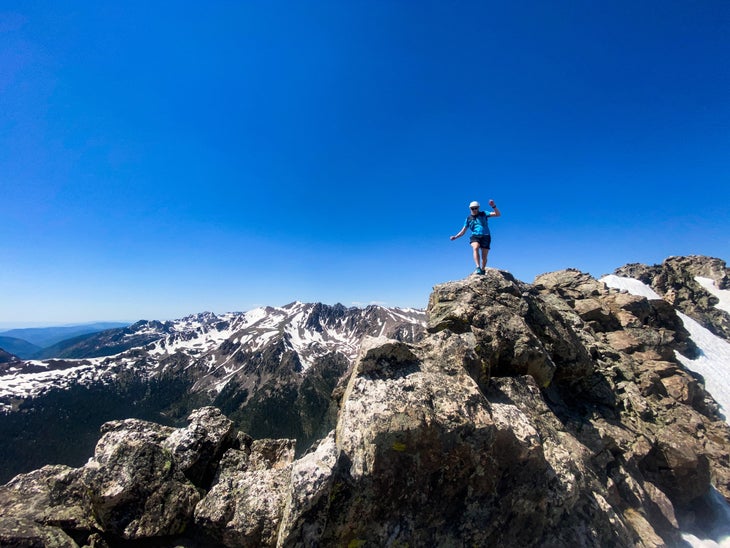 Did any specific lines stand out?
The biggest highlight was skiing Mount Hope. It's just below 14,000 feet and has this gorgeous couloir right off the northeast side. Hope Pass is the crux of the race, and when you're climbing the pass, you look straight at the line we got to ski. It's a couple of thousand feet of beautiful skiing. I know that's going to be one of the most difficult parts of the race, but I know looking up at it and having that memory of skiing it with some close friends will put a huge smile on my face.
You talk about running as a core tenant of your mental health journey. Can you share a bit more about how running has helped you?
When I was at my lowest—on the days when I couldn't get myself out of bed, the days when I considered suicide, the days when I felt like I had all but fully succumbed to the firm grip of the darkness—this was one of the few motivators I could still call on. I used to tell myself, 'If I can get out of bed, if I can make it through today, if I can keep myself alive to see tomorrow, then I can do absolutely anything. I can climb any mountain, ski any line, and run 100 miles.
That process of learning to ask for help, working through my depression and PTSD, learning to live with bipolar disorder, and going through concussion rehab became a lifeline to which I'd hold on. I also have a very busy mind that is sometimes hard to calm down. Now I understand that [is due to my] bipolar disorder. Still, regardless of a diagnosis, running is an opportunity to be present, and it brings a lot of clarity and helps me see the bigger picture.
Tell us a little more about the support you've felt from the running community, and how the ski community can learn from that.
I gained a lot of inspiration from folks in the running community. The running world is further along than the ski world in opening up about mental health. Watching Rob Krar, who won the Leadville 100 in 2018 when I was at rock bottom, be open about his struggle with depression is a massive part of why I got help. The discussions I've been having in the ski world feel like a way to pay forward to skiing what I've gotten from running, and hopefully, these conversations can continue.