Kaylin Richardson: Overcoming Your Fears
The professional skier talks buckling up on steep terrain.
Heading out the door? Read this article on the new Outside+ app available now on iOS devices for members! Download the app.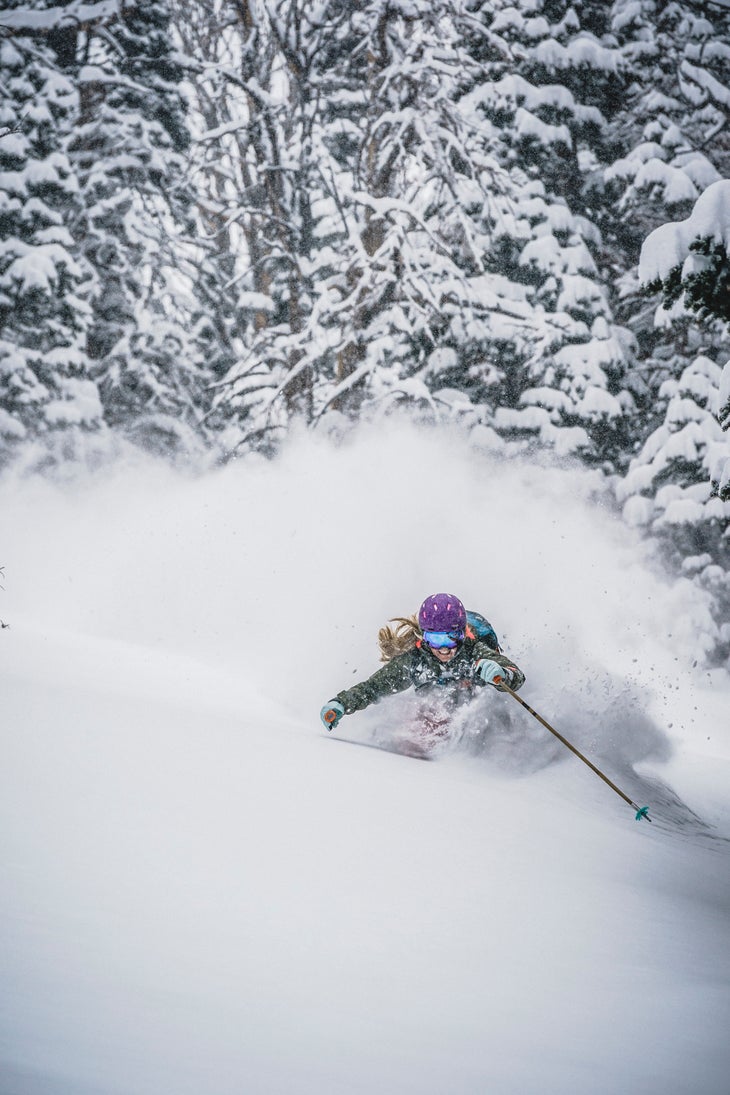 The freedom, the silence, the speed. That's what hooked professional skier Kaylin Richardson into skiing. Growing up outside of Minneapolis, Minn., Richardson wasn't exactly destined to become a world-class skier. But from the moment she stepped onto the slopes of the Rockies on a family ski vacation, she knew she had found her passion.
Richardson grew up a tomboy and tagged-along behind her two older brothers. So, when she and her family first went skiing in Colorado, Richardson embraced the opportunity to go fast in order to keep up with the boys. "It really dawned on me at that moment: speed is a vehicle to finding freedom," says Richardson.
She quickly developed a passion for ski racing, and by age 15 was racing on the national development team, before ultimately joining the U.S. Ski Team and competing on the FIS World Cup circuit. Richardson's racing career spanned 7 years, during which she racked up an impressive tally of titles and finishes, becoming a two-time Olympian and four-time Alpine National Champion. After a 17th place finish in the women's super combined event at the 2010 Vancouver Olympics, Richardson decided to retire from the racing circuit. "We are only guaranteed this one trip in life, and I was curious to see what else was out there," she says.
She traded in her skinny race skis for some fatter all-mountain boards, and decided to explore big mountain freeride and the backcountry. "This opened up a whole new world of skiing," she says. Richardson started seeking out different terrain than she was used to skiing during her racing days. She found herself in Utah, exploring the backcountry steeps. Though she was already a pro skier at that point, Richardson soon found she had much to learn in order to tackle big mountain skiing. "It was terrifying at first, and I realized I had no idea what I was doing," Richardson admits. "Then I took some classes with the locals to improve my skills and learn more about skiing this type of terrain. They taught me that it's good to be afraid, because the mountain isn't always in your favor."
But it's clear that it didn't take long for Richardson to adapt her skiing and overcome her fears. In 2012, Richardson won the Freeskiing World Tour's North American Championship in Snowbird, stomping onto the freeskiing scene in a big way. She's pretty much been a staple in Warren Miller Entertainment films ever since. Watch her in any of her recent WME segments, absolutely barreling down big AK lines, and you'd never dream that at one time Richardson was intimidated by steep off-piste terrain.
These days, Richardson flocks to the steeps for the thrill and adrenaline rush this kind of skiing affords. "It's an amazing connection with the mountain, an incredible sensation of giving into gravity, and just letting it propel you," she says. Richardson's biggest takeaway from her own transition to big mountain skiing? "More than anything, it's a mental game. When you get to the top of the slope, just be confident."
Want more tips for tackling steep terrain from pro skier Kaylin Richardson? SKI Magazine and AIM Adventure U teamed up with Richardson and the Professional Ski Instructors of America to design the online course "Mastering Steeps." Enroll and get step-by-step instruction, tips and tactics to conquer adrenaline-pumping lines this season. Learn more at skimag.com/masteringsteeps.