After Horrific Olympic Crash, Alpine Skier Nina O'Brien Is Back On Her Feet
Still working through her recovery, the team is confident that she will be in the gates again this coming season.
Photo: Julian Finney/Getty Images
Heading out the door? Read this article on the new Outside+ app available now on iOS devices for members! Download the app.
When many ski fans last saw Nina O'Brien, the 24-year-old alpine skier was hurtling through the 2022 Olympic giant slalom finish on her back at terrifying speed. Her left foot was pointing outward, the tibia and fibula snapped, bones pointing into her ski boot.
Now, five months later, O'Brien is back on both feet and looking forward to the coming ski season. Overcoming a stiff ankle has been her biggest hurdle so far. But dedicated to rehab, she slowly regained mobility.
"If you saw me walking around, if you didn't look too closely, you would probably think it's totally normal," she said by phone from her home in Denver.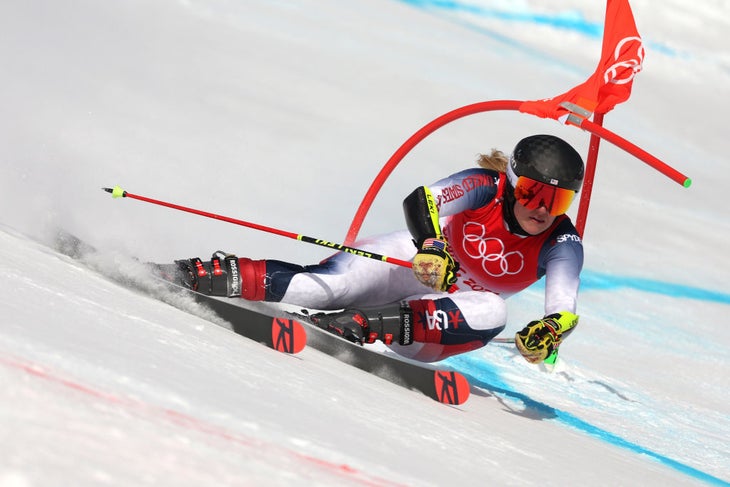 At U.S. Ski Team headquarters in Park City in early July, O'Brien focused on high-level plyometrics, power, agility, and sprinting. She felt, she said, "like an athlete again."
And the team is confident that she will be in the gates again this coming season.
"Both her body and her mind are in a really good place," said Torey Anderson, the U.S. Ski Team's alpine medical coordinator. "She seems confident and sure of herself, and she's having fun through the workouts too. We like to see that. And she's progressing really well."
It's a remarkable recovery from a crash that made an Olympic stadium go quiet. O'Brien had been on her way to a best-ever result in GS (she was sixth after the first run) when something went terribly wrong one gate from the finish.
She does not remember how or why she crashed. She only remembers that the course was stacking up on her as she came onto the final pitch, her turns getting late. With one gate to go, she crashed, slamming through that final gate and sliding across the finish line, her screams audible around the stadium.
As she slid, she saw her right knee and thought, "Oof, that looks really bad, I just hurt my knee."
Then she noticed her left foot pointing out at an inhuman angle. "Well, I definitely just broke my leg," she thought.
Surprisingly, she felt no pain at the time—adrenalin and shock doing their job. Once her ski boot was off, the damage was apparent: her tibia and fibula were sticking out of her ski sock.
In addition to the compound fracture, O'Brien also fractured the talus bone in her left ankle (between the heel bone and the tib/fib) and partially tore the medial collateral ligament in her right knee.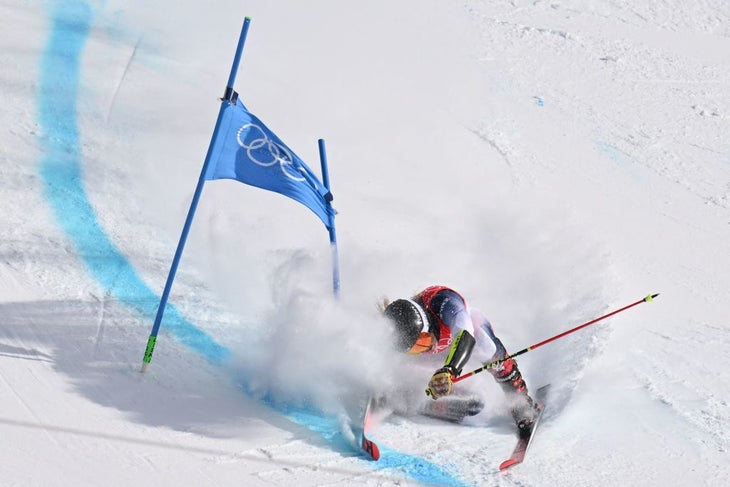 It was her first major injury.
In China, doctors surgically installed an external fixator to stabilize her tib/fib fractures. Then she flew home to Denver and two days later, doctors performed another surgery to swap external fixators. Two weeks after the accident (after the swelling had reduced), surgeons patched up O'Brien's broken bones with a rod and screws.
It made for "lots of fun scars," she quipped.
The MCL was left to heal on its own.
On crutches for five weeks and a walking boot for another two, O'Brien returned to Dartmouth College for the spring quarter and rehabbed at a local PT clinic near campus. An economics major, she has only two quarters left in her college career. In early June, she returned to Denver and began a full-time summer internship in finance.
When will O'Brien return to snow? Hopefully in two more months.
"She's right on schedule," said Anderson.
O'Brien hopes to have a few screws removed from her leg this summer. But the rod will stay put, which might or might not alter how she feels in her ski boots. Fellow World Cup skiers have reached out with advice on how to modify her boots and what it might feel like to ski with hardware still in her leg, including Alice McKennis, Laurenne Ross, and Lindsey Vonn. And O'Brien has found inspiration in their comebacks—McKennis, Ross, and Vonn all scored some of their best results post-injury.
"I certainly have a new appreciation knowing what they went through," O'Brien said. "Having those comebacks is pretty cool."