Nothing is Fixed for Hadley Hammer
How this motto catalyzed her move from the world of hospitality to the world of pro skiing, and now how it's helping her ski again post-injury.
Heading out the door? Read this article on the new Outside+ app available now on iOS devices for members! Download the app.
If you've seen Hadley Hammer's skiing, you know that she's been setting the bar for the sport of women's freeride very high, very consistently. Think: two consecutive years on the Freeride World Tour, crushing classic—and massive—lines in the Tetons, and partnering with fellow North Face athlete Angel Collinson for some of the best segments TGR has ever filmed. 
Behind her success is a past shaped by life changing career shifts, injuries, sheer determination, and a firm belief in the idea that "nothing is fixed". BUFF has featured Hammer in their LIVE MORE NOW campaign, providing a prime example of an athlete and human being who embodies the campaign's motto: Living life to the fullest, finding soul enriching connection and appreciation, and possessing passion for the things that bring joy. We sat down with the athlete to learn more about where she's come from, where's she's at, and what's next.
LIVE MORE NOW – Hadley Hammer
SKImag.com: I love your focus on the idea that nothing is ever fixed in life. How do you think this mindset has helped with your recovery and return to skiing this year?
Hadley Hammer: It's a mindset that I've had for a long time. I was your classic American kid – I grew up in Jackson, so I've always had exposure to the outdoor community – but my main focus was hotels, restaurants, and wine, and I never wanted to be a professional athlete. By creating this dynamic shift, was a process in which I was teaching myself that you can get out of these fixed boundaries and expectations that you have for your life. I feel like when I was injured, there was an ease in knowing that the injured state isn't permanent, just like working in a hotel wasn't, and it offered a great deal of comfort. I never wavered on the idea that I was not going to be an athlete. And maybe some things would be different but it would be OK, and I wouldn't be stuck. It's the idea that it's your career or it's a broken bone or it's a muscle, you can still switch and do something totally different and that way you're not grasping on to anything or holding on so tightly.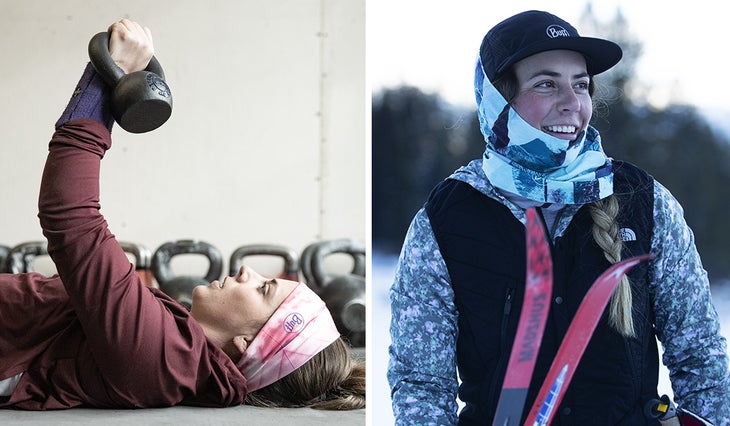 SKI: What are some of your goals for this winter?
HH: My main goal right now is an expedition proposal that I pitched to The North Face which was just recently approved. I'm super psyched especially because it's kind of this dream team of three badass women – with Kit Deslauriers, Hilaree Nelson, and Christina Lustenberger.
Watch Lusti in Action: The Story of a First Descent
We're skiing a peak in Siberia, Russia in the Altai mountains. I love climbing and mountaineering, so it's been great to really have a goal in mind that's more ski mountaineering focused. I feel like most seasons I'm so focused on trying to get a good TGR segment, so it's hard to have the time to practice that skillset. I'm really psyched to have a full season where I can have every day to focus on training for this mission.
SKI: Do you think that your perspective on skiing has changed at all this season?
HH: Yes and no – in a way the injury reconfirms that this is exactly what I want to be doing. Which is good because I think sometimes people can get hurt and think "ok wait, maybe I want a different career". But for me, it was "I want to do everything I can to get back to skiing". It's been interesting filming with TGR this year-I have some restrictions still with how hard I can ski, how big I can jump, how many days I can go without a rest. But because of those limitations, my skiing has to be different, which has been kind of nice. I can be a perfectionist when it comes to my skiing technique and I always want it to be better, so the injury put all of that in perspective. I was so excited to be skiing, I wasn't hypersensitive to how I wasn't carving perfectly, or that my inside leg was a-framing a little. I was like "this is amazing and I'm skiing, and I don't care what I look like because I'm just so happy to be back."