The Wright Way: How Big Mountain Skier Crystal Wright Turned Chronic Pain into Business Gains
Meet Crystal Wright, a former competitive freeskier who is now the one whipping the rest of us into shape for ski season.
Heading out the door? Read this article on the new Outside+ app available now on iOS devices for members! Download the app.
It's 6 a.m. inside Wright Training, a performance fitness studio housed in a spacious, barebones warehouse in Jackson, Wyoming. Crystal Wright, owner and lead trainer at the gym, is demonstrating one her favorite moves: leg blasters. She effortlessly does 10 each of squats, alternating lunges, jump lunges, and jump squats. There's a reason it's called the leg blaster: It turns your quads to mush. Not Wright, though. She's built for this.
Wright grew up on an off-the-grid ranch in Wyoming, the daughter of two ski bums who moved to Jackson Hole in the 1970s. She was a competitive barrel racer and ski racer from a young age. Though quite different, both sports required a certain degree of intensity, a mental and physical precision. She continued to ski race and ride horses through college at Montana State University while earning a degree in health promotion. After graduating, Wright decided to enter her first big-mountain competition at her home resort of Jackson Hole. She skied a stout line and took the lead after the first day, but crashed on day two.
That was 2007. Wright would compete in the Freeskiing World Tour and later the Freeride World Tour for the better part of the next decade, winning two overall titles. In 2012, after taking home her second overall title on the Freeskiing World Tour, Wright shattered her ankle, tibia, and fibula in a mountain bike crash and had surgery to get a metal rod inserted into her leg. During her recovery, the gym became her sanctuary—a place where she could summon all of her energy into good.
"The gym kept me sane. I've always had chronic pain and the gym helped," she says. "I thought, I can help other people do this, too." The personal training she had started as a side hustle to pay the bills grew steadily as she picked up more and more clients.
"I was just a ski bum. I had no business plan, no real intentions," Wright says. "In all honesty, my gym started me."
She got a business loan, rented a 3,000-square-foot warehouse in an industrial area on the outskirts of town, and Wright Training was born in 2012 almost by accident. Her focus from the beginning was on strength training for injury prevention. And unlike the CrossFit craze that was taking over the country around that time, Wright's workouts weren't for pull-up junkies looking to boost their reps. They were for mountain people—skiers, climbers, runners, bikers—who wanted to stay strong so they could go harder in their outdoor pursuits. "We focused on fixing mechanics so that they hopefully wouldn't get injured in their mountain sports," Wright says. "I love working with mountain people. Whether they're recreational or professional athletes, they're using the gym to perform outside."
She's trained NHL player Bobby Ryan, race car driver John Edwards, climber Jimmy Chin, skier Lynsey Dyer, and snowboarder Cam FitzPatrick. She also trained Veronica Paulsen, an up-and-coming 26-year-old skier who, last winter, became the first woman to land a backflip into Corbet's Couloir. When Paulsen signed up for freeskiing competitions, Wright became a sort of mentor to her, offering tips on line choice and what the judges are looking for.
"Skiing with Crystal, you can see the sheer strength she has," Paulsen says. "She's always beating you up the hikes and beating you down, too. In the gym, it's always positive encouragement, but she never lets you take it easy."
Years back, while traversing out of Granite Canyon, a popular sidecountry zone at Jackson Hole, Wright and her friend Sarah Felton were stuck behind a couple of slower-moving guys on the traverse. When they were finally able to pass, Wright called out, "Babe force, coming through." The phrase had a ring to it. It was in response to the Jackson Hole Air Force, a group of pioneering steep skiers in the Tetons in the early 1980s, whom Wright grew up idolizing. "There was only one problem," she says. "There were no women."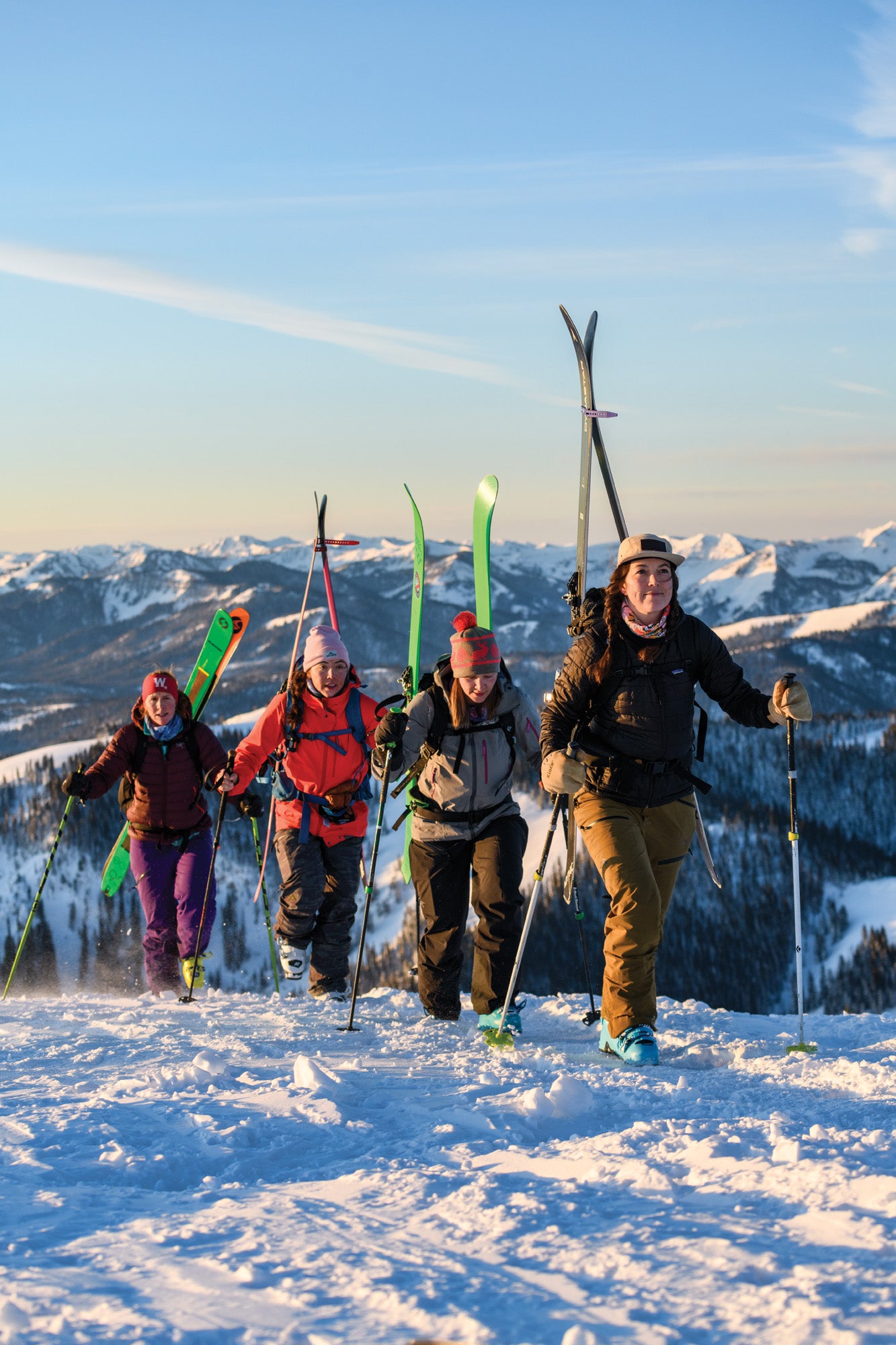 So, Wright and friends formed an unofficial group they called the Jackson Hole Babe Force, which brought together 40 women on their first ski meetup in 2012. They flash-mobbed the bumps under Thunder Chair and handed out patches to the newly initiated, just like the JH Air Force had done decades earlier. Wright eventually turned the Babe Force into an official non-profit organization which gives thousands of dollars in scholarships each year to women in the Tetons to help them afford things like avalanche education, steeps clinics, and mountain-based expeditions.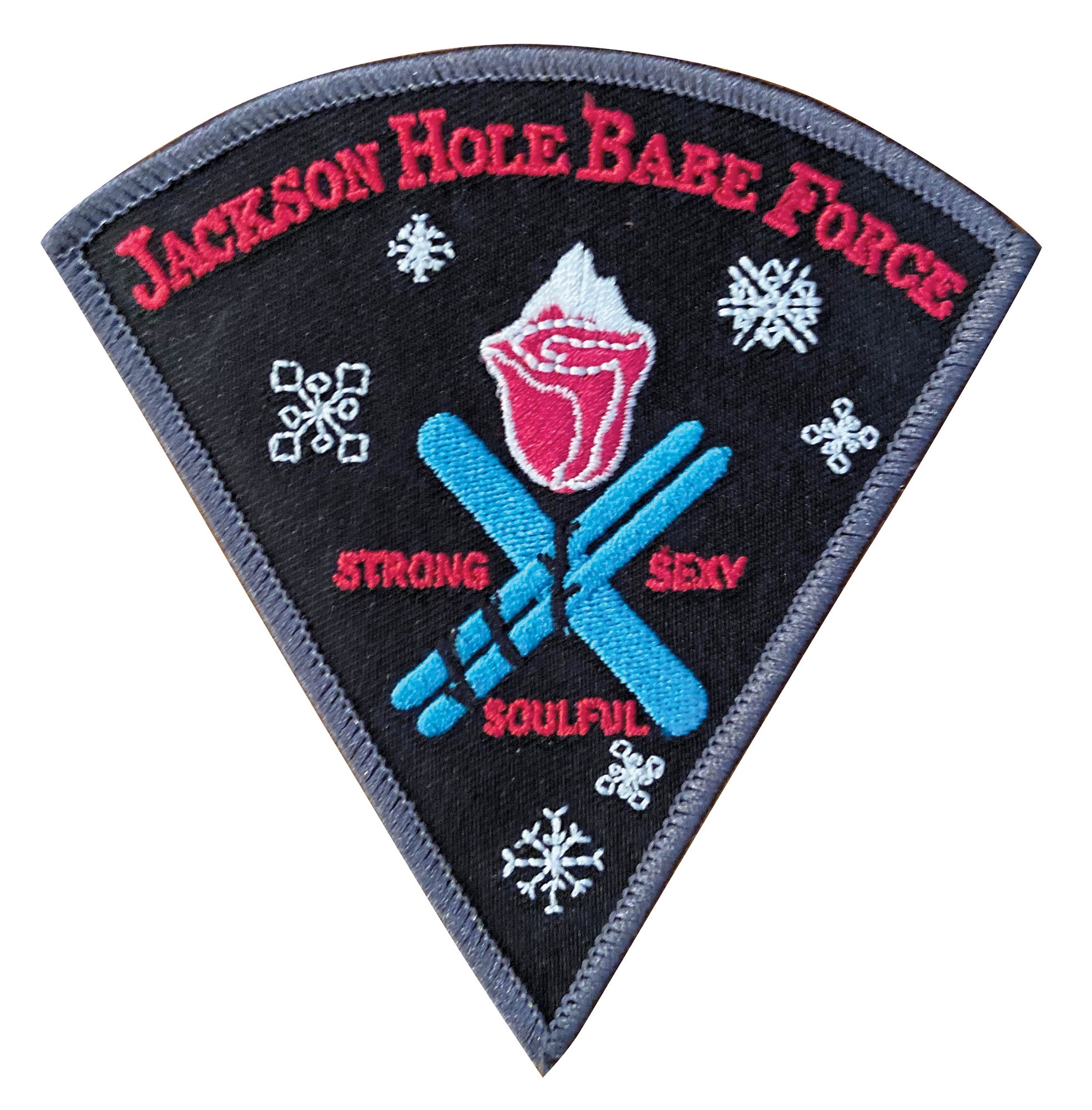 After opening her gym, Wright continued to compete in big-mountain competitions. In 2016, she showed up at a freeskiing contest in Big Sky, Montana, and barely inspected the venue. She won the first day, going full throttle like usual, then crashed on the second day—ending her career the exact way she started it. She retired from competition after that, but she's hardly slowed down.
"When you hang around Crystal, you can feel like a sloth compared to her," says pro skier and former Freeride World Tour champion Elyse Saugstad, who's hardly a sloth herself. "She'll go for a tour, then she goes to the gym and works out. It's one thing after another. Everything she does, she does full-on. When she would compete, she'd go full-out and either crash or win."
Nowadays, Wright juggles a lot. She's 38, no longer a ski bum with minimal responsibilities. Her daughter, Cassidy, was born in 2018 and is already skiing and riding horses, just like Wright did as a toddler. Wright also leads women's ski camps in places like Chamonix, Alaska, and Jackson Hole. She opened a second location of her gym on the other side of Teton Pass in Victor, Idaho, in early 2020, right before COVID-19 shut down gyms—and everything else—around the world. She took her leg blasters to virtual gym classes and did her best to innovate so her businesses could survive.
Last March, Wright was in Chamonix, France, having just wrapped up a women's ski camp. Reports of the coronavirus outbreak were becoming widespread at that time, and Wright was eager to make it home safely to her family. She had one more day of skiing, though, so she and a girlfriend decided to ski Chamonix's classic Capucin Couloir, which requires a rappel to reach the steep, north-facing chute. Along the route, they bumped into two French guys, who seemed more than a little surprised to see two women ahead of them. Wright didn't say it, but she could have: Babe force, coming through.