One of Big-Mountain Skiing's Prolific Guides Trains Her Sights on Who's Coming Next
Renowned mountain guide Jessica Baker worked hard to become the first woman to tackle some of skiing's biggest lines. Now, she's focused on diversifying the space.
Heading out the door? Read this article on the new Outside+ app available now on iOS devices for members! Download the app.
Raised in Idaho's Selkirk Mountains, Jessica Baker has already checked more boxes on her bucket list than most skiers do in a lifetime. One of 17 AMGA female mountain guides in the U.S., she's claimed first descents in Alaska, the Tetons, the Sawtooths, and Norway's Svalbard Alps. She was also the first female guide for Alaska Rendezvous Heli Guides in Thompson Pass and the Chugach Range.
Big mountains are where Baker feels most at home, but she knows that's not the case for all women. The lack of female representation in skiing, climbing, and guiding has always weighed on her, so in 2007, she started Ski Divas Camps with hopes of bringing other women into skiing. Realizing she wanted to make it truly inclusive—not just for women, but for a diverse community of skiers—she hosted the first BIPOC-focused camp at her home in the Tetons last winter. The three-day camp brought a group of Black, Latinx, Asian, and Native women together to connect, learn, and support each other through skiing.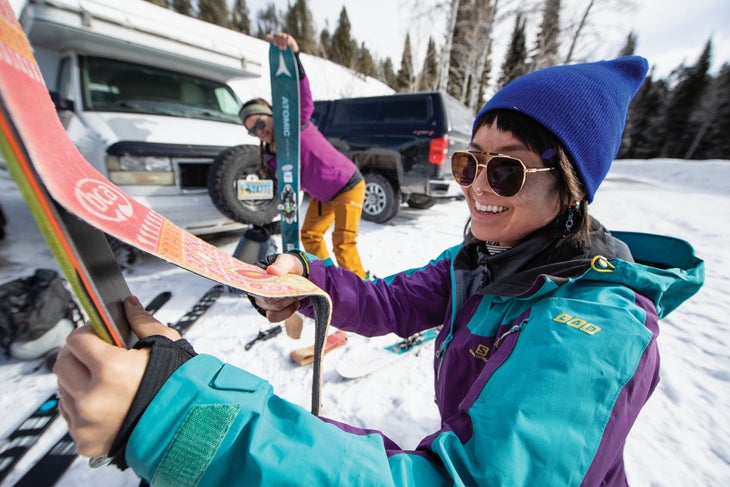 "The majority of the time, White-led initiatives fail Black, Indigenous, and People of Color when it comes to actually creating a safe space for inclusion," says Annette Diggs, a ski instructor who attended the camp. "Oftentimes, organizations come across as performative. Jessica's camp offered a refreshing and genuine approach to White-led inclusion work." 
The camp is just a first step, Baker concedes, but one she hopes will build momentum for change within the ski industry.   
SKI spoke with Baker about the state of diversity in the ski industry, leading all-female BIPOC camps, and her role in bringing inclusivity to the sport. Here are the highlights:
It's empowering to navigate the mountains on my own. I want more people to have the opportunity to go out there and discover what that feels like.
I always wanted female mentorship when I started my career. There were so few women, and it was so competitive. I realized if I wanted to see more women in skiing, I needed to actively support other women. 
A mentor is a leader in the truest sense. Someone who knows when to teach, when to support, when to be a critic, and knows when to step back to allow others to rise up.
There are tons of programs to bring more women into skiing, but these programs are still predominantly aimed at white women.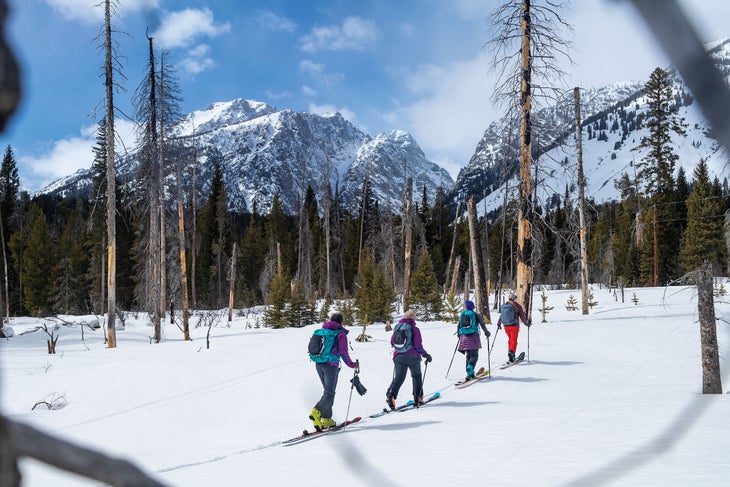 Posting my support for the BIPOC community on social media just wasn't going to cut it. I wanted to act within my sphere of expertise.
It was really important to make the camp a safe space to have difficult conversations. Over the course of three days, we were able to grow together and be vulnerable. I feel lucky to have been able to learn from these women.
I'm not perfect, I know I'm still learning. We need to recognize that even if we're not intentionally excluding BIPOC skiers, we've shut out diversity in skiing through socioeconomic barriers and because we're not welcoming.
I'm not entirely sure skiing is the best place to tackle these topics. They need to be tackled in every grain of our society. But when you take tough topics to the mountains, you provide a platform for communication where everyone can connect over a sport, in nature. 
Mountains are indifferent. Mountains  exist—they don't judge, they just are. Perhaps we could learn a thing or two around that.
More Athlete Profiles from SKI
One Ski Is Still Better Than No Skis—Just Ask This Paralympian
The U.S. Ski Teamer You Should Watch (Who Isn't Mikaela Shiffrin)
Meet Nancy Green. Canada's Female Athlete of the 20th Century