After a Life-Altering Ski Injury, Her Mission is Help Others Avoid Preventable Accidents on the Race Course
Kelly Brush was paralyzed after a devastating crash on a college race course. Now she's trying to make ski racing safer for everyone else.
Photo: Kelly Brush Foundation
Heading out the door? Read this article on the new Outside+ app available now on iOS devices for members! Download the app.
This article is part of SKI's series, "Why I Ski," highlighting a diverse roundup of passionate skiers and what inspires them to pursue the ski lifestyle. 
Kelly Brush was a 19-year-old sophomore ski racing for Middlebury College when she caught an edge on her first run during a race at the Williams College Carnival at Jiminy Peak, Mass., got spun around, and collided with a lift tower. She broke her back, suffering a T7 spinal injury that left her paralyzed from the waist down. 
It was shortly after her accident, during her rehab at Colo.'s Craig Hospital, that Kelly and her family hatched a plan to launch the Kelly Brush Foundation with a twofold mission: 1) Shed light on the need to reform safety measures across the sport of ski racing, and 2) help provide spinal cord injury patients with the adaptive sports equipment they need to regain their active lifestyles.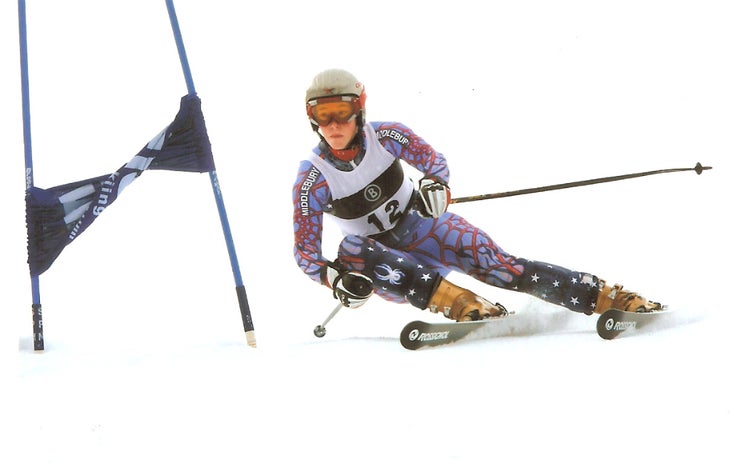 Since its inception in 2006, the Kelly Brush Foundation has helped 1,100 disabled athletes find joy in the outdoors after their injuries. Now an avid monoskier based out of Vermont, Brush shares what gives her inspiration to keep skiing, and how her work with the foundation has enriched her life—and likely saved several others in the process.
Because skiing has always been such a huge part of her life.
I started skiing when I was 3, and started ski racing at 7. I've always just loved skiing, it was pure joy for me. During the run when I had my accident, I was halfway down the course, I was having a good run, I felt like I was skiing great. Somehow my skis caught and got turned around backwards. My last memory was thinking that I was going to hit the next gate. But I was always excited to go skiing again. I was never mad or sad or scared after the accident because skiing was always such a huge part of my life. I was just eager to get back to it.
To pick up where rehab leaves off.
Rehab has changed a lot over the years. I spent about 2.5 months learning how to take care of my body with half of it not working. But now rehab stays are half the time. People coming out of rehab are still really injured. I came out of rehab really well prepared and set up to take care of myself. But insurance companies are not willing to pay for those longer stays anymore, so as long as you're stable, you're getting discharged. There's a lot of extra things that I learned at rehab, like how to drive. I was fully set up to drive with hand controls. That was huge because it meant that I could go back to living my life and driving where I needed to go instead of being stuck at home
Things like adaptive sports, which I was introduced to in rehab, have fallen much lower down on the priority list when compared to learning how to get yourself in and out of bed. With the shorter stays, you start to lose things that really improve quality of life but are not necessarily the things that make you survive day in and day out. So people go home knowing a lot less about adaptive sports and all the things they could do.
Because she was determined to learn how to ski again.
Before my accident, I didn't know anything about adaptive sports or spinal cord injuries, so it was entirely new to me. When I decided to try the monoski, I thought since I was a skier before, it would be easier for me. But that wasn't the case. At first, I was just falling over constantly. Now that I'm an advanced monoskier and can make turns and ski steep terrain, I can use some of my skills from before. But at first, it was all about finding balance and staying upright. It took me a lot longer than I thought it would to catch on.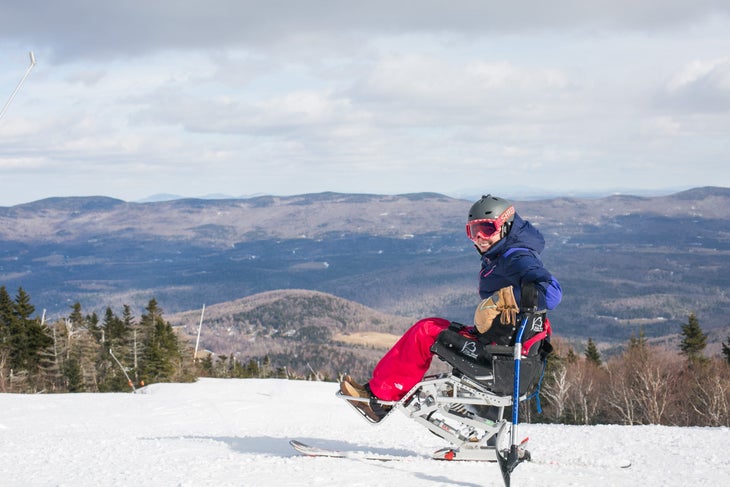 Because she needed to see that life as she knew it was not over.
Hearing about adaptive equipment at rehab really opened my eyes up to all that my life could still be. I was an athlete and I felt like that was taken away from me. Then I was introduced to the possibilities of adaptive sports and I found out about all the ways I could still do the things that I loved and I could really still be myself again. That was huge.
So that she could bring hope to others with similar injuries.
It was also in rehab that I realized how expensive adaptive sports equipment can be and I didn't want anyone else to not be able to take advantage of participating due to cost. That was a big reason behind starting the Kelly Brush Foundation. So that other people going through spinal cord injuries would know to have hope.
Our goal was, and still is, to help people be active in any way they wanted to be. For me, it's really about helping everyone, whether you want to cruise around on a bike with your family or you want to race and win Paralympic medals. We want to help you do that. We have a grant program, we take applications twice a year. To date, we've helped 1,100 people buy adaptive equipment over the last 15 years. It's so incredible and rewarding to hear the things they do and the stories they tell.
Former Paralympian Makes History with the First Disabled Descent of the Grand Teton
To move the needle when it comes to safety in ski racing.
When I had my accident, there was a lack of focus on safety in ski racing. So many of my best friends were still ski racing and I didn't want another accident like mine to happen to anyone else. So another important focus of the Kelly Brush Foundation was to increase awareness and make sure that there was a focus on safety in the ski racing world. 
There's no doubt that ski racing is way safer now than it was in 2006, we really made a difference in changing the culture of ski racing. Before I got hurt, the thinking was 'Let's just get the race off.' They wouldn't worry about safety, now there's a much bigger focus on safety. It's 'Let's make sure the course is safe, then get it off.' There's always more work to be done, but there's been a huge shift in the mindset about ski racing.
A lot of that is because we didn't go away right after my injury. It was a big deal, and it continues to be a big deal because we continue to talk about it. We want people to say, 'Remember that girl who had the accident, she's in a wheelchair and she's paralyzed because of something we didn't focus on.' Because we continue to advocate, we continue to push the message, it's turned into some really significant changes over the last 15 years.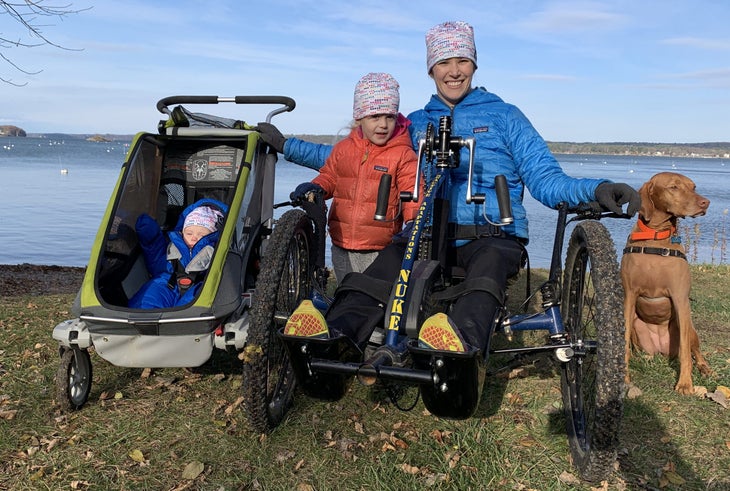 To give back to the community that's given so much to her.
After my injury, my Middlebury teammates organized a bike ride in my honor, they said 'We want to raise money for Kelly so she can buy a monoski.' They rode 100 miles that fall and raised $60,000 to support me. I used that money for years to buy adaptive sports equipment.
At the foundation, we kept that bike ride tradition, and now it's one of our biggest fundraisers. The ride is in September, and we typically raise up to $650,000, and that's how we're able to fund so many grants for adaptive equipment, which is very expensive. A monoski is anywhere from $5,000 to $8,000.
So she can enjoy quality time with her family and pass down her love of the sport.
We ski Sugarbush, and most winters we try to get out every weekend. My older daughter is 5, the hope is that she'll do ski school on the weekends, and my younger daughter will hopefully also do ski school this winter. Passing my love for skiing on is incredibly important to me.
Meet other core skiers
Quincy Shannon wants to share his love of skiing with the BIPOC community
Why I Haven't Missed a Season of Ski Instructing in 54 Years
From Getting There to Gearing Up, This Instructor is Getting—and Keeping—BIPOC Skiers On the Slopes