The U.S. Ski Teamer You Should Watch (Who Isn't Mikaela Shiffrin)
Meet the dark horse on the U.S. Ski Team racing from the back of the pack to score World Cup points.
Photo: Michael Kappeler/picture alliance via Getty Images
Heading out the door? Read this article on the new Outside+ app available now on iOS devices for members! Download the app.
Paula Moltzan is not a new name in ski racing. She might just be new to you because she's only recently started making World Cup headlines. The 26-year-old from Prior Lake, Minnesota, has been on (and off) the U.S. Ski Team since 2012, racing alongside the likes of Mikaela Shiffrin in World Cup technical events. She was also crowned Junior World Champion in Slalom in 2015 after she became the first American woman to win slalom gold at the event.
A slalom specialist at heart, Moltzan burst onto the 2021 World Cup Tour in a big way this season after scoring her first top-10 giant slalom finish in only her second World Cup giant slalom start ever in Sölden, Austria on Oct. 17. She followed that up with her first World Cup podium finish in the women's World Cup parallel event in Lech, Austria on Nov. 26. Most recently, Moltzan finished fifth in the Åre World Cup slalom on March 13 to score her best World Cup slalom result to date.
Related: Shiffrin Faces Uphill Battle At World Cup Finals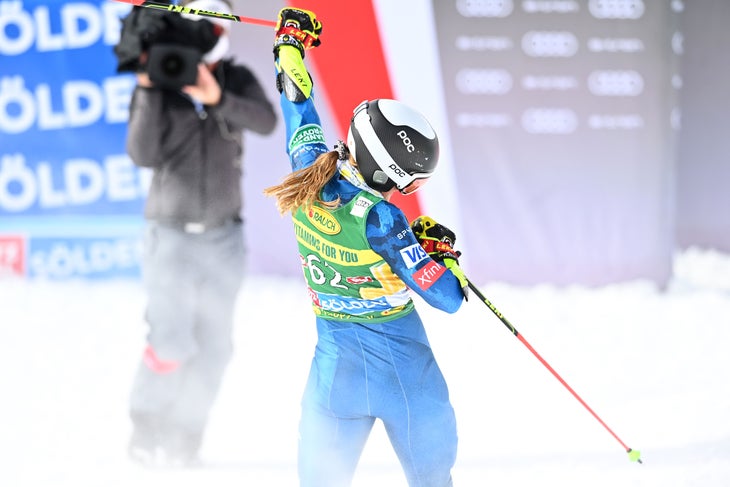 In other words, Paula Moltzan is a name you should get familiar with. She took a few years and a winding path to get here, but she's now a rising star on the U.S. Ski Team. Here's everything you should know about Moltzan, in her own words, just so you're not out of the loop when she starts storming World Cup podiums.
Like many great ski racers, Moltzan was raised on the slopes of Buck Hill.
I started skiing at Buck Hill when I was 2 and a half years old. My parents are both ski instructors, and I'm the youngest of three, so it was kind of the only option when it came to daycare. It was either ski or get left behind. When I was 5 I started racing with the development program, which was like a weekend-warrrior thing. Then in 2010, I moved to the Buck Hill Ski Team, which was coached by the famous Erich Sailer at the time.
She doesn't come from money.
At the end of my sophomore year, the public school I went to told me that I was missing too many days of school and said they might have to fail me the next year. So I started touring ski academies across the U.S. We looked out East, we looked out West, but in the end we decided the best place for me financially was in Vail, Colo. I don't come from money, and Vail Ski and Snowboard Academy is a public academy. It's a part of the public school system, but it's there to fit the needs of skiers and snowboarders. When I was there, I got to work with Dan Stripp, who's a legendary coach. He coached Kristina Koznick back in the day.
She made it onto the U.S. Ski Team. Then she got kicked off.
I made the U.S. Ski Team when I was 17 and going into my senior year of high school. From there I spent five years on the team—two years on the D Team, two years on the C Team, and then one year on the B Team. But after my fifth year, I was kicked off the team for not meeting criteria. I didn't have a bad year by any means, I just didn't have the year they were looking for.
When you get kicked off the U.S. Ski Team, you have two options. You can either quit, or you can try to ski for college. I was 22 when I joined the University of Vermont Ski Team. Eligibility for college racing ends at 25, so I was granted three years of eligibility by the NCAA. That was lucky, because I had been competing as a professional athlete for almost two years prior to that. Winning the NCAA Championships in my first year at UVM is probably one of my most proud accomplishments to date.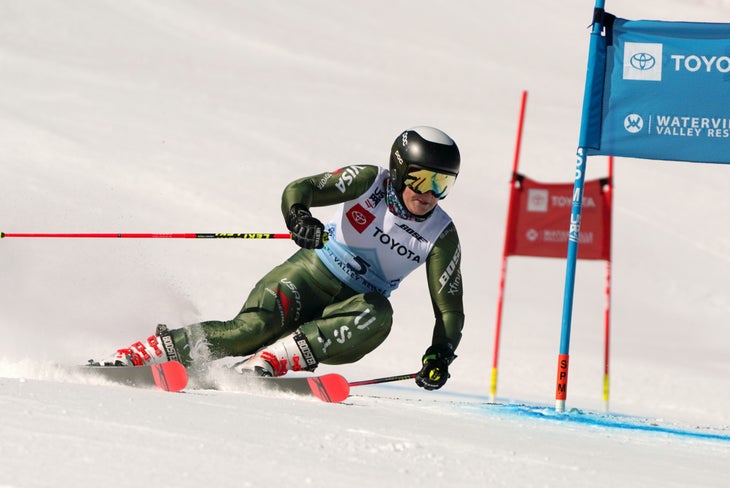 She's a biology major with a chemistry minor and pre-med intent.
My first year at UVM I didn't race any World Cup races. I did some NorAm races, which are a couple of steps down from World Cup events, and the best option for someone looking to continue their career. I had some success in those, and also not much success. But it also wasn't my main priority. I was just trying to get through college and ski at the same time, which is a lot harder than it looks. I'm a biology major with a chemistry minor and a pre-med intent. I didn't want to be bored in school. I don't like to waste time.
After getting kicked off the U.S. Ski Team, she had to create a World Cup spot for herself.
The second year I was in college, the U.S. Ski Team offered to host a time trial for the Killington World Cup. That was my first opportunity to get back in a World Cup start gate. The time trial was out in Colorado, and I won it, which allowed me to start in Killington. That was pretty awesome, because at the time I was considered a Vermonter, and if you know Vermonters at all, we're pretty proud people. But I didn't finish my first World Cup in Killington—I crashed on the top section of the course. That doesn't really help you get anywhere in World Cup starts.
The only way for someone who is 24 years old to make it back on the U.S. Ski Team is to ski World Cup and be successful. The next year, I won the U.S. Ski Team time trial for Killington again and was offered the opportunity to start in Killington for the second time. I surprised everyone, even myself, by ending up 17th in the slalom. That was leaps and bounds above any World Cup finish I'd ever had. By finishing in the top-30 in that World Cup race, I opened up another spot on the World Cup for myself to compete.
Watch: Paula Moltzan versus Tessa Worley in 2021 World Championship Parallel
Moltzan's fiancé, Ryan Mooney, doubled as her coach and ski tech when she wasn't on the U.S. Ski Team.
Even though I created a World Cup spot for myself after Killington, you can't just make the U.S. Ski Team in the middle of the year. So I went to Europe independently and brought my then-boyfriend, now-fiancé Ryan Mooney with me on the road as my partner who doubled as my ski coach and my technician. We're quite the power team.
We traveled around Europe during that big Christmas break that colleges take so that I could ski World Cup races. And I continued to have success throughout the season. But I also had to bounce back to the U.S. to compete in college races because I was still a UVM athlete and had to retain my NCAA status. I wasn't quite renamed to the U.S. Ski Team the following season, but I did get a discretion spot back on the team, which was lucky.
The less time Moltzan spends training on snow, the better she does in races.
Success is funny. People think it's amazing how athletes can still perform during a pandemic. And the pandemic did affect us all in different ways, but it doesn't affect most athletes who are already determined to work out. Starting in April until September in 2020, I trained in the gym, on the mountain bike, or on the road. I trained twice a day, every day. We got a lot of off-snow training and not a lot of on-snow training, but that's kind of always been a secret to my success. I always do better the less I ski, which seems backwards. I think college did that to me. In college, you don't get a lot of time on snow because you're balancing school work and other things. College prepared me for a pandemic, unintentionally.
Like a true Vermonter, Moltzan prefers skiing on ice.
At World Cup races, I always just hope that the snow is good to give us girls in the back of the pack a chance. Snow conditions are perfect when the slope is like a skating rink—but vertical. For the average skier, it sounds like death. But for the ski racer, that's perfect.
She admires racers who can do it all, but she is never, ever going to be a speed skier.
My idol growing up was Kristina Koznick. I had pink hair like her because I wanted to be just like her. Now, as far as idols go—you have to idolize Mikaela [Shiffrin]. She's the best in the world at what she does. We're lucky to have her as a teammate. She's just an incredible human. It's mind-blowing how she's able to handle so many different events. I also look up to Italian Federica Brignone. She also skis all the events, and does every event successfully. I think to myself—'I'm just figuring this out in two events, how are you doing this in four?'
I'm never going to be a speed skier. Ever. I'm going to stay on the tech side. I haven't owned speed skis for quite some time, so I'm pretty far behind on that front. But I also enjoy skiing tech, so I think I'll just stick with what makes me happy and doesn't stress me out.