Who Will Be The Next Ted Ligety? We Asked Ted Ligety
The Olympic Champion's retirement, though not surprising, was sudden. And it left us with some questions.
Heading out the door? Read this article on the new Outside+ app available now on iOS devices for members! Download the app.
Framed in my parents' house in Park City, there's a photo of me as an 18-year-old ski racer nervously grinning next to Ted Ligety after he had just snagged another top spot at the famous Birds of Prey race at Beaver Creek. He had his skis over his shoulder, clearly desperate to get out of the finish corral and get back to the hotel, but relented as I asked for a photo. His face, framed by long blonde hair and brightly colored SHRED goggles, broke out in a smile, and I giggled, starstruck.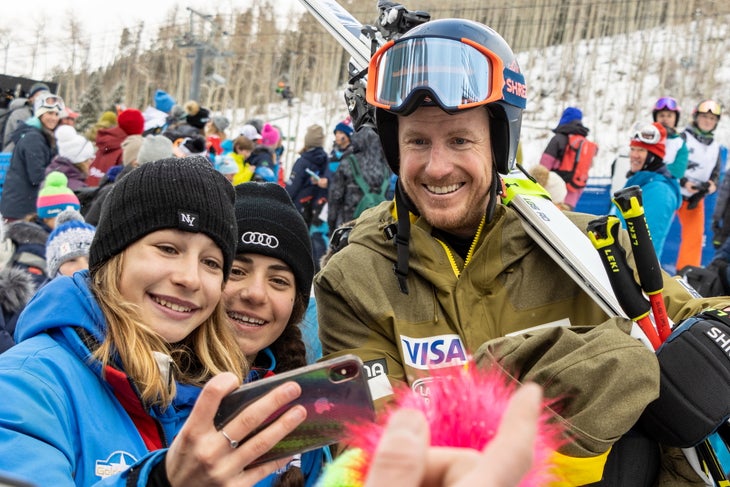 More than a decade later, Ligety has been around the block and his story is written. The 36-year-old was a late-blooming ski racer who came into his own when he was in his teens. Growing up, he was inspired by watching the best skiers in the world racing in his backyard at the annual FIS World Cup in his hometown of Park City.
He worked hard, training on that same hill to make the U.S. Ski Team in the mid 2000s. Then he stunned the world by becoming the surprise Alpine Combined Olympic champion in the 2006 Winter Games. That Olympic medal was merely the beginning of an illustrious career that encompassed another Olympic gold medal, seven World Championship medals (including five gold), six World Cup crystal globes, and 52 World Cup podiums over the course of his 25 World Cup seasons.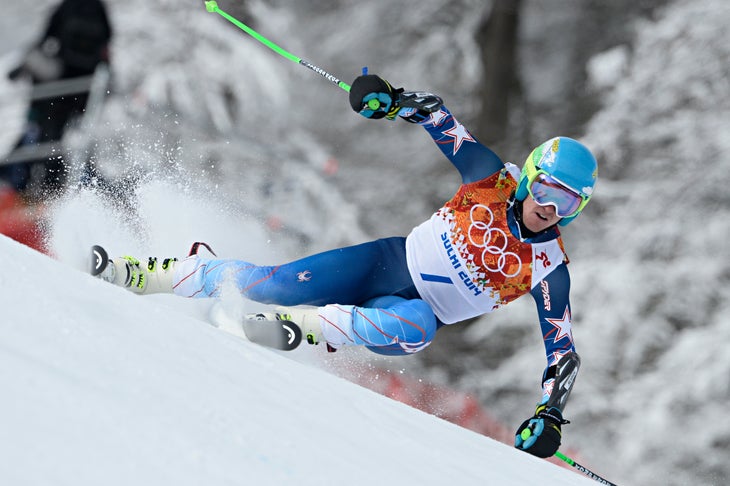 But over the last couple of years on the World Cup, Ligety battled chronic back pain. This left him skiing at about 60 percent of his former self, and his World Cup results weren't up to his par.
He also got married and is a father to three little boys—Jax, 3, and twins Alec and Will, 6 months. Leaving his family for months at a time got harder. His goggle, helmet, and protection-wear company, SHRED, continued to grow.
And then, a couple of weeks before the 2021 World Championships in February, I got a call from his agent: Ligety was finally ready to hang up his skis.
As part of the U.S. Ski Team media team, I worked with Ligety's team to put together a careful plan of announcements. Then, at 3 a.m. MT on February 9, Ligety posted on Instagram that he was retiring from alpine ski racing.
The plan was to start in one final giant slalom—Ligety's signature race—at the 2021 World Championships in Cortina, Italy. But a nagging back injury forced Ligety to call it quits before that farewell race, and he abruptly headed home to Park City to enter retirement, effective immediately.
Fans were shocked; critics questioned why he didn't let it go years ago, when he had clearly passed the prime of his career. But Ligety knew: It was the deep, lifelong love of the sport that kept him going.
After he had a few weeks to process his retirement, I spoke with him about his career, why he decided to end it now, and what's next for him in the ski industry.
SKI: Congratulations on the retirement, Ted! You've had an incredible career, but you've been battling injuries for the last few years. Why did you stick with racing for so long and through all the pain?
TED LIGETY: I love skiing. I love ski racing. I always felt like there was more to achieve, I guess. It was hard to let go. I love the process of ski racing—the feeling of being in the start gate, the competitive side of things. It's been what I know and loved my entire life. That's why I stuck with it for the last couple of years not being full steam and not having the results I would have liked. I still loved the process and pursuit of it.
SKI: You've had some high highs and low lows over the course of your career. What were the biggest pivot points for you?
TL: The World Champs in Schladming was the best week of racing in my career. I never wanted to be a specialist. I wanted to race all disciplines. Winning three disciplines in Schladming was amazing.
For lows, it was back surgery. The two times I hurt my knee, it's an acute thing. You blow your knee and you know it's done. There's finality with that. With my back, I could ski but I could ski only at 60 percent and I was always in pain. I had back surgery in 2017. The surgery wasn't the hardest surgery but it's a choice to do—it's not like blowing out your knee. I had to go down that rabbit hole of racing World Cup until it wasn't possible anymore. It never felt perfect after that either. The main pain, the main symptoms were gone but I never felt as perfect afterwards.
SKI: What will you miss most about ski racing on the World Cup?
TL: I'll miss the racing—that competitive piece, that feeling in the start gate. And I have a lot of good friends in ski racing. It's not like I'll never see them again, but it'll be different now. It was weird packing up for the last time in Europe. I never fully packed up out of there. At Alex's [Ligety's technician] house, I had two duffle bags full of stuff. My wife, Mia, had a hair straightener. I had a piece of my life that I always left over there that I finally took home. That was weird. Packing up out of Europe was kind of sad. I lived half my life there for the last 17 years so it was weird knowing that piece is over.
SKI: What does the future look like for the U.S. Ski Team?
TL: I was really proud when I knew I was going to retire that Tommy Ford was winning and on the podium and that RCS [Ryan Cochran-Siegle] was winning and on the podium. These are two guys I had skied with over the years and they're now coming into their own. I'm excited to see that next generation—the guys like River [Radamus], Tommy and Ryan step up. These guys can be World Cup stars and all go for wins and podiums.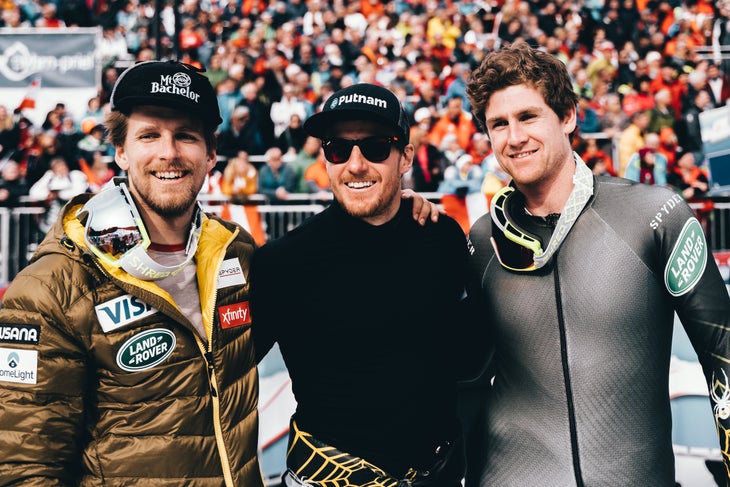 SKI: What's next for you?
TL: I still have a lot of my relationships and sponsors—I'll do content stuff with GoPro and do some artistic racing stuff here and there. I have my business, SHRED, which I'll stay involved in and take a larger role.
And I'll just ski around Deer Valley with family. I'd like my kids to ski race until they can keep up with me and ski anywhere in the world. If they want to pursue it, that's fantastic. If they don't, that's fantastic as well. My son Jax is three and a half and he's finally getting comfortable on skis. He's can go down some steeper stuff and explore the mountain. I love watching him and being a part of that.
SKI: Who's going to be the next Ted Ligety?
TL: Hopefully no one tries to be the next Ted Ligety! They should try to be themselves. If you asked Bode in 2003 who was going to be the next him, he wouldn't have named me. I wouldn't have been on his radar. So hopefully it's not someone on my radar that can push the limits on the World Cup. I want the next Ted to be some young 19 year old winning World Cups in the next couple of years that I've never heard of. I'm excited for that.
Get To Know Other Big Names in Skiing
We Talked to Lindsey Vonn While She Was Skiing Powder
How Freeskier Crystal Wright Turned Chronic Pain Into Business Gains
Meet Ridiculously Talented Sit-Skier, Trevor Kennison