The Truth: Sam Morris
On taking punches, bouncing back, and thriving.
Heading out the door? Read this article on the new Outside+ app available now on iOS devices for members! Download the app.
Interviewed by Sam Bass / Photo by Isaac Sterling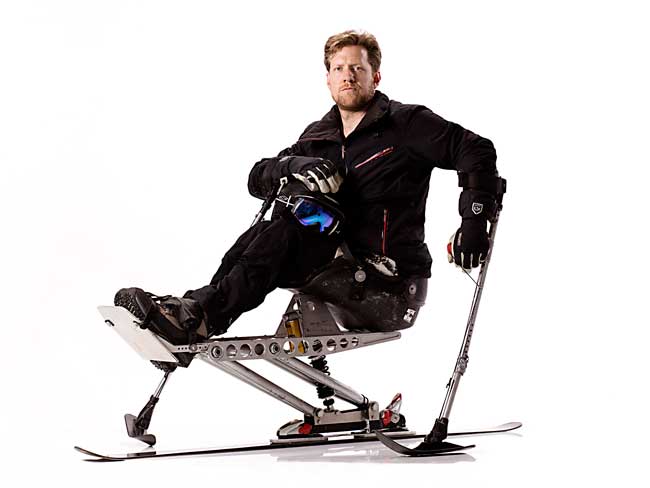 On a New England autumn night in 1999, Sam Morris, a lifelong skier and snowboarder, was out celebrating a friend's birthday just a week after his own 24th. The buddies accepted a ride from a driver Morris didn't know. The driver had been drinking, and his 1973 Chevy Nova spun off a hairpin turn on a gravel road, smashing sideways into a tree. Morris knew upon impact he was paralyzed from the waist down. What he didn't know was that skiing would help him rebuild his shattered life. Now 40, Morris founded a business in 2013 called Zen Warrior Training, a personal-development program based largely on insights he gleaned from the slopes. He lives in Los Angeles.
I started skiing when I was three at the Camden Snow Bowl in Maine. One of my first memories was getting halfway on the chairlift and making it up about 12 feet. I was literally hanging by one hand and my chin and then I dropped.
I started snowboarding in 1986, when I was 11. There were literally three or four of us at Sugarloaf. People would look and say, "Oh my God, I've been hearing about these ski-board things!" I found more freedom in it at the time than I did in skiing.
When I was around 21, shaped skis hit the market. I demoed a pair and I was like, holy shit, and so I started skiing again as well. The last three years before my injury happened, I basically did 50/50, skiing and snowboarding.
I never lost consciousness. The guy fishtailed, overcompensated, fishtailed the other way, and we went into the woods. I was on the passenger side of the back seat and my body was flung over to the driver side and smashed against the tree. I knew in a split second that I was paralyzed because I couldn't feel anything below my navel.
I was in and out of hospitals for several years, plus many months lying down at home unable to move, just lying in bed trying to heal. It taught me a lot about patience and resilience. That was a difficult mirror for me.
I wasn't able to start adaptive skiing until 2005. Once I started, two things went through my mind. One: Oh my God, it's so good to be back on the snow. And two: Holy shit, this is not like regular skiing or snowboarding and I'm a beginner again.
My sensation in my body starts at my navel. I rely on cues from that point up to tell me where my edge is underneath me. Sit-skiers have to develop an intuitive sense of edge control. You feel your edge from your core up, as opposed to from your feet up.
There are a lot of incredibly brave sit-skiers out there. There's an added degree of anxiety because you're dependent out on the hill until you learn how to get yourself up if you fall. You don't want to get stuck out there.
Skiing has played a critical role in my recovery. It allowed me a freedom that was totally inaccessible before. When I'm out on the snow I'm as capable as anyone around me.
My parents' friends told them that Telluride had an awesome adaptive program, which is true. It became an annual thing for my family. We would meet in Telluride and spend a couple weeks skiing together each year. I volunteered teaching for Telluride Adaptive Sports Program for a year in 2011–12 and skied 69 days that season.
The first several years of adaptive skiing, I would go through pretty intense depressions when I came back home. It felt like that freedom was taken away from me. I hadn't yet learned to be able to bridge the freedom I experienced on snow into the rest of my life. Not only have I made that bridge myself, but through Zen Warrior Training, I help other people.
Zen is being awake to the present moment without judgment. So rather than thinking about how things should be, you embrace things exactly as they are. Do that with the discipline and mindset of a warrior, day in and day out, and you build your life with that attitude.
Skiing has been a pathway for me into that Zen mindset. When you're on the snow, you can't be in conflict with the reality of the terrain. If it shifts suddenly, your body has to shift with it. The same thing happens in people's lives. What people are expecting versus what's actually happening is constantly in and out of congruity.
My wife, Meghan, believed in me when I wasn't able to fully believe in myself. She has helped me commit to a lifestyle of perpetual growth and of continuing to embrace new challenges rather than saying, "Hey, I've already got enough challenges." I know I wouldn't be nearly as healthy as I am, nor doing this work, without her influence.