Truth: Rachael Burks
On punk rock, monoskiing, and becoming a female role model in the sport of skiing.
Heading out the door? Read this article on the new Outside+ app available now on iOS devices for members! Download the app.
Rachael Burks is as much whirlwind as human, swirling with grand ideas, loud jokes, belly laughs, and big airs. (For reference, watch her get completely buried after hucking a 50-foot cliff in Light the Wick, an old TGR film.) Her no-holds-barred attitude belies her enduring dedication to introducing other women to the sport. Burks, 34, might be the most underrated female skier out there. Last year she was at the center of Pretty Faces, and now she can be seen in Warren Miller's Chasing Shadows, setting a monoskiing, cliff-hucking, partying example and championing women's skiing in a big way.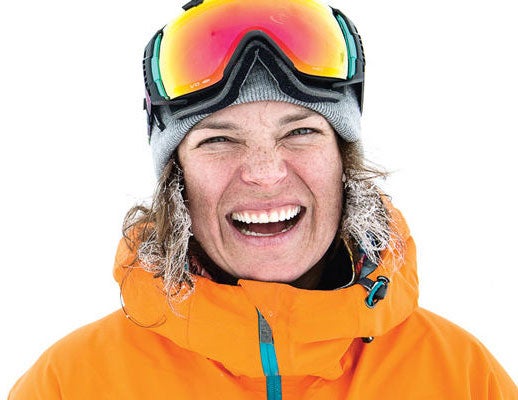 Girls love to talk, like "We should do this," or "We could do that," but at the end of the day you can't wait for the golden ticket. You have to go out and do it yourself.
There needed to be more visual awareness. When I was growing up, it was Sarah [Burke] and Ingrid [Backstrom], and as a girl looking up to them it felt like you have to be Tiger Woods, Michael Jordan, or Wayne Gretzky or you're nothing. Now there are more women to look up to. It's no longer like, "I'm either going to be Ingrid or I'm not going to ski at all."
"Role model" is kind of a heavy term, but I like the idea of examples of paths that can be taken. Walking, talking examples.
2015 felt like the first time there was full-on female competition in the films, and that's pivotal. For a long time all the movie companies have had maybe one token girl. I hope that's a goddamn light bulb.
It comes down to sheer numbers. There's often one woman in a group of guys. They're hitting the cliff, and it becomes a competition between the dudes, but she's automatically winning for the day. But if it's a group of girls on top of the cliff, it's a different story. They're going to get better because of the competition. That's why there needs to be more women out there.
I went to the Hahnenkamm this year and it will go down in history as one of the best weeks of my life. I got an e-mail from Kaylin Richardson, who I had only ever hung out with once, and it said: "OK, so I know you and I don't know each other that well, and you don't really care about racing, but this is the Super Bowl of ski racing. I think you're fun, and I'm fun, and you're never going to be younger and hotter. You're never going to have a time in your life that's better, so I think you should come with me. You can say yes. I think you should." And I was like, "You know what? She's right." I replied, "Fuck, yes."
It's astounding how different it is in Europe. If I lived in Europe I wouldn't have to work.
There's no money in the ski industry. Money sucks, and you have to pay to play. You're paying for heli hours, and in my head I'm going through how many tables I had to serve. Every rotation of the heli blades is like 10 tables.
I think it can be a little bit scary for someone like me who wants to make a life out of skiing to compare myself on social media to others. "Holy cow, is the person with more followers more marketable than me?" You have to make a choice on your own integrity.
[Pro skiing] is a ladder. Do you want to climb the ladder or stay at the bottom and be punk rock? I want to be punk rock.
I never raced, I didn't do moguls, I never had a lesson in my life. My dad learned how to ski with us when he was 35.
I'm in Jackson, commencing four days of filming with Warren Miller on a monoboard. Very few people can say that they have a mono segment. For me this is just a huge compliment: They know that I'm ridiculous enough to enjoy it.
The learning experience that I did take from Pretty Faces is how humbling it is to make a movie and how much you have to adapt to. I've gotten so many letters from girls and moms saying this was a really, really rad thing we did.
I'm definitely at the time in my life when I think about what comes next after skiing. I have a place promoting women in sports and I would like to continue making that happen.
Interviewed by Heather Hansman / Photo by Jason Thompson