Truth | Sage Cattabriga-Alosa
Everything he does is full-on. Including, these days, parenthood.
Heading out the door? Read this article on the new Outside+ app available now on iOS devices for members! Download the app.
Sage Cattabriga-Alosa, 36, was among the first to meld park skills into the backcountry (we'll never forget that seminal double front flip in TGR's Mind the Addiction in 2001). He's also one of the nicest guys we've ever met. His next adventure? Identical twin girls, Zara and Loey, born early and healthy April 21, 2016. We caught up with him at his home in Bend, Oregon, during nap time.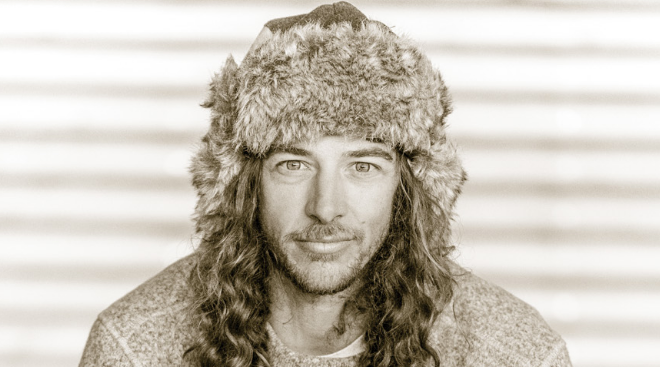 Having kids is never how you planned it. I was at TGR's Fantasy Camp in Alaska when I got the call that Annie was in labor. We were 80 miles in the bush. It ended up costing some cash to get out a little early, but I was back in Bend in 12 hours.
Now that I have more to lose, risk is on my mind a bit. In another way, this is all I know. This is my career; this is my life. Now I have a family to provide for, and I'm not going to stop. I want to teach my kids that passion is important in life. But, that said, filmmaking is an awesome creative outlet for me to pursue now too. I can push myself there without worrying. I'm doing a project with TGR, which is a great way for me to continue to grow and adapt.
As I've gotten older, I've gotten in close calls and lost friends, and I look at the big picture a little bit broader. I'm really patient. If it's not a 100 percent resounding "Fuck yeah," then it's a no. Maybe I'm in this delusional self-centered place of being like, "No, I still got this," but I feel good about what I do. It's so much more than being risky. I don't need to constantly prove myself. That's not going to make you happy. 
I have such a supportive wife. She's an amazing partner. Of course she wants me to be safe, but she knows that for me to be happy I need to do what I want to do. And be able to provide. 
[On the hyphen:] Cattabriga is my mom's name, Alosa is my father's. When they had me they weren't married, and they ended up splitting up five years after I was born, so it sort of seems like they knew that was going to happen. They had an awesome relationship and I got to spend time with both of them, so they gave me both names. I've always loved it. And then my wife took my name, so my kids have it too. They may have gotten a 16-character last name, but we gave them four-letter first names to make it easier. 
It's so funny because before I was a parent I was like, "I don't want to see your kid on Facebook and Instagram." And when Annie got pregnant, I was worried about privacy. Now that I am a dad, I just want to put my kids up everywhere because they're so cute. I'm already thinking about how I can make them a part of my next movie project.