6 U.S. Presidents Who Could Shred
In honor of Presidents' Day, here are a half-dozen former Oval Office occupants—and one current—who knew their way down a black diamond.
Heading out the door? Read this article on the new Outside+ app available now on iOS devices for members! Download the app.
Science has proved that skiing is not just good for our physical health, but also for our mental well-being, stress and anxiety management, and overall mood. Who needs that type of outlet more than the leader of the free world?
Throughout the years, the White House has seen its share of ski enthusiasts, known to take vacations from Washington D.C. to their favorite slopes in California and Colorado. Sometimes, their love of the sport even brought good things to the industry.
So, in observance of Presidents' Day (Feb. 20)—not-so-ironically one of the most crowded days on the mountain—here's a lighthearted look at our schussers-in-chief, past and present.
6 U.S. Presidents Who Loved to Ski
Calvin Coolidge
Presidential Years: 1923-1929
Connection to skiing: Coolidge was born and raised in Plymouth, Vt.—and attended school in nearby Ludlow, now the home of Okemo Mountain Resort. Both towns were early adopters of the then-new sport.
Favorite ski spots: Backcountry in and around Vermont and Amherst, Mass.
What he did for skiing: To help promote the sport and its growth, Coolidge and his wife posed on skis on the White House lawn on Dec. 18, 1924 as members of the National Ski Association, founded just 25 years prior, looked on. Judging by conditions in the shot, they didn't ski that day.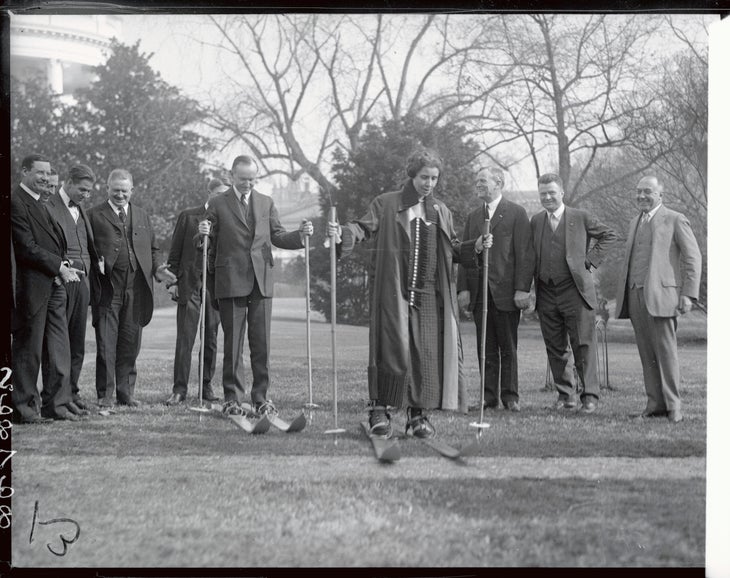 Fun fact: Coolidge may be the only U.S. president to be sworn into office within view of ski trails: He officially became president in the parlor of his parent's home in Plymouth Notch, Vt., within view of what would become Roundtop Ski Area, and just a quick Nordic glide from the future Okemo.
John F. Kennedy
Presidential years: 1961-1963
Connection to skiing: The Kennedy family sport prowess is legendary. Kennedy carved his early childhood turns as a skier at Poland Springs, Maine and embraced the sport all of his life—as a skier himself until a back injury ended his time on skis, then as a ski parent until his death.
Favorite ski spots: Kennedy loved skiing all kinds of areas, from the small and historic Bousquet Ski Area in Pittsfield, Mass., to Aspen, Colo., a favorite family vacation spot.
What he did for skiing: The impact Kennedy and his family had on skiing is far-reaching. Kennedy relaunched the President's Council of Physical Fitness and set an example by allowing coverage of his family skiing. His sister Eunice launched the Special Olympics, and—after his death—his nephew Ted Kennedy Jr. learned to ski with a prosthetic leg, encouraging participation in adaptive winter sports.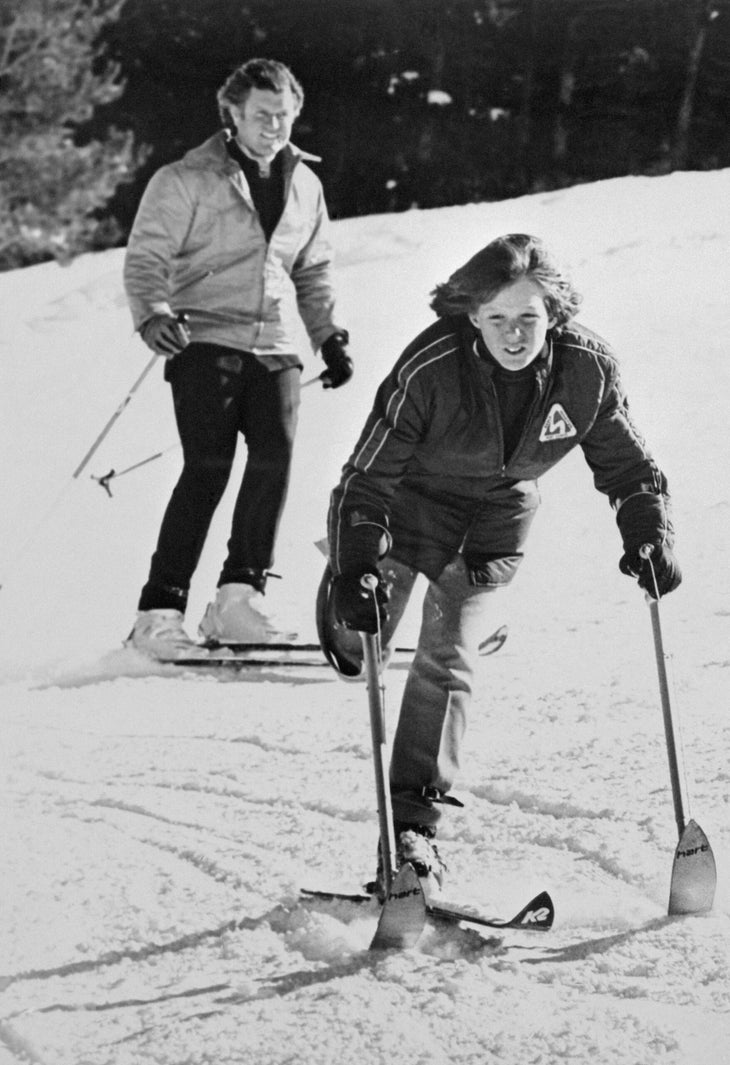 Fun fact: After spending some time covering Kennedy and his family at play, a Sports Illustrated photographer advised that the next such assignment should go not to a mere reporter but to "a summer camp phys-ed instructor" due to rigor of keeping up with the active Kennedy crew.
Gerald Ford
Presidential years: 1974-1977
Connection to skiing: Perhaps the nation's most dedicated skier, Ford took up skiing on wooden skis with no edges as a child in New England, then perfected his turns as a regular at Boyne Mountain, Mich., where he skied often enough for locals to call him the nation's only ski bum future president. Skiing became—and remained until his death—his greatest sports passion.
Favorite ski spots: Outside of Michigan, Ford frequented Sun Valley and Alta, but fell in love with Colo.'s Vail Valley, vacationing there while president and settling there in his retirement. (The secret service shack slopeside at Beaver Creek remains standing in his memory.)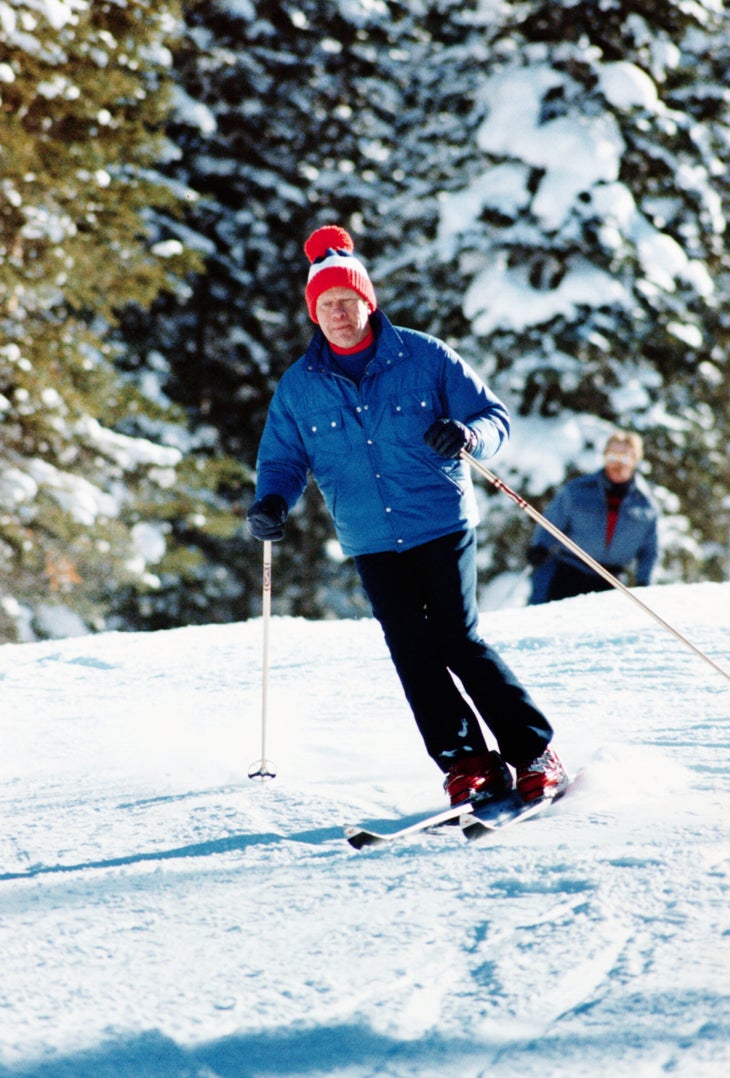 What he did for skiing: Ford built one of the first houses on Beaver Creek, leading to the popularization of the resort, and was instrumental in growing the Vail Valley Foundation. A nonprofit that supports art and athletics in the region. Post-presidency, he was a regular at many events, even presenting American World Cup champion Pam Fletcher with her trophy when she won in Vail in 1986. There's even a performing arts venue named after him, Vail's Gerald R. Ford Amphitheater, home to concerts and plays in the summer.
Fun fact: Despite Chevy Chase's popular SNL skits as the bumbling, uncoordinated president, Ford was an adept and graceful skier. While he did not take to snowboarding, he noted two of his grandchildren did.
Ronald Reagan 
Presidential Years: 1981-1989
Connection to skiing: Reagan took up skiing as an adult in his home state of California. His favorite surface is said to have been powder. We can relate. 
Favorite ski spots: Reagan loved the Lake Tahoe area, and Heavenly Valley, now Heavenly Mountain Resort, most of all.
What he did for skiing: As Governor of California, he launched the Governor's Cup, a race between the Governors of California and Nevada (that first year pitted Reagan against Nevada Governor Paul Lazalt), to promote cooperation between states, the sport of skiing, and Reagan's beloved Heavenly Valley. His love of skiing the region led to his passage of environmental laws to keep Lake Tahoe clear and clean.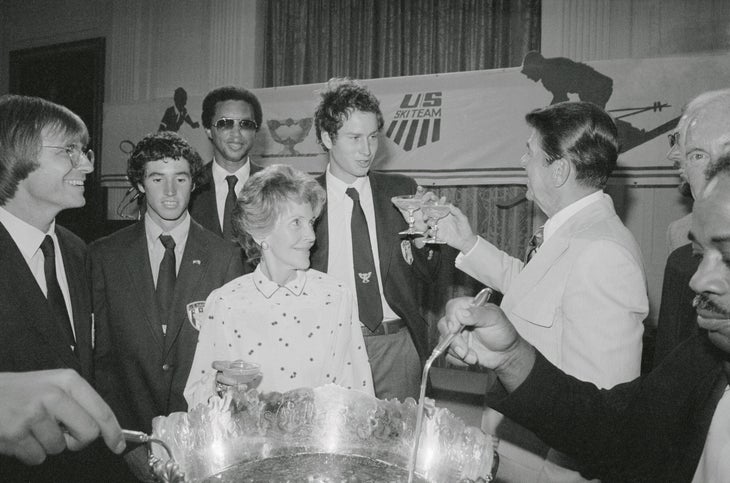 Fun Fact: Reagan, an outdoor enthusiast and athlete, took just one ski lesson at Heavenly as a young adult and went, according to his instructor Fred Corfee, "from snowplowing down the front of the mountain to grabbing air off a mogul" in that one lesson. He stuck with the sport and brought his family into it as well.
Donald Trump
Presidential years: 2017-2021
Connection to skiing: Trump was said to be a casual skier until he met and married his first wife, Ivana, a lifelong skier who raced at a junior level in Czechoslovakia.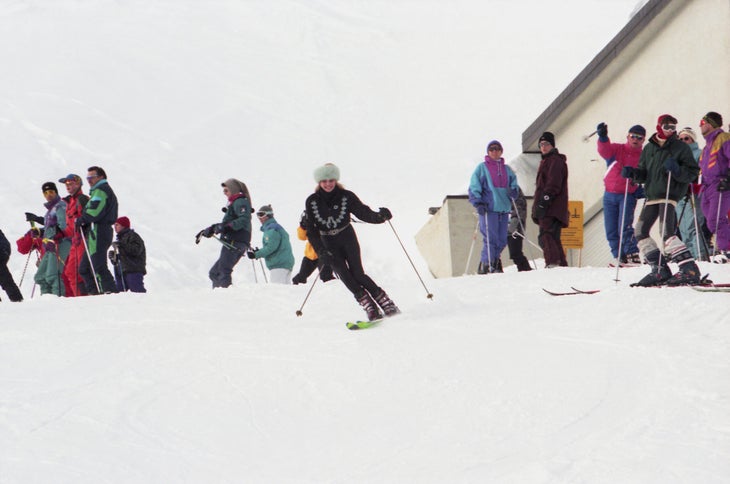 Favorite ski spots: The Trump family's favorite ski vacation spot, from when Trump's children were small until the present, is Aspen, Colo.
What he did for skiing: Trump was widely disliked by the ski industry as a whole when his cuts to cultural visa programs threatened resorts' ability to staff properly.
Fun fact: Witnesses claim that in Aspen in 1990, when Ivana found out about Marla Maples, she raced ahead of a fast-skiing Trump, turned to ski backwards and yelled at him the rest of the run.
Joseph Biden 
Presidential years: 2021-present
Connection to skiing: Biden took up skiing as a law student at Syracuse University, heading to Sugarbush, Vt., for lessons. It is said he took to the sport quickly and is comfortable with his ability. "I'm not a bad skier," he told a group in Snowmass in 2011.
Favorite ski spots: Biden and his family have been spotted at Colo.'s Beaver Creek, Aspen Mountain, and other spots, but their favorite go-to seems to be Snowmass, where they've rented a private home for multi-generational skiing many times.
What he did for skiing: As Vice President, Biden was a vocal and visible supporter of disabled veteran skiers, skiing with them (he noted how some of them "blew right by him") and bringing focus to those programs.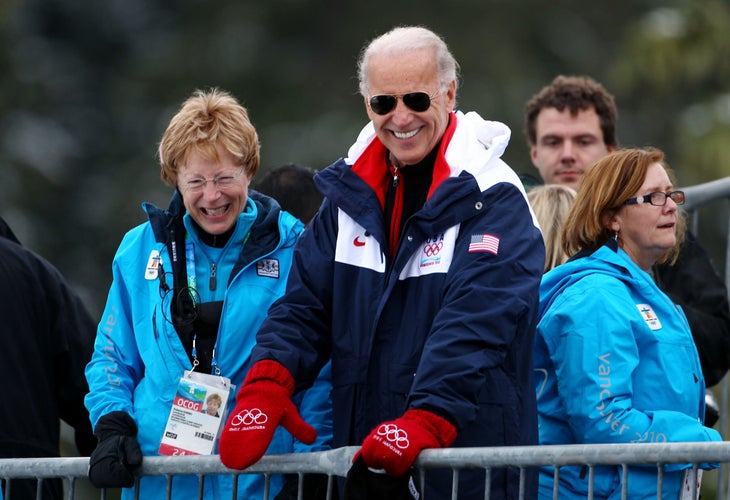 Fun fact: When skiing at Snowmass, Biden chose to brown-bag it rather than sit down for a leisurely lunch. He told the media he didn't want to slow things down for other skiers and riders by taking up space and time in food lines.