Virtual First Date Ideas for Skiers Who Need the Practice Before the Season Starts
Need to practice your singles line pick-up lines before the season starts? Get started today! All you need is a Bumble match and these tips.
Get full access to Outside Learn, our online education hub featuring in-depth fitness, nutrition, and adventure courses and more than 2,000 instructional videos when you sign up for Outside+ Sign up for Outside+ today.
If you're a skier who's single and ready to mingle, don't let Covid get you down! Last week, GoogleTrends tweeted that searches for "Virtual First Date Ideas" are up by 450 percent. This comes as Covid-19 cases are starting to rise again throughout the U.S.
Unless more people get vaccinated, it's likely that mask mandates are coming back to more places than just Los Angeles, in-person ski movie premieres will likely be canceled, and the dreaded reservation system will stay in place at ski resorts all winter long.
While all of these things certainly suck, it doesn't mean you have to miss out on your chance for love this summer! Here are some of SKI's best new virtual first date ideas for skiers, along with our tips on how to score bonus points to impress your date and red flags to look out for along the way.
Wax your skis while chatting on your first video call
Getting waxed and vaxxed never sounded better! Certainly better than the waxing done in the movies…
Tips: Talk about preferred waxes, scraping techniques, what temperature you like to keep your iron at. Plus you can show off your quiver and ski bench setup.
Bonus Points: Even if you don't get a second date, your skis will get some TLC.
Red Flags: They have no idea what you're doing.
See how long you can talk about things that aren't skiing-related
If you make it more than five minutes without talking about the best powder day of your life on a first date, are you really a skier?
Tips: Be sure to ask about their best powder day ever, too.
Bonus points: Your date keeps the conversation going better than your ski buddies do.
Red Flags: Wants to talk about anything else.
Pretend you're in the hot tub after a day of skiing… while you're actually in the bathtub
Thinking about going au naturel as you do for your work Zoom calls? Better trust your bubble bath skills.
Bonus Points: Your date shows off a clean bathroom.
Red Flag: Making bubbles in a tub without jets; getting hot tub folliculitis while in your own bathtub.
Wear your helmet and goggles during the call so you can recognize each other when you finally meet on the ski hill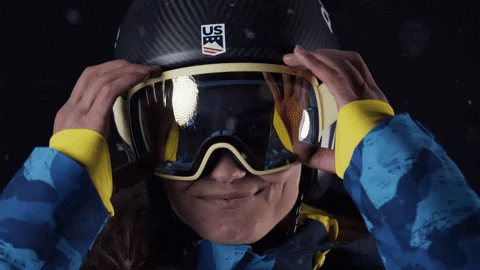 Bonus points: Set up your perfect tailgate system in a random parking lot so they can recognize your car too.
Extra bonus points: Do this in the Vail Resorts corporate parking lot in Broomfield.
Red Flags: Gaper gaps, low light lenses on a sunny day, 2WD car with out-of-state plates.
Try on your ski clothing to make sure it still fits for the upcoming season and trade fashion tips
After all, you can't smell the stinky gear that's been marinating in storage through Zoom!
Bonus Points: Having a brand new kit for the season that looks great.
Red Flag: Your date takes off more than just their ski pants during the first virtual date "on accident."
Simul-watch Classic Warren Miller Movies
Related: Why 'Ski Time' is Obviously the Best Warren Miller Movie Ever
Get on a Stairmaster with your gear to simulate chatting in the bootpack
Or call while standing in line at the grocery store to simulate awkward lift line conversations.
Bonus points: Making Jerry of the Day.
Red Flag: Actually doing this.
Keep going: Townsend, Saugstad Announce Pregnancy; Unborn Child Already Leg Pressing 400 Lbs