How Affinity Groups are Transforming the Face of Skiing for the BIPOC Community
The BIPOC Mountain Collective is bringing more diversity to the hill, but it's about so much more than shredding the gnar.
Heading out the door? Read this article on the new Outside+ app available now on iOS devices for members! Download the app.
"I'd been really wanting to learn how to snowboard, but I didn't know where to start," says Nayr Perez, 28. "I had joined a local ski group in Denver but we never did much. From there, I was introduced to the BIPOC Mountain Collective. Seeing people around my age and the diversity of the group is what really called to me."
Perez, a Mexican woman who lives in Colorado, was worried about feeling like a fish out of water in the mountains. "For someone like me, groups like this are very important. It's made me feel welcomed into a community that is extremely new to me. It's also helped me get out of my comfort zone and want to try out other outdoor activities like hiking and mountain biking."
The BIPOC Mountain Collective (BMC) was formed in late 2021 and already has over 250 members. The organization was started in Denver by Romell Ward when he noticed a dearth of like-minded individuals going out onto the slopes together. The group meets up on a weekly basis at any of the resorts on Epic or Ikon passes. 
The BMC doesn't exist to convert BIPOC folks into expert powder shredders. In fact, at the end of the day, the group isn't really about riding.
Also Read: 4 Organizations That Are Actually Doing Something About Skiing's Diversity Problem
"The mission of the BIPOC Mountain Collective is to encourage, teach, inspire BIPOC to participate in mountain sports by providing budget-friendly methods for enjoying the outdoors. We do this by providing a unified community to split costs, collaborate with other like-minded companies and organizations while utilizing existing expertise to teach newcomers. Our motto is "Never Ride Alone," Ward said.
And true to that, when folks show up to a meetup, it is to find community and mentorship: friends, tailgating, music, and yes—hitting the slopes with a new group of friends. It provides a space for any experience level, access to mentorship, gear, support, and empowerment to set participants up for success on the slopes. 
There has been some criticism of affinity groups. Some have voiced concerns that these spaces are more divisive than inclusive. And while these groups are exclusive by definition, the reason for their existence is to provide support and heal collectively rather than intentionally excluding others to cause harm or protect power. And frankly, to have a good time participating in a shared hobby all while working in partnership with allies toward a common goal of supporting and uplifting communities.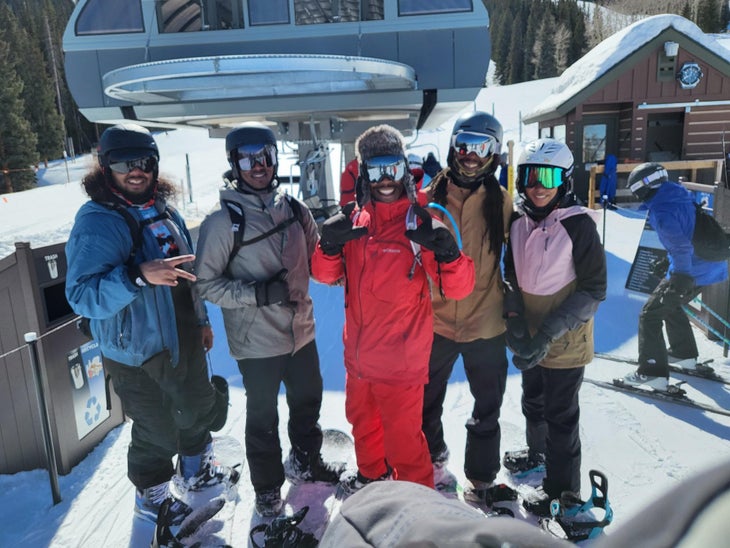 "I joined the BMC to be a part of a group of like-minded individuals who like to have fun on the slopes," says 34-year-old Phillip Scott from Denver. "For me, it has always been hard to find people who look like me and have the same interests like skiing or snowboarding because most Black people have not been exposed to it. So it is good to have other people like that in my life that make me feel welcome."
Go Deeper: How the Effects of Historically Racist Laws Are Still Keeping BIPOC From the Outdoors
For Richard Battle-Baxter, 39, he connected with the BIPOC Mountain Collective because he'd just moved to Denver and didn't want to plan a trip to the mountains on his own. He liked that there was a concerted effort by the BMC to lower the barrier to entry into snow sports via group rates for lift tickets, lodging, and even carpooling. "I've also attended some LGBT ski events via Get Out and Trek and have found the same to be true," said Battle-Baxter.
"For me it's been great to let my guard down, or rather, not have to put my guard up when doing something I love to do," he explains. "Conversations, interests, likes and dislikes are more similar when I'm in the mountains with my group. This makes my mountain experience great during the majority of the time when I'm not skiing, but even in the lift line, on the lift, at lunch, etc. That "downtime" experience is just as important—if not more—to one's overall experience. It's in those moments that I'm able to make deeper connections with those I've chosen to spend time with."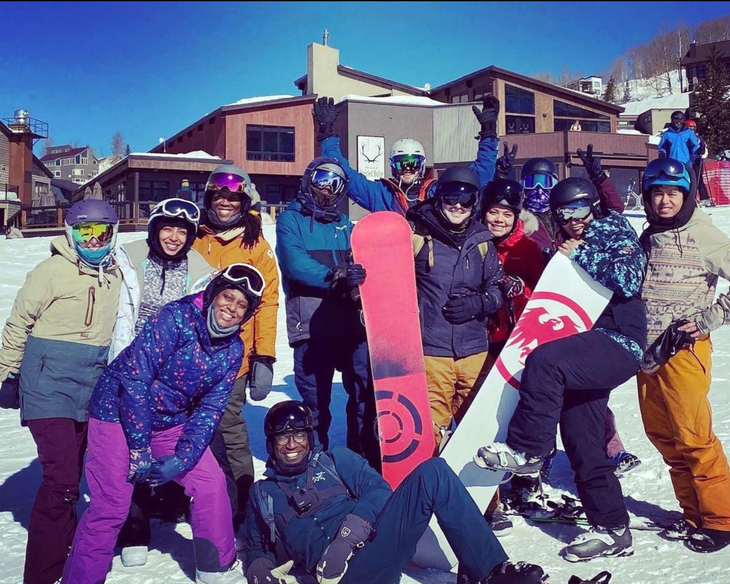 For many affinity groups, their missions are to connect and help folks gain access to knowledge, gear, and mentors within a sport that's not traditionally been welcoming in the past. So while everyone who shows up to a BMC meetup does so for different reasons, they are all there because they want to be, and these groups have simply created space for like-minded people to connect. 
"My favorite part of being part of the BMC is meeting the members and people who I would never have crossed paths with before," Scott says. "We're going to the slopes regularly, pushing me to be active and knowing that I'm not alone but rather part of a group. It honestly means so much."