When We Say Cat Skiing, We Actually Mean Cats… Skiing
In an attempt to understand the ski cat phenomenon, we attempted to interview Gary and Liebchen. Forgive the language barrier. Meow.
Heading out the door? Read this article on the new Outside+ app available now on iOS devices for members! Download the app.
Take a second. Now sift through your memory for one of the first viral videos of the early 2000s, and you'll likely think of a cat. It is probably playing the piano: grainy, dark clips of cats twisting their bodies in odd shapes to play scattered cords on un-tuned, masses of keys. Keyboard Cat. Grumpy Cat. Garfield. Lil Bub? The list goes on. In 2015, owners were scaring their cats with cucumbers (don't do that). In short, cats seemed to enamor the masses. They still do. In 2023, we have cats who ski. 
Meet Gary (@greatgramsofgary) and Liebchen (@liebchen.travels) two influencer-esque "adventure cats." Like The Skiing Dogs of Instagram, these felines are unmatched in their athletic prowess and their undeniable cuteness. 
View this post on Instagram
Both Gary and Liebchen are in no way affiliated and occupy different corners of the Rocky Mountains, yet both have an avid fan base. In an attempt to understand the ski cat phenomenon, I attempted to interview Gary and Liebchen, but language barriers were an issue. Their humans, James Eastham (of Gary), located in the Canadian Rockies, and Erin Geldermans (of Liebchen), located in Aspen, Colorado, gladly served as translators. 
SKI: How did the skiing start? 
GARY: I think four years ago… there had been a big storm in town and we'd been snowed in the house. So the easiest way to get around was on skis and Gary was hoping to go out. He was sitting at the door kind of screaming. I took out the touring gear and took him out and figured we'd just kind of go for a walk.
But as we were coming home, there was a small, small, little hill by the house and I figured, 'well, when am I gonna get to ski with my cat again?' So I ripped skins off and did a couple of short laps and threw a video up of it on my Instagram and figured that would be the end of it…" Spoiler alert: It was not the end.
LIEBCHEN: "We adopted Liebchen September 24th, 2020. He was 10 weeks old that ski season and we were like, 'oh my gosh, he already likes to hike with us, a road trip with us, camp with us, bike with us, everything with us, let's take him skiing."
Do you need permission to ski in resorts? 
GARY: Yes.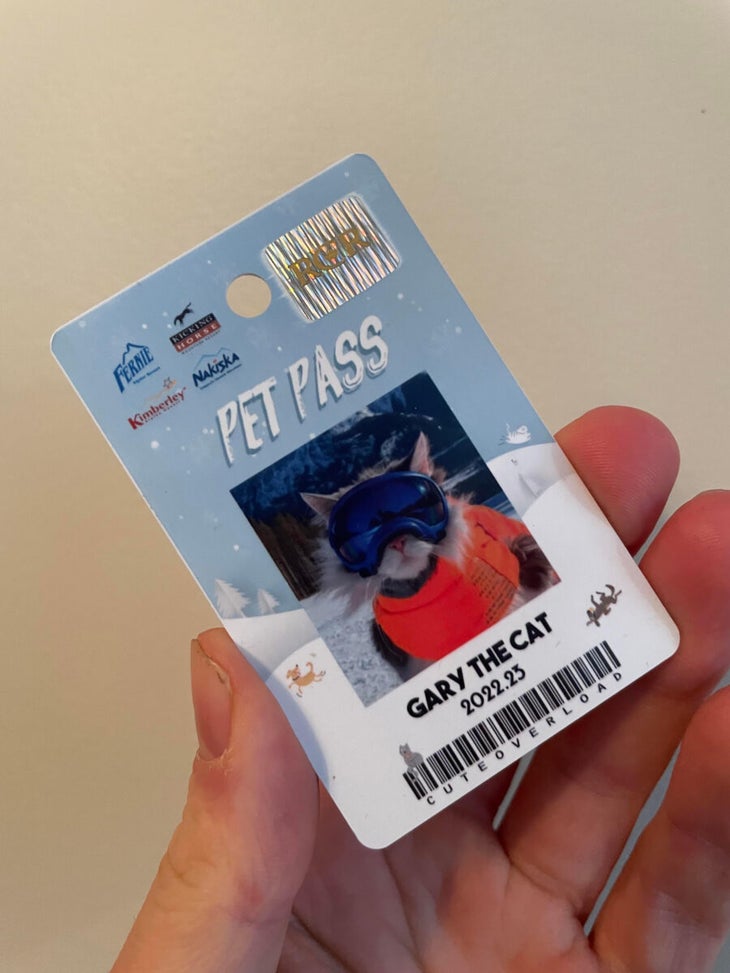 Are there any essential pieces of "cat skiing" gear? 
GARY: I've got a sort of special cat backpack, or I guess it's for small dogs [the Kurgo G-Train]… When we're heading down the hill, he just sits on my shoulders. Whenever we adventure, he always has a harness and a leash on.
LIEBCHEN: He does wear little ski goggles and they're made by a brand called Rex Specs… they're super cute, but honestly snow blindness is real. Windburn is real. Sunburn is real. So we always make sure he wears goggles.
If other cats want to go out and learn to shred, how do you suggest they get started?
LIEBCHEN: Get them used to their harness and their leash, even if it's in the house, to make sure they're comfortable with it.
Where can we find you shredding? 
LIEBCHEN: We ski in Aspen… we primarily ski at Buttermilk with him or on Ajax or Aspen Mountain… we just love doing chill long groomers with him.
GARY: Now we ski at Kicking Horse, Kimberley, and Fernie…Gary has a blast.
Besides cat skiing, what other adventure do you get up to with your feline friends?
GARY: In addition to skiing, we do a lot of hiking, both in the summer and the winter and in the summer as well, we do a lot of paddling. I think that's probably his favorite thing to do. He just sits in front of my boat, soaks up the sun, and naps for the most part.